Princess Cruises will soon crown their top guest entertainer for 2017 during the line's seventh annual competition. Four finalists have been chosen and will compete for the title during the line's upcoming Entertainer of the Year cruise.
Guests on the March 25, 2018 Regal Princess seven-day voyage to the Caribbean will be able to cast their vote for their favorite performer after watching several live performances from each act during the cruise.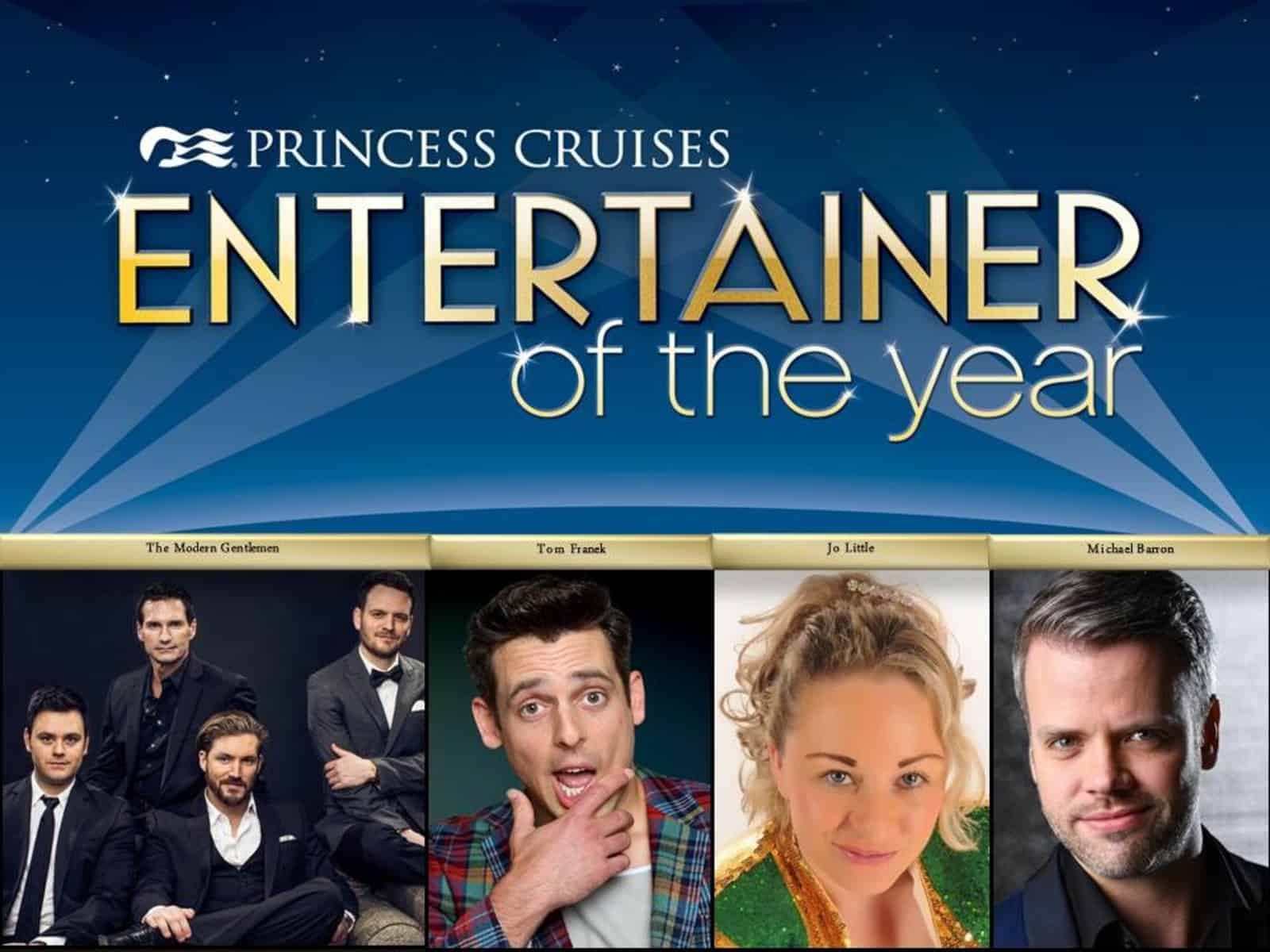 The four nominees are:
The Modern Gentlemen
Individually, Landon Beard, Todd Fournier, and brothers Brian and Brandon Bingham were all in-demand singers prior to being brought together as a quartet by the legendary Frankie Valli. For over a decade they've been wowing audiences around the world providing the background vocals and choreography alongside the rock and roll icon. Since then, they've developed their own sound blending modern voices with four-part harmonies performing the classic hits of pop, rock, and doo-wop. They've toured all over the world on big stages like Royal Albert Hall with the London Symphony Orchestra and BBC Proms in the park for an audience of over 40,000. They've appeared with The Beach Boys, The Manhattan Transfer, Tony Bennett, and Smokey Robinson, as well as in front of US presidents and Prince William.
Tom Franek
Hailing from Minneapolis, Tom Franek is a rising star whose talents are celebrated by over a quarter of a million fans online, with a debut role on ABC this year. His stage shows are performed around the world and combine clean comedy with charisma, piano playing, singing, dancing, quick wit, and contortionist acrobatics. His particular brand of entertainment combines an astounding number of talents that make him an absolute must-see.
Jo Little
Known as "Yorkshire's Queen of Comedy," Jo Little began her career as a DJ and vocalist in the UK, but found her true passion on stage to be comedy. She's performed around the world, including engagements across Europe for Thomson's and Choice Holidays. Little is currently appearing as support to British Show Business Legend Joe Longthorne on his UK theatre tour appearing in most major UK theaters.
Michael Barron
Michael Barron is one of America's hottest illusionists, with over 7,000 performances and 300 television appearances in 35 countries. After attending DePaul University in Chicago for theater, he was invited to perform a long-running illusion show at Arabian Nights Arena in Orlando. After five years there, he left the show and was cast to star in a multi-million dollar touring show produced by Kenneth Feld. In addition to his busy schedule, Michael performs all around the world at college, corporate functions, theaters, and arenas with his own show "Michael Barron: Magic Unhinged," a blend of magic, sarcastic comedy, illusions, dangerous stunts, and shocking performance art.
The finalists were selected by the Princess Cruises entertainment department based on guest surveys and onboard audience response. The 2017 Princess Cruises Entertainer of the Year will be announced on the final evening of the cruise at an event in the Piazza, and will receive a $5,000 cash prize.
The Entertainer of the Year voyage is available now for booking with fares starting at $849 per person, during the Cyber Sale happening through November 29.
SaveSave