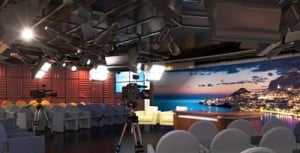 Princess Cruises today raised the curtain on Princess Live!, a new type of cruise ship entertainment venue that passengers will enjoy aboard the new Royal Princess. Taking the audience behind the scenes to share the excitement of a working television studio, the high-tech Princess Live! will showcase live television broadcasts, intimate performances from musicians, and special events such as cooking shows, plus will feature an adjacent café.
Located on Royal Princess' deck 7 just aft of the Piazza, Princess Live! will be a flexible, 280-seat venue based on a television broadcast studio. When the ship debuts in June 2013, Princess Live! will serve as a venue for daily broadcasts of "The Wake Show" with a new twist — a daily live audience. This popular daily show staring the cruise director and special guests from around the ship is a staple across the Princess fleet, but is rarely staged live.
The colorful Princess Live! studio will also host a variety of events, including game shows, interactive cooking shows, art house films, enrichment classes, murder mysteries, trivia, and "Meet the Experts" presentations from the crew. Additionally, Princess Live! will serve as a more intimate performance venue for onboard musicians who will offer "unplugged" and "in-the-round" shows, providing an opportunity for entertainers to connect with the audience in a unique environment.
"Princess Live! will be an exciting new experience for passengers," said Jan Swartz, Princess Cruises executive vice president. "Not only will they enjoy the high energy of being part of a live television production, but they also will have a new opportunity to see more intimate performances from many of our onboard entertainers."
The adjacent Princess Live! Café will surround passengers with interactive, wall-mounted screens showing the ship's position, ports of call, points of interest and even international newspapers. The café will serve up specialty coffees, teas and freshly squeezed citrus juice, plus will offer a selection of fresh-baked croissants and pastries in the morning.
Royal Princess will also feature the line's largest Princess Theater ever, with unobstructed sight lines from every seat, plus will see the return of an updated Vista Lounge at the aft of the ship to serve as an alternate evening performance venue.
Additional information about other ship features will be released in the coming months.
Source: Princess Cruises
Subscribe to our Cruise News Updates.