Princess Cruises and DMI Soundtracks have released the 14-track musical album to the line's show "Magic to Do" from composer Stephen Schwartz.  The album is the first of its kind by a cruise line, and lets guests take home the beloved music from the popular stage show.
"Magic to Do" is the first of four productions being developed for Princess by Schwartz, and celebrates his fascination with magic and illusions, with some of his most famous songs, such as "Magic to Do" from "Pippin" and "Defying Gravity" from "Wicked."  The show also features a new song written just for Princess, called "A Little Magic."
Brought to life by an über talented cast, imaginative costumes, baffling illusions, and amazing scenic designs, "Magic to Do" debuted aboard Crown Princess last October, and is now also aboard Ruby and Emerald Princess.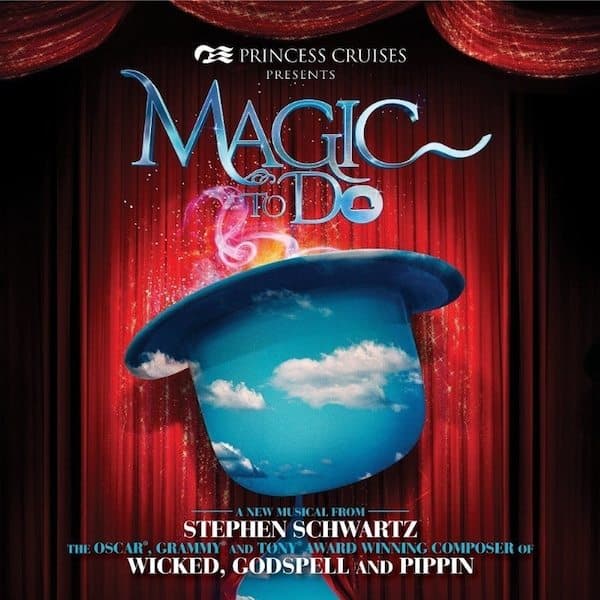 The original cast recording features 14 of Schwartz's most famous songs, including:
Magic to Do
Before Your Very Eyes
Corner of the Sky
No Time at All
Day by Day
Popular
Prestidigitation
Just Because it's Magic
Defying Gravity
Beyond Belief
It'll Be Me
Colors of the Wind
A Little Magic
When You Believe
During his 40 years in the entertainment industry, Schwartz has won four Grammys, three Academy Awards, and received the Isabelle Stevenson special Tony Award.  He's the only songwriter in Broadway history to ever have three shows run over 1,900 performances.
Princess' partnership with Stephen includes a multi-year collaboration for the four musicals that will debut across the fleet over the next several years.  The cruise line recently announced the second one – called "Born to Dance" which will debut this fall.
The "Magic to Do" album is available for pre-order on iTunes, and will be released on CD, digital download, and through streaming services on September 9.  For more information on Princess Cruises' partnership with Stephen Schwartz, visit princess.com/schwartz.
Photos: Princess Cruises