Princess Cruises and Condé Nast Traveler are pleased to introduce the "8th Cruise Wonder of the World," the Grand Canal of Venice.  Guests voted on their favorite destination to visit by cruise ship, to be added to last year's "7 Cruise Wonders of the World," and it seems that Venice took the cake.
With over 38,000 submissions, the Grand Canal received the most votes, and one lucky entrant, Steve Turner of California, won a Princess cruise vacation.  Jan Swartz, president of Princess Cruises, said "We were honored to partner with Condé Nast Traveler to present the '7 Cruise Wonders of the World'…From its piazzas to its palaces, Venice's beauty is fully revealed through an arrival by cruise ship, offering a perfectly fitting introduction to the '8th Cruise Wonder of the World' – the Grand Canal."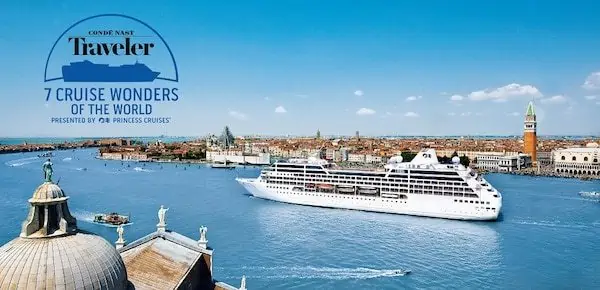 The cruise line's small ship, Pacific Princess is the perfect way to arrive in Venice, cruising through the Guidecca Canal.  Many landmarks of the city can be seen from onboard, including the spires of St. Mark's Basilica, and the mouth of the Grand Canal.  It joins the other Cruise Wonders of the World destinations, including:
Fiordland National Park, New Zealand – the surreal beauty of this park is perhaps best seen from the decks of a ship, where the snowcapped mountains plunge into the crystal waters of ice-carved fjords.
Panama Canal – The waterway that links the two grandest oceans in the world together is an engineering feat that remains a must-see.
Shiretoko Peninsula, Japan – The wilds of the country's northernmost island, Hokkaido, gives way to awe-inspiring glimpses of whales and the gorgeous coastline.
Glacier Bay National Park, Alaska – Pristine waters, grand glaciers, and keeping an eye out for a variety of wildlife are a few of the things you'll experience while cruising through this national park.
Christ the Redeemer, Rio de Janeiro, Brazil – This South American icon stands high above the city with arms outstretched, welcoming visitors and locals alike.
Trunk Bay, St. John – This spot in the US Virgin Islands is perfect for people who long for white sand beaches, crystal clear water, and endless sunny days.
Hagia Sofia, Istanbul, Turkey – This awe-inspiring Byzantine cathedral stands silent but mighty, as it has for the past 1,500 years.
Photo: Princess Cruises and Condé Nast Traveler