As the cruise industry shutdown continues, I'm constantly looking for things to do without breaking the bank. With not a lot of people traveling on airplanes, one place to find a lot of deals right now is only about two hours south of here in Orlando, Florida.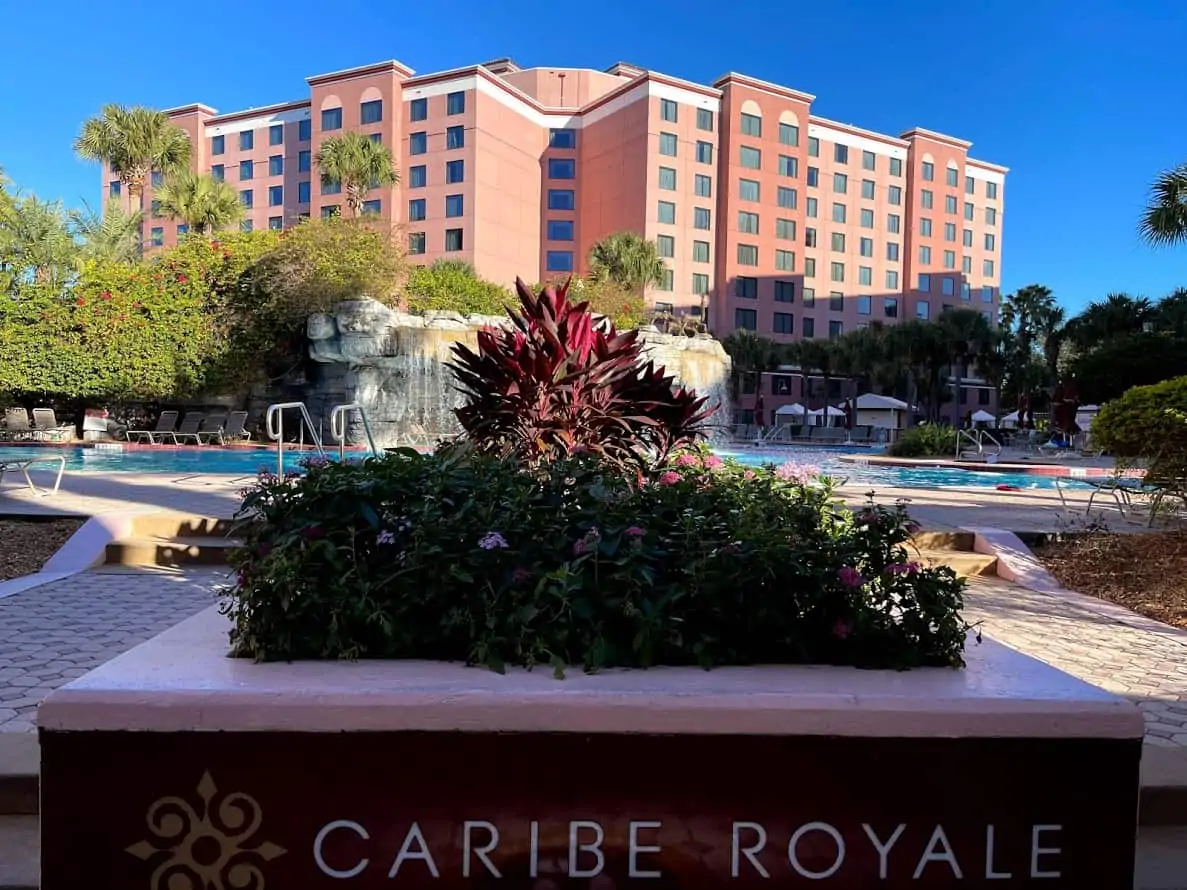 With Christmas being a little off this year because of family members working in the health field, I tossed around the idea of a mini roadtrip. My first option for the Christmas holiday weekend was to stay at a Disney resort, but after checking out the Hotels.com app, that was a little out of my budget. So I went with a familiar property that first opened 20 years ago, the Caribe Royale. 
My first time staying at Caribe Royale was when I was a teenager. In the summer, the restaurant I worked at was closed on Mondays, so we'd all pile into a car and spend the day at a Disney or Wet 'n Wild (a former water park) and spend the night down in Orlando.
Being broke college students, we were always looking for the best deal. Admittedly, it was much cheaper back then because eight of us would pile into a room and it would be less than $40 per person, however, with age comes appreciating comfort and solitude, so this time we spent $110 per night for our stay, before the resort fee.  
Usually, I'd gripe and not stay at a hotel with a $28 per night resort fee, but this time I couldn't complain. Free wifi, plenty of dining options on property, even the pool was comparable to a lush tropical resort in the Bahamas with a twisting waterslide and a waterfall. 
Location
Caribe Royale

Address: 8101 World Center Dr. 

Orlando, FL 32821

Phone: (407) 238-8000
Nearby Attractions
3 miles from the Orlando Vineland Premium Outlets
5 miles from Disney Springs
10 miles from Universal Studios
11 miles from Orlando International Premium Outlets
17 miles from the Orlando International Airport
47 miles from Sanford International Airport (Allegiant Air)
Checking In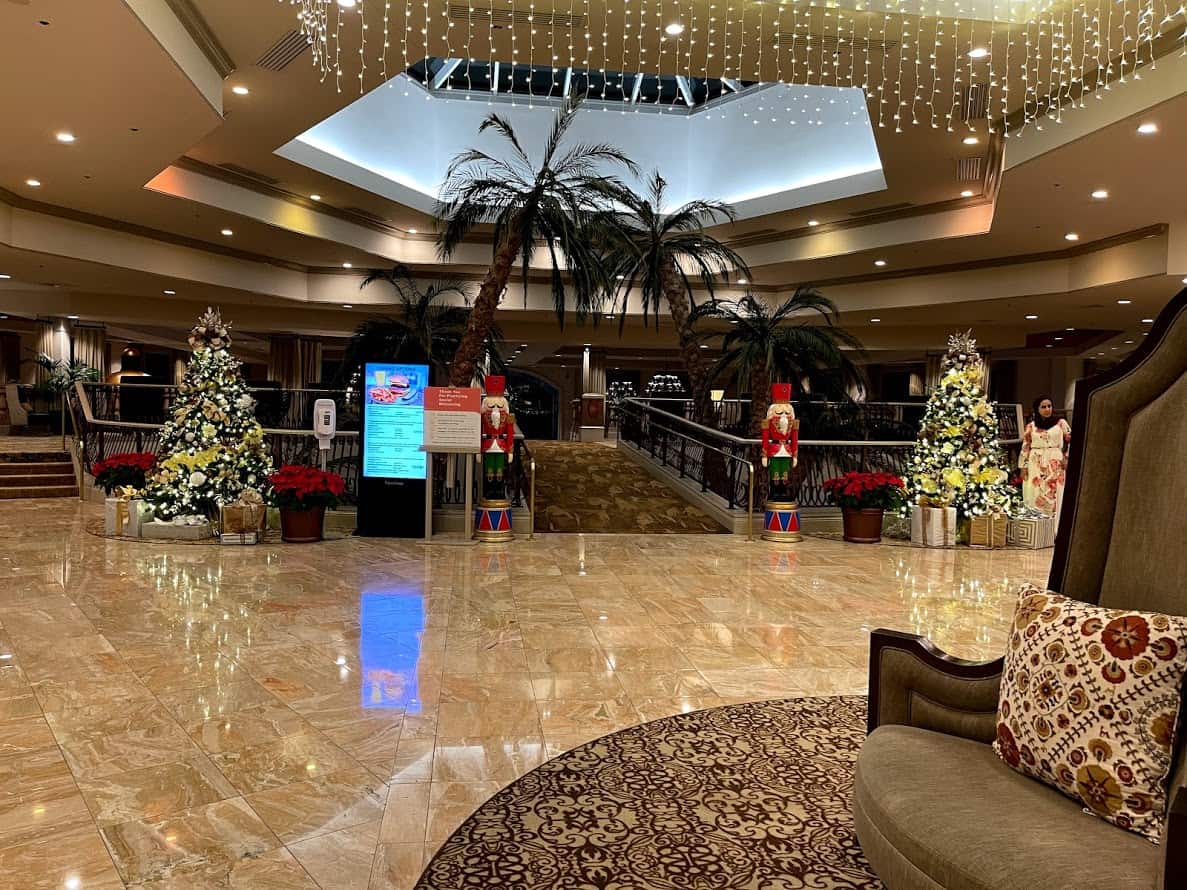 The check-in process was very standard. Since we prepaid for two nights on the app, they just took my credit card for the $28 per night resort fee, $15 per night for self-parking, and a $60 deposit to cover incidentals.
As soon as we arrived, I noticed that the parking lot was well lit and felt very safe. The main towers were in a giant circle making it was easy to navigate. There was also plenty of signage around the property, making it easy to find the tower you were assigned to. One thing I didn't remember from my last stay was the giant convention center on the property located behind Tower II. They are actually adding onto it, which shows that they are gearing up for future business when things become somewhat more leveled out with travel.
READ MORE: Review: Olivia's Cafe at Disney's Old Key West Resort
The Room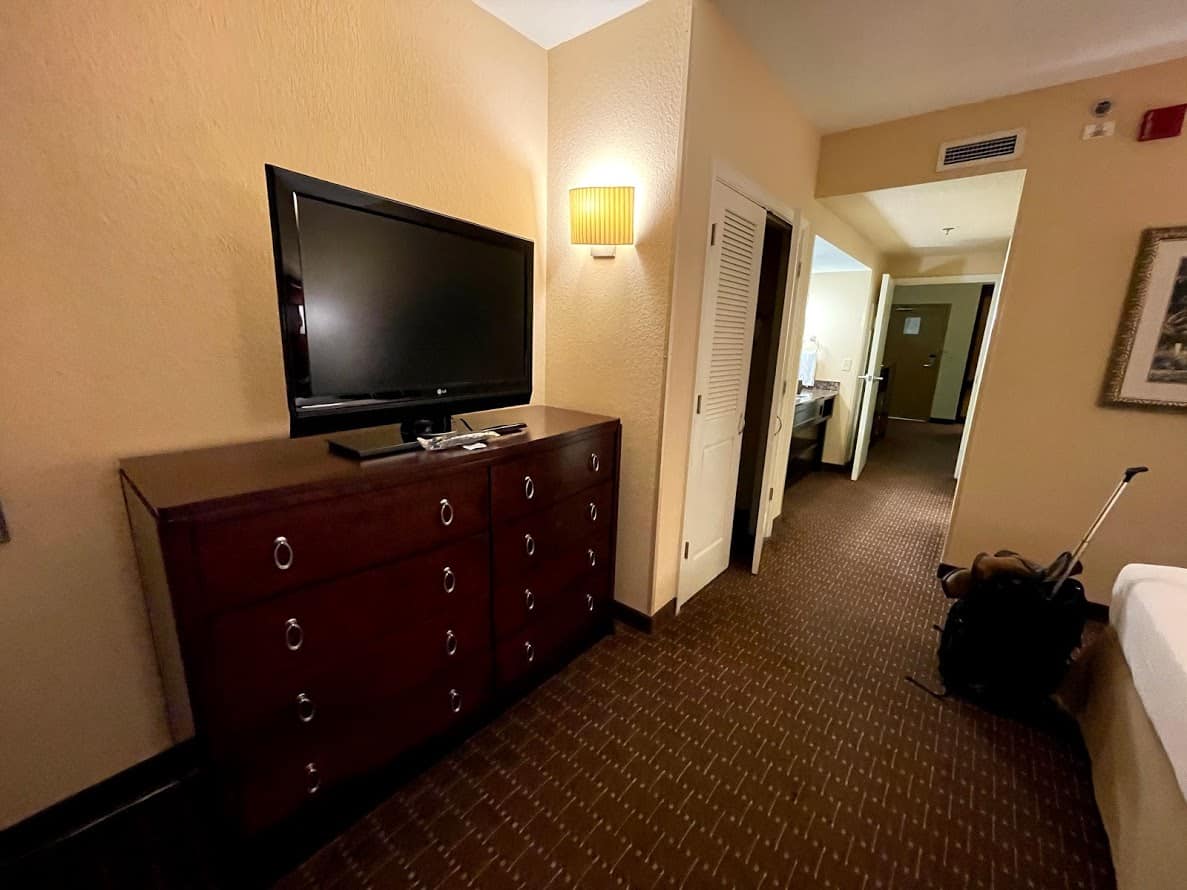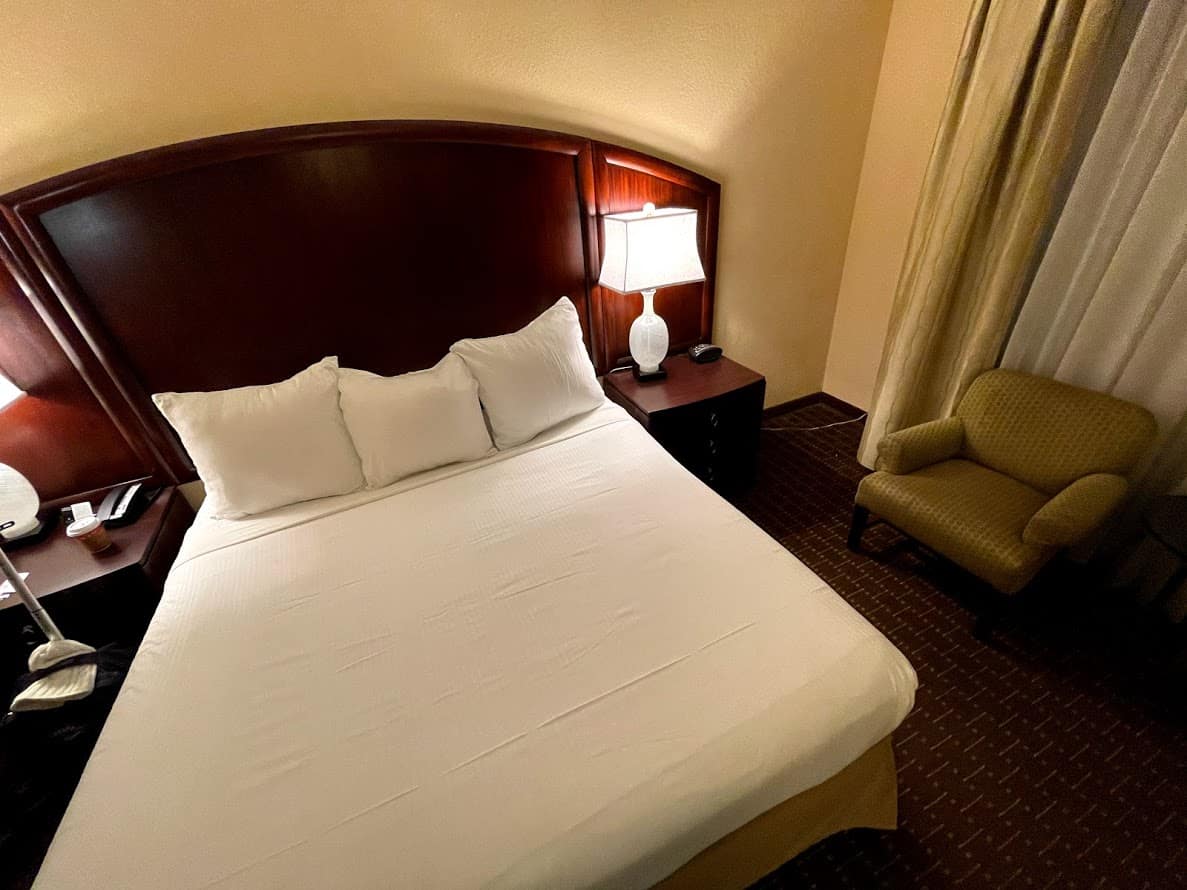 The room was like walking back in time. Everything looked the same as when I was there 20 years ago. It's not like you're walking into grandma's living room with the shag carpet and retro couches, but you can tell the furniture and decor are from the late 90s.
When it comes down to it though, the only thing I care about in a hotel room is that it is clean, there is hot water, and the air conditioner gets cold. So it was fine by me. 
I also can't be too hard on the property, because it's clear they are doing renovations and the 2020  pandemic has slowed progress down. It's still eerie driving down International Drive and seeing what seems like half the hotels shut down and the other half with only a couple of cars in the parking lot. 
The biggest draw for me at Caribe Royal was the jetted hot tub in the bathroom. It was massive and something you don't come across at most $100 per night properties. 
All the jets worked and the water was piping hot. That's all you can ask for, especially when you pulled a muscle in the gym a few weeks back. I slept like a rock both nights!
Something noticeable that stuck out was the lack of USB plugs and easily accessible outlets in the bedroom, which goes back to the room being dated. However, it wouldn't take much more than a lamp or alarm clock with a USB plug built in to fix the problem.
Amenities on Property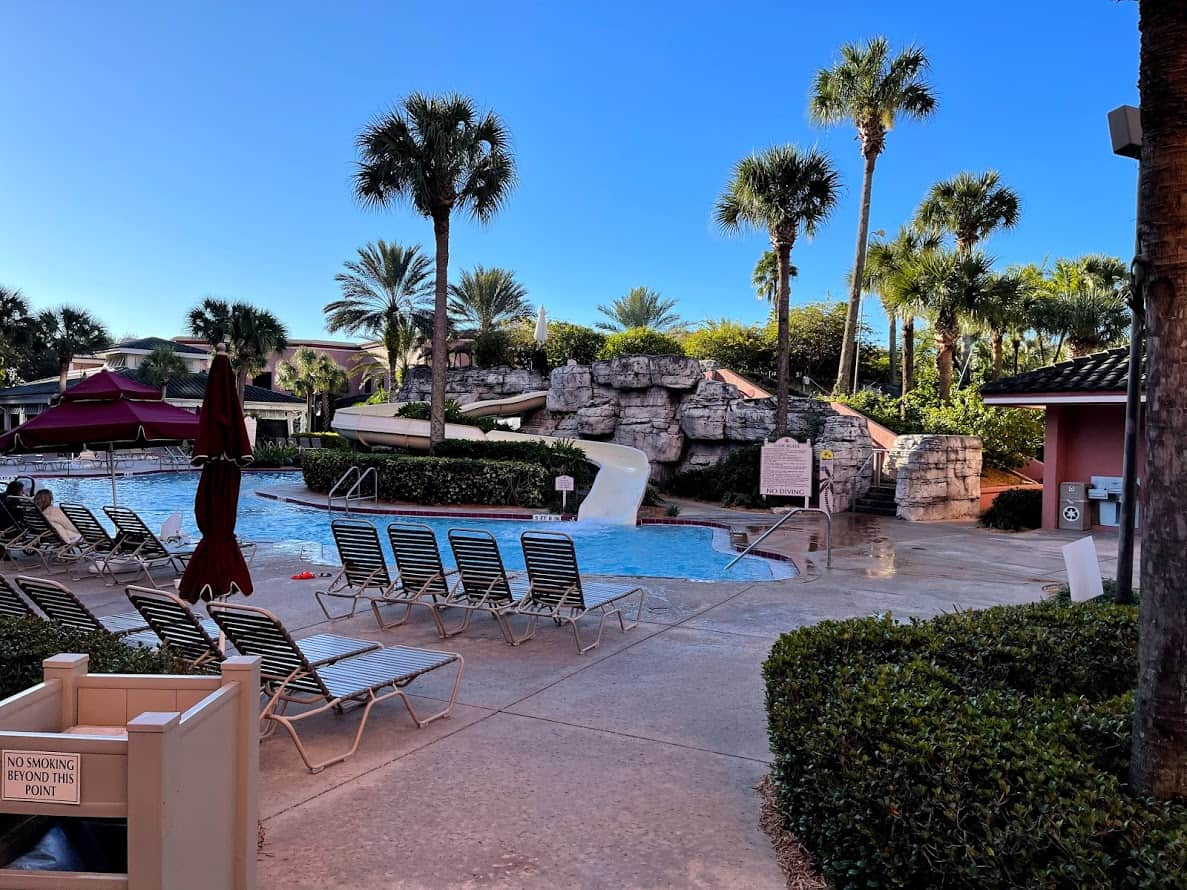 There were quite a few amenities on the property that had me thinking I could spend a week here if I was doing some pre or post-cruise time in Orlando during my vacation. 
The pool was stunning and had all the bells and whistles including private cabanas, a walk-up bar, plenty of loungers both in and out of the shade, a slide built into a rock formation, and a giant waterfall.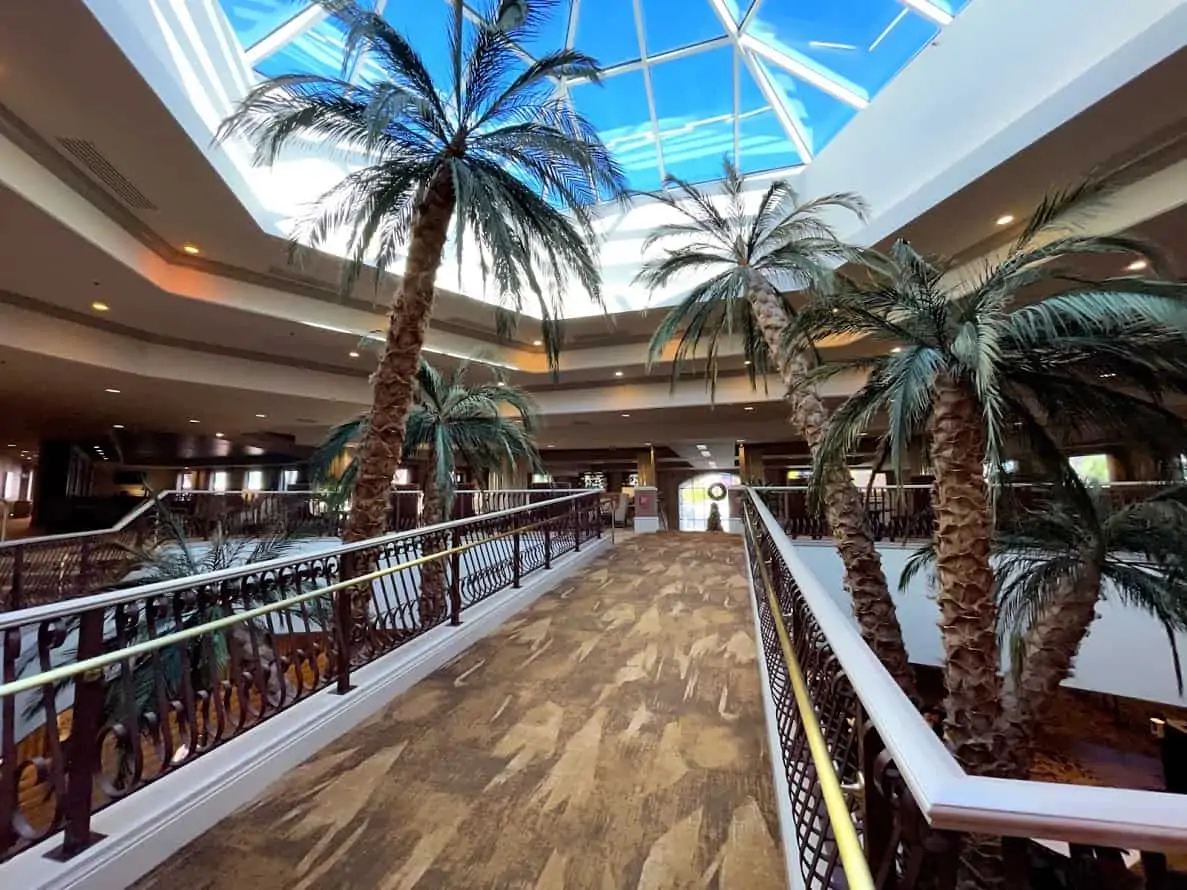 Inside, there were a couple of restaurants and lounges to choose from if you opted to eat on-property. There's a coffee counter located just off the main lobby with a large selection and daily specialty drinks. The rates were very reasonable. We got a large latte and large hot breakfast tea for $8. I've been to hotels where the latte alone would run you eight bucks. 
Final Thoughts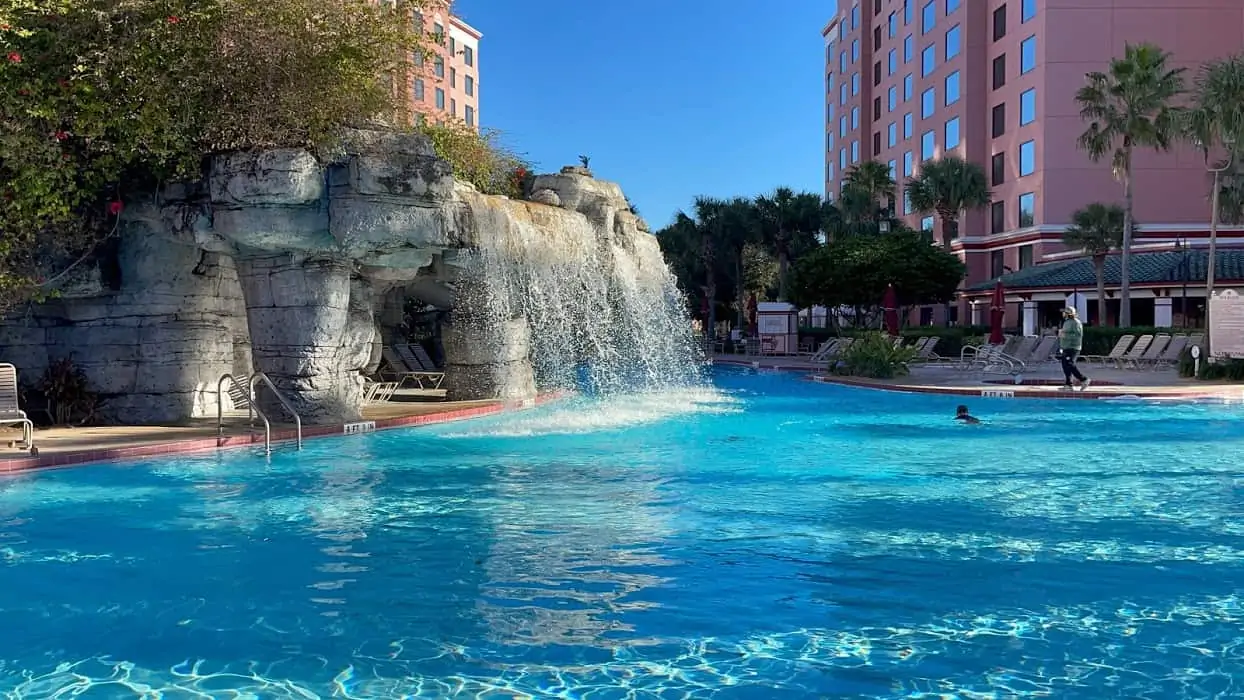 2020 has really had me thinking about resort fees and the extra work the employees are having to do, and the extra cost that the hotel is having to shell out for additional virus killing cleaning supplies. Typically I'd rail on a hotel for charging a resort fee, but like it or not, it's the cost of doing business, even more-so during a pandemic.
Overall this hotel was a good value for the money. It felt safe, everyone you approached from the front desk attendant to the coffee shop workers had a smile on their face, and everyone wanted to go out of their way to help.
READ MORE: Travel During a Pandemic: Visiting Disney's Magic Kingdom
Pin it!