Chances are that if you're a regular cruiser, you also spend a fair amount of time in airports. And you probably dread doing so. Especially if you've just had the most amazing cruise and now your post-vacation buzz is immediately going to be killed by the fact that you have to sit at the airport for six hours waiting for your flight home.
That's exactly the prospect I was facing recently after a great cruise out of Miami. I'd gotten a great deal on a flight home, but it wasn't departing until 5 p.m. Since we had to be off the ship by 10 a.m., that left me with a whole lotta time to kill.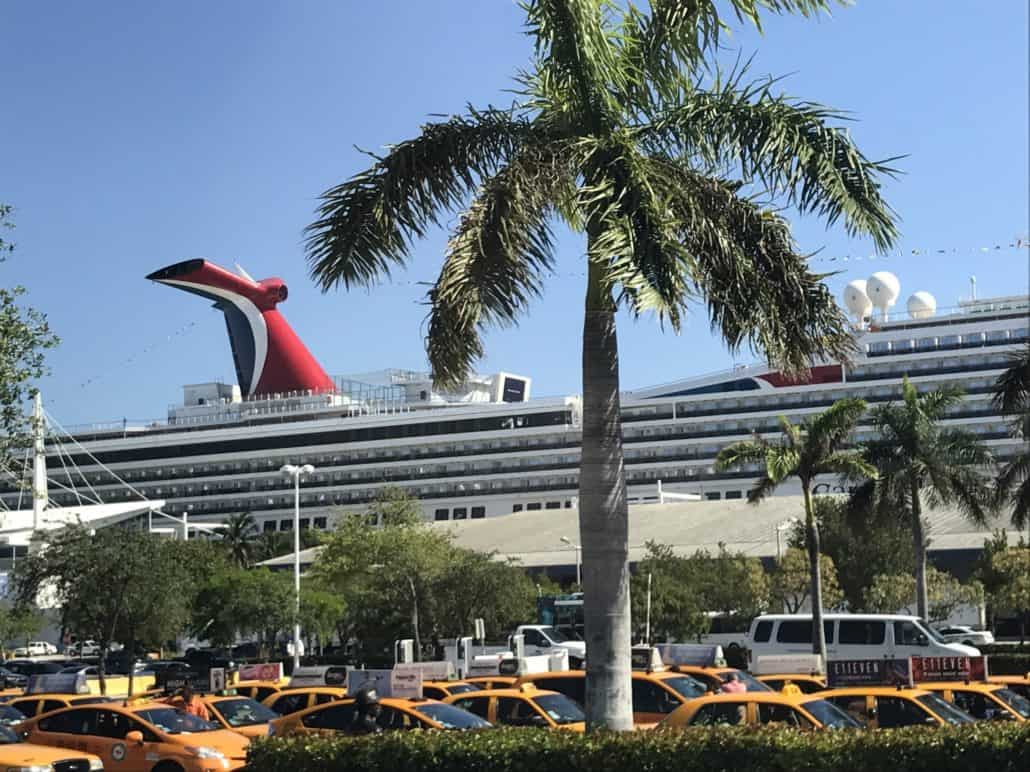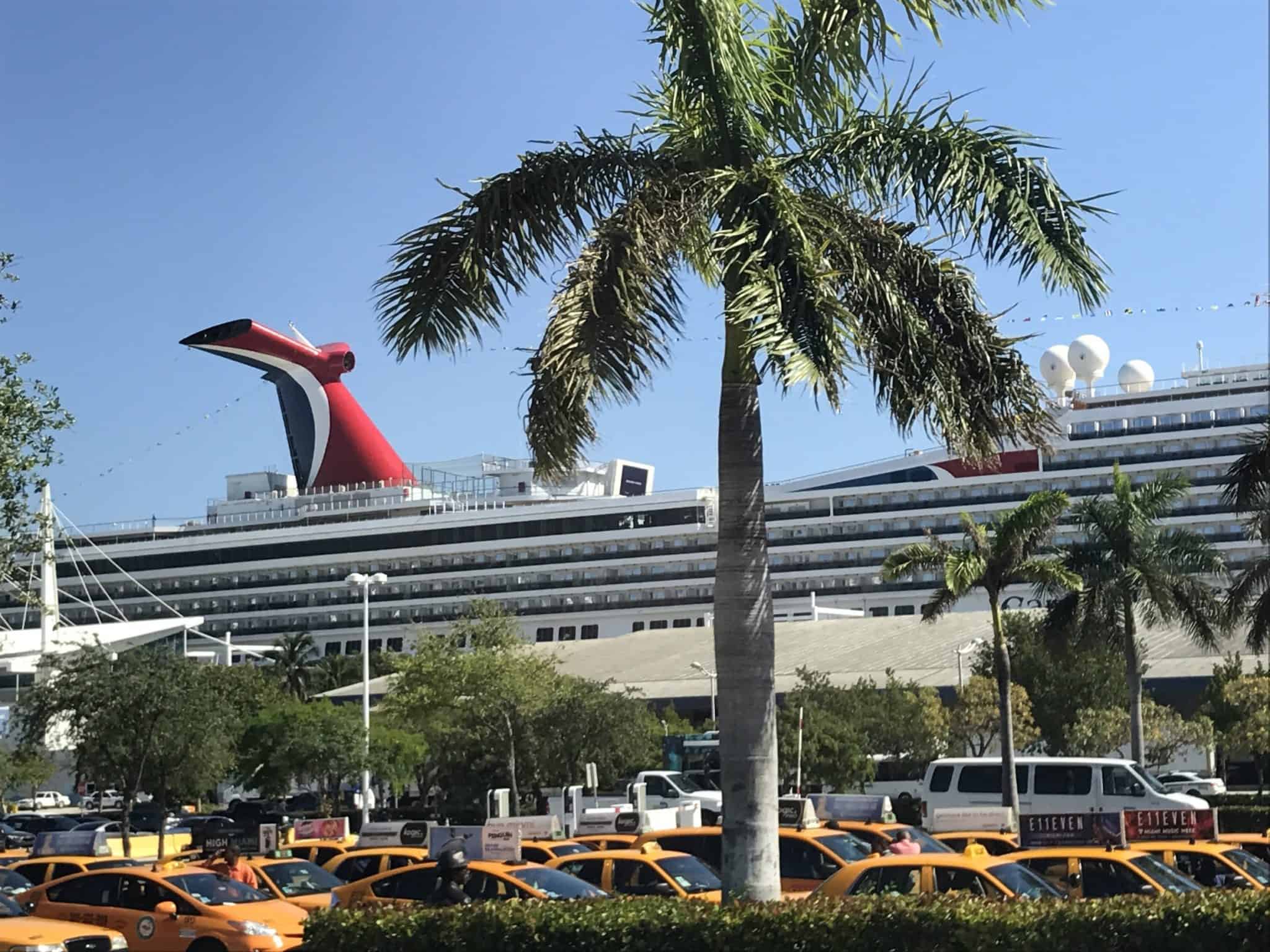 It's worth noting that like a lot of people do, I was up pretty late the night before. So, the prospect of sitting in the airport all day was definitely not appealing. Instead of renting a car for the day or looking for an excursion, I turned to Google in the hope of finding a hotel that offers day rates.
And that's when I discovered Day Use, a company the lists hotel properties that offer day passes. While you don't have to download the app to use it, I prefer apps over smartphone browsers, so I opted to download the app… especially since it seemed like the kind of thing I'd get more use out of in the future.
Finding My Hotel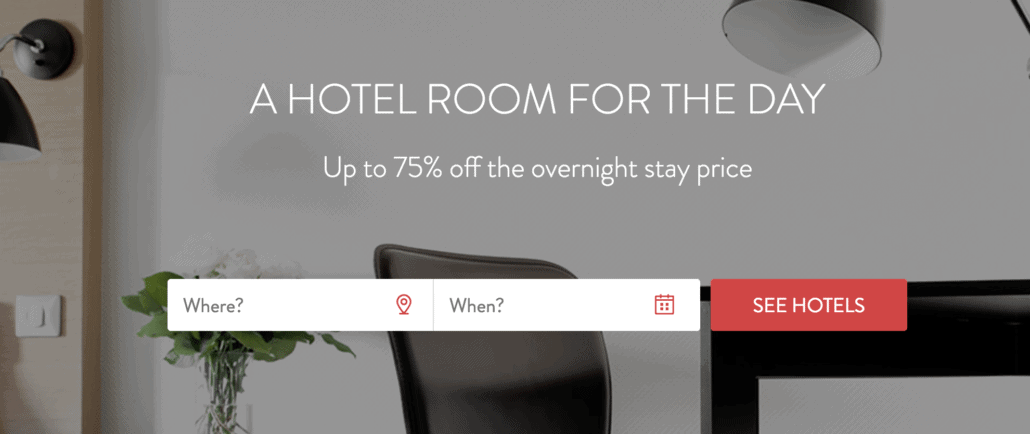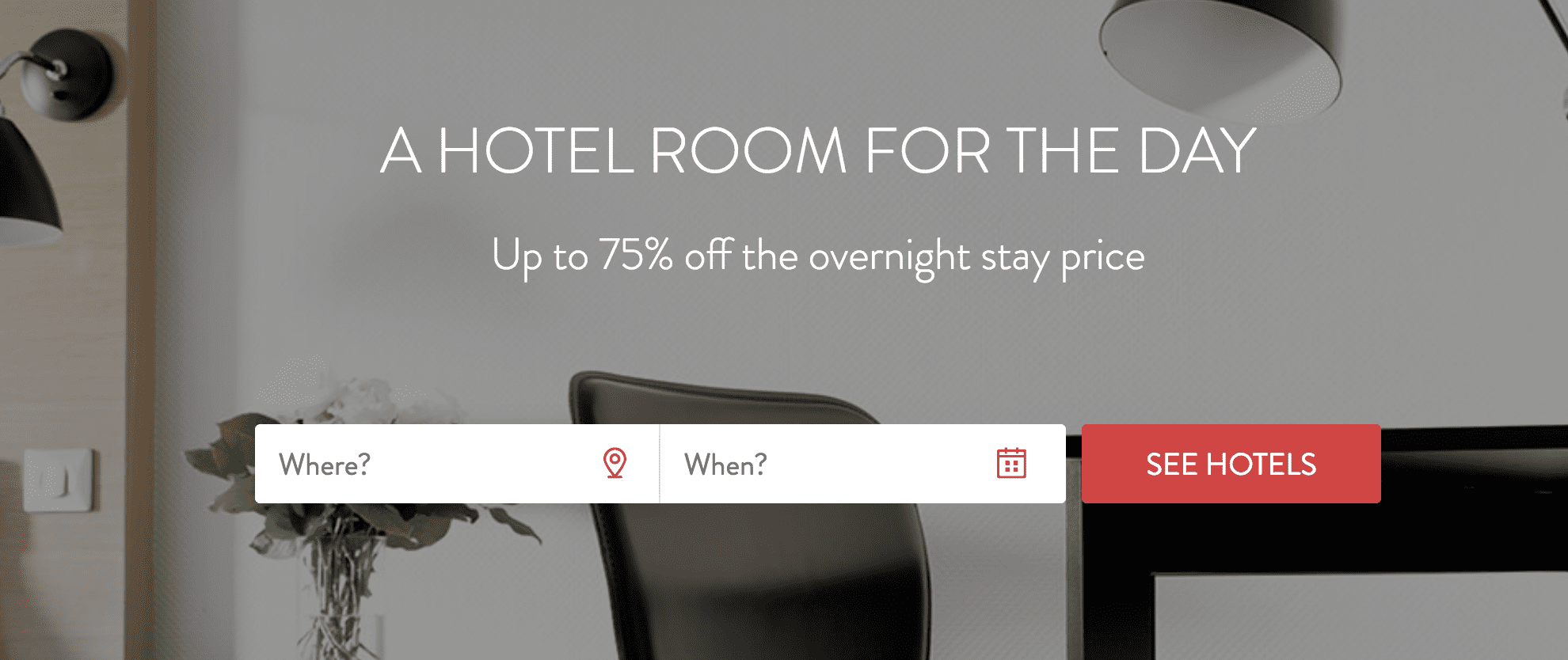 While you can easily use the app to find a room the day you need it, you run the risk of nothing being available. Instead, it's probably smarter to try and find something in advance. Once you've booked your flight and know when you'll need a room, it's a good idea to try and book your day pass at a nearby hotel if you want to make 100 percent sure that you have a place to relax.
The app is about as user-friendly as they get. Simply type in the city you want to find a room in and the date, and a variety of options are presented. They'll typically give you the time range during which the room is available for use (for example, 10 a.m. to 3 p.m., which is pretty common) and the price.
In this case, I wound up going with the Homewood Suites by Hilton. For $69, I was able to have access to the hotel room from 10 a.m. to 4 p.m. which was a great deal, especially since this particular room was a suite with a kitchen, living room, and a large bedroom. My flight was at 5 p.m. and the hotel was only about 10 minutes from the airport, which meant I could check out at 3 p.m. and still get there with time to spare.
Notes on the Booking Process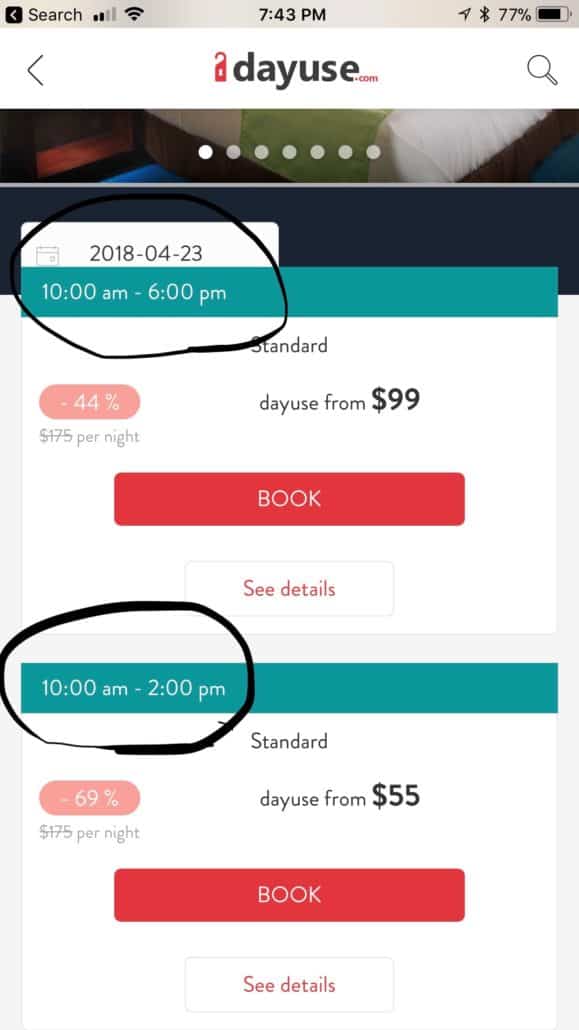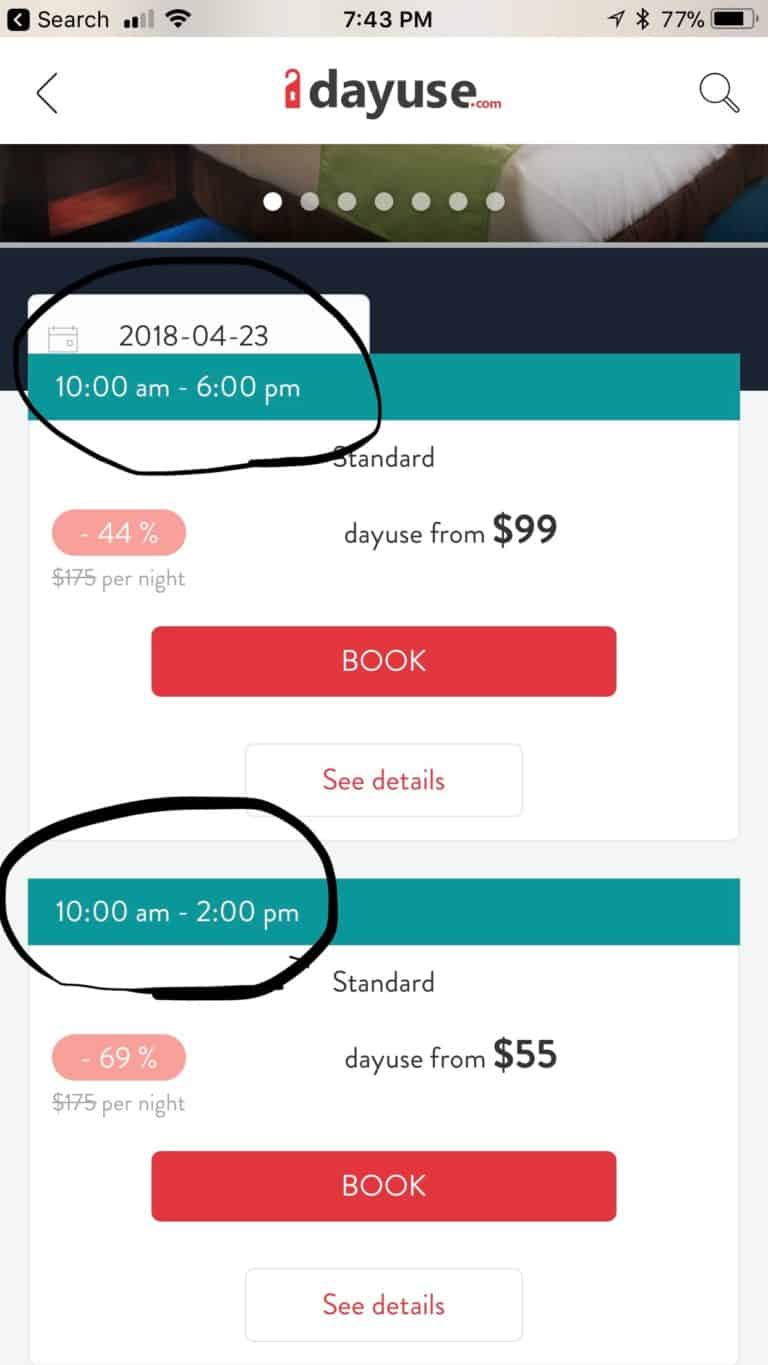 Once you enter in the name of the city you want to find a room in, you'll be presented with a list giving you the name of available hotels and prices. You can also click to see where they are on the map.
Search options allow you to look at the choices based on which is nearest, which are the site's top picks, which are priced lowest to highest and which are priced highest to lowest. (Although really, who asks to see the highest priced first?)
To find out more about a specific hotel, click on it. You'll find a lot of information, including what amenities are offered and which aren't. For example, some will show that they have a shuttle to the airport, which is definitely a great perk.
If you're picky or want to do something specific – like maybe get in a workout or sit by a pool – make sure to see if the hotel in question has the facilities you're looking for!
When it comes time to book, you'll be given the option to either create an account (which will make it easier to make future bookings with fewer steps) or do so as a guest.
It's important to note that no credit card information is required to use the app. Once you find the hotel you want, you'll be prompted to enter your first and last name, email, and phone number. You'll then get a text and email confirmation.
Arriving at the Hotel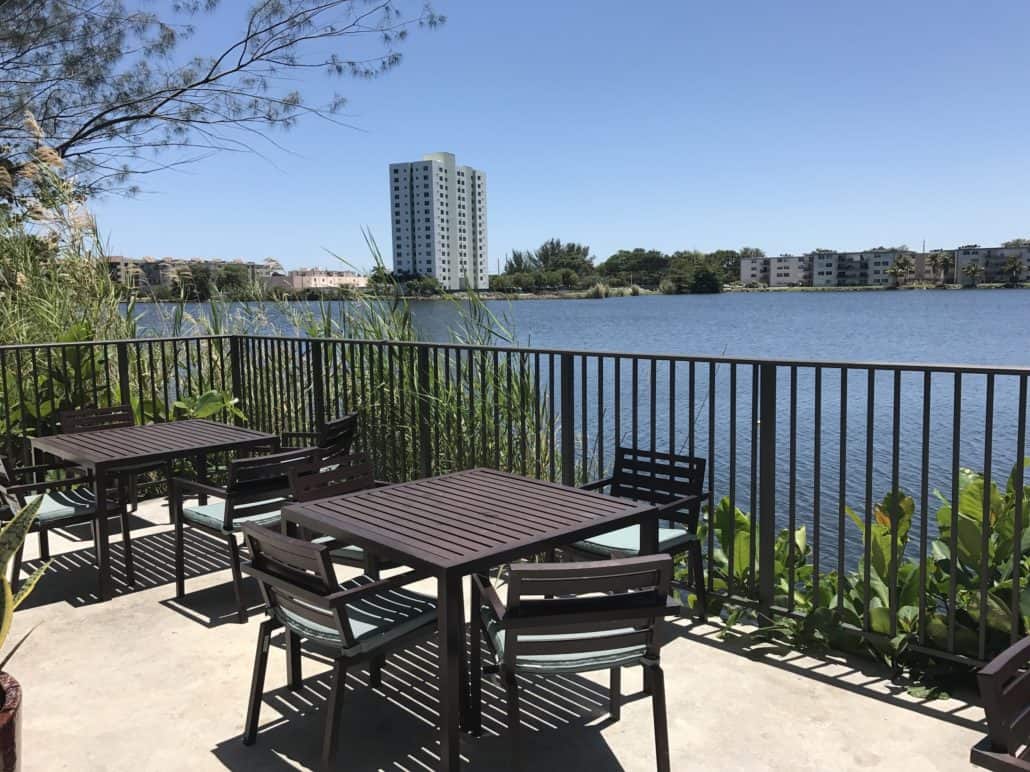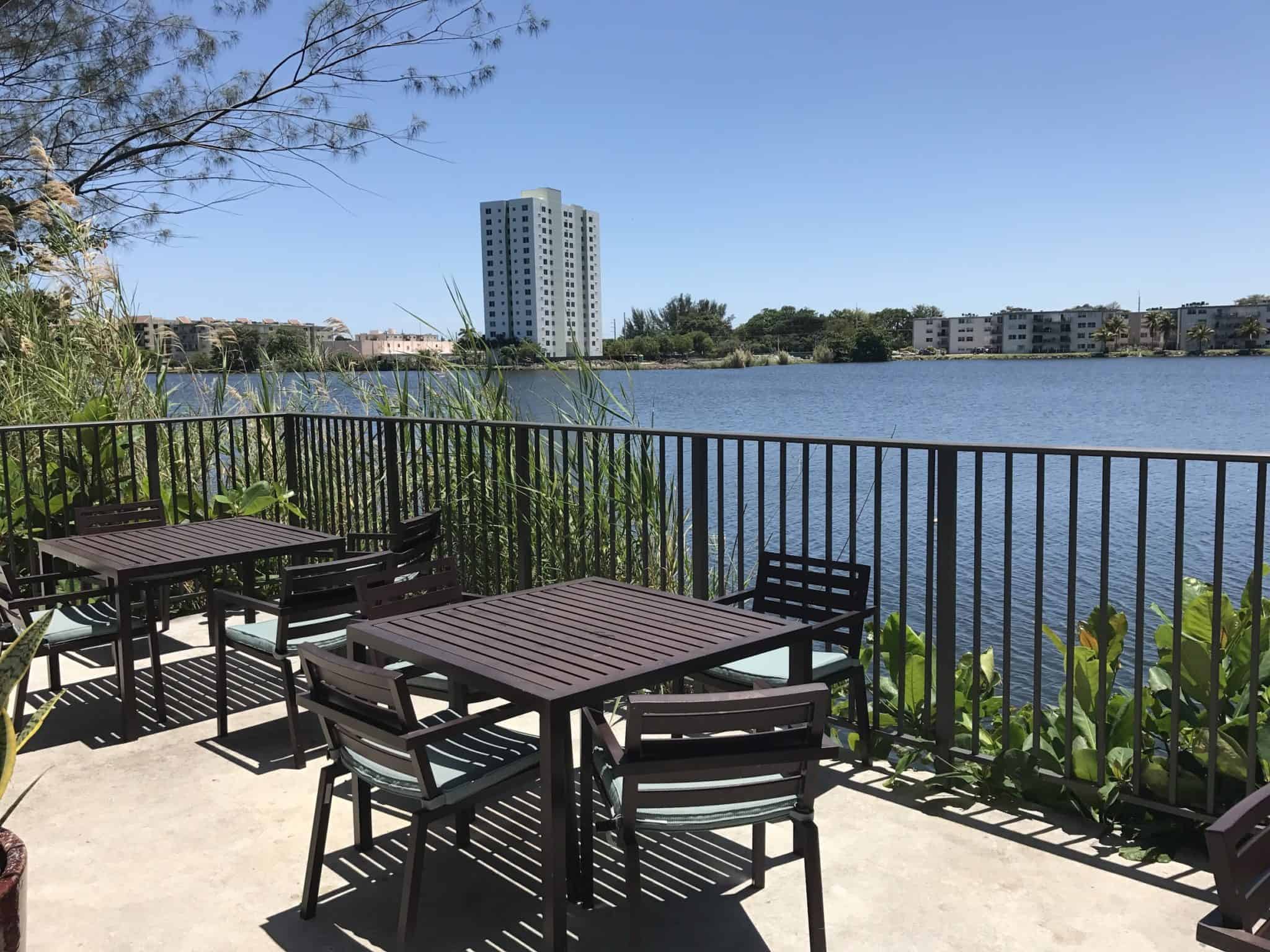 If you poke around the site a bit, you'll find that at most of the hotels, the earliest check-in time available is 10 a.m. If the hotel you selected has a hard-and-fast 10 a.m. check-in time, it's probably worth staying on the ship and enjoying breakfast rather than rushing to be one of the first people to disembark. Some do offer the option of letting the hotel know what time you plan to arrive, so if you want to check in earlier, it's worth seeing if that's an option. But once, having gotten off the ship earlier than I should have, I tried checking into a room at 8:30 a.m. and none were yet ready.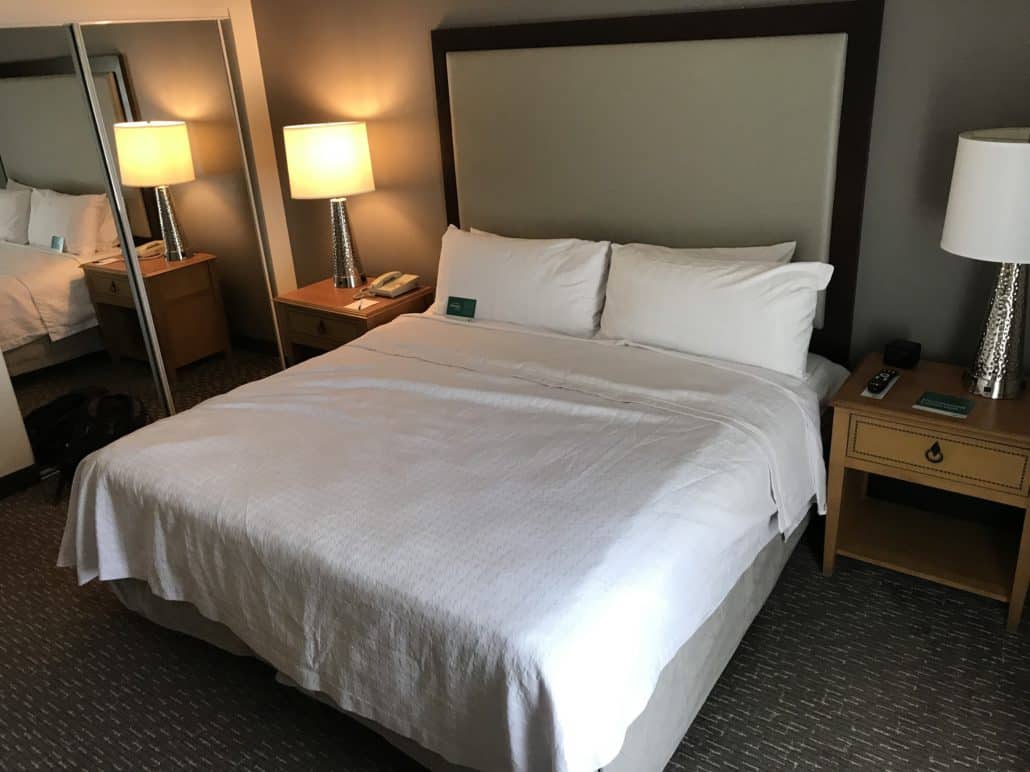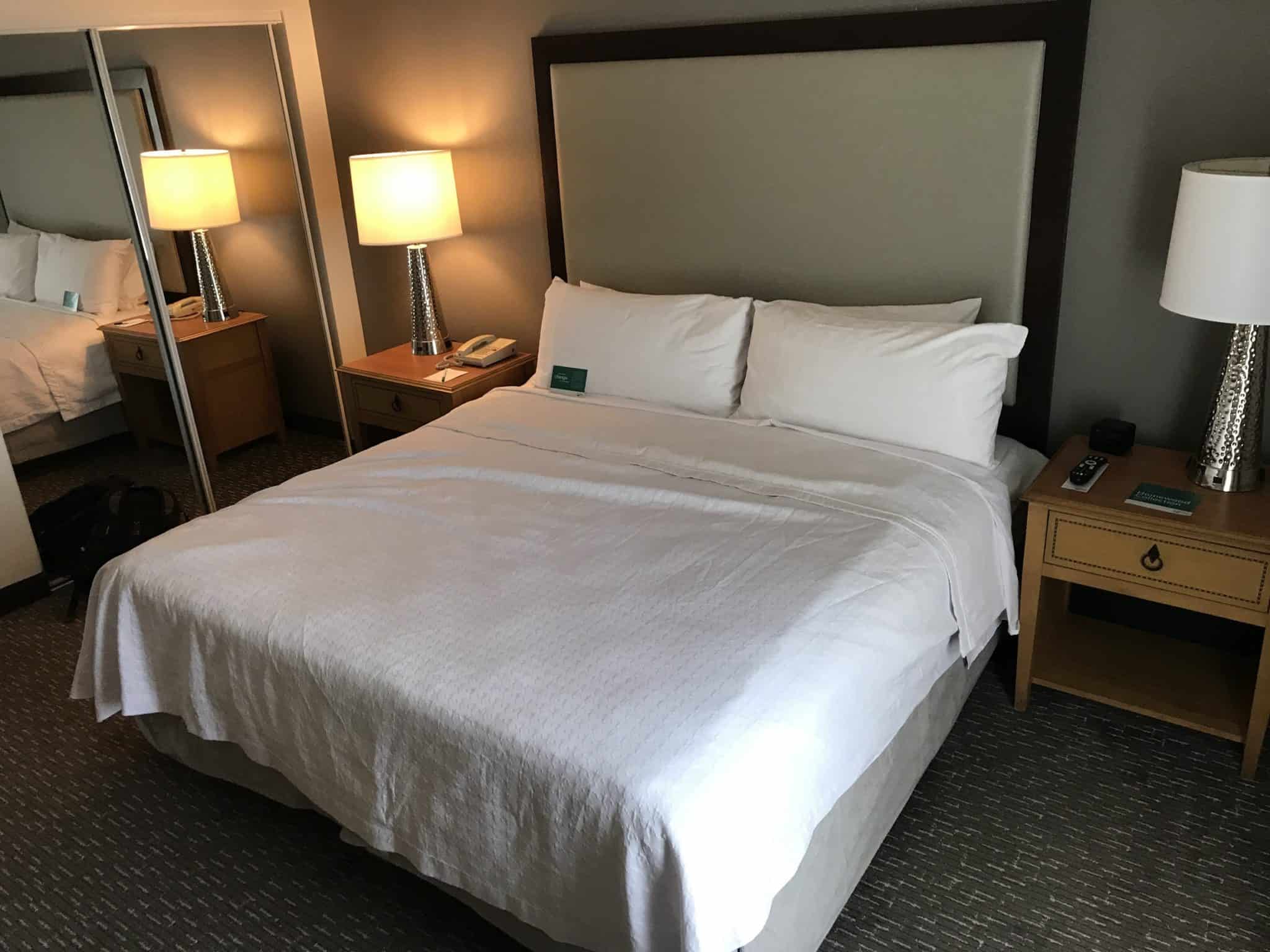 Checking in is pretty much exactly the same as if you were staying for the night. You simply tell them you've rented a room for the day and they'll look up your information.  It's always a good idea to have the email or text confirmation available in case they don't have the paperwork yet, especially if you did a booking on the same day as you are arriving.  They will take your credit card for incidentals. Like any hotel, they will place a temporary hold on your card and then release it a few business days later. The amount they hold varies based on the individual hotel's policy. When I stayed at the  Homewood Suites in Miami, they placed a $75 hold on the card I presented them with.
What I Liked Most About Day Use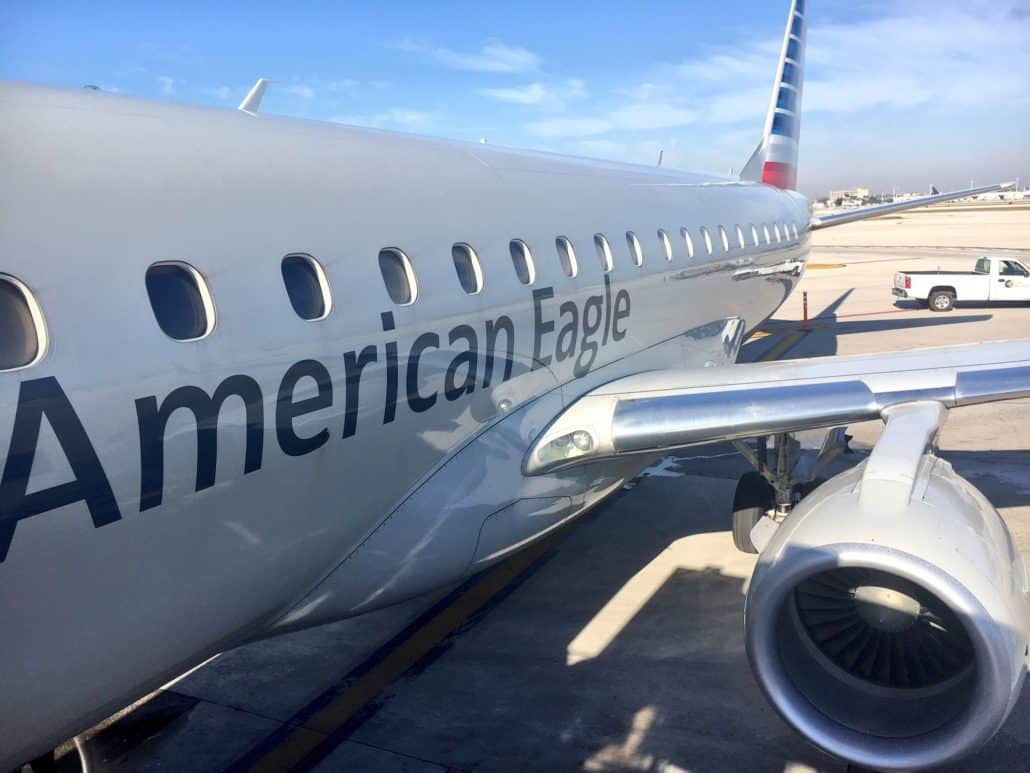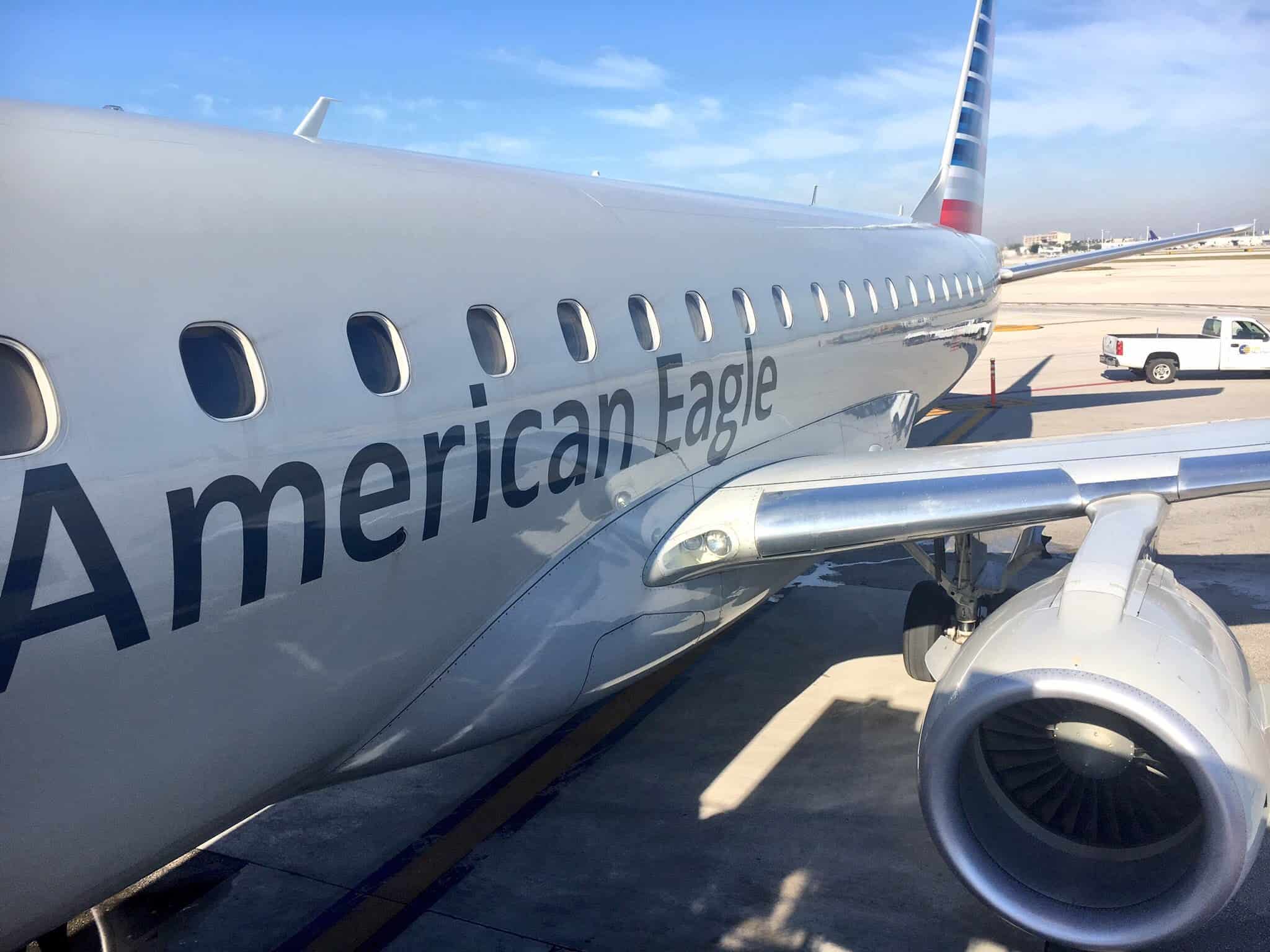 There's actually a lot to like about this app, even aside from the fact it means you don't have to hang out at the airport all day! For one thing, the app does not require you to input any sensitive information when holding the room. In this day and age, when it seems as if we're hearing about data breaches on a regular basis, that's a real plus. The simplicity of them texting and emailing you the confirmation is great because it gives you what you need immediately.
If you decide to create an account on the app, the functionality improves even more. For example, it allows you to bookmark your favorite hotels, look at your past history and, as I mentioned before, it really streamlines the process the next time you want to use the app. All in all, the app (whose website can also be accessed on your laptop at dayuse.com) is one I'd definitely consider a must-have for all cruise travelers.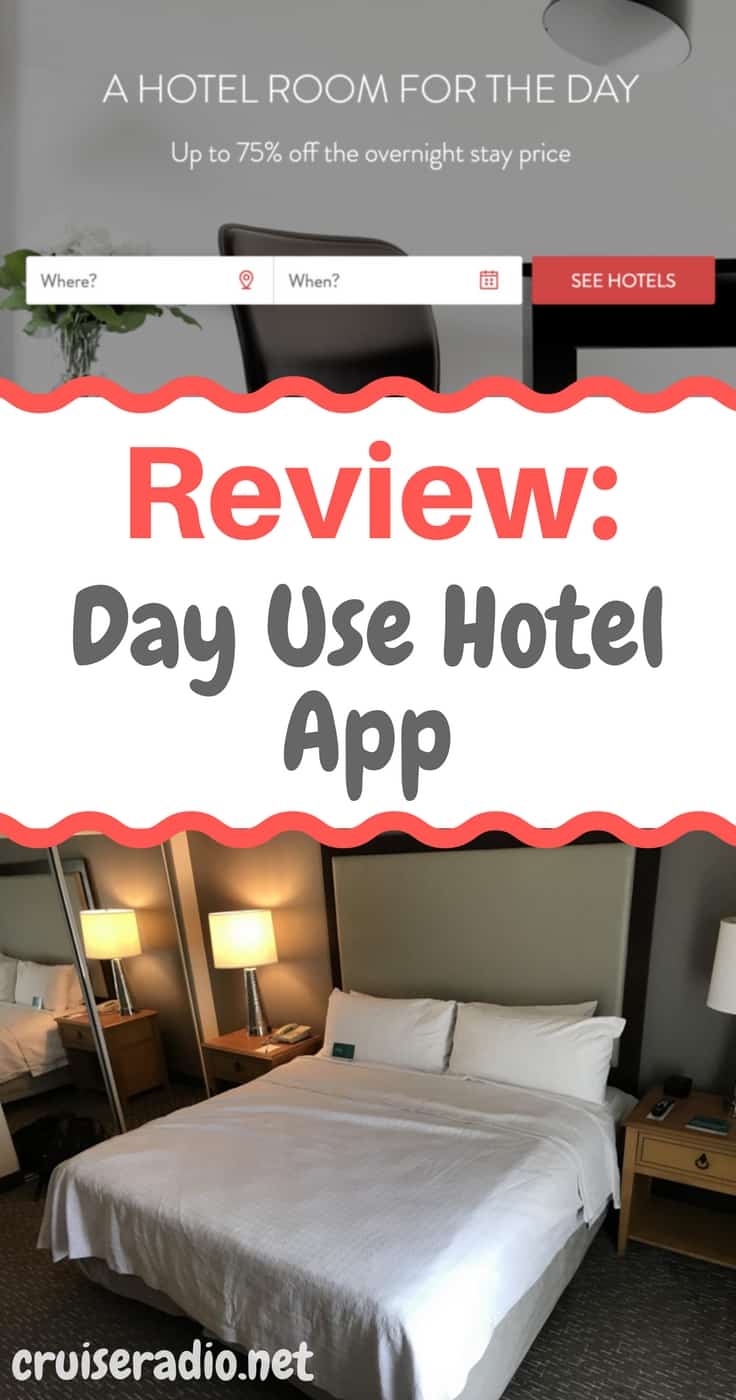 SaveSave
SaveSave