Overview:
Programs for Babies: When it comes to babies, Royal Caribbean is arguably king. They have two programs for babies and toddlers. Ages 6-18 months can enjoy Royal Babies Nursery. Ages 18 mo – 3 years will have fun in the Royal Tots Nursery. You are allowed to drop off your baby at both nurseries, or you can stay and play with them. Royal also offers Crayola Beginnings workshops with art supplies and activities for a fee.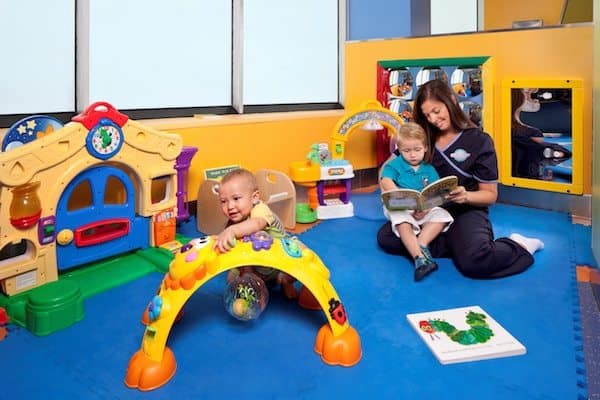 You can pre-order organic baby food and diapers aboard a Royal Caribbean ship to be delivered to your room, before as well as throughout your cruise.
For babies at least 1 year old, there is in-room babysitting available for a fee, or there's an option for group-sitting services as well.
Programs for Kids: Kids are divided into 3 age groups in the kid's program, Adventure Ocean. Aquanauts are 3-5, and have activities like Jurassic Jr., a pirate party parade, arts and crafts, storytime, and more. Explorers are 6-8, and do activities such as playing with Space Mud, Meteorology Madness!, and other science based activities. They also have art, theater, ice cream parties, and dance parties. Voyagers are 9-11 and have activities such as scavenger hunts, talent shows, sports tournaments, video game competitions, and more.
Programs for Tweens: Tweens ages 12-14, along with the teens, have their own lounge and nightclub. When they're not just chilling out or dancing, there are activities like rock climbing, dodgeball, BBQ and movie nights, open mics, and an academy for aspiring DJs.
Programs for Teens: Just like the tweens, teens ages 15-17 have a dedicated teens-only lounge and nightclub. Other activities include theme nights, pool parties, and teen dinners. They can also play basketball, have video game competitions, and sing karaoke.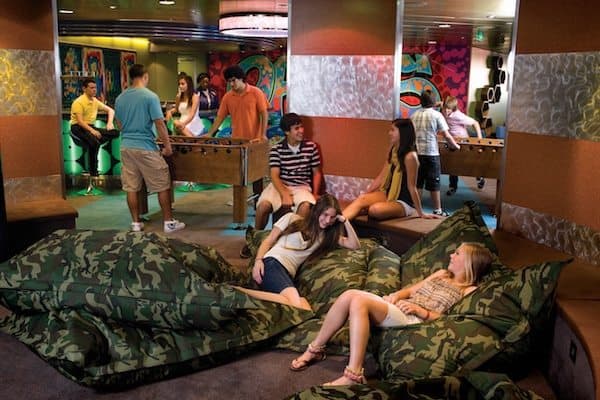 Royal Caribbean has a teen spa, called YSpa. They can get treatments such as an Acne Attack Facial, a Sole Mate pedicure, a Beach Babe deep hair conditioning treatment, and more.
Family Programs: Royal Caribbean features The DreamWorks Experience, which is a program designed for the whole family. Activities include meeting your favorite DreamWorks characters, enjoying shows and parades, eating at character meals, and watching 3D movies.
Royal Caribbean has other family activities such as festivals, pool games, karaoke, theme nights, and more.
Family-Friendly Shipboard Amenities: Family-friendly entertainment aboard Royal Caribbean include things like aqua shows, puppet shows, and musicals. Their ships also feature surf simulators, a rock climbing wall, zip lines, an ice skating rink, and more.
When it comes time for dinner, there is a program called My Family Time Dining, offered at the first seating in the main dining room for kids ages 3-11. They receive their meal within 40 minutes of seating, and then head to their evening Adventure Ocean activities, leaving you to linger a little bit longer for dinner. The program is offered starting the second night of the sailing, and you're free to choose if and when you utilize it.