Sapphire Princess has emerged from an extensive two-week dry dock in Singapore. The ship has been upgraded with product innovations and enhanced onboard spaces, and is now also sporting the Princess logo on her bow.
Finishing up a season cruising throughout Asia, the ship departed yesterday on a 28-day cruise from Singapore to London, before beginning European voyages to destinations in the Mediterranean and northern Europe.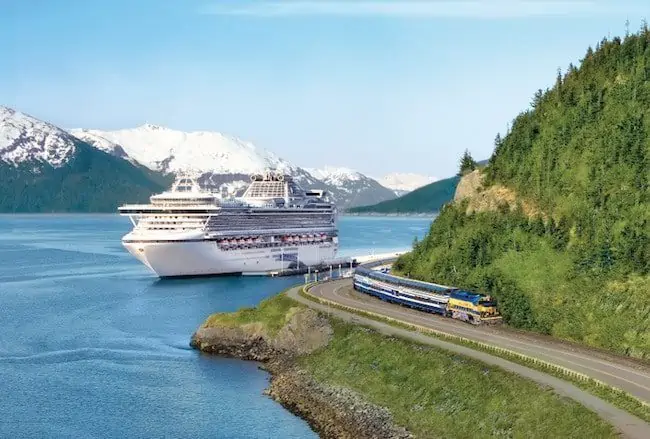 Ship Renovations
New Livery – Sapphire Princess is the latest in the fleet to receive the livery design featuring the iconic Princess Cruises logo, which represents the excitement and adventure of discovering the beautiful destinations of the world.
Princess Luxury Bed – Available in every cabin aboard the ship by June 2018, the Princess Luxury bed was developed with sleep expert Dr. Michael Breus and HGTV designer Candice Olson.
Club Clas Mini-Suites – Sapphire Princess offers Club Class Mini-Suites, the new stateroom category with VIP amenities and exclusive dining. It includes perks such as a reserved dining area with expedited seating and expanded menu options, as well as priority embarkation and disembarkation.
Camp Discovery Youth & Teen Center – For guests ages 3-17, the ship now features a reimagined youth center – Camp Discovery – created with Discovery Consumer Products. Catering to specific age groups, kids and teens can make new friends and participated in activities specially designed to help them discover, play, and create.
Entertainment LED Wall – Located in the Princess Theater, this new LED wall will be used in production shows and various onboard guest entertainer shows. The wall is made of 270 panels that will display still images, video, and live feeds.
"Bravo" – Launching in May 2018, this elegant show on formal night is one of the highest-rated across the fleet. The "Popra" inspired show includes a mix of pop, opera, and musical theater performed by a guest soprano in front of a live orchestra.
Enhanced Boutiques – Guests will be treated to an upgraded shopping area on the ship, including an Effy Fine Jewelry boutique. There will also be new products to choose from, featuring a collection of Princess branded athletic wear and logo apparel displayed in a newly designed logo shop.
Lotus Spa & Fitness Center – A space where guests can relax and invigorate, salon and treatment rooms have been upgraded. In the fitness center, equipment has also been upgraded to the newest and latest.
For more information about Sapphire Princess' European summer schedule, visit princess.com/europe.