In the past couple of years, cruise vacations have spread like wildfire – and it's no wonder – since there has never been a better time to sail. I'm sure you don't need a list of reasons to go on a cruise, you're probably already craving one.  But if you need some convincing, I give you seven reasons you need to cruise now. 
1. Reduced Deposits
Carnival Cruise Line, Norwegian, and Royal Caribbean have been offering up to 50 percent reduced deposits lately. A reduced deposit won't change the price of the cruise, but it will allow you to hold your cabin for less money out of pocket.
2. Kids Sail Free
MSC Cruises allows kids 11 and under to sail free when they're sailing as a third or fourth guest in a cabin. Of course, certain restrictions apply but it's valid for their Caribbean and Europe sailings.
3. More Ports the Ever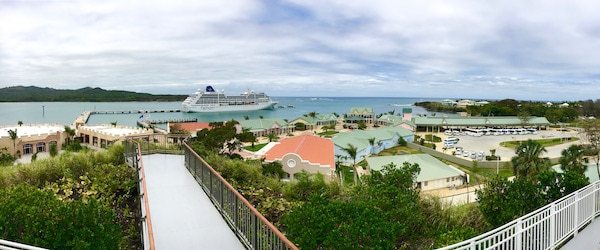 There are now more ports than ever in the Caribbean, boiling down to nearly unlimited options. Carnival Corporation recently opened Amber Cove in the Dominican Republic and Norwegian Cruise Line just opened Harvest Caye in Belize. And who can forget the private cruise line islands scattered across the Caribbean?
4. Incentive Packages
We are now finding cruise lines offering complimentary unlimited beverage packages, dining packages, shore excursion credits, and free WiFi to entice guests to sail with them. Norwegian Cruise Line has been bundling a lot of perks lately – up to five perks on some sailings.
5. Staying Connected is Affordable
For the cruiser that can't go without staying connected, cruise lines are now offering internet packages for as low as $5 per day. Not to mention companies like Royal Caribbean, who have the fastest internet at sea, with claims of connections faster than some homes.
6. More U.S. Home-Ports
Unless you live in the dead center of the United States, chances are you're less than a day's drive from one of the dozens of U.S. home-ports. Cruise lines are strategically placing ships in more ports spread out across the country, so guests don't have to spend a fortune on airfare. Carnival Cruise Line says that 50 percent of the U.S. population is only a days drive away from one of their North American home-ports.
7. Unlimited Options
No other vacation allows you to unpack once and take in a sampling of different ports in a set amount of days. But, if you don't want to see a lot of land, just jump on a repositioning cruise. The limits are being tested more and more these days. With the onset of breweries at sea, 10-story slides, robotic bartenders, and thrill rides – like walking to plank on Norwegian Cruise Line or the sky coaster on Carnival Vista.
What reasons do you have to cruise?
Pin this