I just got back from Fincantieri shipyard in Malfacone, Italy, where Princess Cruises' latest ship, Sun Princess, is coming together… one weld at a time.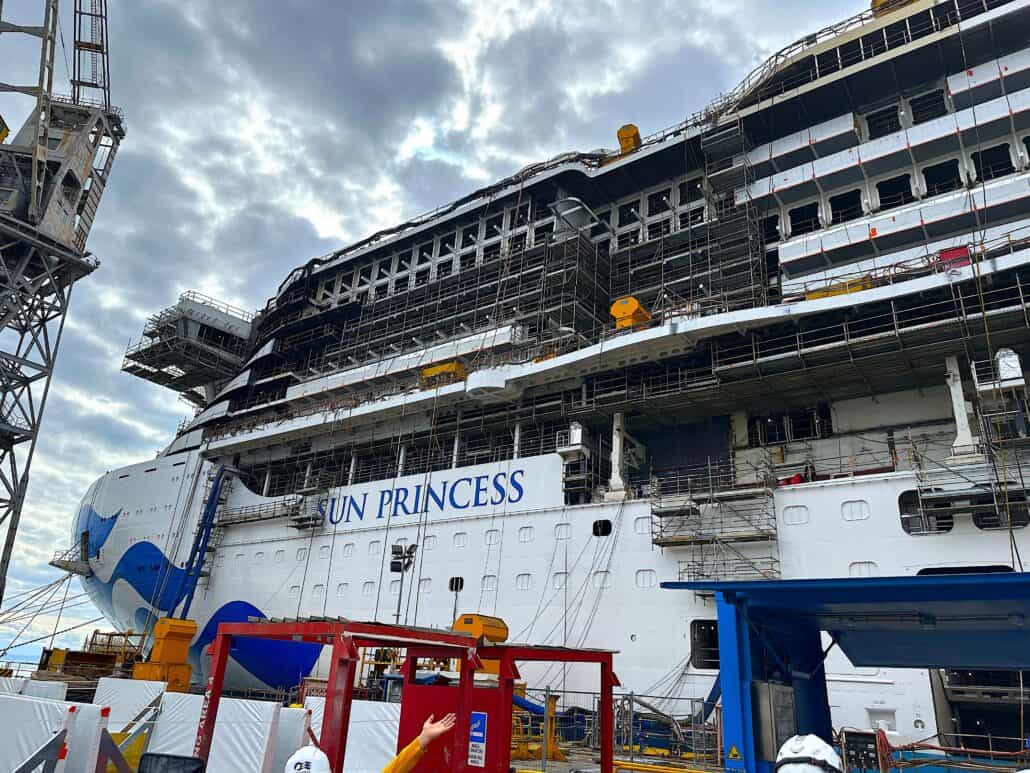 When completed, the 175,500 gross registered ton ship will be the largest vessel in the Princess fleet. And while she still has a long way to go, some of the signature elements one expects from the line can already be spotted in these photos.
Other elements, including many which will be unique to Sun Princess, aren't yet in evidence.
Years In the Making
Building a cruise ship is a complex and time-consuming process that requires years of planning, designing and, eventually, construction. Just ask Richard Parker, director of newbuilds for Princess Cruises. Parker — no relation, by the way — said he's been waiting six years to see Sun Princess come together.
While Princess Cruises is a division of Carnival Corporation, and this ship will be powered by LNG, it is not — as some have assumed — an Excel-class ship like those built by Carnival Cruise Line, Costa Cruises, and P&O Cruises. Rather, this Sphere-class ship was designed from the ground up as a collaboration between Princess and Italian shipbuilder Fincantieri.
Building a Cruise Ship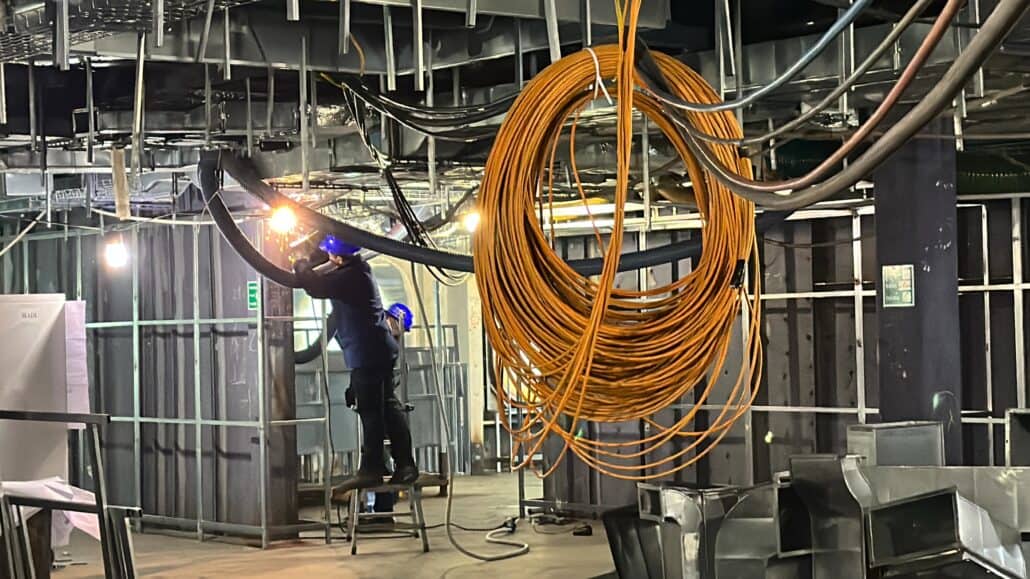 From the initial concept to the final launch, every aspect of a cruise ship's construction must be carefully considered and executed. It's also something of a balancing act, as form and function need to co-exist. Safety is obviously the top priority, but other factors such as how each element fits both literally (in a construction sense) and figuratively (in the overall vision of the designers) must be taken into consideration.
Once the design is finalized, the actual construction of the ship gets underway, beginning with the laying of the keel — aka the bottom of the ship— in place. Once the most basic of steps have been completed, assembling the various components and systems of the vessel — including the hull, engines, propulsion system, electrical wiring, and pipes — can begin.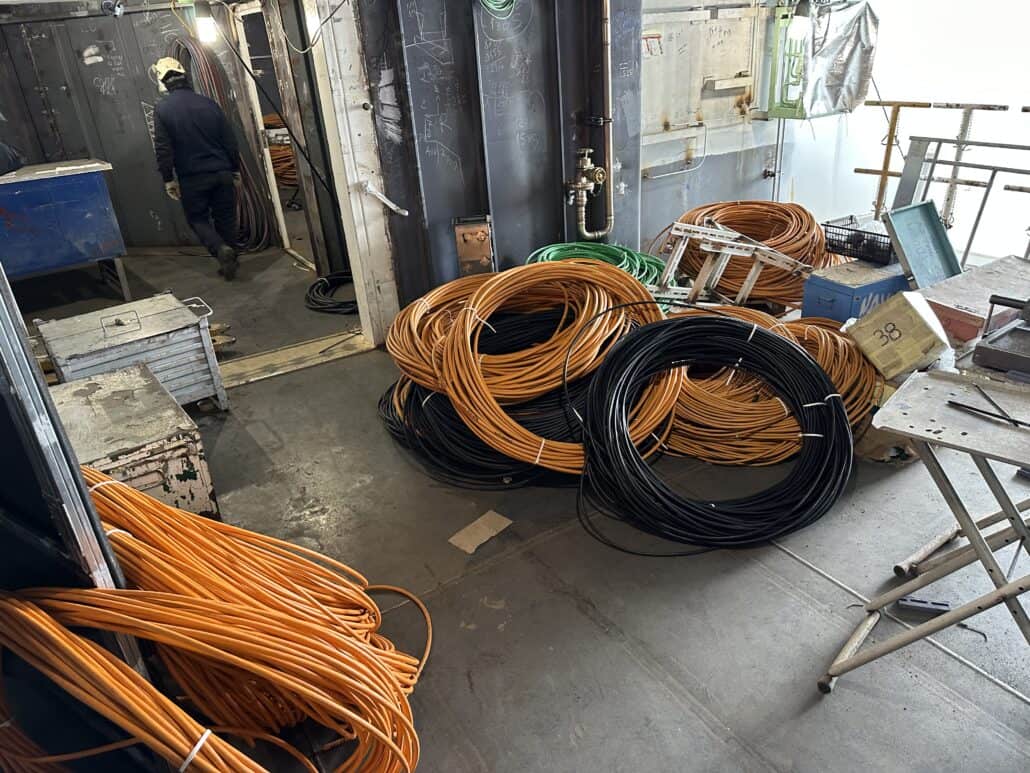 To visit a shipyard during the process is to witness the very definition of "organized chaos." To the casual observer, it seems impossible to believe that the pile of pipes to your left and wiring to your right will become essential to the operation of the vessel.
Yet nothing is left to chance as each individual element eventually becomes part of the larger whole that is taking shape.
After the ship's structural components and systems are in place, the interior fitting and outfitting phase begins. This is when the ship begins looking more like what passengers expect to see. Furniture is brought in, and previously empty spaces morph into dining rooms and theaters and staterooms.
In early March, Sun Princess was floated out from the dry dock (where it was built) and taken to the wet dock (where it'll be finished).
What Makes This Ship Different?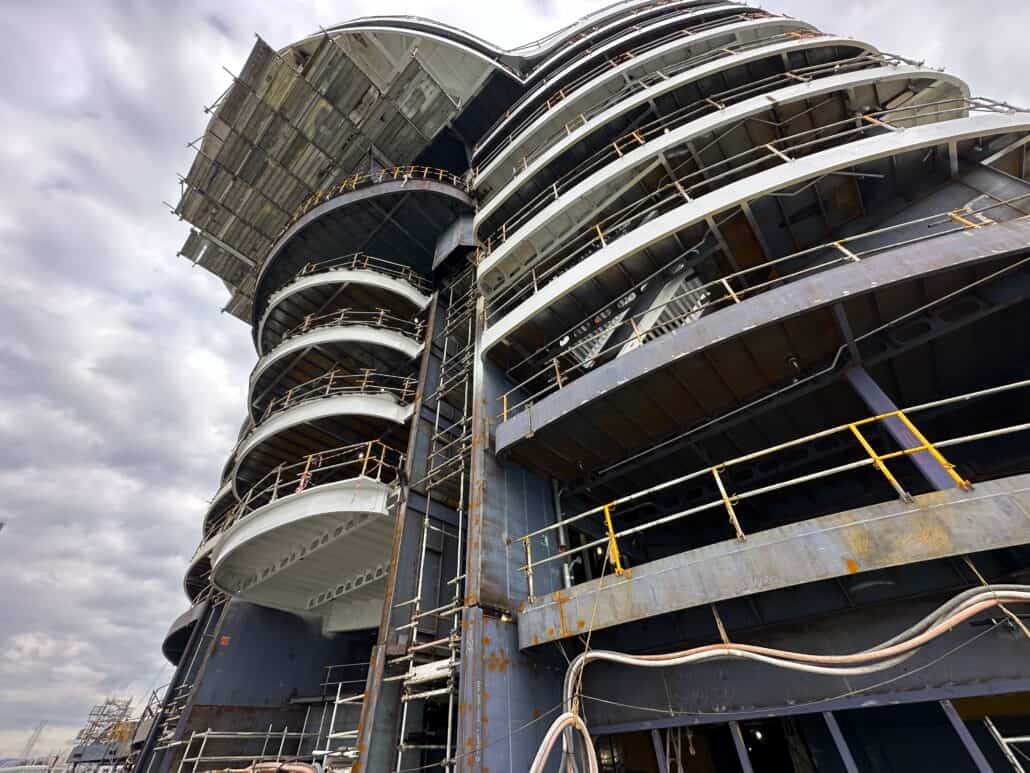 Given the massive amount of money a line invests into each new ship, it won't surprise you to learn that they do a great deal of marketing in order to determine what guests want. And while that's a never-ending process that helps them decide everything from itineraries to carpet designs, it starts long before a ship is even designed.
Based on feedback from guests, here are some of the ways in which Sun Princess will differ from the line's previous offerings.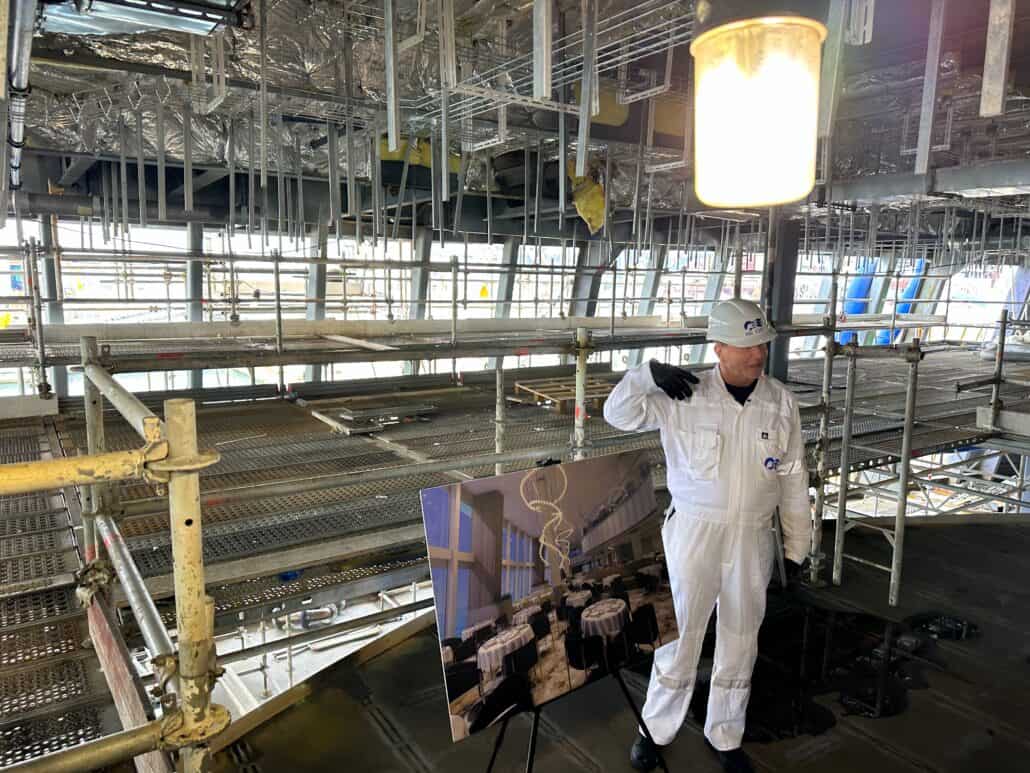 1. The World Marketplace Buffet — which on other Princess ships is located on the upper pool deck — will here be moved down to deck nine, which will allow guests to enter from one of the open promenade areas.
2. The Princess Arena has the ability to be configured in three different ways: What's known as the "end-stage" (as in traditional theaters); in-the-round (with the stage in the center and guests surrounding on all sides); and the proscenium setup (which is more in line with a classic opera house).
3. Sun Princess will have one of the first casino spaces at sea to feature an air purification system pumping 100 percent clean air onto the gaming floor. It'll also feel very roomy with high ceilings.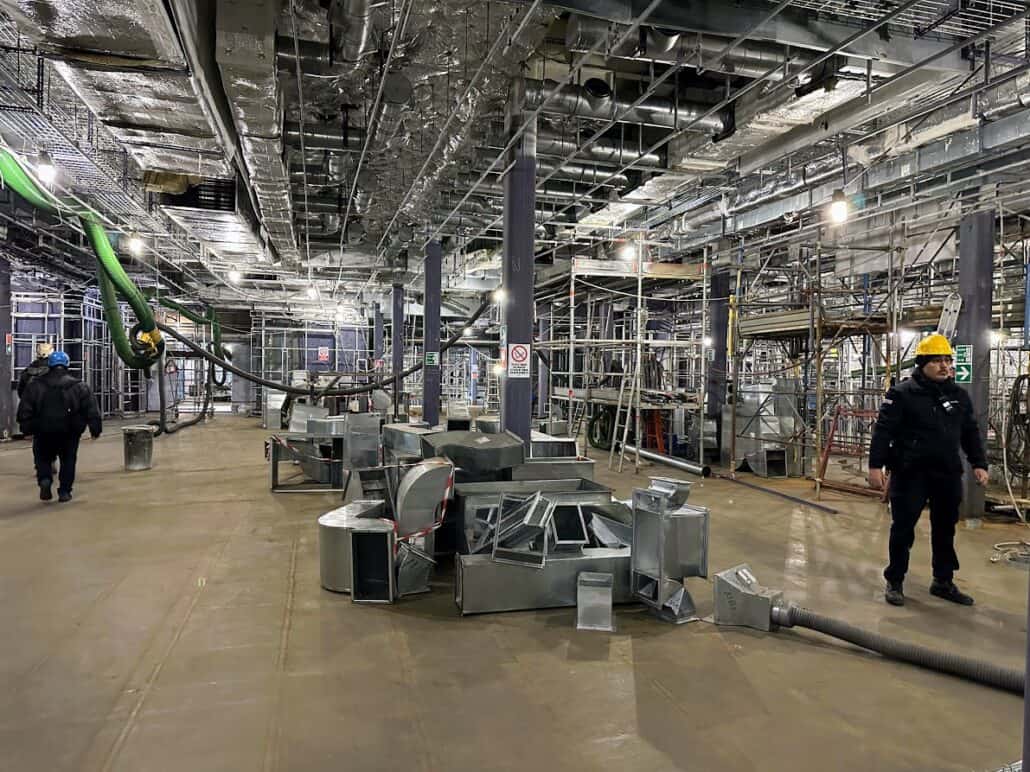 4. The main dining room will span decks six, seven, and eight. And in another first, each level will offer a slightly different dining experience as well as level of formality. The space will also have floor-to-ceiling windows offering wake views and lots of natural light.
5. The Dome — a literal glass dome perched atop the ship — will feature indoor/outdoor pools and, at night, transform into a South Beach-inspired entertainment venue.
6. The Wake View Terrace — sitting at the back of the ship, as one might expect — will be a resort-like patio that extends over the aft end of the ship with an infinity pool, bar, and entertainment offerings.
7. There will be new categories of staterooms and 100 adjoining cabins. The cabana staterooms come with access to a private patio, along with cove balconies on deck six.
8. Every stateroom will now have a sitting couch, multiple USB outlets, and showers with glass doors as well as a shaving bar for the ladies. Also announced was eliminating the walk-in closet and using closet storage like most cruise ships have when you walk in. "By eliminating the walk-in closet, we were able to add more usable square footage to the stateroom," Parker said.
9. A move towards a ship-within-a-ship concept of sorts. Guests in the Signature Collection staterooms will have a dedicated restaurant, lounge, and amenities. These features will not, however, be in a separate space with keycard-access (as with NCL's The Haven or MSC's Yacht Club).
For instance, the Signature Collection dedicated dining room will be located off one of the promenades. Guests will also have access to their own sun deck, which is an extension of the pay-for-use sanctuary space.
Looking Ahead to 2024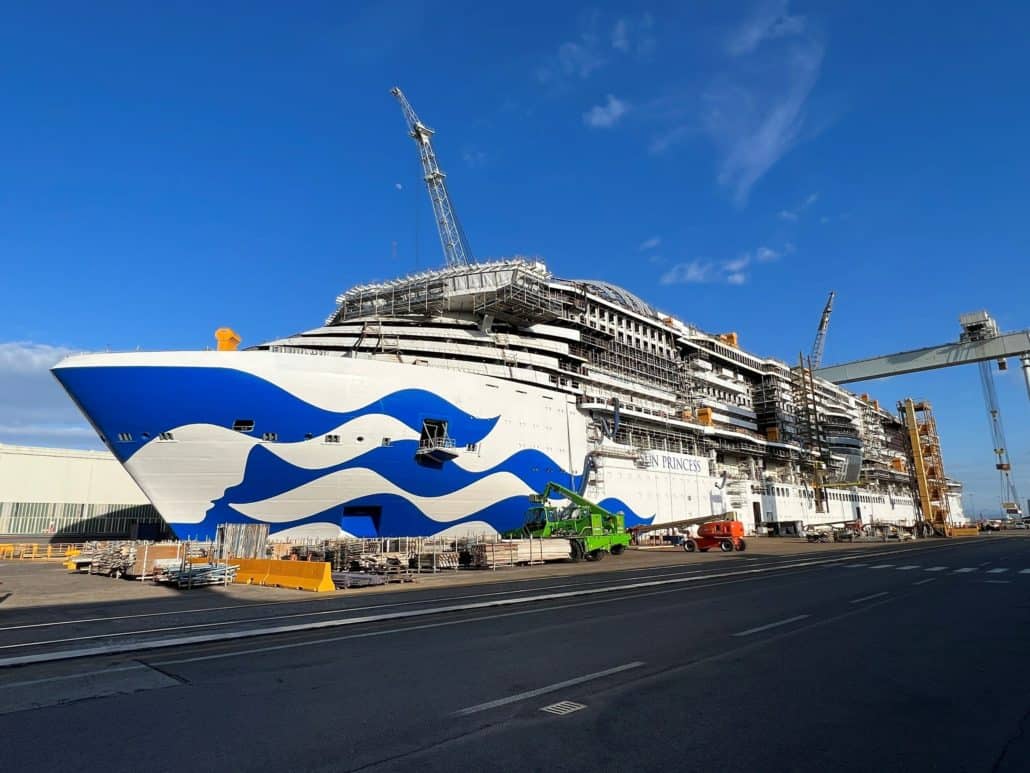 Although a great deal of information was shared with us during the tour, some details were not revealed… including venues that have not yet been announced.
For example, there's a mysterious black door found on deck eight, behind which a unique experience supposedly will be found. (Perhaps an old-time "speakeasy" at sea? Only time will tell… )
When Sun Princess debuts next February, she'll spend her inaugural season in the Mediterranean before repositioning to Port Everglades (Fort Lauderdale) in the fall.
As the ship enters her final stages of construction, more photos and details will no doubt be forthcoming.
Until then, all we can do is wait to see what else Princess Cruises has in store for us aboard this innovative, groundbreaking ship.