In honor of what could arguably be Princess Cruises' favorite holiday, the line partnered with Wakefield Research to find what the ideal Valentine's Day gifts are. One thousand adults were surveyed to find out their ideal gifts and activities for the day of love.
26 percent of participants wanted a vacation, half the number (13 percent) wanted flowers, 11 percent desired jewelry, and 10 percent wanted chocolate or other gifts. When asked what their ultimate romantic vacation would be, the majority (55 percent) chose a Caribbean cruise. Another interesting result was surfaced during the survey: 43 percent of female respondents would give up sex over chocolate for a week, while only 24 percent of men would do the same.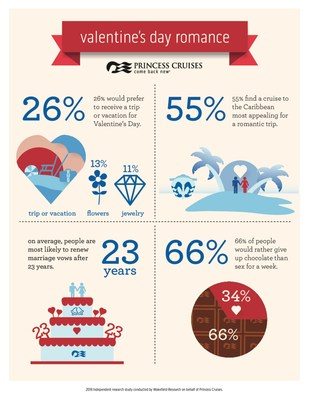 In celebration of the holiday, Princess Cruises is reminding guests what some of the options are for romance aboard their ships:
Private balcony breakfasts and dinners
A private cabana to relax in the adults-only Sanctuary area
A couple's massage in a private oceanview treatment room with whirlpool at the Lotus Spa
A romantic night out watching "Movies Under the Stars" on the lido deck
Wine and chocolate pairings as part of the Chocolate Journeys program by chocolatier Norman Love
The line's celebrity ambassador Gavin MacLeod, who played Captain Merrill Stubing on The Love Boat isn't surprised that guests wanted a Caribbean cruise. "It's always been a favorite destination of guests and the celebrities who came aboard for the show. But, there is nothing more romantic than a Princess cruise – no matter where you sail!"
Princess Cruises now allows friends and family to purchase gifts online for guests who will be sailing onboard. Ideas include a bottle of champagne waiting in the cabin, a candlelight dinner for two in a specialty restaurant, and spa treatments. For more information about Princess online gifting, visit princess.com/gifts.