Port Canaveral welcomed the world's largest cruise ship before dawn on Thursday, as Royal Caribbean's Symphony of the Seas made its first North American port of call.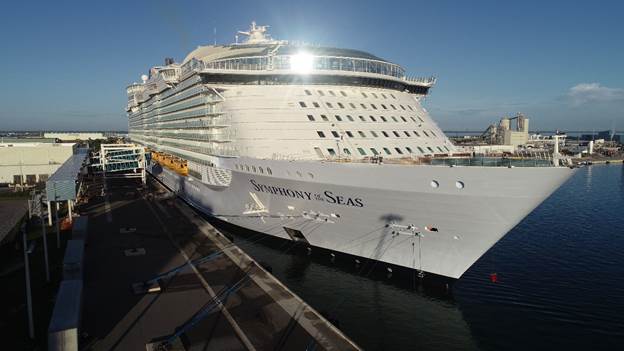 The vessel arrived at the port's Terminal 1 from Malaga, Spain with nearly 5,500 guests and 2,200 international crew members. Symphony stopped at Port Canaveral on the way to Miami to clear customs and undergo the required U.S. Coast Guard port state control inspection. The ship has been sailing Mediterranean cruises from Barcelona since its maiden voyage on April 7. All passengers and crew members were required to disembark the ship at the port and clear customs. Re-boarding of everyone was phased, with crew members returning first while guests remained ashore during the inspection process. Many spent the day shopping at Cocoa Village or touring around Kennedy Space Center, while others chose to re-board the ship and enjoy its amenities.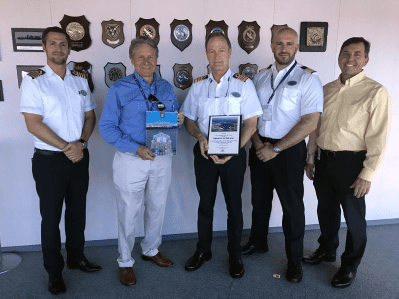 "We're proud of the confidence our partners at Royal Caribbean have in us. Although this ship will be home-ported in Miami, our cruise partner trusted the capabilities of this port for its first U.S. port of call," said Port Canaveral CEO Capt. John Murray. "As a brand-new ship, coming from a foreign port, it's important that the customs clearance and Coast Guard inspection operations run smoothly and efficiently to avoid time delays and preserve a positive guest experience."
The Oasis-class ship departed Port Canaveral on schedule yesterday afternoon, with two tugboats who escorted the ship out of port with a traditional water salute. Symphony arrived in Miami early this morning.