A truly multi-cultural city, Tampa is a great place to choose to sail from as it's an exciting place that hosts cruise ships year-round from several lines.
The terminals are convenient, parking a breeze, and the city itself home to interesting and unique attractions within a short walk of the port.
Nearby attractions such as Busch Gardens Tampa Bay theme park, the Gulf of Mexico beaches, and all the sights of Tampa itself make for an interesting and affordable pre-or post-cruise visit.
Location
Located on Tampa Bay, Port Tampa Bay is right in the heart of downtown. Interstate 4 connects the downtown peninsula to Tampa International Airport, the beaches just west of the city, and Orlando with its world-famous theme parks and entertainment options. Hotels are plentiful, and the free streetcar makes getting around downtown easy.
Tampa Cruise Port Address: 1101 Channelside Drive, Tampa, Florida 33602
Cruise Lines That Sail From Port Tampa Bay
A popular port located on the west coast of Florida, Port Tampa Bay is a year-round homeport for several ships and a growing winter/spring homeport for other lines:
Carnival (year-round)

Celebrity (seasonal)

Norwegian (seasonal)

Royal Caribbean (year-round)
Itineraries that leave from Tampa offer choices of Western, Eastern, and Southern Caribbean, along with partial Panama Canal transits. Some lines even offer five-night voyages from Tampa to the Bahamas, most of which call at the cruise line's private island there. Autumn and spring transatlantic voyages also arrive and depart from Tampa every year.
Terminals
Port Tampa Bay is consistently rated as one of the easiest and most convenient ports in the state of Florida. The port is a major container and shipping center, but also has a popular and growing cruise business, which sail out of three terminals. All three terminals are a short walk from ample parking including garages and surface lots, the Tampa Riverwalk, Florida Aquarium, and Sparkman Wharf.
Terminal 2 — Royal Caribbean International
Terminal 3 — Carnival Cruise Line, Celebrity Cruises, Norwegian Cruise Line
Terminal 6 — Royal Caribbean International, Celebrity Cruises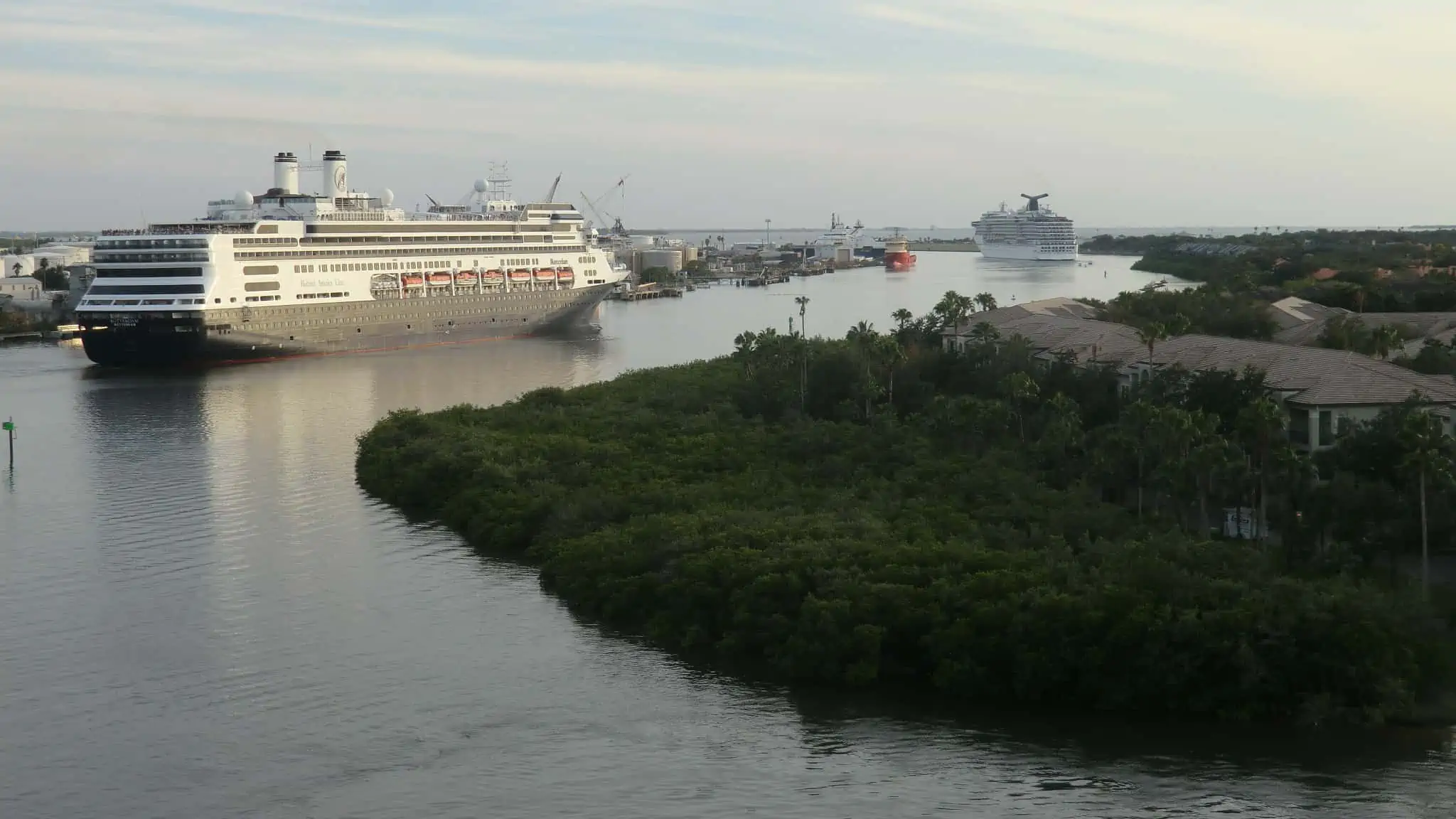 Ground Transportation

  
Tampa is an easy city to navigate through with simple ways to arrive at the port. Options include:
Cruise ship shuttle service — These can be booked directly with your cruise line or with your travel professional. They are usually a bus or van which will carry a number of other cruisers heading to the same ship or terminal.
Rideshare (Uber/ Lyft, etc) — About $10 each way from Tampa International Airport 
Taxi — Flat fare for taxis from Tampa International Airport to Port Tampa Bay is $28, one way.
Train — Tampa is served by daily trains to and from Miami and up to New York City. Tampa Union Station is only half a mile from the cruise port, though train schedules usually require spending the night on your embarkation day — which can make for a very pleasant pre-cruise evening.
Car rental — Of course, you can rent a car, but if you are flying in it doesn't make much financial sense as you will pay the parking fees for the duration of your cruise (see below).
How far is Port Tampa Bay from the airport?
One of the most convenient things about Port Tampa Bay is its proximity to Tampa International Airport. Located just over 8 miles away, a trip from the airport to the cruise terminals takes about 15 minutes outside of commuting times and around 30 during rush hours. 
Slightly further away, across Tampa Bay in Pinellas County, is the St. Pete-Clearwater International Airport. As a hub for ultra-low cost carrier Allegiant Airlines, it could definitely be a cost saver to use this airport instead of Tampa International. Even though it is across the bay, the drive time is only about 30-45 minutes from the cruise terminals.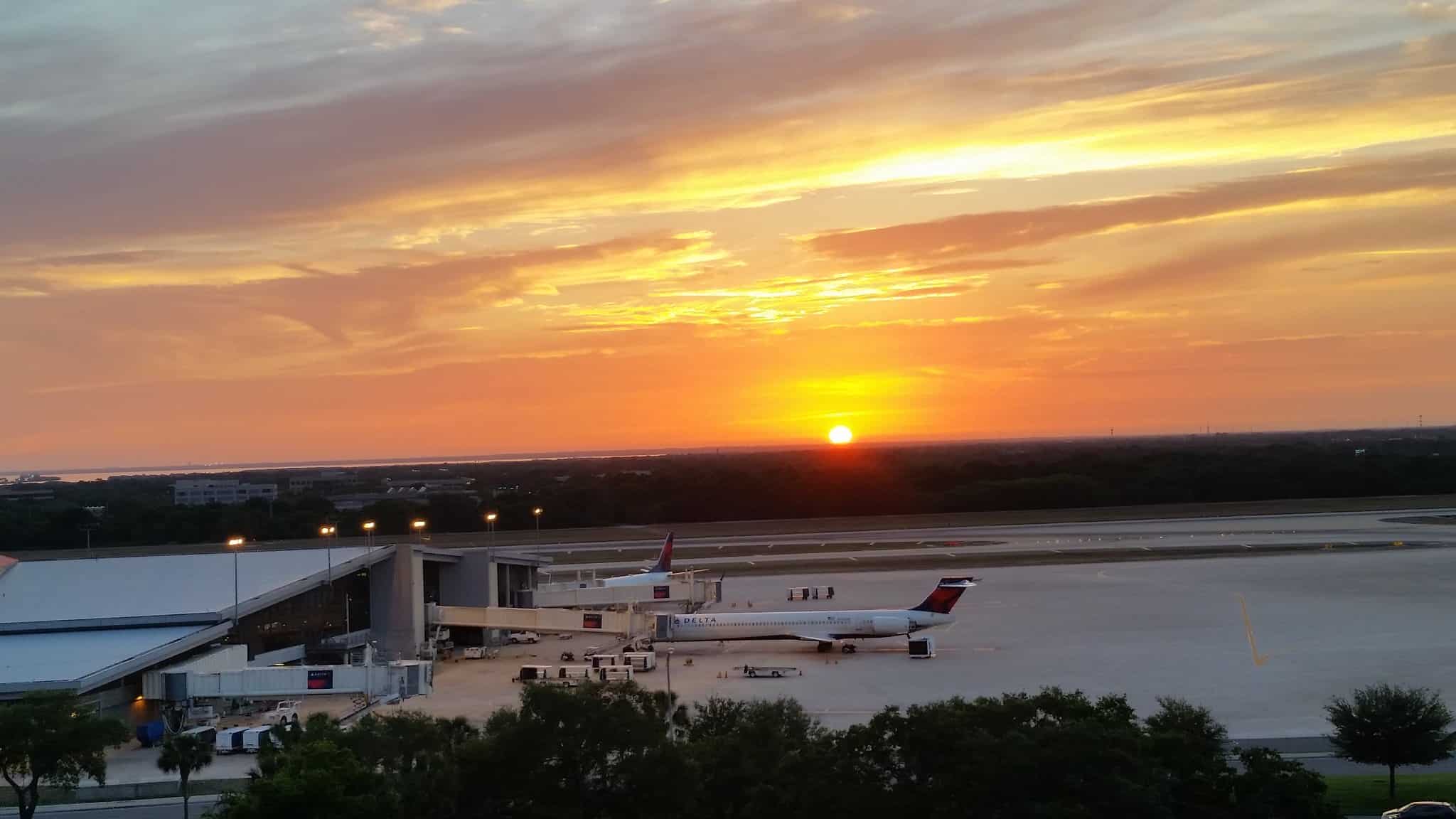 Parking and Fees
Parking garages are located directly across Channelside Drive from the three cruise terminals at Port Tampa Bay. Prices are affordable at $15 per day, paid online in advance (porttb.com). The garages are secure, monitored, and keep your vehicle out of the hot Florida sun.
Surface lots are also within walking distance and can be booked online before you arrive for around $8 per day, or paid in person when you arrive at the port.
When should I arrive?
Because Port Tampa Bay is a smaller port serving only two or three ships at any given time, it's an easy place to get around. If parking in the garages, 30 minutes is plenty of time to park and walk to the terminal.
It's also possible to drop off your family or friends at the terminal with your bags (porters are available) and then park while they wait. Surface lots are about a ten to fifteen-minute walk away — so if you choose those, make sure to factor in additional time.  
Nearby Hotels
The best spots to stay for a night before or after your cruise are either in the city, close to downtown, or out by the beaches if you have a little extra time. Close to the port in downtown are a good selection of mid-range and luxury hotels, many with great waterfront views and locations on the Tampa Riverwalk.
A short streetcar ride away in Ybor City are several mid-range chains and independent boutique hotels. Ybor is a great place to spend a night with many unique and interesting restaurants and shops, with a distinct turn of the century Latin flair not found in most other American cities.
If you have a bit more time, the beaches of the Gulf of Mexico are a short 45-minute drive west and contain a huge number of lodging options for most any budget — from condos to resorts.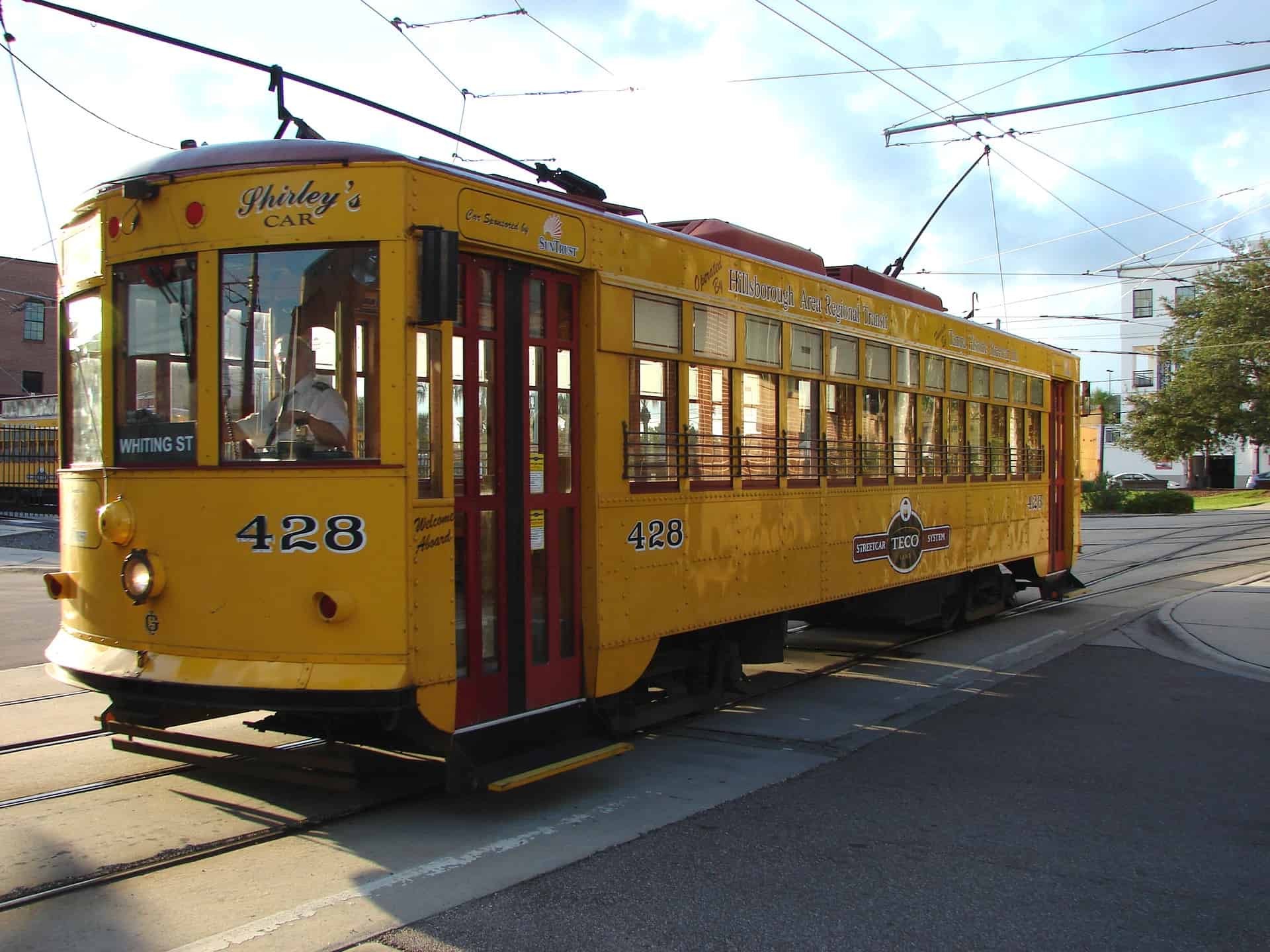 Hangout Spot
The best place to hang out before or after your cruise is the Channelside/Water Street area. This section of town, directly adjoining the port, has a great number of restaurants, cafés, and bars, and is on the Tampa Riverwalk which is perfect for a stroll.
The Columbia Café at the Tampa History Center has a wonderful shaded terrace located right on the water, and is a great place to spend some time relaxing. A little further down the Riverwalk is Sail Pavilion, which has terrific drink specials and tasty food, all served outdoors along the waterfront. 
Sail Away Viewing
For the best views of the cruise ships leaving Port Tampa Bay, Sparkman Wharf at Water Street is a good place to be. Located right on Garrison Channel and just west of Terminal 2, this complex contains multiple counters to order food, and places to sit scattered around the lawn.
Additionally, a beer garden takes up center stage, so there is no chance of going thirsty while watching the ships head out to sea past Harbor Island.
Another place to see the majesty of the ships sailing by is located out by the Sunshine Skyway bridge. While a fairly far drive from the port at around 45 minutes, the bridge is one of the longest cable-stayed concrete bridges in the world.
Fishing piers on either side of the Skyway afford breathtaking views of the cruise ships sailing beneath the bridge, a wonder to see in person.
READ MORE: Miami Cruise Port Guide: What You Need To Know
Pin it for later!