Princess Cruises has been bringing passengers along on annual, globetrotting world cruises for more than two decades. But the line's most recently announced worldwide sailing, for 2021, is promised to be what they are calling the "most destination-rich world cruise ever offered."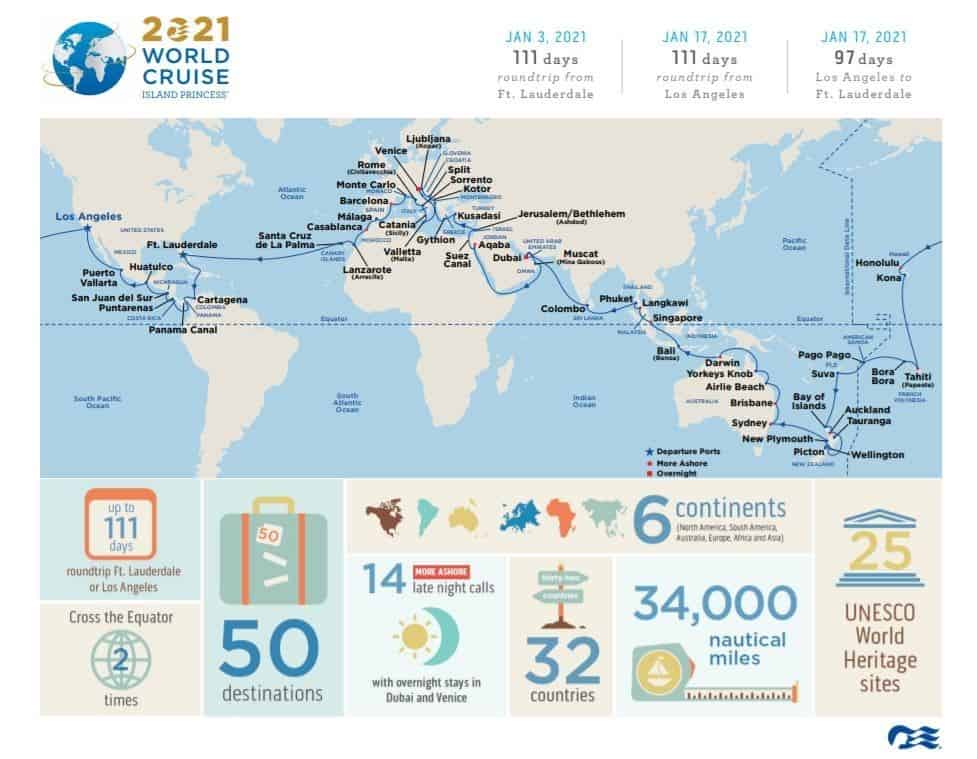 Where Princess Is Headed in 2021
Sailing roundtrip out of North America (Ft. Lauderdale, to be precise), the Island Princess will be taking passengers on an eye-opening, culturally-awakening tour of over 50 destinations in 32 countries. The sailing will also span six continents, reaching historical and never-before-visited places such as New Plymouth, New Zealand; Gynthion, Greece; Mindelo, Cape Verde Islands; Ephesus, Turkey (along with 24 other UNESCO World Heritage Sites); and more.
The 700-balconies aboard Island Princess will provide exceptional views of bright and modern cities like Dubai and Singapore, where guests will have the opportunity to stay late into the evening to better enjoy the nightlife.
Island Princess will depart out of Ft. Lauderdale on January 3, 2021 for the full, 111-day journey. However, west-coast expeditionists will also have their chance to come aboard on January 17, 2019 out of Los Angeles (this will not be round-trip, and passengers will need to find accommodations to return from Ft. Lauderdale at the end of the sailing).
About Island Princess
Spending almost half a year on a ship definitely calls for as much luxury and comfort as possible… so here are the features of your new, world-exploring home.
Princess Luxury Beds in each room
Both specialty and casual dining options
Encounter with Discovery speaker series (including culinary demonstrations, special-themed menus, foreign movies, and regional folklore shows)
Production shows such as The Secret Silk
Rates for the 2021 world cruise start out at $19,999 per person, and guests who book before November 30, 2019 receive early booking perks such as a $1,000 onboard spending money, free airfare, stateroom upgrade, gratuities, Wi-Fi, specialty dining and wine.
Which world-destination have you always wanted to travel to?