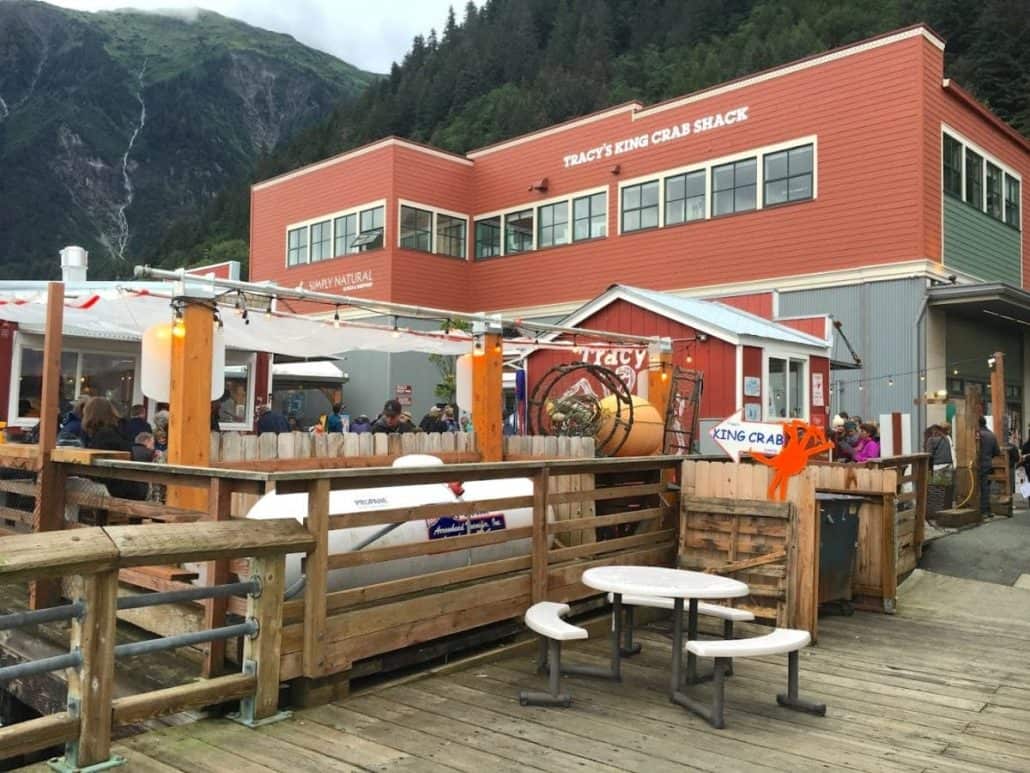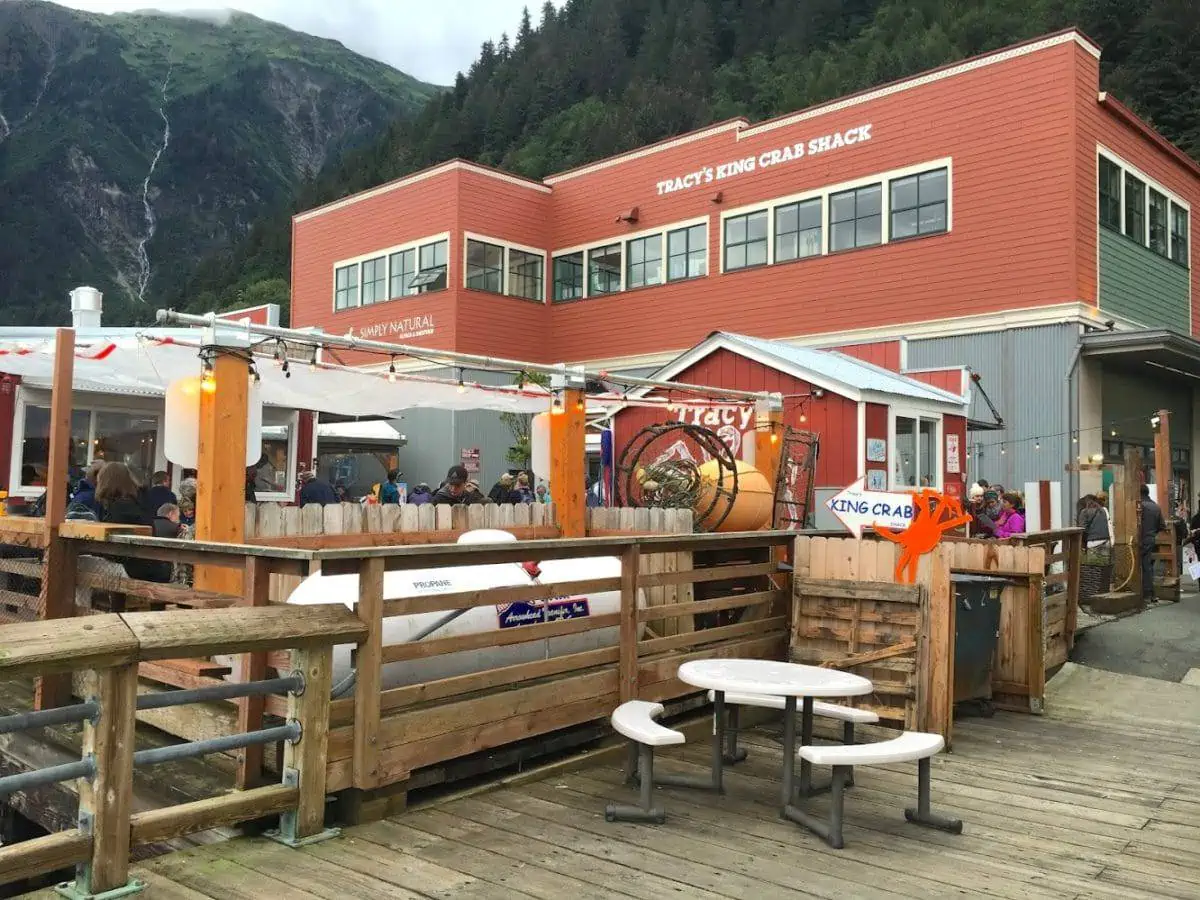 Located right off the pier in downtown Juneau, a line wraps around a nearby building, upbeat 80's music is playing, cameras are snapping, and everyone has a smile on their face. This little shack that tourist flock to is Tracy's Crab Shack. Known for its locally caught crab legs, bisque, and crab cakes, Tracy's is the number-one talked about seafood shack in Juneau. Here's why.
Atmosphere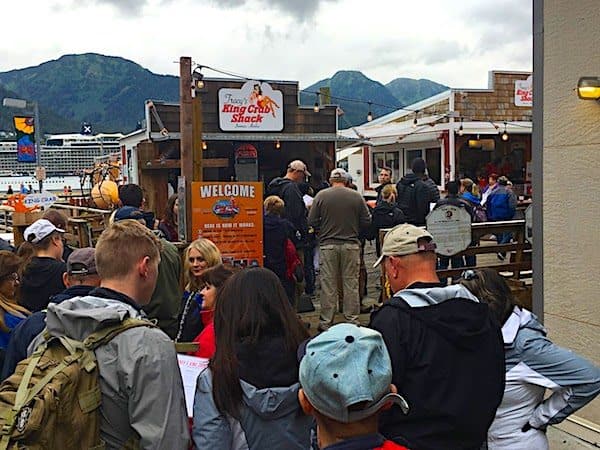 Orders are placed at a walk-up shack where the big line is. It takes some time to order food and pay, but after you make it through this line it's only about 10 minutes until food is on your table. There is a separate bar shack next door, so you can get a drink before taking your spot in line.
Dining with a waterfront view, you have your choice of seating. Pick from a heated covered patio, grab a table in the open, or sit at your own risk at the bar where the assembly of all meals happen. Although it is an entertaining experience to watch them constantly dishing out crab legs from the pots, you might find yourself being hit with crab pieces!
Lively music is always playing, and everyone is just having a good time. It's hard not to when you have great food, a nice view, and good company.
Menu
The star of the menu is, of course, the crab. Starting your meal with Tracy's King Crab Bisque is a must. This homemade cream bisque is made with fresh ingredients and King Crab, perfect for the cool Alaskan weather.
When it comes to choosing your crab legs, you have the option of snow crab, dungeness crab, or the king crab legs. Crab is ordered by leg or cluster depending on your choice of crab. All are served with butter and garlic rolls. Can't make up your mind? Then the ultimate Crab Shack Combo #2 is for you. For a whopping $56, this large meal comes with 1 king leg, 1/2 dungeness crab, 1/2 snow crab, and 8 oz Bisque – the perfect combination.
Crab cakes and crab rolls are also a hit on the menu. The Alaskan Crab Roll features the three species of crab meat, and is topped with coleslaw. It's a nice and tasty way to sample all the crab meats!
Other Alaskan seafood bites that are available are shrimp and scallops. Sides are limited to coleslaw and jasmine rice. You can view the entire menu here.
Price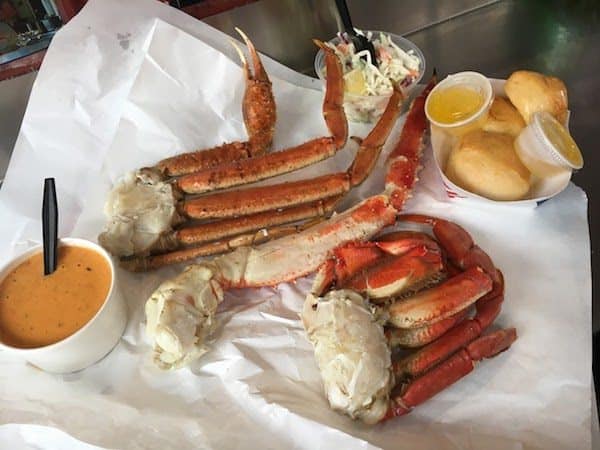 Seafood is always pricey, and you won't find Tracy's Crab Shack any different – especially when ordering crab legs. Due to supply and demand, price per pound is on the rise everywhere. King Crab legs are the priciest item on the menu because they are considered the most prized species of crab. One king crab leg (12oz) is $24.95. Prices are subject to change based on market price.
Don't let the long lines and pricey menu scare you away. Grab a drink and take in the atmosphere as you wait to order your food. You can't go wrong with any item you order, and the fresh taste of the seafood will make it all worth it.
Written by: Jen Martin
Pin this: