When you write about cruising for a living, it's the ultimate mix of business and pleasure. Even when I'm on a cruise, I'm working. This website doesn't run itself, and neither does the radio show. So I started the morning by diving into some audio editing in order to get this week's show ready. I mentioned earlier this week that I'd interviewed Carnival Brand Ambassador John Heald, and a lot of folks seemed excited to hear it. So you can listen to the show, here.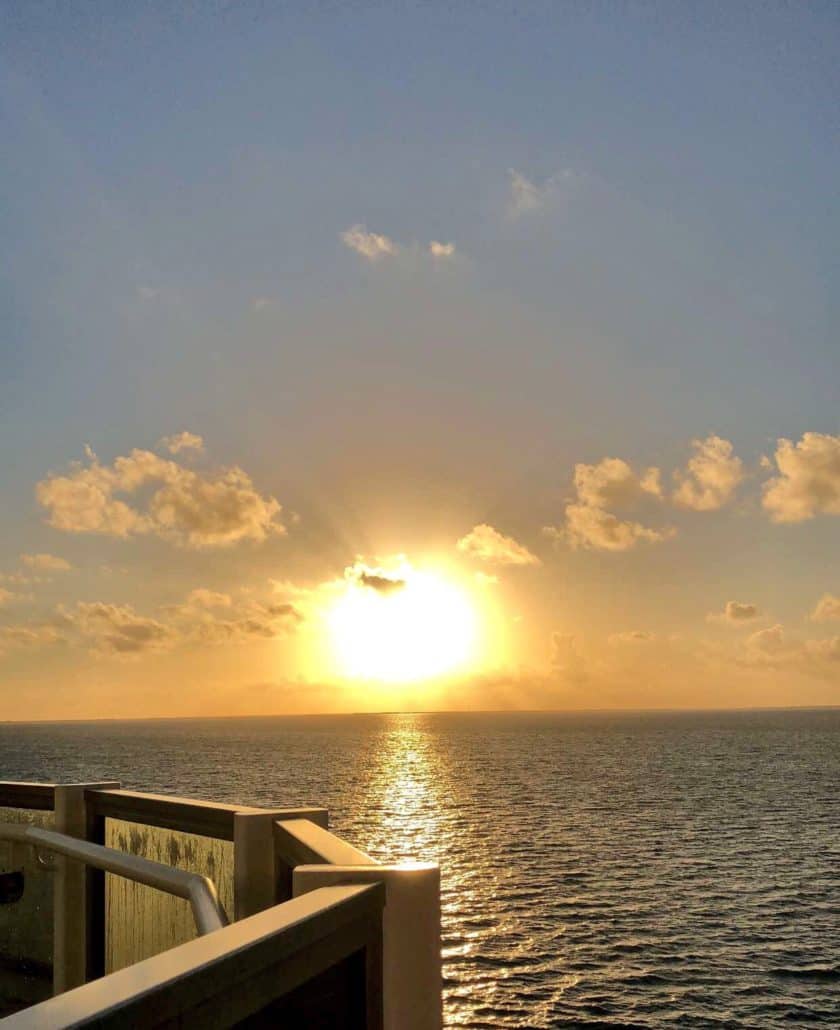 I wound up doing breakfast in Ocean Plaza again, because it's so quiet thanks to the fact that most people don't think of it as a morning destination. One place that is very popular in the morning is the coffee shop at Ocean Plaza and the omelette station in the Lido Marketplace.
After breakfast, I headed down to the main theater, where those of us going on shore excursions were supposed to gather at 8:30 a.m. We were docked as opposed to tendering, which made the whole process of disembarking a whole lot easier. I was doing The Wonders of the Barrier Reef tour, and we were meeting on the pier alongside the ship.
This excursion is a top-three on my Caribbean shore excursion list. Since I'll be doing a full review on this soon, I'll just give you the basic rundown here. We boarded a double-decker boat which took us on a 40-minute ride to an island that is along the Barrier Reef. Once we got to the island, we were issued snorkel equipment (although some folks had brought their own).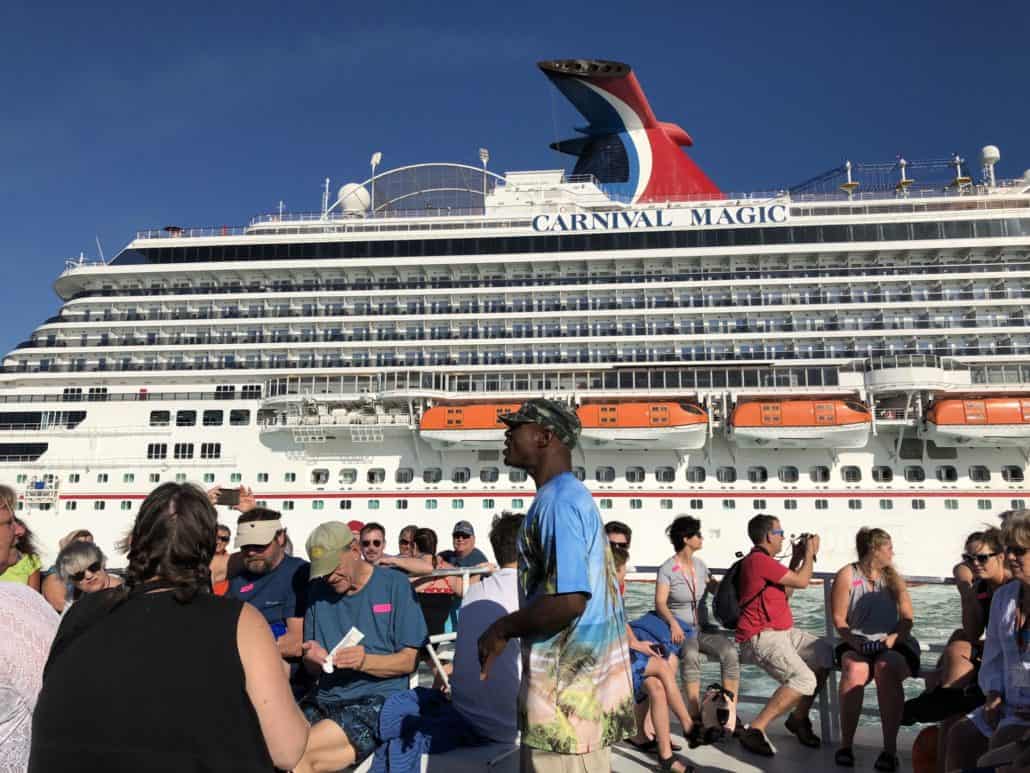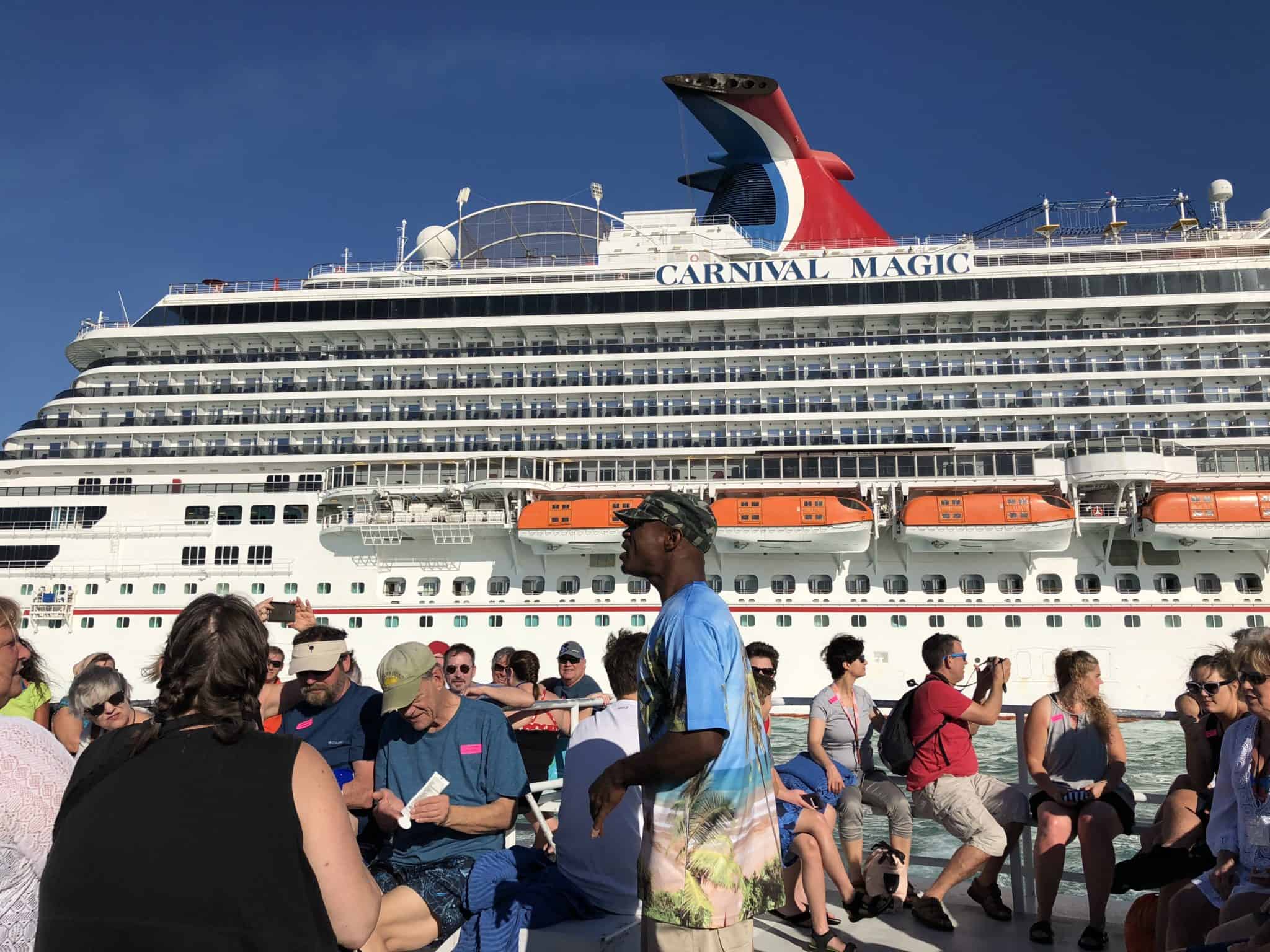 The island was so cool and, not to sound like a dork, but it totally reminded me of Gilligan's Island! There were little huts, and we went to one to dump off stuff and start putting our gear on. We broke up into three different groups: Beginner, Intermediate and Advanced. Not to brag or anything, but I've been snorkeling all my life, so I felt pretty comfortable putting myself into the Advanced group. Along with our tour guides, we then got into the water and swam halfway around the island before turning to swim back. The views were spectacular, especially around the drop-off point. There, the 0cean floor dropped significantly, to the point where you sometimes could not even see the bottom. The more you explored, the more you saw. And there was an awful lot to see.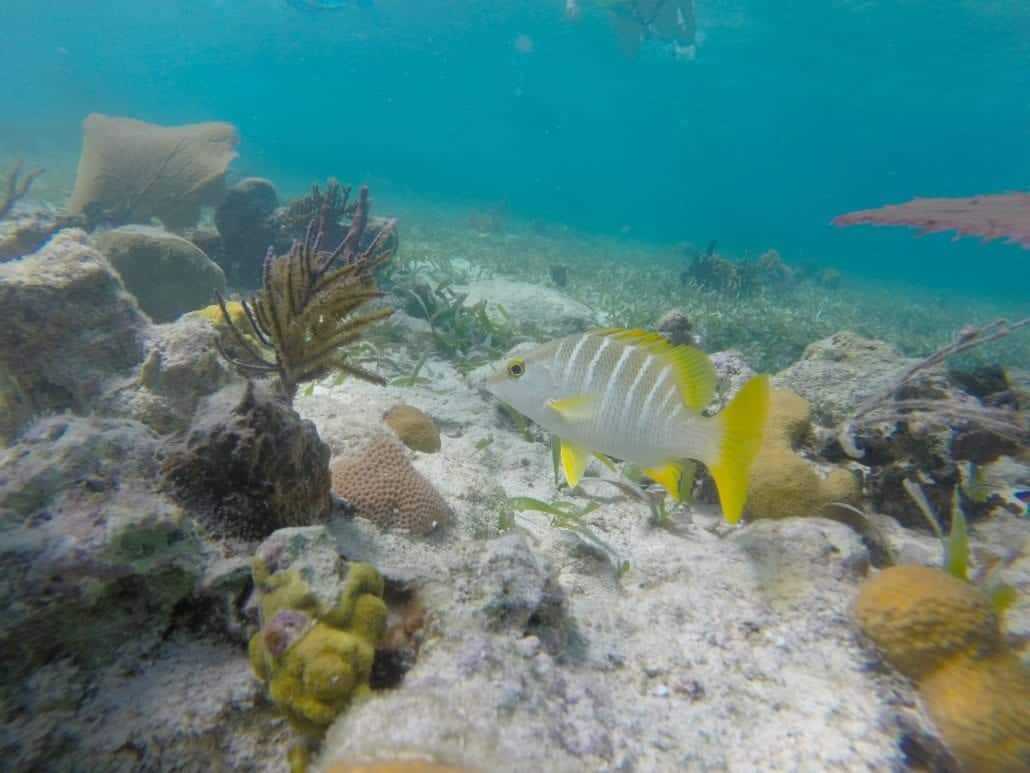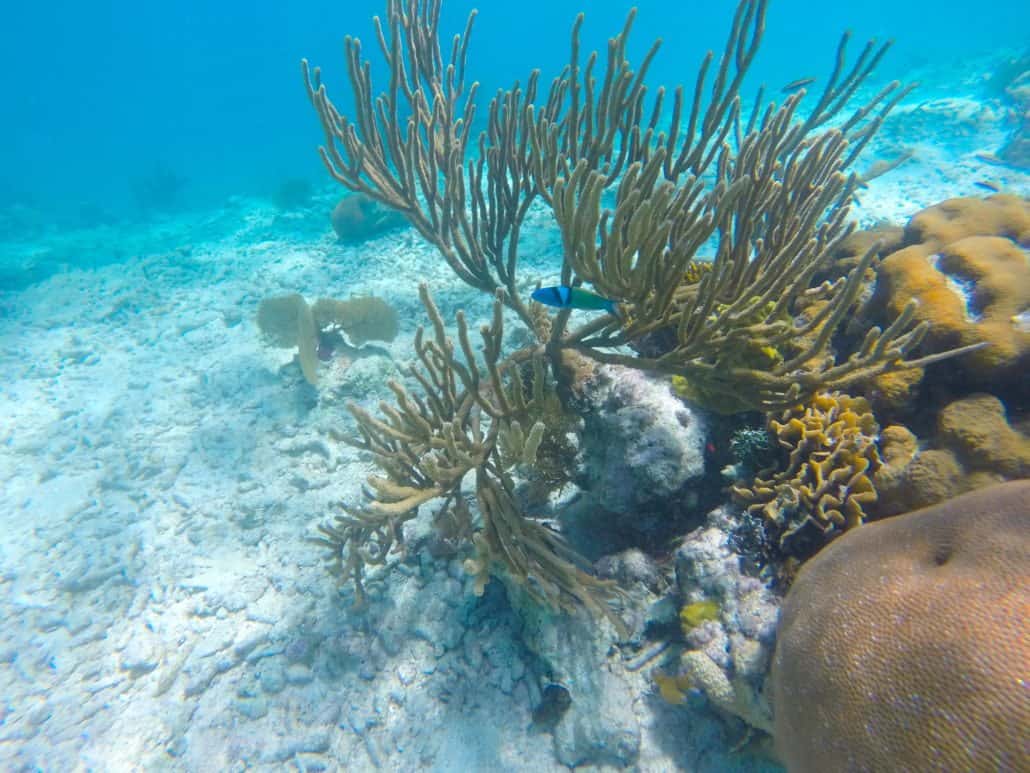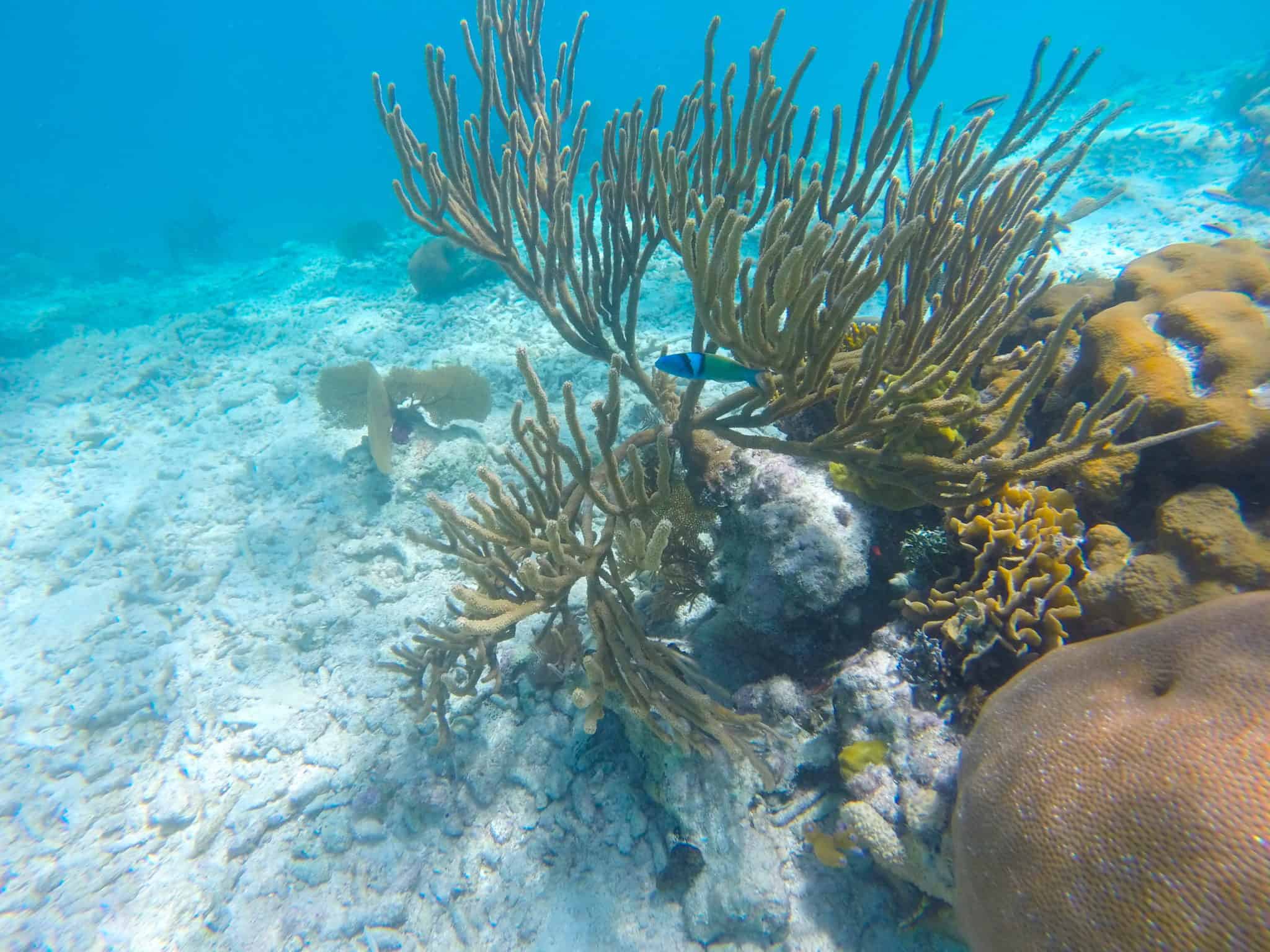 Afterwards, we headed back to the ship for what I suspected would be a very fun evening. And as it turned out, I was right! But first, I had to do some more work… so I headed to my secret spot. See, I found an area of the ship which I don't think they even use anymore. It may once have housed the Chef's Table, but in any case, the room feels like an afterthought. It's located right at the entrance to the Northern Lights dining room on Deck Four. It's always a ghost town… there's a bar but no bartender, and no alcohol behind the bar. So while the rest of the world seems to have abandoned this spot, it's become my private office for the week.
What's For Dinner?
Dinner was served at six per the normal early dining. It had been seven hours since I'd had lunch on the island, so it was way, way past my feeding time! And that's what I'm going to use to excuse the fact I gorged on the bread (which I usually try to avoid), had three appetizers, an entree and dessert. I know I'm going to wince when I step on the scale after this cruise is over, but I'm keeping as active as I can and, more important, I'm enjoying myself.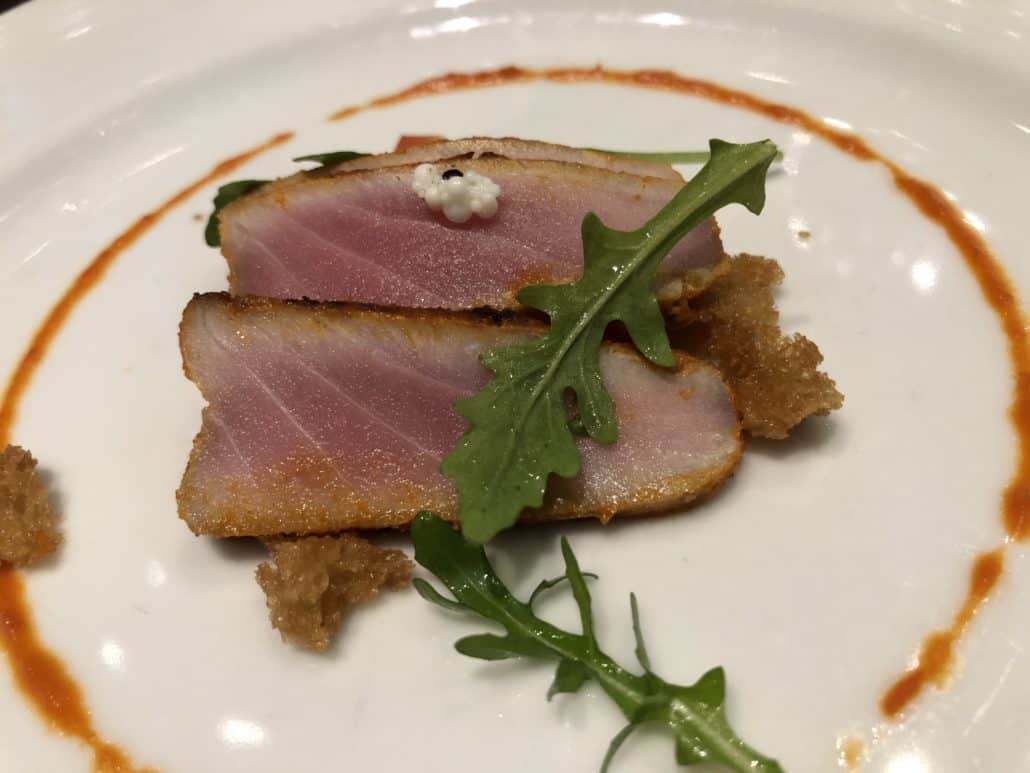 So I wound up ordering the seared tuna, shrimp cocktail and Caesar salad appetizers. Entree-wise, I went with the salmon, baked potato and broccoli. And for dessert, I went with the low-calorie option — no, seriously! — which was a praline cake.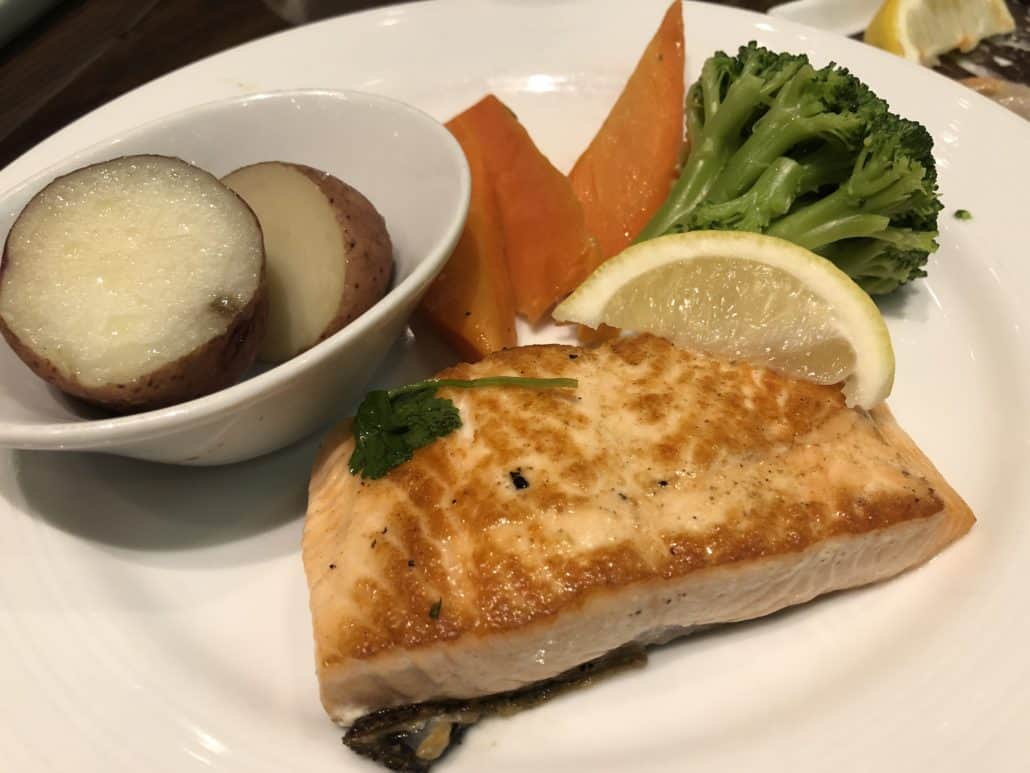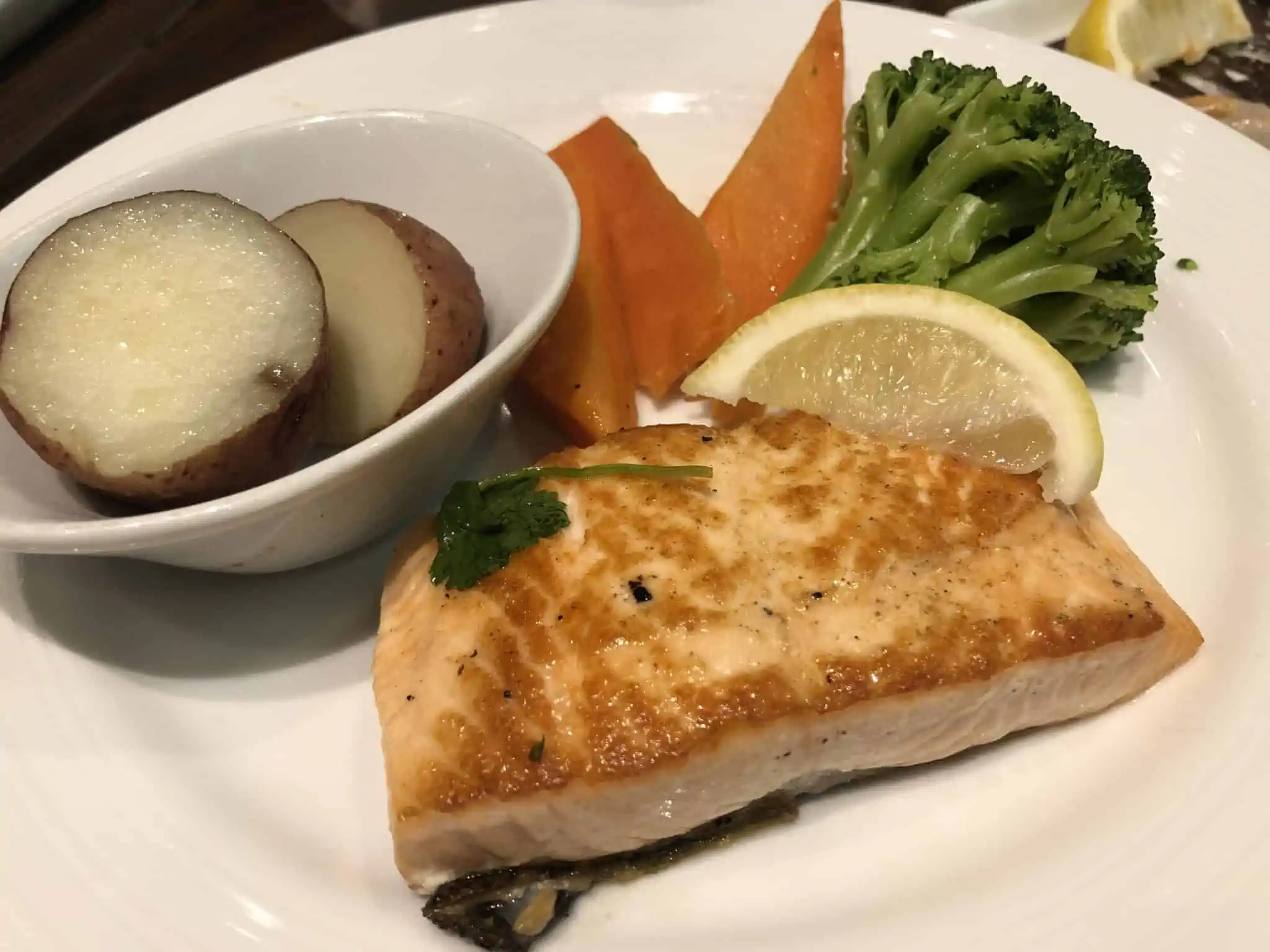 If you've been reading along all week, you know dinner service has been spotty… but it was a little better (read: quicker) tonight. The secret seems to be telling them you want to be out in time to enjoy the show.  That seems to kick the servers into high gear so they can make sure you're fed ASAP.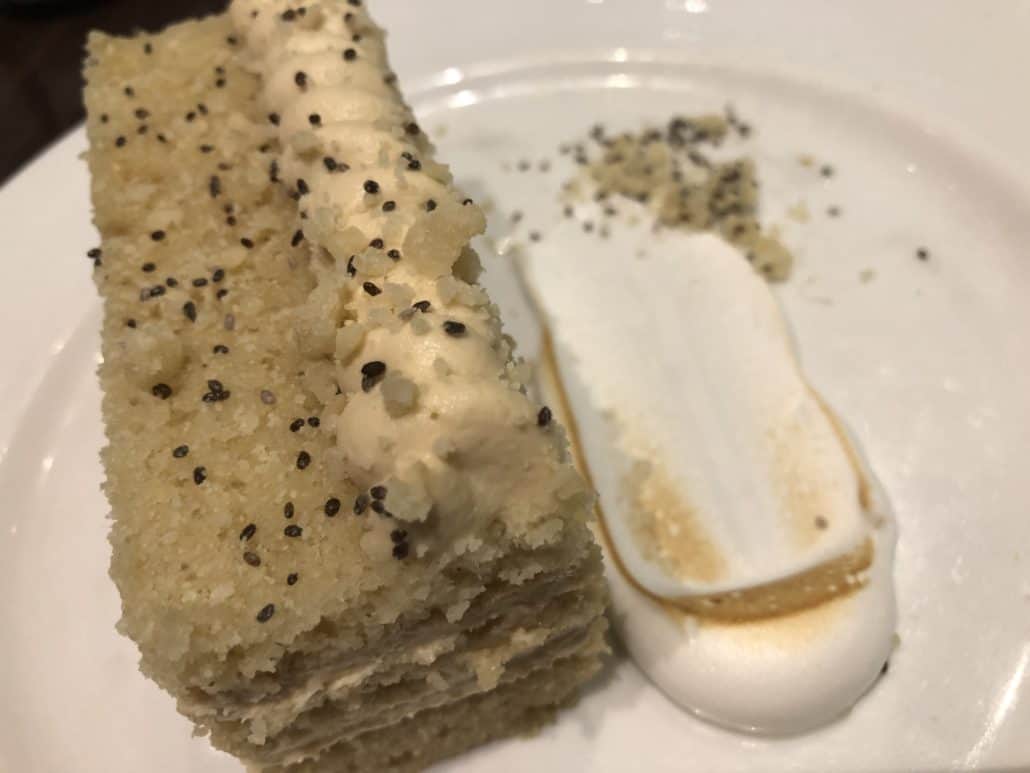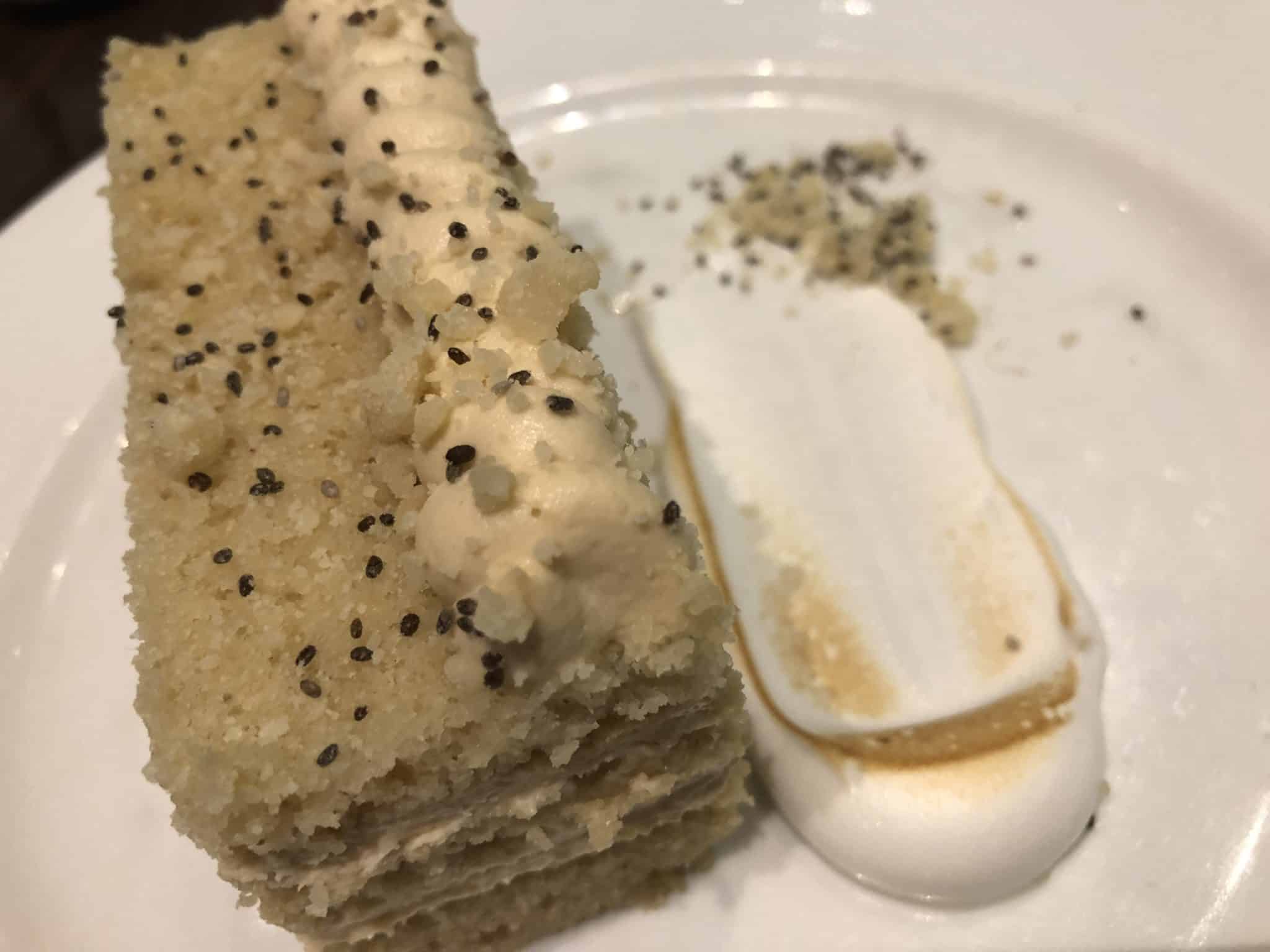 Bring On The Music
Remember how earlier I said that I suspected tonight was going to be a whole lotta fun? Well, that's because tonight's show was not only one I had never seen, but it featured country music from the past and present. And in case you didn't know it, I'm a big country music fan.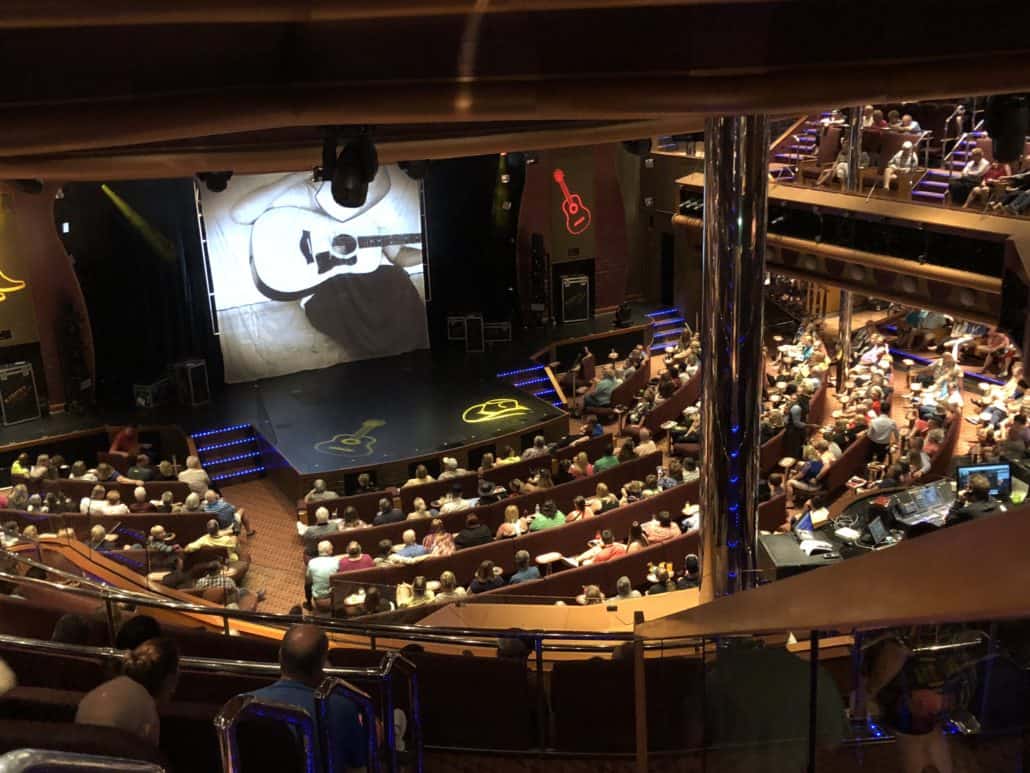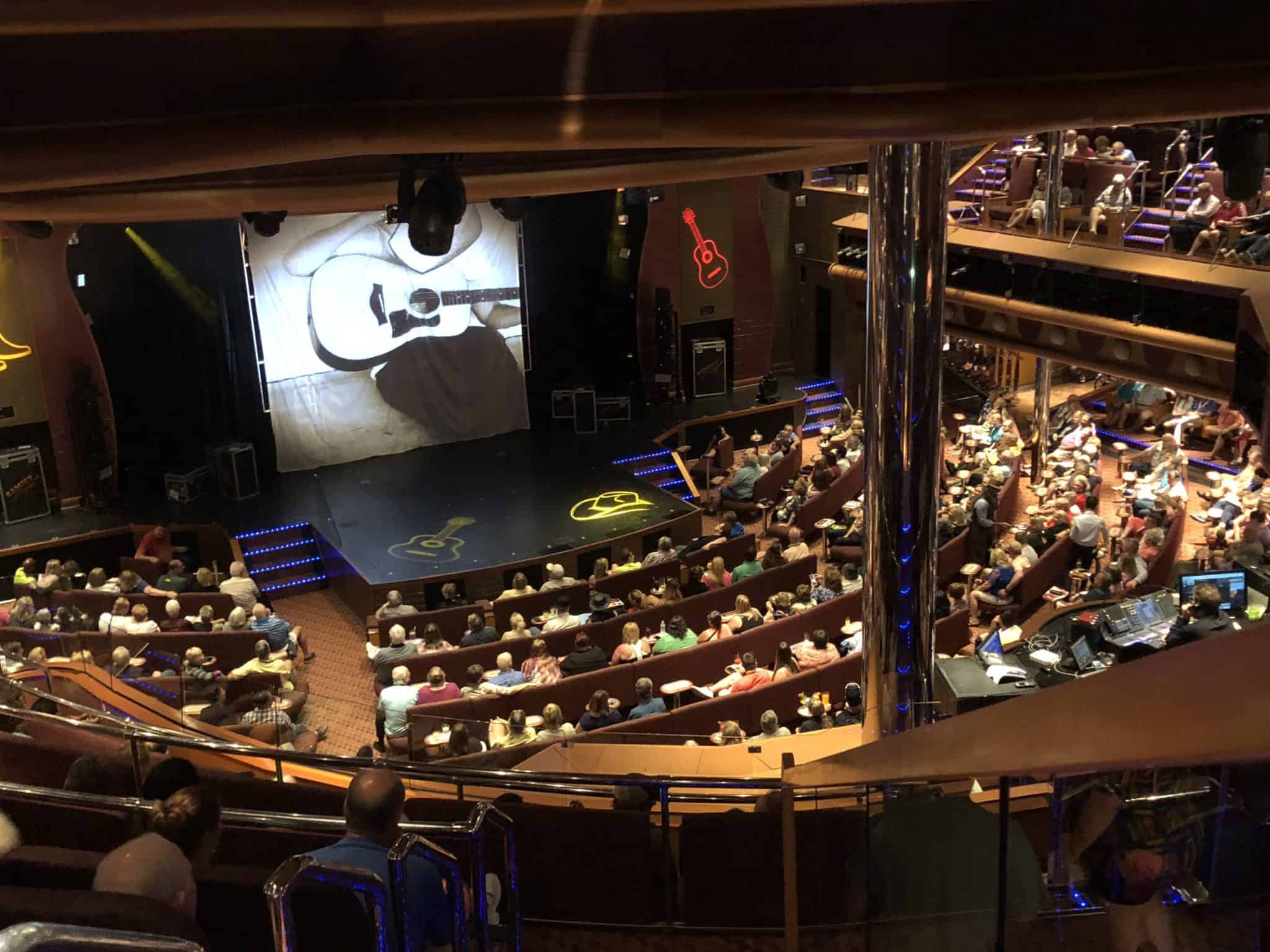 The theater filled up pretty quickly, and I wound up sitting in the back for a few reasons. For one thing, I wanted to make sure I had a good line-of-sight. I was also curious to see if anyone would leave during the performance. Fun fact: No one did… which I find sort of shocking. Not because of the show itself, which was incredible, but because… well, there's always at least a couple, right? People who, after the show gets going, decide it just isn't for them and walk out.
These kind of production shows are always a matter of taste. I'm sure there are folks out there who don't like country music and, as a result, wouldn't enjoy this show. On the other hand, people rave about another Carnival production — Flick! — that I just don't see the appeal of.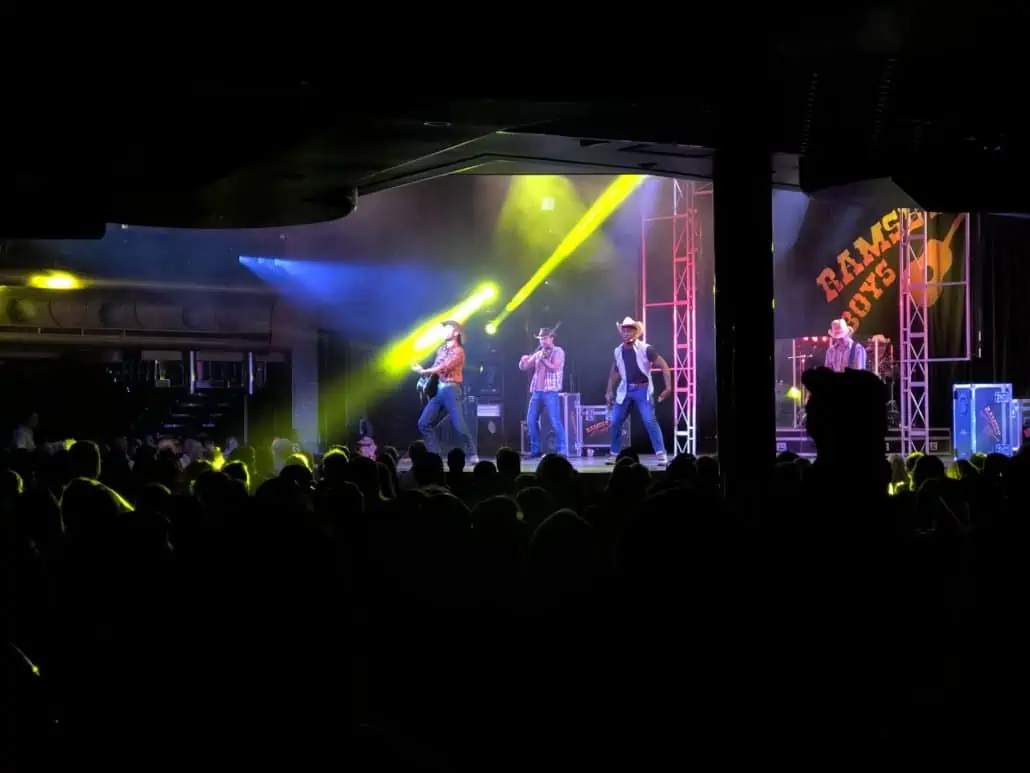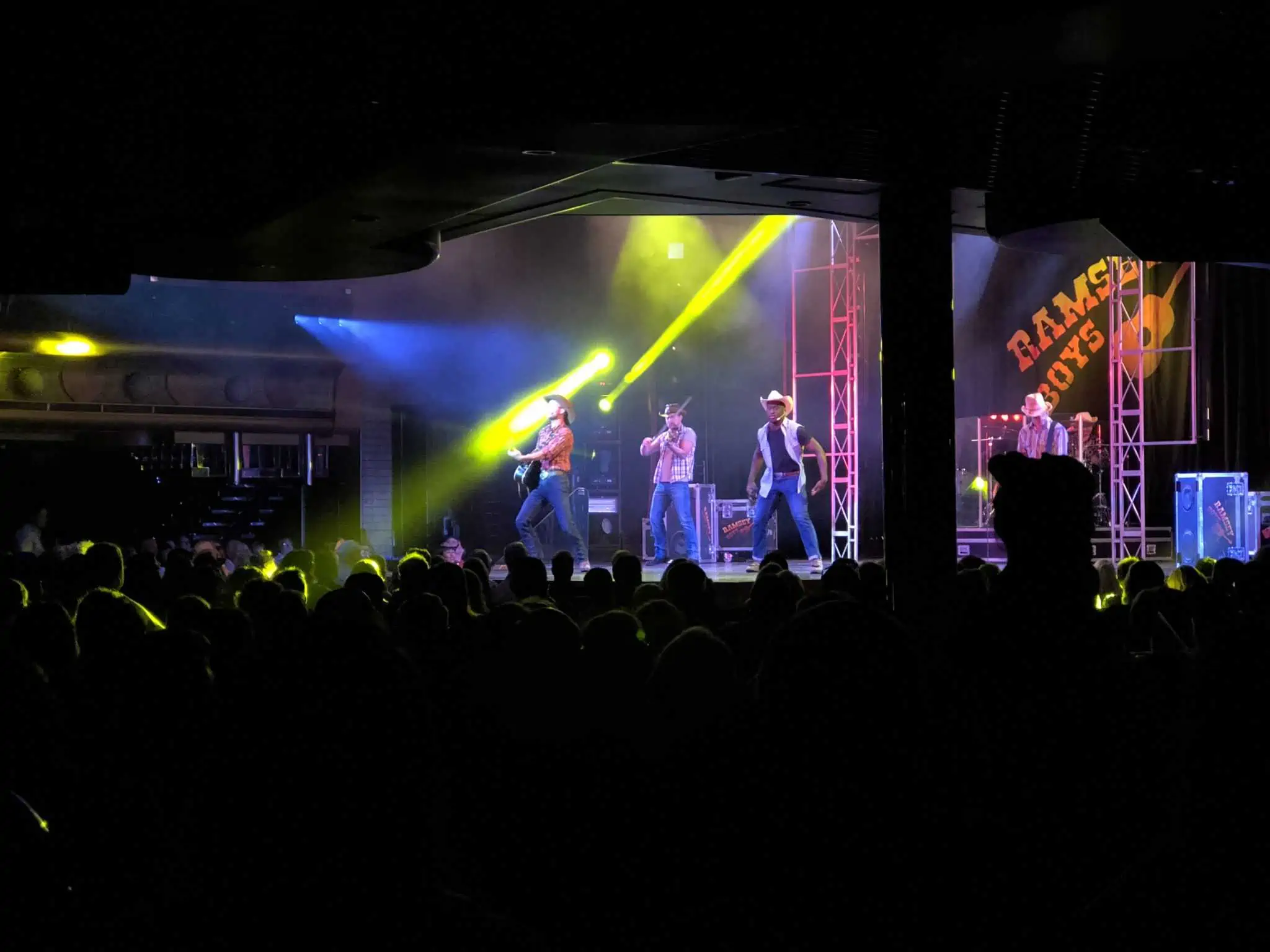 After the show, there was, as always, live music being played all over the ship. In Ocean Plaza there was a duo playing, the violinist were rocking the atrium, and in the RedFrog Pub the acoustic guitar player was taking requests. The ship was really hopping, and I enjoyed wandering around a little. When it comes to the late-night offerings, I treat it almost like a sampler platter for the ears, listening to a little of this, then wandering to hear a little of that.
But I couldn't stay up too late, because tomorrow is another day, another shore excursion… so until then, goodnight.