Two cruise ships owned by Holland America Line collided early Saturday morning, leaving one ship damaged and leading to a bit of chaos for passengers who faced a rude awakening in the aftermath.
How The Accident Happened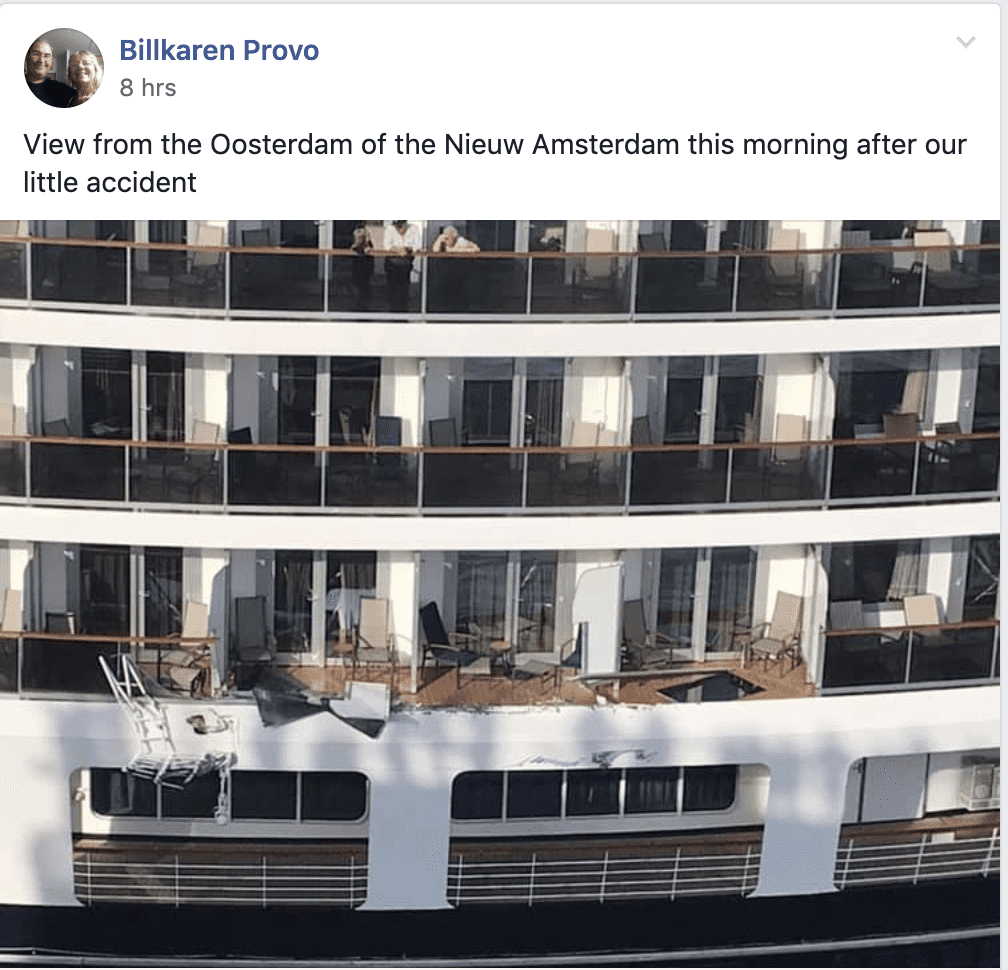 The incident, which took place at the port in Vancouver, Canada, involved the Oosterdam and the Nieuw Amsterdam, according to Global News. "I heard a big, loud noise," a passenger aboard the Nieuw Amsterdam told the outlet, "and I told my husband, 'This is not the way we're supposed to be docking!' But we were already docked." What she and others didn't realize was that while their ship was indeed docked, it had been bumped by her sister ship as it pulled in.
"We were sleeping," said another passenger aboard the damaged vessel, "and then we got knocked on the door and told we needed to evacuate and we didn't know why. We didn't feel or hear anything, but we still had to get off."
Cruise ship Oosterdam hits the Nieuw Amsterdam docking at Canada Place in @PortVancouver

Damage to both vessels @CKNW @GlobalBC @CTVVancouver

Somebody isn't having a good day. pic.twitter.com/4r5jMLehw6

— Ken Carrusca (@KenCarrusca) May 4, 2019
Holland America Line later released a statement indicating that the Oosterdam suffered "minimal" damage while several verandas on the Nieuw Amsterdam were in need of repairs, which were begun immediately. "All required repairs are well above the waterline," read the statement, "and the seaworthiness of both ships is not affected." And while some passengers were evacuated immediately following the incident, they were able to return to the ship once the relatively benign nature of the incident was fully understood.
As for the occupants of the rooms attached to the damaged balconies, Holland America Line said that those "booked in those rooms on the upcoming voyage will be re-accommodated in other staterooms."
No delays or itinerary changes are reported to have taken place as a result of the incident, and Holland America Line said that "all appropriate authorities" had been notified.
Featured image via  Facebook/Billkaren Provo