UPDATE: Both Holland America Line and Viking Ocean Cruises have released statements regarding the situations which unfolded on their respective ships. Viking's reads:  "At 4:30pm (Norwegian time) March 24, the Viking Sky docked in the port of Molde. All passengers and crew are safe, and passengers will be flying home starting tonight. Throughout all of this, our first priority was for the safety and well-being of our passengers and our crew. We would like to thank the Norwegian Redningssentral and the Norwegian emergency services for their support and skill displayed in managing the situation in very challenging weather conditions. We would also like to thank the local residents who throughout the whole process have been extremely supportive and hospitable. If you have questions or concerns about any guests please call this number for U.S. and Australia booked guests 1-888-889-8837, and for UK booked guests 07585 779 853 or 0208 780 7900. The next sailing, Scandinavia & the Kiel Canal, which was scheduled to embark on March 27th has been cancelled, and guests and their travel agents have been contacted directly. We do not anticipate any additional cancellations at this time."
Meanwhile, Holland America Line reports that "at approximately 6:15 a.m. local time, while Nieuw Statendam was underway from St. Thomas, USVI to Half Moon Cay, Bahamas, the ship experienced a technical issue with one of the diesel generators, causing a short black-out until 6:50 a.m. During this time the ship, and all guests and crew were completely safe, and in calm water with good weather conditions. Due to the delay and in an abundance of caution while the cause of the blackout was being addressed, the scheduled port call at Half Moon Cay was cancelled.  We regret the disappointment this itinerary change caused our guests and compensation has been provided on board. The repair is complete and Nieuw Statendam is proceeding directly to Ft. Lauderdale, FL for an on-time arrival on Mar. 24."
Two different cruise ships found themselves dealing with problems on Saturday, with one — the Viking Sky — actually having to evacuate all of the passengers on board. Unfortunately, stormy conditions resulting in high winds and waves have made attempts to evacuate passengers from the Sky — whether by sea or air — extremely difficult.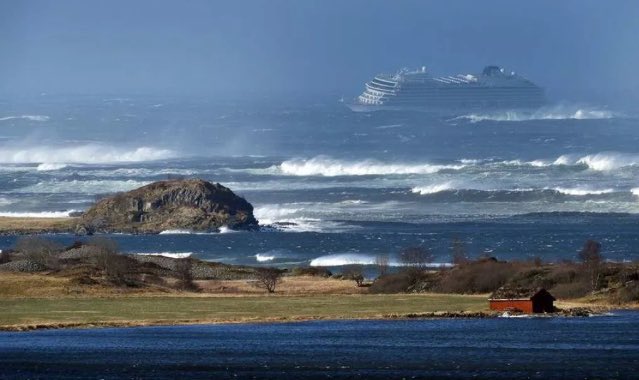 What Went Wrong
According to Maritime Bulletin, the Viking Sky found itself dealing with engine failure off the cost of Norway during what was described as "heavy storm conditions." The ship was forced to drop anchor and issue a distress signal so that approximately 1,500 people could be evacuated by boat and rescue helicopters. But various social media reports indicated that the process was long and slow, hampered by both severe weather conditions and the fact that helicopters could only take a limited number of people back to shore per trip. Several rescue ships which attempted to reach the ship were unable to do so because of the stormy conditions. According to BBC News, as winds were blowing at around 38 knots, the ship was only about 2.5 nautical miles from shore.
Hours into the evacuation, @mereidrundelli posted on her Twitter feed, "Oh board the #VikingSky and waiting to be evacuated. Hugh kudos to the crew who are doing an amazing job of keeping people calm and taking care of issues."
Meanwhile, a passenger aboard Holland America Line's Nieuw Statendam reported Saturday morning via their Twitter account @STLRS that the ship was "adrift… with no power for propulsion and only one of four generators working for emergency power." The passenger later tweeted an update in which he said that the ship "now has 'limited' propulsion and [was] no longer 'adrift.' Captain is keeping everyone well informed and is a calming presence. Parts of ship remain in blackout."
Both the Nieuw Statendam and Viking Sky are relatively new ships. The Holland America Line ship only entered service in December of last year (and is perhaps best known for having Oprah Winfrey as a godmother). The Viking Sky, meanwhile, had her christening in June of 2017.
We'll have updates on the Viking Sky situation as details become available throughout the day.