Viking has announced their most comprehensive itinerary to date, with the new Ultimate World Cruise. The approximately 8 month voyage will be 245 days, visiting 113 ports in 59 countries on six continents. There will be 22 overnights and a full circumnavigation of the globe, making it the longest-ever continuous world cruise.
Departing from London on August 31, 2019 aboard Viking Sun, this grand journey will mark the line's third voyage around the globe, and will nearly double the length of Viking's previous World Cruise voyages. Within the Ultimate World Cruise schedule, the line will also offer guests the chance to sail one of two shorter segments during the sailing.
Travelers can choose between Viking World Treasures, a 127-day cruise from London to Los Angeles that visits 33 countries and 61 ports, or Viking World Wonders, a 119-day sailing from Los Angeles to London that visits 29 countries and 55 ports. As with all Viking cruises, guests receive an included excursion in each port and free unlimited wifi. World Cruise guests also receive business class airfare and all gratuities and service fees, along with an extensive list of added-value features.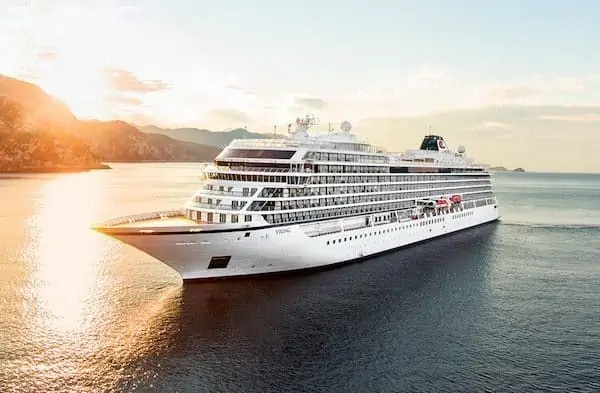 Ultimate World Cruise Highlights
This special World Cruise visits dozens of legendary cities, charming ports, and idyllic islands in one epic journey. Overnights in 22 cities also allow guests to dive deeper, exploring what the nightlife has to offer in these places. Onboard, there will be regional entertainment and lectures, as well as learning opportunities as part of the Viking Resident program.
Highlights of the cruise include:
Greenwich: London at Your Door – Dock in the historic Royal Borough of Greenwich, London, which allows guests easy access to the regal capital's iconic sights, including the Houses of Parliament, Big Ben, Westminster Abbey and Buckingham Palace.
Rio de Janeiro, Brazil: Peak of Brazilian Culture – One of the 22 overnight stays on this itinerary occurs in the historic city of Rio de Janeiro, where guests can witness the larger-than-life Christ the Redeemer statue or relax on the scenic Copacabana and Ipanema beaches of this coastal metropolis.
Ushuaia, Argentina: "End of the World" – Commonly referred to as the "End of the World," guests will visit Ushuaia, a city perched on a steep hill on the southernmost tip of South America, and explore its lush scenery through excursions to the nearby Escondido and Fagnano Lakes or the Tierra del Fuego National Park, which was first inhabited by humans 10,000 years ago.
Hobart, Tasmania: An Island of History and Wilderness — The capitol of Australia's island state of Tasmania, Hobart offers guests the chance to learn about its aborigine history and explore its unique wilderness area, including Mt. Wellington, which the city is nestled under.
Ho Chi Minh City, Vietnam: Vibrant Saigon – This eclectic city, home to a mix of modern skyscrapers, French colonial buildings and ornate palaces, offers a variety of experiences for guests, including the Cu Chi Tunnels, the War Remnants Museum, Notre Dame Cathedral, and the Reunification Palace.
Mumbai, India: The Front Door to India – The bustling city of Mumbai, formerly Bombay, is the financial, commercial and entertainment capital of India. While in port, guests can learn about the iconic activist Gandhi at the Mani Bhavan Gandhi Museum and visit the Hanging Gardens, one of the prized few parks found in the busy metropolis.
Luxor, Egypt: Temples and Tombs – The site of the ancient Egyptian city of Thebes, Luxor is dense with historical monuments for guests to explore, including the Temple of Karnak and the Valley of the Kings & Valley of the Queens, which house the tombs of the Pharaohs and their wives.
Eight All-New Ports in South America – Guests will visit eight all-new Viking ports while in South America, including Roseau, Dominica, two ports in Chile (La Serena (Coquimbo) and Iquique), three ports in Peru (Arequipa (Matarani), Pisco (General San Martín) and Lima (Callao)) and finally guests will explore Quito (Manta), Ecuador and Panama City (Fuerte Amador), Panama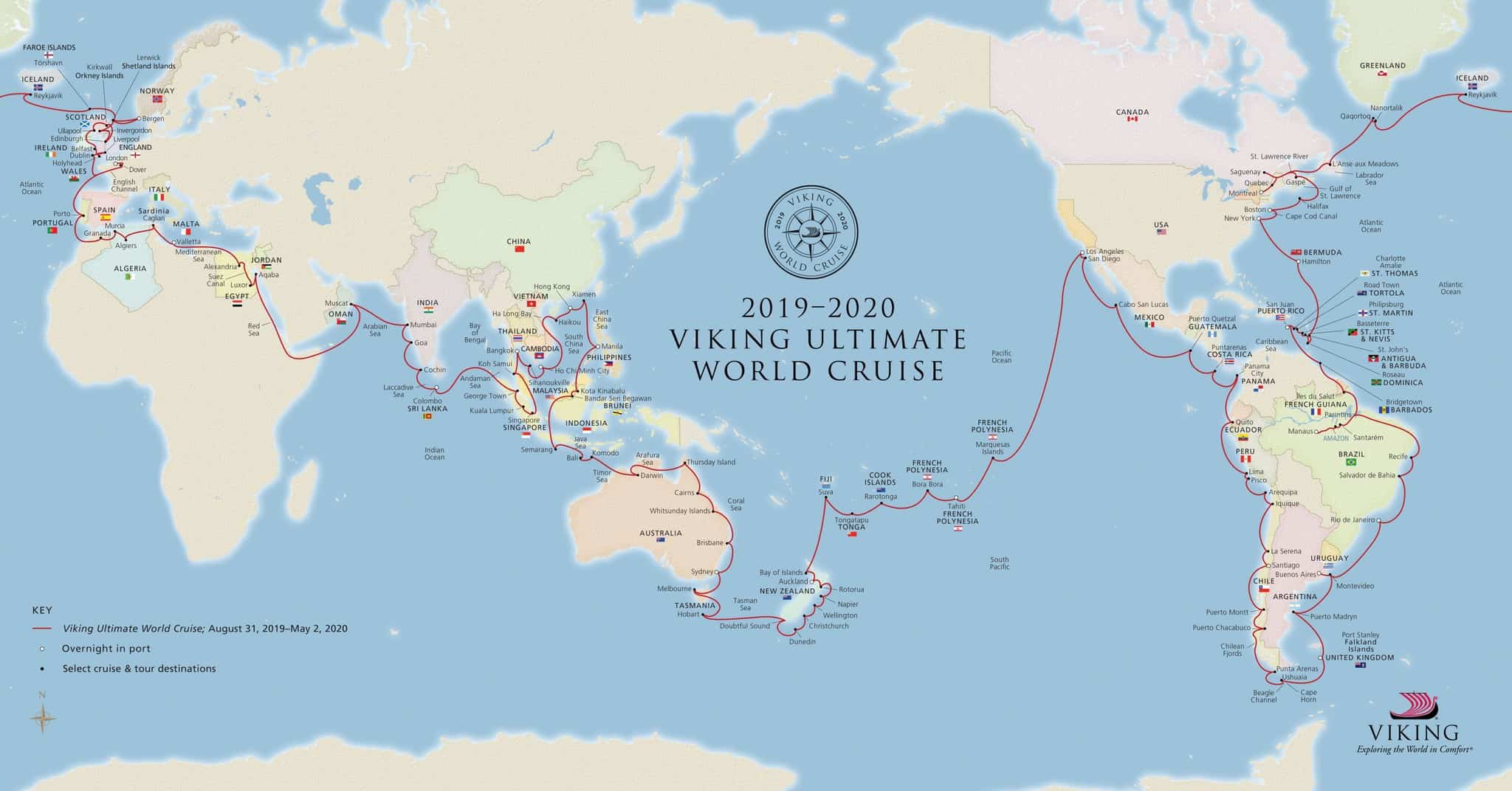 Viking Sun
Viking's ocean ships are small, just 47,800 gross tons with 465 staterooms. There are five cabin categories to choose from, and all have private verandahs, large showers, and heated floors. There are two pools onboard, one with a retractable roof for swimming no matter the weather and an infinity pool cantilevered off the ship's stern.
In keeping with Viking's Nordic heritage, the spa onboard is designed with the holistic wellness philosophy of Scandinavia in mind. There's everything from a sauna to a snow grotto. For afternoon tea, guests head to The Wintergarden, an elegant space under a canopy of trellised wood.
For dining, Viking Sun has eight options, all included in the price of the cruise. There's the main dining room, World Café with international fare, The Chef's Table, and Manfredi's featuring freshly prepared pastas and Italian favorites. The Pool Grill specializes in gourmet burgers, The Kitchen Table specializes in market-to-table regional dishes, and afternoon tea and scones are available in the Wintergarden. Mamsen's serves Norwegian deli-style fare, and guests can always indulge in complimentary room service.
Pricing and Credits
Pricing for Viking's Ultimate World Cruise starts at $92,990 per person. World Treasures starts at $47,995 per person, and World Wonders starts at $45,995 per person. All three of the new world cruise itineraries include business class airfare, transfers to and from the ship, all gratuities and service fees, tree complimentary visa services, free luggage shipping services for embarkation, and Viking's Silver Spirits beverage package covering nearly all drinks onboard. From now through December 31, 2018, each guest who books the Ultimate World Cruise will also receive $4,000 in shore excursion credit for any optional land programs and $2,000 in onboard credit, which can be used for optional tours, spa services, onboard shops, and drinks that aren't covered in the package.
Those who book one of the two segment cruises before December 31 will receive $2,000 in shore excursion credit per person and $1,000 in onboard credit. Viking Explorer Society members sailing on the Ultimate World Cruise will also receive an additional $2,000 in onboard credit per person, and those on a segment will receive an additional $1,000 onboard credit per person.
For full details on this special world cruise, click here.