As the countdown to the arrival of Virgin Voyages' first ship, the Scarlet Lady, continues, new details released this week prove yet again just how different the line will be.
While past announcements have involved everything from an onboard tattoo parlor to a drag brunch, Virgin this week revealed information about the brand's "curated sonic identity."
And while those words may not immediately mean much to you, they translate into the kind of fun that will have music lovers of all ages sitting up and taking notice.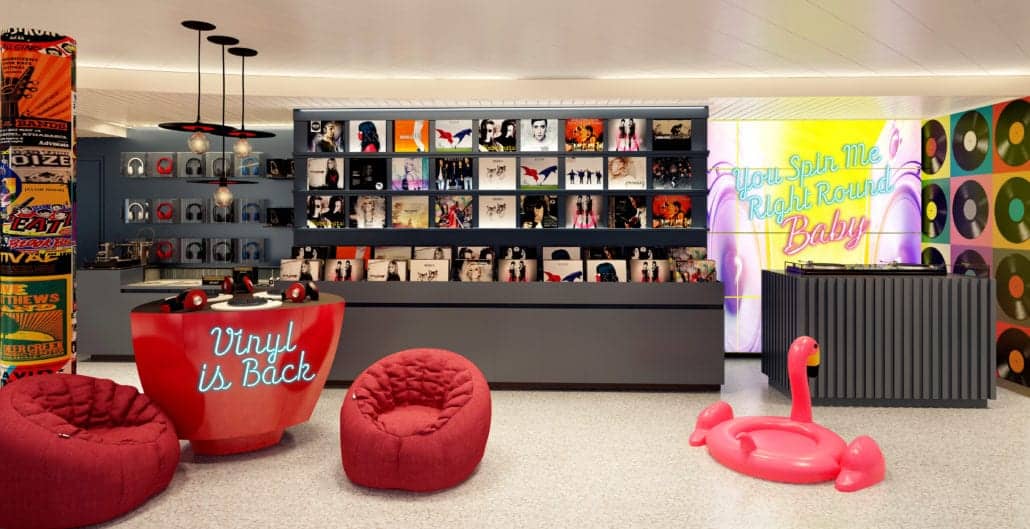 The Ship Will Have An Onboard Record Store
Paying homage to Virgin's roots, music in all its various forms is set to play a big role on both the Scarlet Lady and The Beach Club at Bimini (the private resort that will be visited on every sailing). Expect Voyage Vinyl — an actual record store — to be one of the hottest spots on this very cool ship. There, sailors (as the line refers to their passengers) will literally be surrounded by music thanks to listening stations, limited-edition collections on actual vinyl (kids, ask your grandparents about "albums"), curated playlists, and a performance spot where the Scarlet Lady's rotating roster of resident DJs will spin sets.
Expect music to play a big part in the Virgin Voyages experience, with the line's "sonic identity" being taken into consideration as each public space is developed. While the overall emphasis is on electronic music (as evidenced by the residencies of such artists like Mark Ronson, MK (Marc Kinchen), and Sofi Tukker, guests will also hear everything from rare disco tracks to '80s grooves.
Curating the overall musical palette of both the ship and The Beach Club will be Whitelabel Creative, a group of music and sound experts who specialize in "sensory branding."
Elsewhere on board, sailors will be able to let their inner Mariah Carey run free at The Groupie, the ship's bookable karaoke, gaming, and movie lounge designed to be a modern take on Japanese-style karaoke rooms.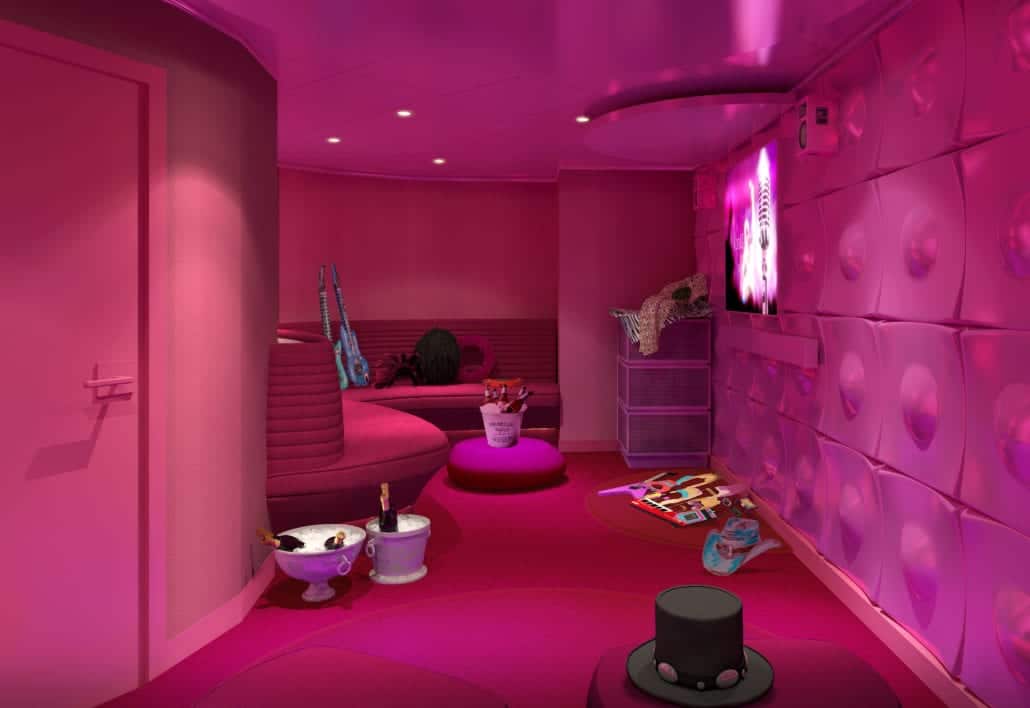 How You Can Win Virgin Swag
If you're going to be in the Miami area and want to get a taste of what Virgin Voyages is offering, swing by Gramps (176 NW 24th Street) between 4 and 11 p.m. now until Saturday, March 30. There, Virgin will have a chance to create their own takeaway artwork, hop onto a giant turntable for a perfectly Instagrammable photo and, best of all, take a chance at opening a special lockbox containing Virgin Voyage swag, vintage records and more.
The Scarlet Lady will begin sailing out of Miami from a currently-being-built terminal of her very own in 2020. For more details on the line, click here.