Proving yet again that this ain't your grandma's cruise line, Virgin Voyages has released pics of their RockStar Suites. And as with everything else Richard Branson's line has introduced so far, they're like nothing else you've seen before.
The Rock Star Life
Taking the "suite life" to the next level, the Scarlet Lady will feature 78 RockStar Suites, of which there will be eight different varieties. They break down as follows: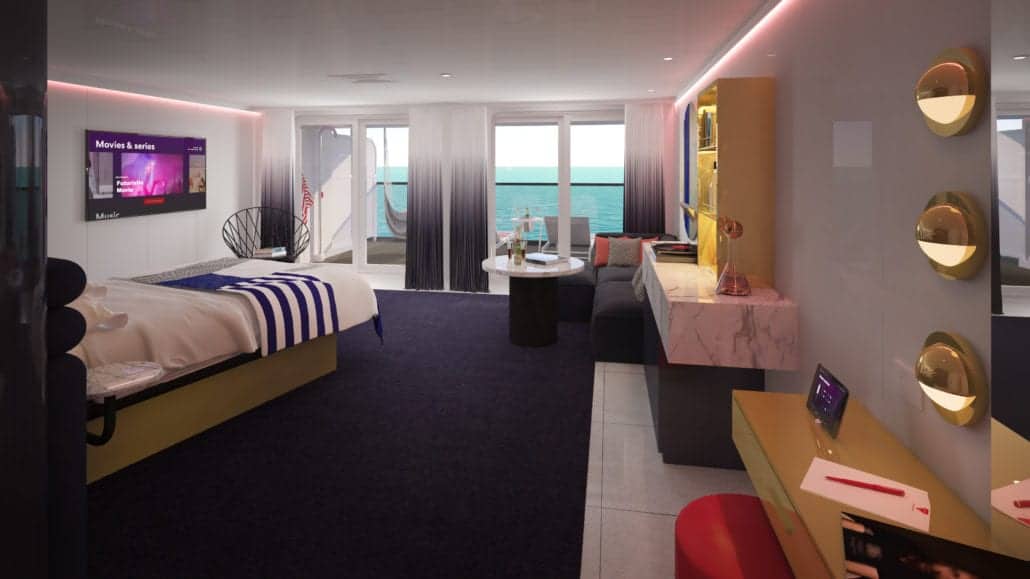 Massive Suites: The largest (which you can read more about below) at 2,147 square feet.
Fab Suite's come in at 950 square feet and feature an open wall separating the space into distinct living and bedroom areas.
Posh Suites come in at 833 square feet and feature a fully stocked bar, record player and more.
Gorgeous Suites are 570 square feet and feature an open plan lounge and bedroom.
Brilliant Suites are 482 square feet featuring an open plan, a stocked bar and record player as well as a terrace (read: balcony) with a hammock and swing chair
Cheeky Corner Suites range from 607-847 square feet and, as you might expect, feature panoramic wraparound views from the corner of the ship.
Sweet Aft Suites run from 607-661 square feet and are positioned at the aft of the ship, providing those gorgeous wake views we can never get enough of.
Seriously Suite is the smallest option, ranging from 352 to 357 square feet, featuring an open plan lounge and bedroom, sea terrace with chairs, plus a luxurious bathroom with a window from which you can watch the world go by.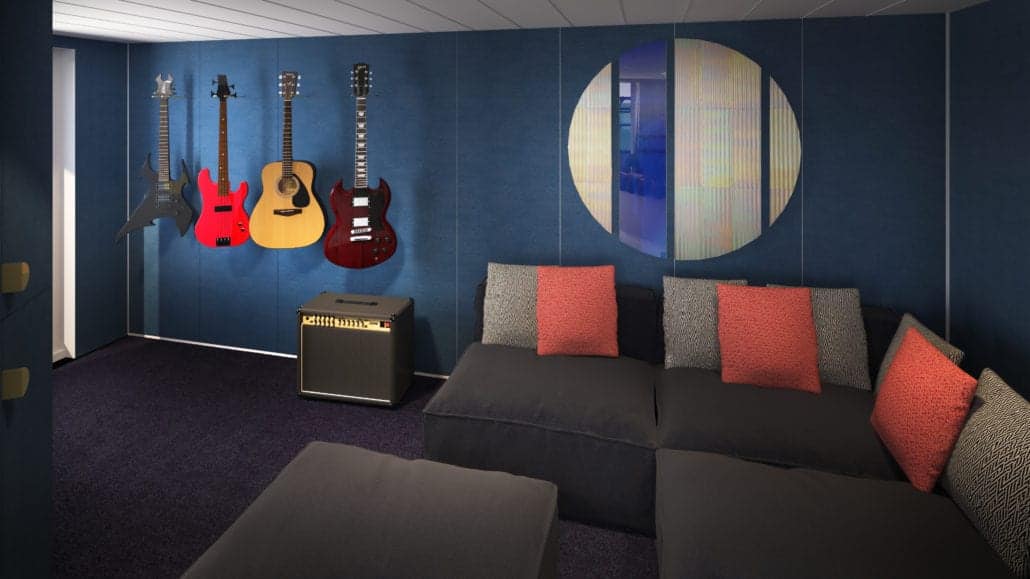 The design of the various spaces was  inspired by mega yachts as well as rock and roll style icons like Grace Jones, and feature Tom Dixon's iconic retro-futurism designs. The color palette will be deep blues (which are both soothing and perfect for a ship) with elements designed to echo the colors of the sky and sea. "Virgin Voyages is bringing rock and roll to the high seas and spoiling our sailors like the rockstars they are," said Virgin Group founder Sir Richard Branson.
The super-modern RockStar Suites will include nautical nods (including a brass glam station) and bedhead lighting. "Whether they want to sleep all day, praise the sun with yoga at dusk or party all night," said Virgin Voyages CEO Tom McAlpin, "our RockStar Suite Sailors can live out their fantasizes aboard the Scarlet Lady. He added that their new version of luxury, dubbed Rebellious Luxe, exists "at the intersection of luxury and a rebellious attitude that makes everything we do different, indulgent and meaningfully relevant to our Sailors."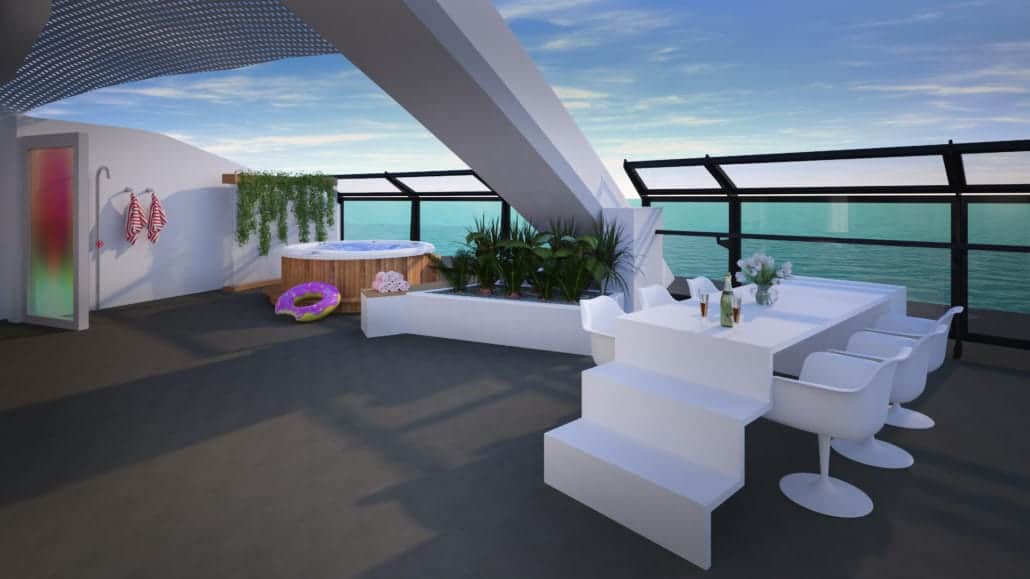 The RockStar Suites will have the best view that money can by, with each configured and situated in such a way to maximize the views of the ocean. And because a rock star can never have too much champagne, the terrace of each suite will feature a specially-designed champagne table… which just happens to perfectly accommodate an ice bucket!
You may not board the Scarlet Lady with an entourage of your very own, but no worries: The RockStar Suites will provide you with one thanks to the service crew who will handle every detail of your trip from the moment you first book. They'll arrange priority access to onboard entertainment, restaurants and more, as well as private transfers to and from the ship and even a wardrobe team to help you pack and unpack! Forget hanging your wet swimsuit on the balcony to dry… the service team even provides nightly express swimsuit drying. (No, seriously!) Plus, occupants have exclusive access to Richard's Rooftop, a members-only club where they can bask in the sun or drink up under the stars.
And yes, if you want to kick things up to the next level, you can book one of the Mega RockStar Suites, most of which will be located on deck 15. These will include a private bar stocked with your favorites and the kind of service even real rock stars only dream about.
Take A Look At The Massive Suite!
The biggest of the RockStar Suites on board Virgin's first ship, the Scarlet Lady, will be named — appropriately enough — The Massive Suites. There are two, each measuring 2,147 square feet and perched atop the ship's bridge. Each has its own music room (which can be used as an extra bedroom) stocked with guitars and an amplifier. Want to host a party? The oversized circular couch which serves as the centerpiece of the living space is perfect, especially since each of these suites has their own in-room bar! When it's time to get all dolled up for a night at one of the Scarlet Lady's hot spots, head for the glam bath and dressing room — featuring a hot tub, vanity, two full-sized wardrobes and a Peek-A-Boo shower area overlooking the bedroom and with a view of the ocean.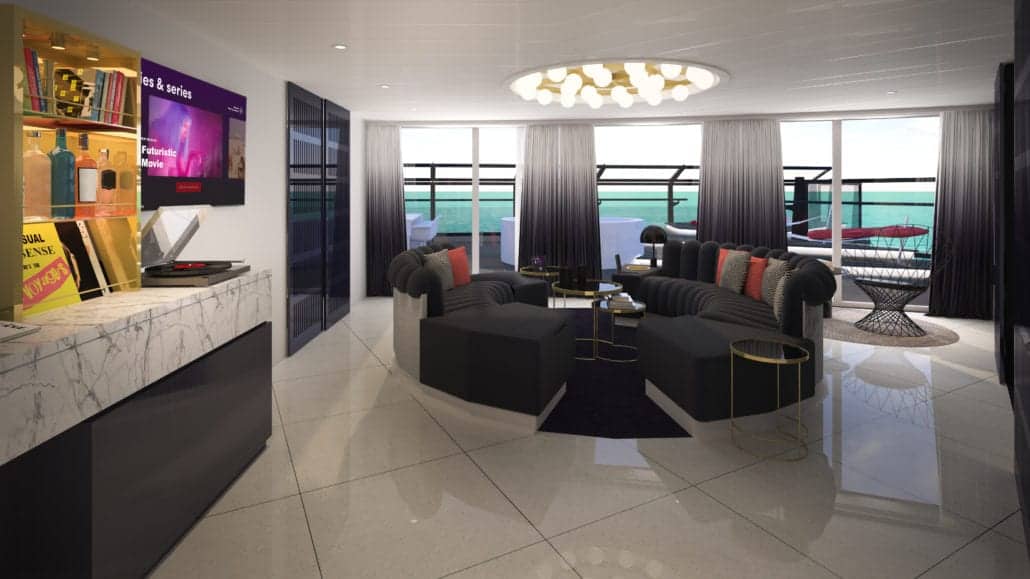 A stateroom like this needs an equally impressive balcony, and the Master Suites definitely have that covered. In fact, they feature hot tubs, Peek-A-View outdoor showers, a "conversation pit", lookout point with stargazing loungers and even hammocks to make sure you and your guests have a swingin' time. Finally, there's a staircase that leads not to heaven, but maybe the cruise ship version of it: an outdoor table for dining and dancing.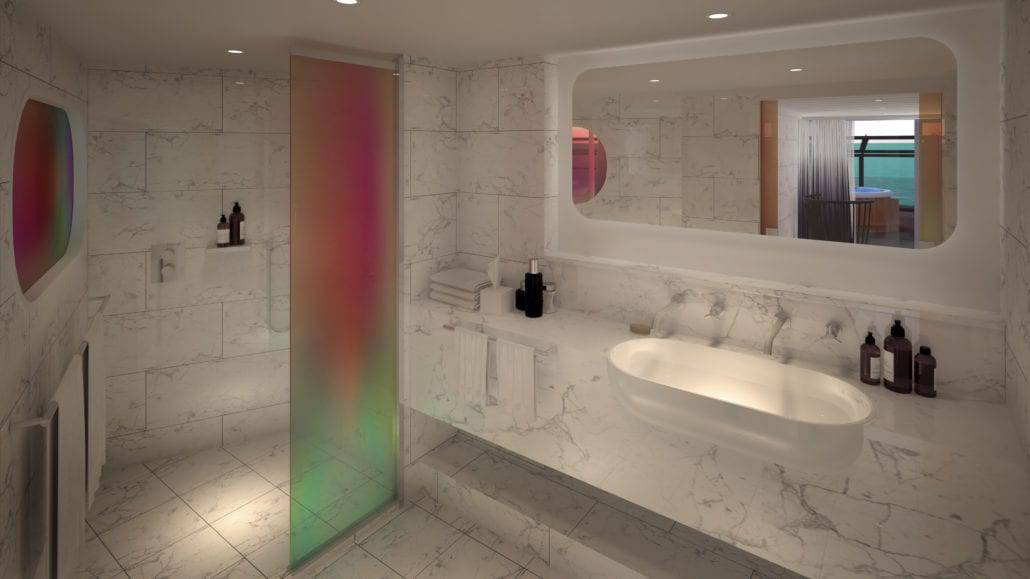 Want a chance to check out what Virgin Voyages has to offer for yourself? Head to VirginVoyages.com and enter to win a chance to party like a — what else? — rock star during their next #ShipTease event, which will be held in New York City on Valentine's Day.