How many times have you sat on a cruise ship, staring off into the sea and simply lost track of time as you contemplated life? And how many times have you wished that you could spend every day surrounded by the vast, open waters? Well, have we got a deal for you! It turns out that at this very moment, there is an auction underway at GSAAuctions.gov – sort of a government-run eBay – for a structure known as The Chesapeake Light Tower, located 14 miles off the coast of Virginia Beach.
What the… ?
The governmental site, which according to its FAQ page "offers the general public the opportunity to bid electronically on a wide array of Federal assets," currently has a bid of $15,000 on it with 8 days remaining before bidding is closed. According to an article in The Virginian Pilot, the structure – a 120-foot-tall "Texas Tower" – features seven rooms, a bathroom, storage closets, a radio room, kitchen and a common room. Oh, and a helicopter pad… which could come in handy, given as you wouldn't exactly be able to drive to your new home!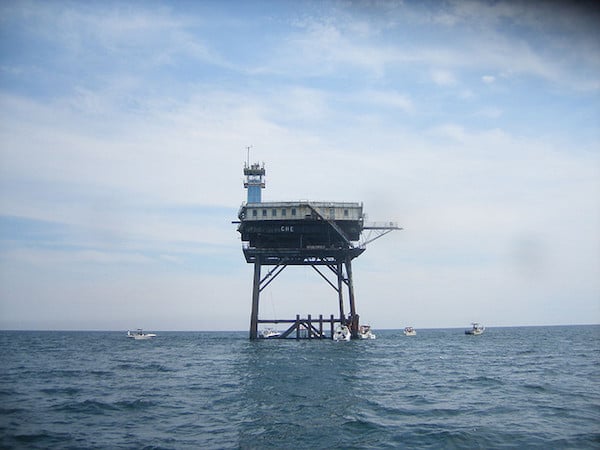 The article goes on to say that the structure also has "generators, a water heater, fuel tanks, solar panels and a power distribution room to keep the tower's utilities running." They report that a similar facility off the coast of North Carolina currently operates as a bed-and-breakfast, having been purchased for $85,000. (While the current asking price of $15,000 for its Virginia sibling might seem like a great deal, it's worth noting that many of the auctions on the site have a minimum reserve price that must be met in order for a sale to go through.) Want to check out the auction, and perhaps place a bid? Head here, but be warned: there are currently four other bidders, and the price goes up in $1,000 increments.
On the off-chance that you don't have a helicopter at your disposal with which to zip to your new property, there is also a 74 foot work boat for sale on the auction site. And while it's current bid of $1,161 means the reserve price has not yet been met, that could be due to a pretty major catch: The boat is currently located in Japan, and it would be the winning bidder's responsibility to show up and claim it!