Let's see how you do on this puzzle, shall we?
The category is… things we love to do. Six letters. CRU_S_. If you just said, "I'd like to buy a vowel, Pat," then something tells us you're more than a little familiar with the wildly popular, syndicated game show Wheel of Fortune. But even if you're not, you may want to get on board, so to speak, because over the next few weeks, Pat Sajak and his lovely co-host, Vanna White, will be giving away 4-night Carnival cruises to 40 lucky winners!
How You Can Win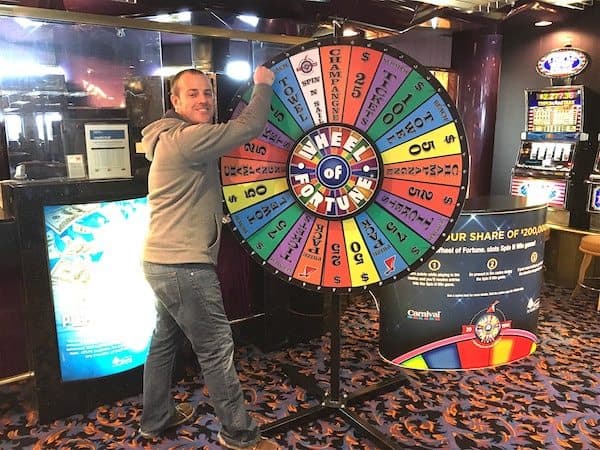 Now, I know what you're thinking: I don't have time to fly to Los Angeles, audition for the show, cross my fingers and hope to be cast! Luckily for you, the process is a whole lot easier. All you have to do is register to be a member of the game show's Wheel Watchers Club sometime between now and the cutoff date for entry, August 1. Then, tune in each night (check local listings for channel and time) to see if your Wheel Watchers Club Spin ID number is called.
Normally, the nightly winner of the prize receives a pretty awesome cash prize… which right now happens to be $5,000. But every night between July 11 and August 12, and then again from August 22-September 9, winners will not only receive that nice cache of cash, but also a four-day Carnival cruise to Mexico!
READ MORE: Carnival Sale Gives $200 Onboard Credit
"We're delighted to partner with Carnival Cruise Line on this fun promotion that rewards our loyal Wheel Watchers Club members with thousands of dollars in cash prizes and free Carnival cruises to Mexico just for watching Wheel of Fortune," said the show's executive producer, Harry Friedman.
"Wheel of Fortune is an iconic part of American culture," added Carnival's senior director of global casino operations, Dave Thomas, "and we are pleased to provide the show's most enthusiastic fans an opportunity to create a lifetime of wonderful vacation memories with us!"
The Year of Good Fortune
If you're thinking to yourself, "Hey, didn't we just read something else about a connection between Carnival and Wheel of Fortune?", then you are clearly one of our regulars! Because we just told you about the 3D Wheel of Fortune machines being introduced on several Carnival ships, and how, as part of this ongoing celebration of the partnership between the two, you could win a free cruise. (It seems this partnership is going to wind up giving a whole lotta folks the opportunity to sail for free!). To join the Wheel Watchers Club, click here.
Featured photo: Carnival