The newest ship to join the Disney Cruise Line fleet, Wish has a lot to love, especially for cruisers who happen to love the parent company.
But at least one thing on board has come under fire, and that's a drink that comes with a whopping $5,000 price tag.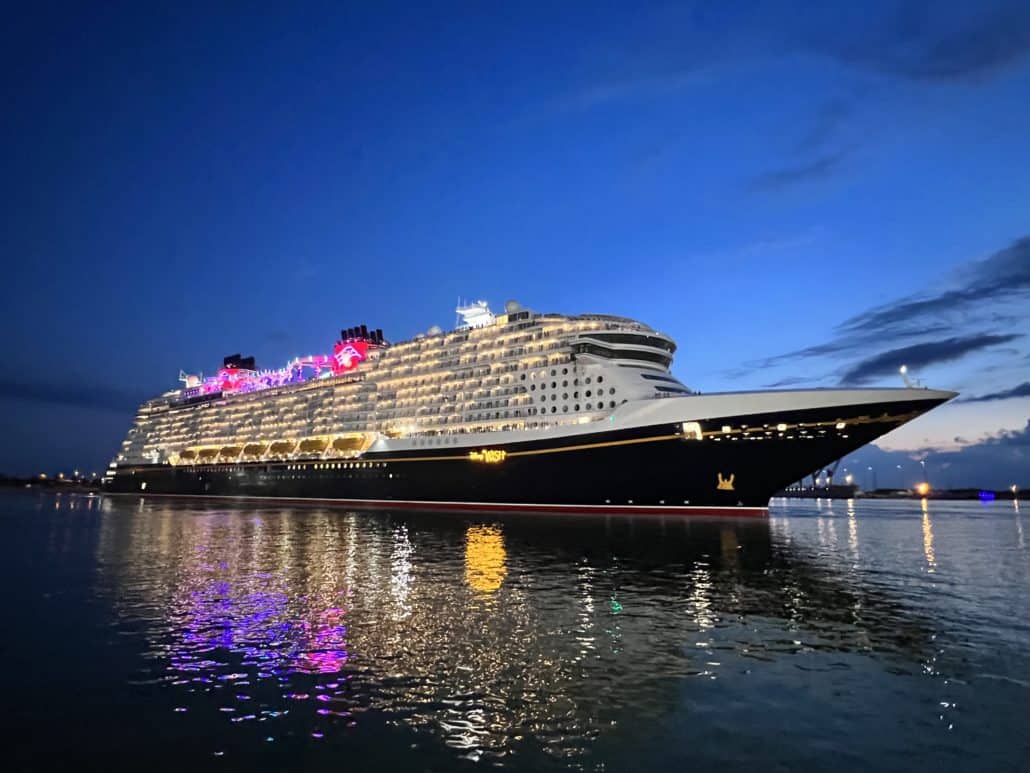 Where To Find The Pricey Cocktail
One of the most buzzed-about features aboard the Disney Wish is the Star Wars-themed Hyperspace Lounge, and it's here that you will find the drink everybody's talking about.
While the bar itself is easy to find, details about the high-prized elixir are far more elusive. What we do know is that it's called the Kaiburr Crystal, which in Star Wars lore is a relic with the ability to amplify the power of The Force. (And if you don't know what The Force is, we can only assume the whole Star Wars phenomenon somehow passed you by.)
Appropriately described as "the most expensive drink in the galaxy," the drink is served with much fanfare in a very cool looking vessel. As for the drink inside, About Theme Parks describes it thusly:
"According to a bartender in the lounge, the galactic beverage is primarily made with Camus cognac. It also includes the Japanese citrus fruit, yuzu, as well as kumquat. Apparently, ritzy cocktails can never have enough cognac, because the Kaiburr Crystal also features Grand Marnier Quintessence, which is considerably pricier than Camus cognac. Speaking of pricey, the bartenders add shots of ultra-expensive Pappy Van Winkle's Family Reserve 23 Year Bourbon and Taylor's Fladgate Kingsman Edition Very Old Tawny Port."
The drink also reportedly comes with various perks, including an interactive element which may or may not involve Stormtroopers and a visit to Skywalker Ranch in California.
The $5,000 Kaiburr Crystal on the #DisneyWish is an experience that also includes a visit to Skywalker Ranch and a special themed escort off the ship.

Here's everything I was able to confirm: pic.twitter.com/Srm2IwNNat

— Scott Gustin (@ScottGustin) July 1, 2022
Why Are People Hating On The Drink?
Almost immediately, the drink (and its price tag) grabbed the attention of the non-cruise community in general and fans of Disney — as in the brand and the parks, not the actual ships — in particular.
Under current CEO Bob Chapek, many who've long loved the House of Mouse believe that Disney has lost its way. One of their biggest complaints? The company's perceived money-grabs, especially when it comes to new projects such as the new Galactic Starcruiser hotel at Walt Disney World (which runs two guests about the price of a Kaiburr Crystal cocktail for a two-night stay).
In response to a video showing what the drink looks like was posted, Twitter virtually exploded with people derisively commenting on everything from the price to the type of person who'd drink it and what the cocktail says about modern corporate culture.
"Disney loves spreading 'happiness to everyone' just as long as you have an absurd amount of money to give them," tweeted Shock Tea. "5,000 dollars could be someone's rent for multiple months and they think people are willing to spend it on a drink."
Others, however, took a more pragmatic view, pointing out that how people choose to spend their money was up to them.
The most expensive drink in the galaxy. The Star Wars Hyperspace Lounge on the Disney Wish has a $5,000 Kaiburr Crystal drink. pic.twitter.com/ZcUp3yt0RI

— Ashley Carter (@AshleyLCarter1) June 29, 2022
How Expensive is a Disney Cruise?
Disney's cruise ships already come with a price tag that is usually higher than those attached to most of their competitors. They also, however, have a hard-earned reputation as being a top-notch experience, especially for families with children (or adults who still consider themselves big kids).
How big a price difference is there? A family with two adults and two kids under 17 can do a three-day sailing on the Disney Wish out of Port Canaveral in an interior stateroom for $3,564. That same family can do a seven-day sailing on Carnival's Mardi Gras in a balcony for $2,720.
Of course, there are major differences between the two ships (and lines), but this example is offered up simply for the sake of comparison.
At the end of the day, the drink has done exactly what the folks at Disney hoped: Gotten people talking about the newest ship to join the fleet.
READ NEXT: Overview: 4 Cruise Lines That Offer Spa Services For Teens