'Tis the season to make sweet treats to enjoy with your family. The holiday season might look a bit different this year, but we hope you still plan on enjoying yummy food with your loved ones — even if it's just your immediate family.
Many of us are missing the delicious food we might have eaten on a cruise this year had the ships been sailing — and desserts are obviously one of the best parts. So to help celebrate the season and have a taste of cruising at home, we've put together 10 delicious cruise ship dessert recipes (plus a bonus one!) that you can make with your family.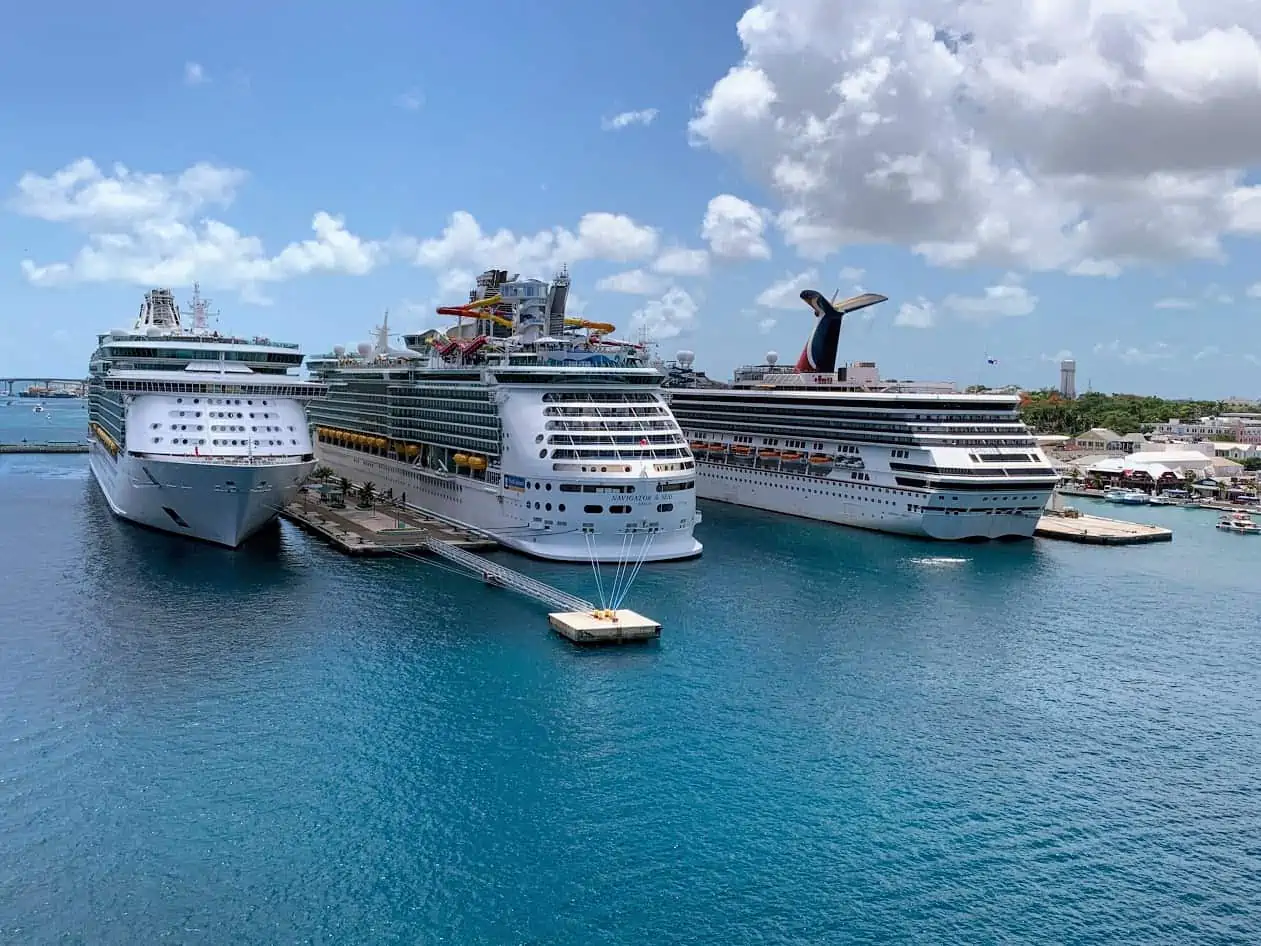 1. Strawberry Rhubarb Crisp — Holland America
Ingredients:
Topping
1 ½ Cups all-purpose flour
1 Cup sugar
½ Teaspoon salt
¼ Teaspoon nutmeg
11 Tablespoons chilled butter, cut into ¼-inch pieces
Filling
3 ½ Cups diced Rhubarb, trimmed
2 ½ Cups diced strawberries
¾ Cup sugar
3 Tablespoons all-purpose flour
Directions:
Topping
Heat the oven to 425 degrees Fahrenheit. In a food processor, blend the flour, sugar, salt and nutmeg until just combined. Pulse in the butter, using on/off turns, until moist clumps form. (Alternatively, in a medium bowl combine the flour, sugar, salt and nutmeg. Add the butter, rubbing it in with your fingertips or with a pastry blender until the topping holds together in small moist clumps.)
Set the topping aside. The topping can be made in advance, covered and refrigerated for up to 3 days.
Filling
Combine all the ingredients in a large glass or ceramic bowl, and toss gently with a rubber spatula. Transfer to a 9-inch glass pie pan or another baking pan, allowing the fruit to mound slightly. Carefully place the topping on the fruit, spreading it evenly over the surface with your hands. Press down gently to compact it.
Put the pan on a baking sheet and bake in the oven for 35 – 45 minutes, or until the top is crisp and the juices just start to bubble around the edge. Transfer to a wire rack and let cool for at least 30 minutes before serving.
2. Love Boat Dream Dessert — Princess Cruises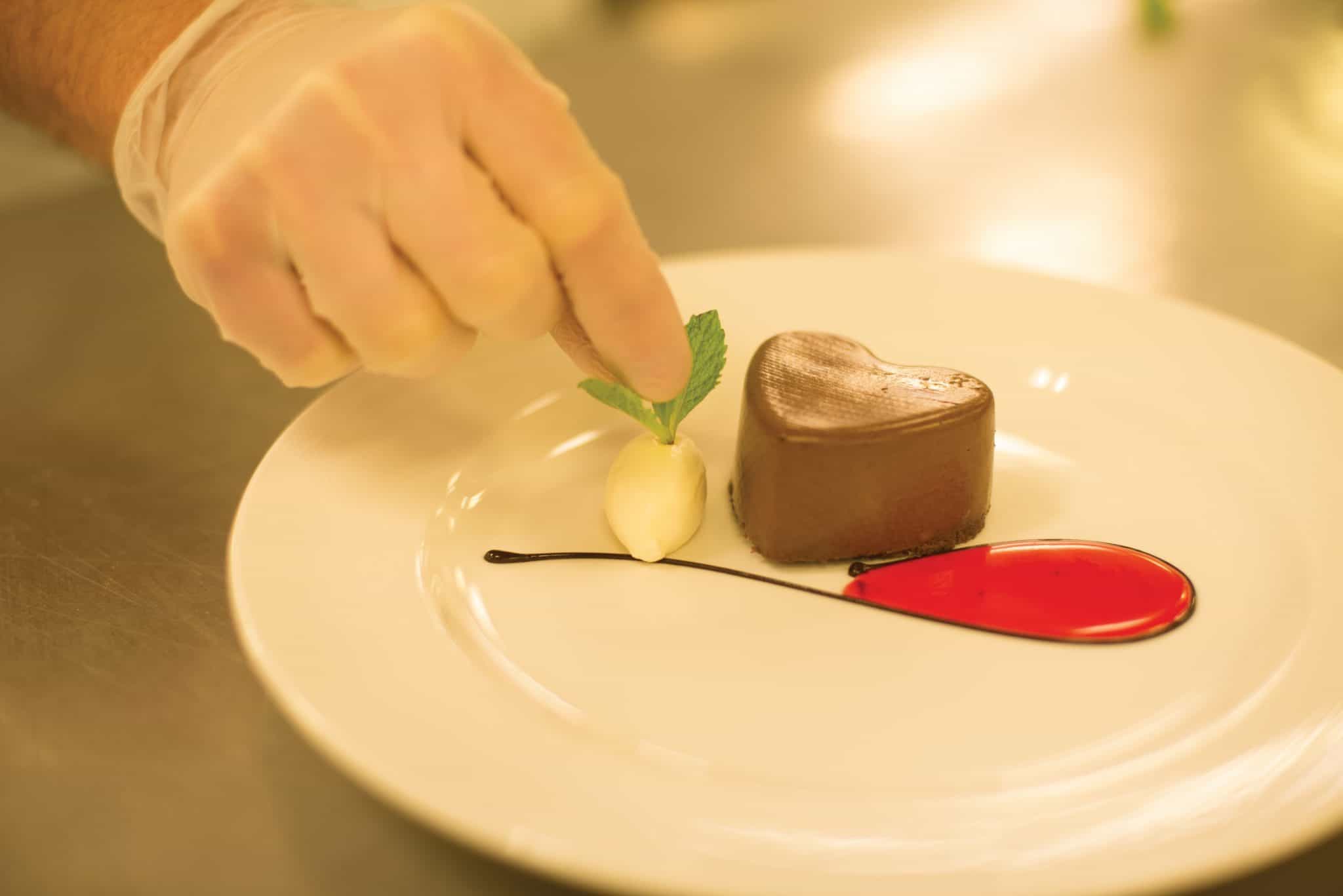 A rich, fluffy mousse-flavored with Godiva liqueur — this recipes makes 8 servings.
Ingredients:
1 pound bittersweet chocolate
8 ounces sweet butter
6 large egg yolks
8 egg whites
3 ounces lady Godiva chocolate liqueur
1/2 cup superfine sugar
3 tablespoons vanilla-flavored sugar
Garnish
16 fresh mint leaves
1 ounce white chocolate
1 ounce milk chocolate
2 tablespoons strawberry piping gel
2 tablespoons bittersweet cocoa
Directions:
Melt the chocolate in a double boiler. Remove from heat and add the butter. When the mixture is very smooth, quickly blend in the egg yolks and the chocolate liqueur. Whisk the egg whites until very still, and then add the superfine sugar and flavored sugar. Gently fold the egg white mixture into the chocolate mixture. Pour into a heart-shaped mold and refrigerate for at least 12 hours to set.
Presentation
Unmold the chocolate and place in the center of the plate. Garnish with white chocolate and milk chocolate. Pipe strawberry gel around the plate. Dust mousse with cocoa powder and garnish with fresh mint leaves.
3. Sinful Chocolate Obsession — Norwegian Cruise Line
Ingredients:
For the cakes
2 lbs semisweet chocolate
4 1/2 oz butter
12 egg yolks
4 oz sugar, separated
4 egg whites
1 tbsp rum
8 oz heavy cream
2 oz almonds, toasted
2 oz pistachios, chopped
For the ganache
2 lbs dark chocolate couverture (or best-quality dark chocolate), finely chopped
32 fl oz heavy cream
Directions:
Melt chocolate and butter together. Whip yolks and 2 oz sugar together. Combine into chocolate butter mix. Whip whites together with 2 oz sugar and rum to volume. Combine into chocolate butter yolk mix. Whip the heavy cream and fold into mixture; fold in nuts.
Pipe or spoon into individual cake dishes or ramekins, and top with a cardboard disk to act as base once flipped out. Freeze. (This recipe makes enough batter for 10 individual cakes.)
Make ganache: Bring the heavy cream to a simmer. Pour the hot cream over the chocolate; allow one minute before stirring to blend. Strain and cool.
Remove cakes from ramekins and plate with desired garnishes; Norwegian's chefs use raspberry sauce, vanilla sauce, mint sprigs, whipped cream and chocolate shavings. Top cake with ganache.
READ MORE: 5 Alchemy Bar Recipes to Make at Home
4. Suksessterte — Viking Cruises

Viking's website says that "in its native Norway, this gluten-free "success tart" is a common sight at celebrations ranging from weddings to office birthday parties." This recipe makes 8 servings.
Ingredients:
Vanilla Cream Filling
2 whole vanilla beans
2 cups + 2 tbsp sugar
1¾ cups + 2 tsp heavy cream
15 med egg yolks
2¼ cups + 1 tbsp + 1½ tsp unsalted butter
Sliced Almonds
1 to 2 cups sliced almonds
Sponge
15 med egg whites
4¾ cups powdered sugar
6¼ cups extra fine almond flour
Directions:
Vanilla Cream Filling
Slice vanilla beans lengthwise; scrape out seeds. Add sugar, heavy cream and vanilla seeds to a pot, bring to boiling, strain over egg yolks, mix to combine; chill in refrigerator overnight. Whip in butter until smooth; set aside.
Sliced Almonds
Preheat oven to 340°F (170°C). Spread almonds on a dry cookie sheet, bake 4 minutes. Shake pan to shift almonds every minute to check for slight browning and fragrant aroma; when done, remove from oven and immediately pour onto a room temperature plate. Set aside, leaving oven on to bake sponge.
Sponge
Whip egg whites and powdered sugar until stiff peaks form. Sift in almond flour, mix carefully until just combined, place mixture in springform pan lined with parchment paper; bake 30 minutes. Let cool completely in pan before removing sides and slicing into three horizontal layers. Layer vanilla cream filling between sponge layers, then cover top and sides of cake with remaining filling and sliced almonds.
5. Peanut Butter Pie — Disney Cruise Line
Ingredients:
Pie
1 1/2 cups creamy peanut butter
8 ounces cream cheese, softened
3/4 cup sugar
2 tablespoons butter, melted
1 cup heavy cream, whipped stiff
1 baked 8- inch pie shell
Ganache
1/2 cup heavy cream
4 ounces dark chocolate, chopped
1 tablespoon butter
Directions:
With an electric mixer, blend the peanut butter and cream cheese until smooth. Add the melted butter to peanut butter mixture, then fold in whipped cream. Pour into the baked pie shell and refrigerate for 1 hour.
For the ganache: in a saucepan over medium heat, bring the cream to a boil. Remove from heat and fold in chocolate until no streaks of white remain. Cool unto lukewarm, then glaze pie. Refrigerate for at least two hours before serving.
6. Grand Marnier Soufflé — Celebrity Cruises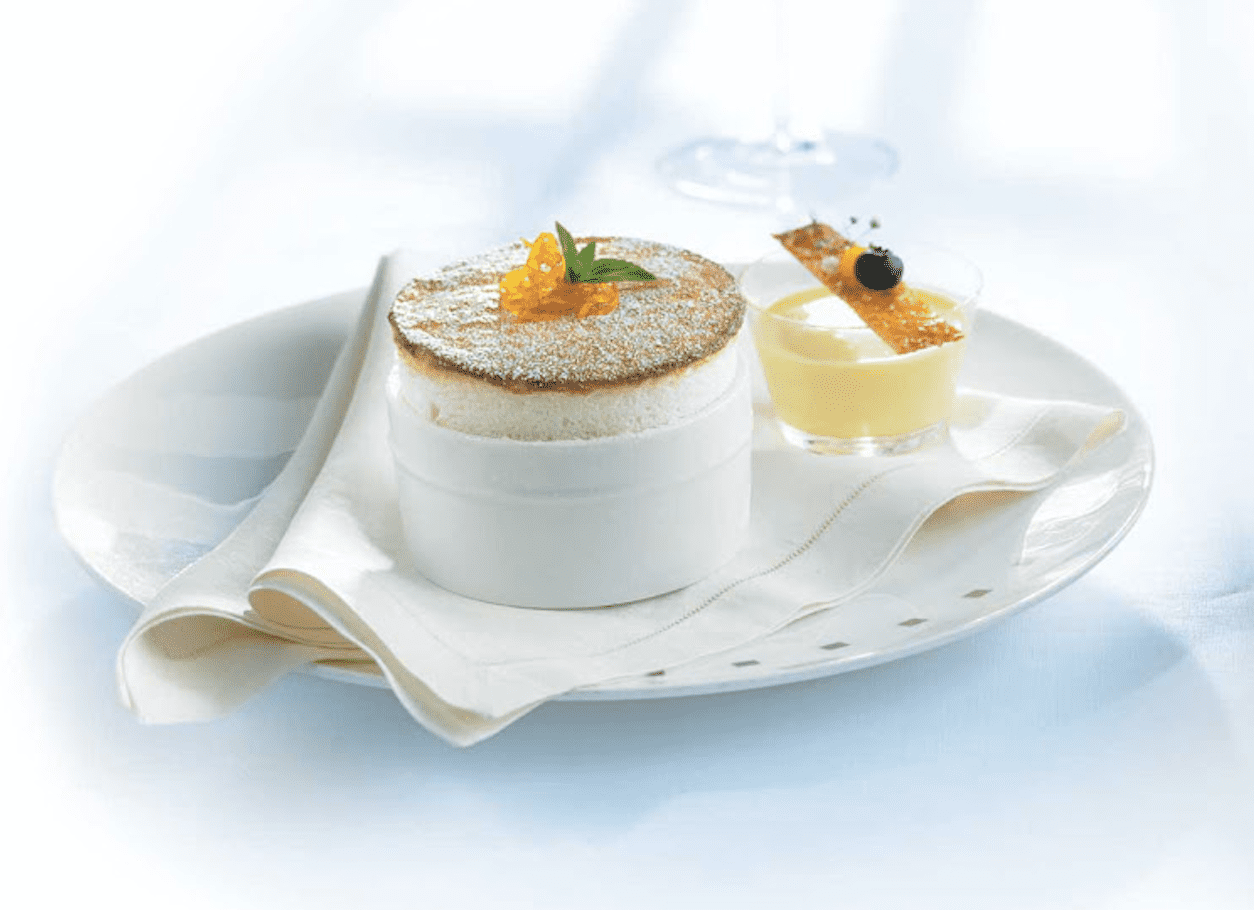 Ingredients:
Pastry Cream
1 vanilla bean
1 cup whole milk
2 1/2 oz granulated sugar
3 large egg yolks
2 oz cornstarch
4 oz Grand Marnier
Vanilla Creme Anglaise (Sauce)
1 vanilla bean
1 cup whole milk
2 oz granulated sugar
3 large egg yolks
Almond Tuile
1/2 oz granulated sugar
1/2 fluid oz fresh orange juice
1 oz all-purpose flour
1 oz unsalted butter
1/2 oz sliced almonds
Soufflé Mix
16 oz egg whites
3 oz granulated sugar
As needed butter
Mango and Garnish
4 oz mango (diced 1/4 inch and marinated in Grand Marnier)
6 tsp candied orange zest
As desired powdered sugar
As desired mint leaves
Directions:
For the pastry cream, cut the vanilla bean lengthwise and remove the paste. In a medium saucepan, heat the milk, vanilla bean paste, and half the granulated sugar to boiling. In a small mixing bowl, beat the egg yolks with the other half of the granulated sugar and the cornstarch, then add to the milk slowly, cooking and stirring continuously until the mixture thickens. Remove from heat and add Grand Marnier.
For the vanilla creme anglaise, cut the vanilla bean in half lengthwise. In a medium saucepan, heat the milk, vanilla bean, and half of the sugar to boiling. In a small mixing bowl, beat the egg yolks with the other half of the granulated sugar, then add to the milk slowly, cooking and stirring continuously for 1 minute.
For the almond tuile, grease the baking paper. In a medium mixing bowl, stir all the almond tuile ingredients together until the batter is well mixed. Place in the fridge. Preheat oven to 375 degrees fahrenheit.
Spread the batter on the greased baking paper with a spatula. Bake until golden brown. Cut rectangular shapes 1/2 inch by 2 inches. When cool, put in an airtight container.
For the soufflé mix, preheat oven to 450 degrees fahrenheit. Grease ceramic dishes with butter, and sprinkle with granulated sugar. In a medium mixing bowl, beat the egg whites until soft peaks form. Add to the warm pastry cream.
To serve, fill up half the height of the dish with the pastry cream mixture. Place the diced mango on top, then add more cream on top. Bake at 450 degrees fahrenheit for 12 minutes. Remove from oven and dust with powdered sugar. Decorate with mint leaves, candied orange zest, and almond tuile. Serve with vanilla creme anglaise.
READ MORE: How to Make Carnival's Signature Spaghetti Carbonara [RECIPE]
7. Kahlua Crème Brûlée — Royal Caribbean
This recipe serves 6.
Ingredients:
2 cups heavy cream
4 egg yolks
1/2 cup sugar
1 shot Kahlua
Garnish
Brown sugar
Fresh berries
Mint leaves
Directions:
Preheat oven to 350°F. In a saucepan over medium heat, slowly bring cream to a boil. In a mixing bowl, combine egg yolks and sugar and beat until mixture is lemon colored. Place over simmering water and beat until mixture has doubled in volume, about 10 minutes. Remove from heat and keep whisking to cool it down. Slowly stir hot cream and Kahlua into egg mixture. Using a fine sieve, strain into a bowl set over ice to quickly chill the mixture.
Pour mixture into individual molds set in a shallow pan or baking dish. Pour water into the pan until it is halfway up the sides of the molds and bake for 40 minutes. Evenly sprinkle top with brown sugar and place under broiler or use a pastry blow torch to heat sugar until it turns brown and bubbles. Let set for a few minutes, then garnish with berries and mint.
Tip: Set the crème brûlée molds in a shallow pan or baking dish and place in the oven. Then pour warm water around the molds. This helps avoid spilling water on the floor or into the custard when placing the pan in the oven.
8. Flourless Chocolate Cake — Viking Cruises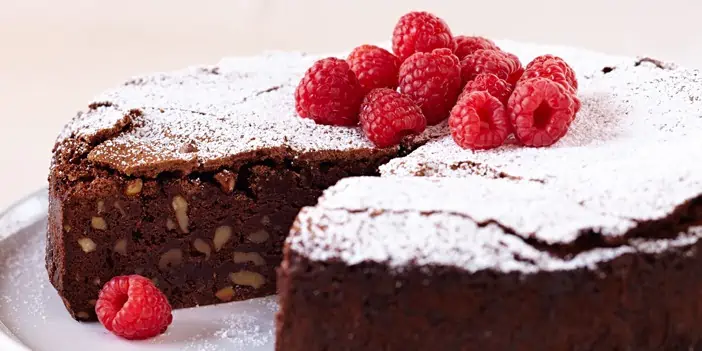 Viking's website says that "this dense moist cake is like a giant chocolate truffle—crunchy on top with a deliciously fudgy center." I have actually eaten this on a Viking cruise myself, and to me it was like a cross between a chocolate bar and a cake. VERY dense but it was delicious and if I hadn't had it at the end of the cruise for the first time, I definitely would have ordered it more than once. This recipe makes 8 servings.
Ingredients:
8 oz dark chocolate, chopped
3 tbsp unsweetened cocoa powder
¼ tsp baking powder
¼ tsp salt
6 tbsp unsalted butter, room temperature
1 cup sugar
4 large eggs
1¼ tsp vanilla extract
½ cup walnuts, ground
¾ cup walnuts, chopped
Garnish
¾ cup heavy cream, whipped
¼ cup chocolate shavings
1 cup raspberries or raspberry sauce
Directions:
Preheat oven to 350°F. Grease an 8-inch springform pan with a small amount of butter. Melt chocolate in a microwave on high in 30-second intervals, stirring in between, until chocolate is fully melted and smooth; set aside.
Combine cocoa, baking powder and salt in a medium bowl. In a separate bowl, beat together butter and sugar; add eggs one at a time, beating well after each addition, and continue beating until mixture is pale and creamy, about 5 minutes. Beat in vanilla. Add chocolate; beat until just blended. Fold in ground walnuts, chopped walnuts and cocoa mixture.
Pour into prepared pan and bake until cooked through, about 35 minutes. Let cool completely on a wire rack. Run a small knife around edges of springform pan before releasing cake. Serve at room temperature, topping with one or more garnishes to taste.
9. Bread and Butter Pudding — Holland America
Ingredients:
1.5 pounds good-quality day-old sliced white bread, crust trimmed and slices cut into cubes
6 tablespoons unsalted butter, melted
1 quart whole milk
6 eggs, beaten
3 egg yolks, beaten
3/4 cup sugar
1 teaspoon vanilla extract
3/4 cup raisins
confectioner's sugar for sprinkling
Note: Try soaking the raisins in a little rum or cognac for 30 minutes before adding them. Or instead of raisins, substitute dried cherries or chocolate chips.
Directions:
Preheat oven to 325°F. Butter 8 12-ounce ramekins or a 9×13-inch baking dish. Have on hand a roasting pan large enough to hold the ramekins or baking dish, and line it with a folded kitchen towel.
Place bread cubes in a bowl. Drizzle and toss with the melted butter. Spread out on a baking sheet and toast in the oven, stirring once, until lightly golden, about 8 to 10 minutes.
Custard sauce: In a saucepan, bring milk to simmer over medium heat. Meanwhile, in a large bowl whisk whole eggs, egg yolks and sugar until blended. Gradually whisk in hot milk. Stir in vanilla.
Divide half the bread cubes among prepared ramekins or layer in prepared baking dish. Top with half the raisins. Cover with remaining bread cubes and raisins. Ladle custard evenly over bread cubes and raisins. Let stand until some custard is absorbed, about 20 minutes.
Bring a large kettle of water to boil. Place ramekins or baking dish in roasting pan and transfer to oven. Add enough boiling water to reach halfway up the side of ramekins or baking dish. Bake pudding in over for 45 minutes or until puffed and just set.
Carefully remove roasting pan from oven and remove cooking dish(es). Let cool slightly and serve while still warm, sprinkled with confectioner's sugar.
10. Cotton Candy Milkshake — Disney Cruise Line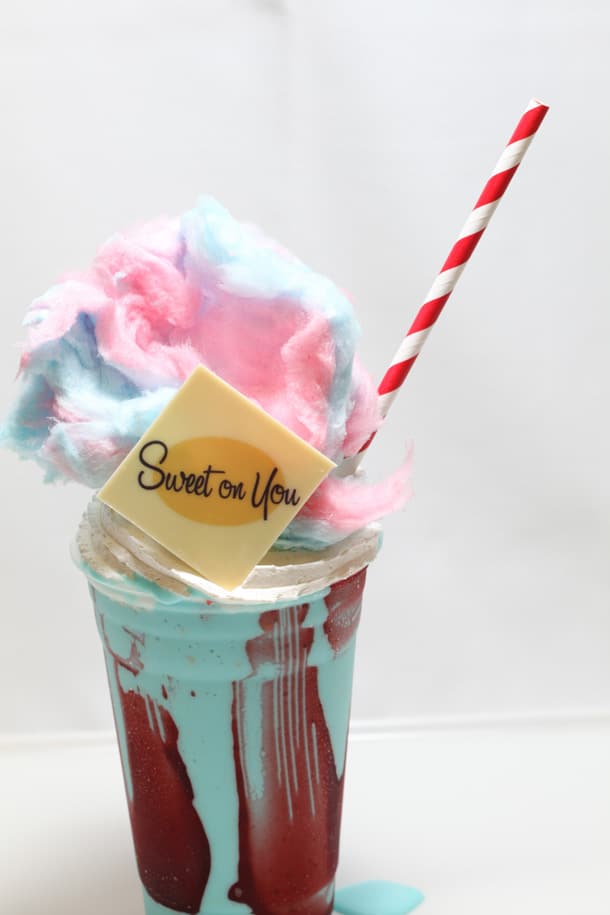 Ingredients:
Milkshake
3 scoops Cotton Candy Explosion ice cream from Bruster's (or substitute with your favorite sweet flavored gelato or ice cream like Bubble Gum or Blueberry and add a handful of Nerds candy)
2 cups liquid vanilla shake mix (can also just use milk with a dash of vanilla extract — play around with amounts of milk)
Toppings
Strawberry jam
Whipped cream
Sprinkles
Cotton candy
Directions:
Prepare the cup with strawberry jam inside.
Blend ice cream and shake mix (or milk and vanilla) until smooth.
Pour milkshake into cup and top with whipped cream, sprinkles and cotton candy.
BONUS: Warm Chocolate Melting Cake — Carnival Cruise Line
We've actually done an entire post on this recipe, which you can find here.
We also have a video on how to make it — watch below!
Pin it for later!