Most of us aren't millionaires, so it takes a bit of financial planning to book a cruise vacation.  For the majority of us, we need to save our money, carefully pick what itinerary we would enjoy and can afford, and choose a stateroom with that in mind, too.  That's where this article comes in – we want to offer you simple ways to either make or save your money so that you'll be headed out to the open sea in no time.
1. Save Your Change
Many of us primarily use plastic these days, but anytime you do get real change, save it.  Put it in a jar and then periodically roll it so you can bring it to the bank and deposit it into your savings account. The 52-week savings plan is fun too, you can view the plan here.
2. Ditch Your Starbucks Run
Okay, okay! Before you try to find me to take my head off with this one, don't think I'm telling you to stop consuming your morning beverage altogether.  Instead of hitting Starbucks, Dunkin' Donuts, or another local coffee shop every morning, consider brewing your coffee at home and taking it with you in a thermos.  Believe me, this will save a lot more money than you probably realize.  Also, if you truly can't resist stopping in occasionally, try to limit your coffee shop runs to just once or twice a week.
3. Drive for Uber or Lyft
This isn't for every but as long as you meet their car and background requirements, you can become a Lyft or Uber driver on your own terms. It doesn't matter if you want to drive for thirty minutes or 10 hours, you decide when you want to work. I have friends that make $300 per weekend driving a few hours. That's easy cruise money!
4. Have a Yard Sale
Depending on how much stuff you have and what type of property you live on, this is a very viable option to earn a bit of cash.  Go through your house and garage, and find things you don't use anymore, things your kids have outgrown, and stuff you just plain don't like now.  Set up a yard or garage sale and see what happens! (Bonus points if you have a lot of furniture… yard salers love furniture.)
5. Download Qapital
This nifty little app links to your bank account, and then will take out a set amount based on a variety of rules that you can choose to use or not use.  For example, when you buy a certain type of item, you can set it to then save some money.  Or, you can set it up to save a certain amount based on a time period, such as weekly or monthly.  For the full scoop, visit qapital.com.
6. Sell Your Pictures
Foap is an app available in both the Apple and Google Play store that allow you to take a photo, upload them to their server and allows people to purchase the photo – making you $5 per photo. Travel magazines, websites, and cruisers are constantly looking for great cruise photos.
7. Kick Out the Cable
This tip is definitely not for everyone, but it's a great idea for others.  If you tend to watch a lot of live TV and like having your wide variety of networks to choose from, this may not work.  But if you're moving toward watching Amazon Prime, Netflix, or Hulu more and watching cable TV less, consider getting rid of it.  With little USB devices such as Amazon Fire Stick and Roku, even your regular non-smart TV can be turned into a viewing center for online streaming services.  You'll end up saving a ton of money by giving cable the boot.
8. Download Ibotta
I've actually recently downloaded this one myself, and it seems really neat so far.  This app lets you choose which stores (from their list) you live near and shop often, and then conveniently puts them on its home screen for you.  When you shop at those stores, you can check to see if any of your purchases qualify for a rebate. I've gotten cash back for buying a dozen of eggs, milk, and soap. You can download Ibotta here.
9. And Ebates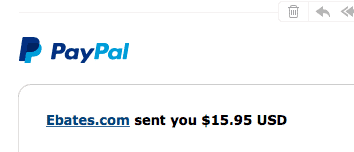 Just like Ibotta, Ebates works on rebates at different places. There is no catch, no hook, or gimmick. I saw the ads on TV all the time but I always thought it was joke. When you buy clothes, Amazon, electronics, or whatever, through them, you can get cash back. They just sent me a check for $15.95 yesterday. You can sign-up and learn more about Ebates here.
10. Sell on eBay
Everyone has things around their house that they could let go of. I listed some old books, a couple collectibles, and old CDs that I had. Buy some padded envelopes from the store and clear out your junk! The best thing about eBay is that the buyer pays for the shipping, so the only thing you're out is the shipping envelope.
How does you and your family save cruise money?