I recently returned from a 14-hour flight from Dubai to Newark, where I flew United Polaris class. But it didn't start that way. I dreaded the flight when I booked an economy fare ticket for row 37.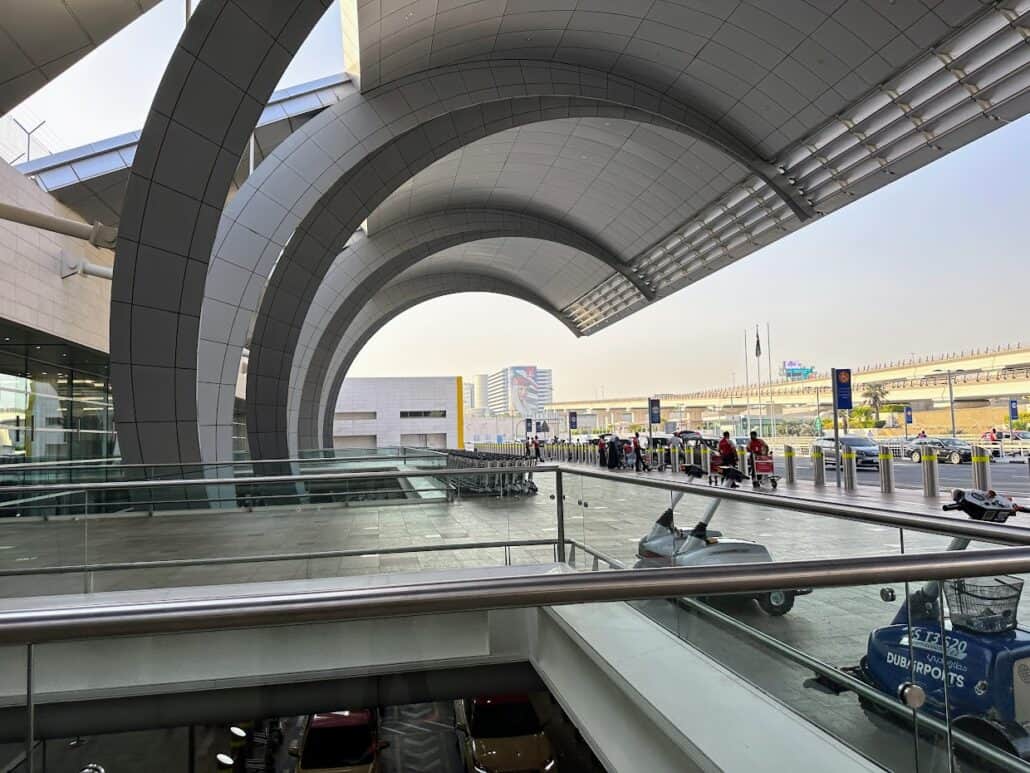 Why am I in Dubai?
Dubai has always been on my bucket list, and since I was flying home from Manila, I figured I'd stop and tour the Queen Elizabeth II cruise ship docked in the harbor, along with seeing various attractions.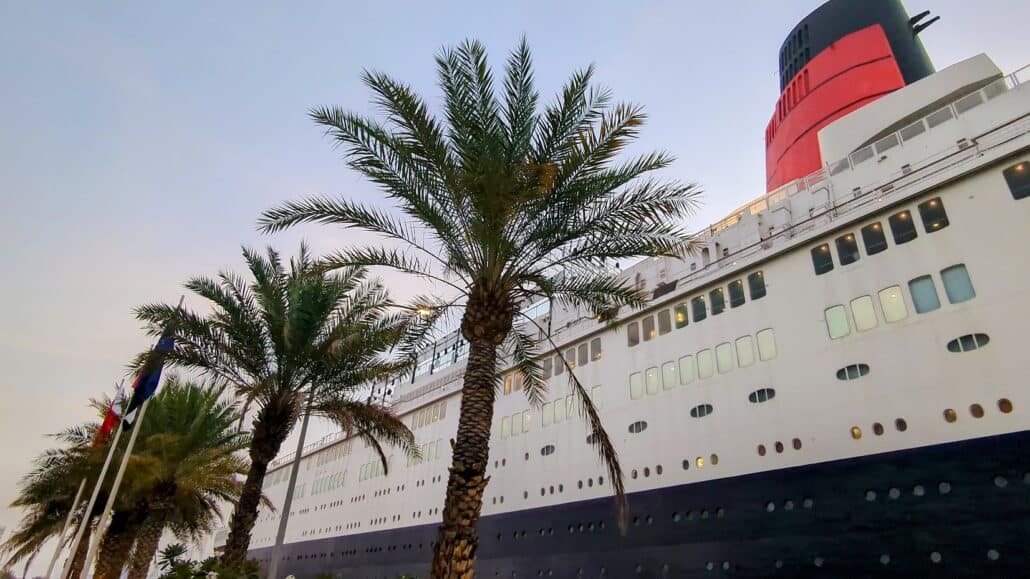 Going from one cruise ship to another would be a cool story since my final destination was meeting Carnival Cruise Line's brand new Carnival Venezia at the Manhattan Cruise Terminal in NYC.
In this review, I discuss my 14-hour flight from Dubai to Newark in United's Polaris class, information about the plane, my seat experience, and the amenities included.
It all started with an economy ticket
The economy plane ticket cost $856 on Google Flights, which was affordable for traveling from Dubai to New York City. The booking experience started on Google Flights, as it always does when I'm traveling internationally.
I'm always looking to see what airline has the best deal for the best seat possible. This time it was United. Google Flights led me to the United website, where I booked the airline.
Without going into the crazy details, I had two canceled flights which gave me an extra 22 hours in Dubai.
When I went to check in for the rebooked flight, I was offered a $1,100 upgrade for the United Polaris class, and I snagged it as soon as the notification came across my screen.
Polaris is equivalent to first class on United's international routes.
Booking and pre-flight experience
If you've never flown internationally with United, you'll notice that they are good about helping you check in and walking you through the process.
These days everything can be done through the United smartphone app. While booking, for instance, I had to scan my passport photo into the app and the number of bags I was checking.
Aircraft details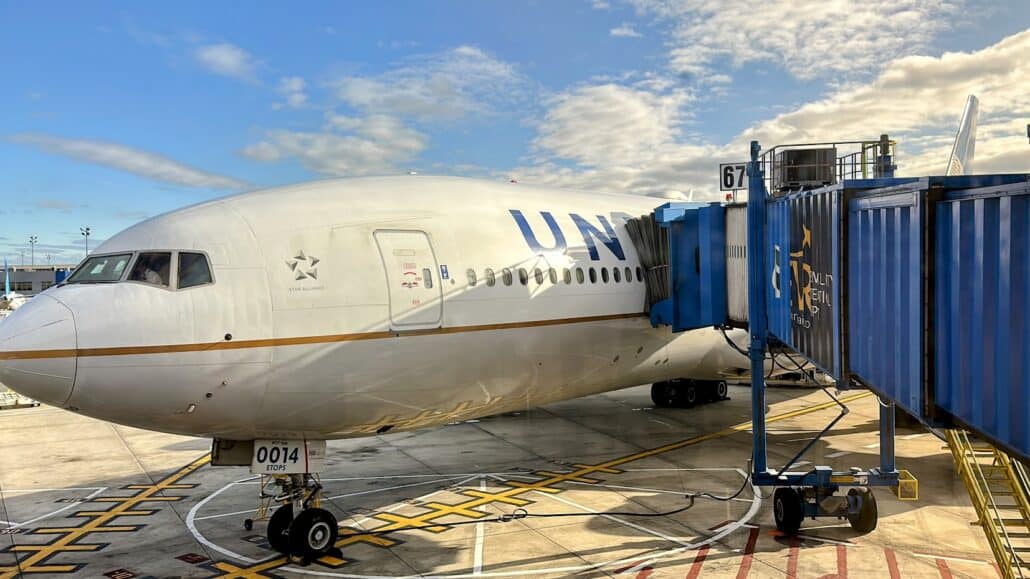 The aircraft assigned to this flight was a Boeing 777-200.
It was flight number 163, that took us from Dubai, UAE, to Newark, New Jersey. The duration of this flight was scheduled at 14.5 hours. Two meals would be served throughout the flight. The Polaris class setup was a one-two-one configuration.
Check-In and Security in Dubai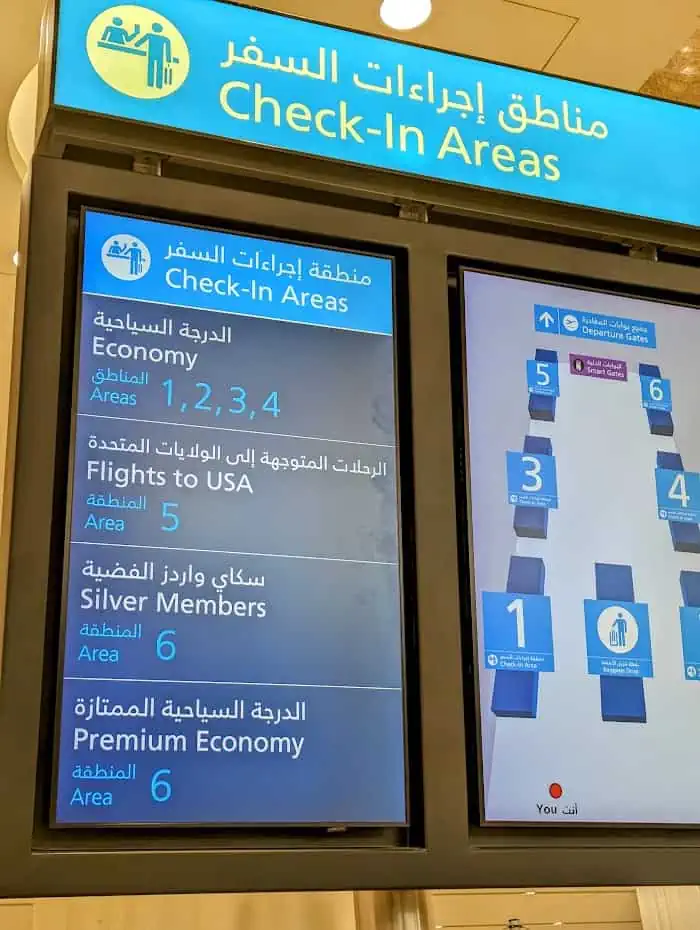 The check-in experience at the Dubai airport was effortless, and the counters were marked. United Airlines uses the Emerites ticket counter at the Dubai airport to check passengers in. Passengers flying on United had to go to check-in counter five at Terminal 3.
Before I walked to the ticket counter, there was a baggage inspection with a security officer asking me if my bags had been with me the entire time. He stuck two stickers on my passport and dropped my bags off.
Since I already checked in online, the ticket agent verified my passport and checked my bags. I checked two bags this time because I traveled over 21,000 miles on this trip.
He handed me my baggage claim sticks and the boarding pass and told me I could use the business lounge.
Wait, what?! This is turning out to be a great start.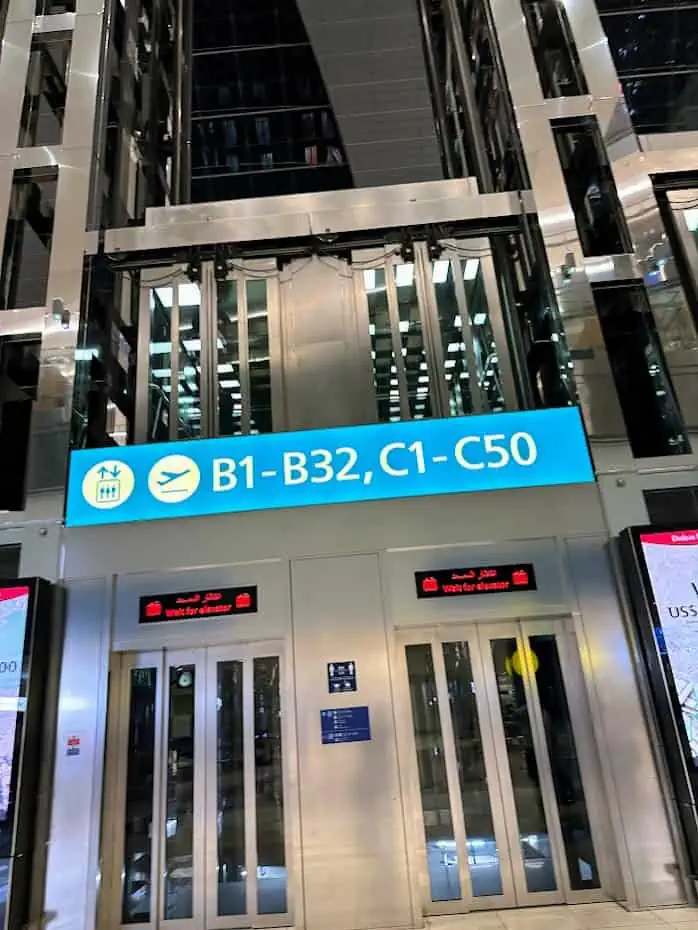 I went through the security checkpoint and cleared passport control, and it was off to find peace.
Emirate Business Class Lounge Access
It turns out that because United does not have an airline club in Dubai, it partners with Emirates so that you can use their business class lounge.
The lounge was massive, with a dozen sleeper pods, different types of food stations like Asian and Greek, and even a smoking section at the back, which was poorly ventilated.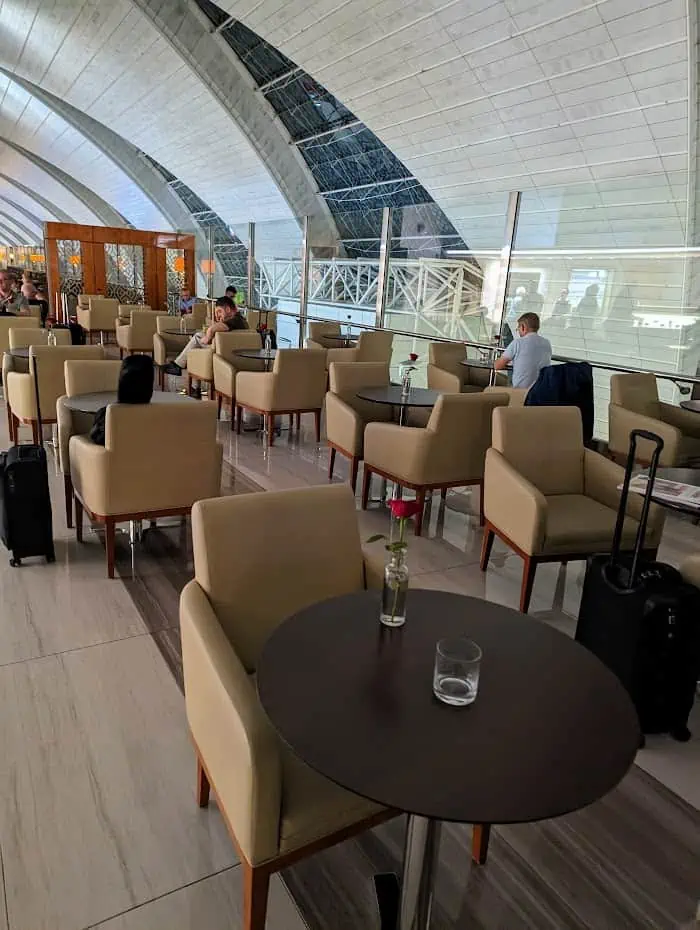 This was the most oversized lounge I've ever been into. I hung out in the lounge for three hours before going to the gate area.
Boarding for United Polaris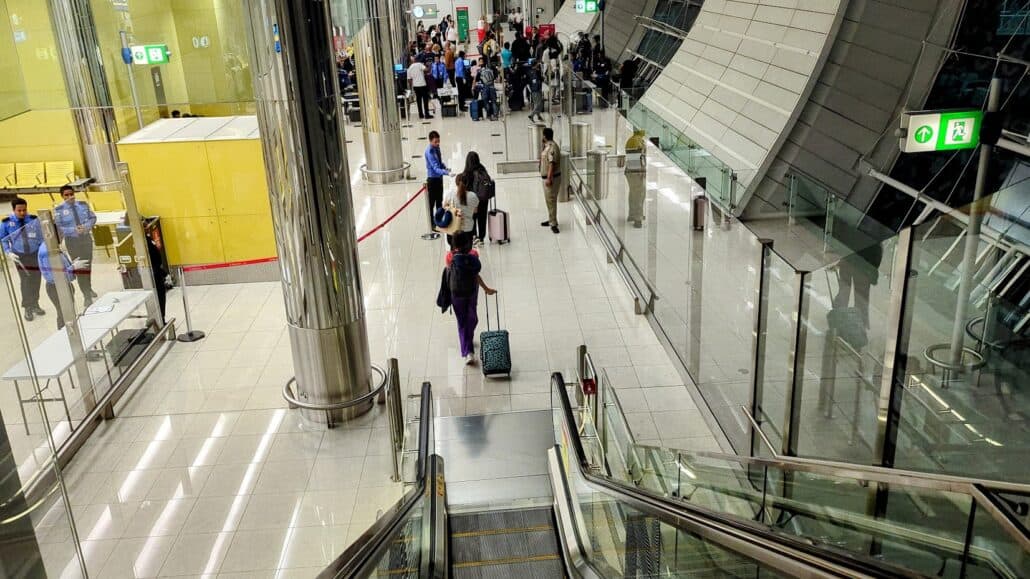 Our flight departed at 1:55 a.m. We went through another inspection at boarding before they let us on the plane.
This inspection was a little tougher than the spot check I did at the baggage drop. The agent opened my bags and checked my gear for explosive residue.
Boarding was a little chaotic, but there won't be an issue if you follow the crowd and go where you are told.
After another passport check, the ticket agent scanned our boarding pass, and it was off to the plane to prepare a non-stop flight for 14 hours to New York City.
I'm not the sort of person who pays full price for a first-class ticket. As I mentioned, this flight cost $6,000 on the United website.
However, it's highly considered if the price is right, the flying time is over 10 hours, and they offer an upgrade for a fraction of the cost.
My seat was 6G, a middle aisle seat. As mentioned, the configurations in Polaris are four across. One seat is against the window, two central pods with their aisles, and another at the window.
United Polaris class cabin and seat experience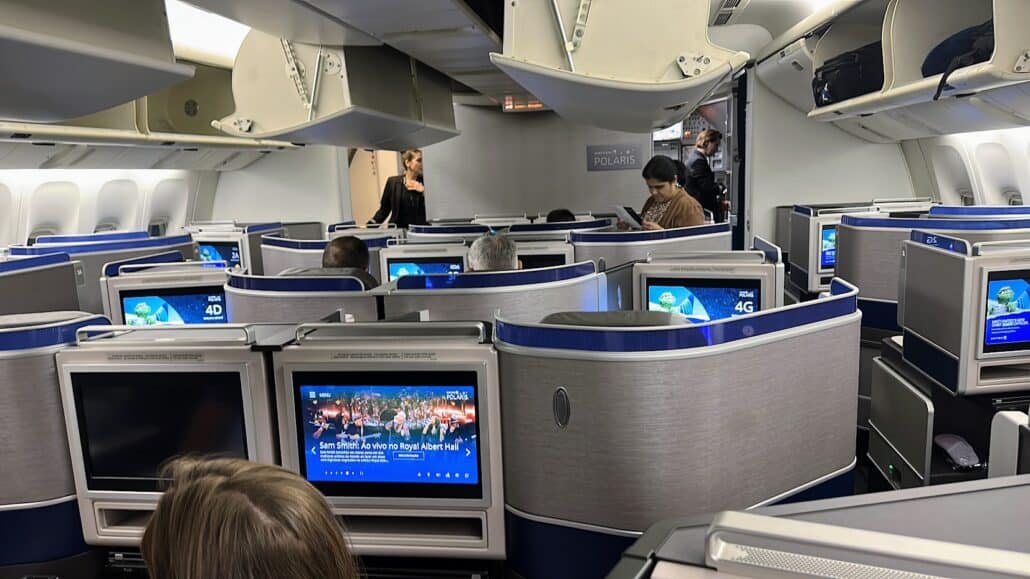 There was a crew of 18 people on the flight (how they worked and slept during the journey was fascinating).
The pod was very cozy. There were two pillows and two blankets stacked up on the chair, along with headphones and a toiletry bag with a sleeper mask, toothbrush, and other hygiene products.
The menu for dinner and breakfast was also sitting in the pod.
The way the pods were configured, they were not directly next to each other. They were staggered for privacy in your lay flat and when you were sleeping. There was also a privacy wall that came out between the two center pods. You could lower the divider to talk if you were friends or a couple traveling together and sitting in the middle.
The cabin had one bathroom up front by the cockpit and one in the back of the Polaris cabin. I used both during the flight and opted for the lavatory in the rear of the aircraft several times to stretch my legs.
The lay-flat seats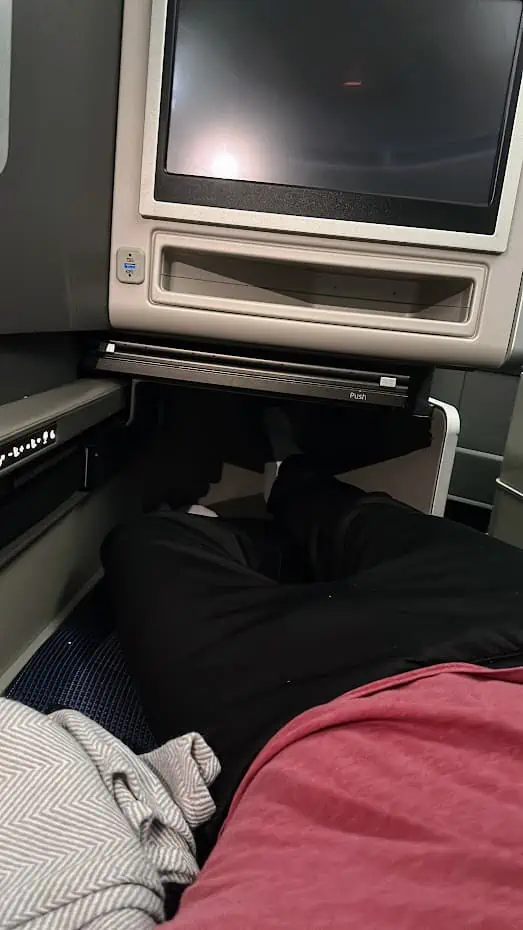 The lay-flat beds were downright incredible. The bedding provided was top-notch, comfortable, and very clean. The seats were spacious and could transform into a 6'6″ lie-flat bed.
Being 5'11, it was perfect for me. The pillow and blanket were also excellent, which allowed me to have a good night's sleep on the long flight. For the first time, I slept eight hours on an airplane. Part of me regretted turning down the pajamas!
In-flight services and amenities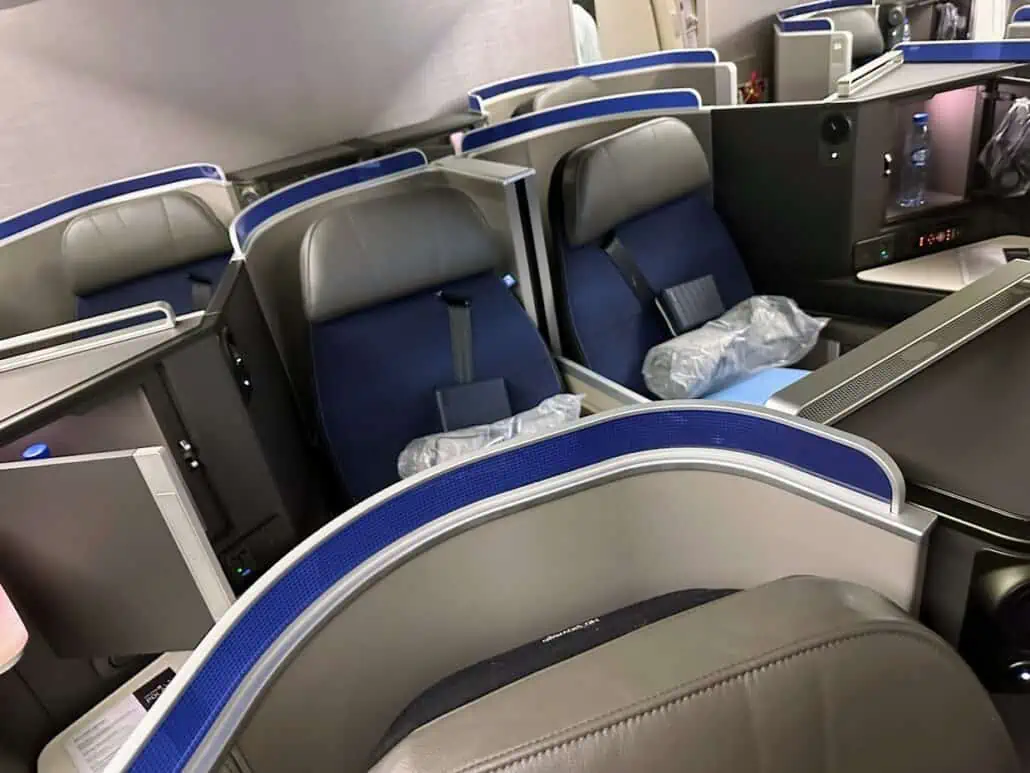 The service on the plane was top-notch. Flight attendants, for instance, greeted me with a broad smile and provided everyone with a warm towel and water bottle.
They were always available to assist us with anything we needed; one even told me where to store my cords in the pod for take-off.
Additionally, they offered a standard beverage service for guests just getting settled, asking if they'd like champagne, orange juice, or water. I opted for water because drinking on international flights messes me up when I get to the other side, not to mention headaches and dehydration.
The inflight entertainment system was chock-full of movies, sitcoms, and flight-tracking software that showed us where we were and what time it was at the final destination, which, in our case, was Newark, New Jersey (EWR).
They also had noise-canceling headphones, but I didn't use them because I had my own and didn't care to stream anything on the entertainment system during my flight. The only thing I used it for was to see where we were at certain times.
Does the United Polaris class have Wi-Fi access?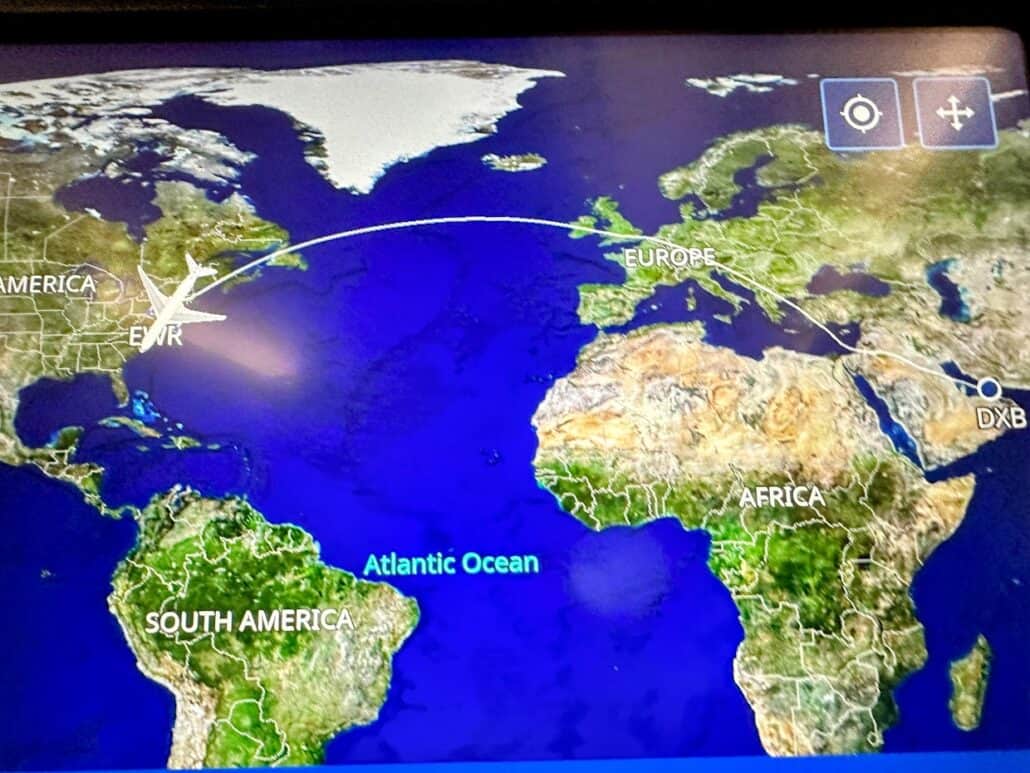 Yes, United Polaris class offers Wi-Fi access on its international flights. The airline uses satellite technology to provide a reliable and high-speed internet connection, allowing passengers to stay connected during their journey.
However, it should be noted that Wi-Fi connectivity can be limited or restricted in some areas, such as over oceans or in certain countries.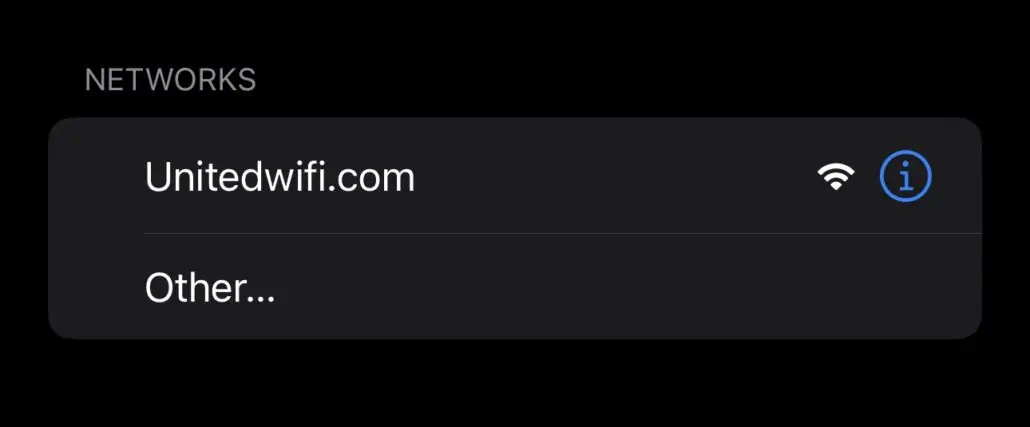 The Wi-Fi service on this flight was excellent because I have T-Mobile. The Magenta Max plan allows you to stay connected with one device so that I could use my phone, and then I bought the plan for my iPad for my work.
The Wi-Fi was fast, considering the airplane was nearly 40,000 feet up and traveling halfway across the world.
(Note: The T-Mobile device must be activated for cellular to use the plan for your device. If you don't have T-Mobile, find a friend with a T-Mobile number.)
Dinner and breakfast in the United Polaris class
United Airlines has partnered with celebrity chefs to create a menu, and it was perfect. The first thing I noticed was coming out of Dubai, the menu had a lot of middle eastern options.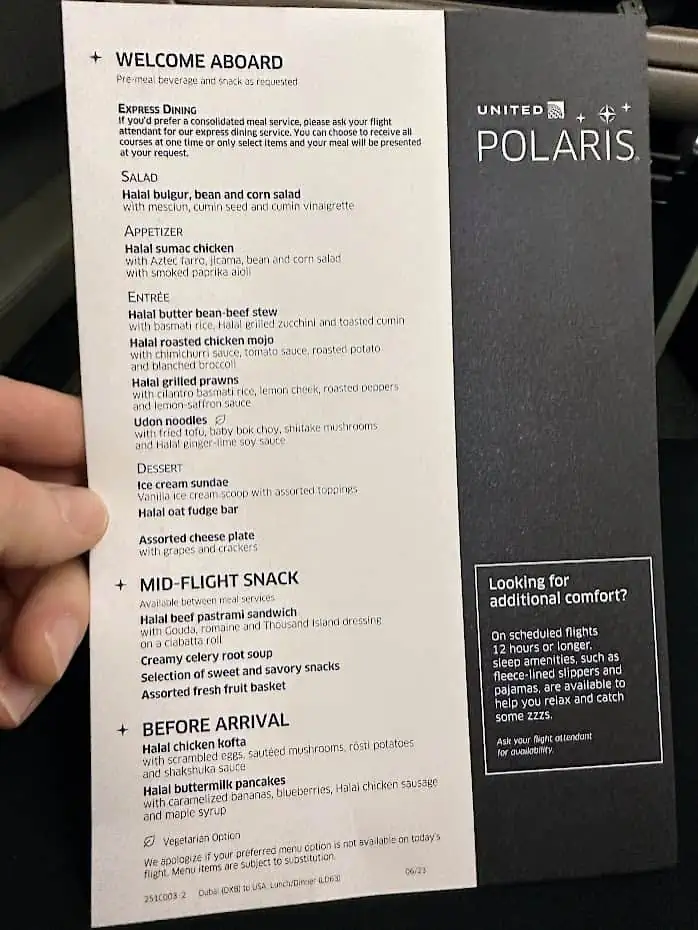 In addition to the main courses, they also offer a selection of appetizers and desserts to complete your meal. And if you're in the mood for snacks, you may try various options throughout the flight.
If you're a wine connoisseur, you'll be pleased to know that United Polaris offers an extensive wine list. They also have cocktails onboard. Both are included in the Polaris class; I didn't partake again.
As mentioned, we were served dinner and breakfast on this flight. Eating dinner at 3:00 a.m. was weird because it was 7:00 p.m. at our final destination. But it's part of preparing your body for New York City time. After all, we will be landing at 8:00 a.m.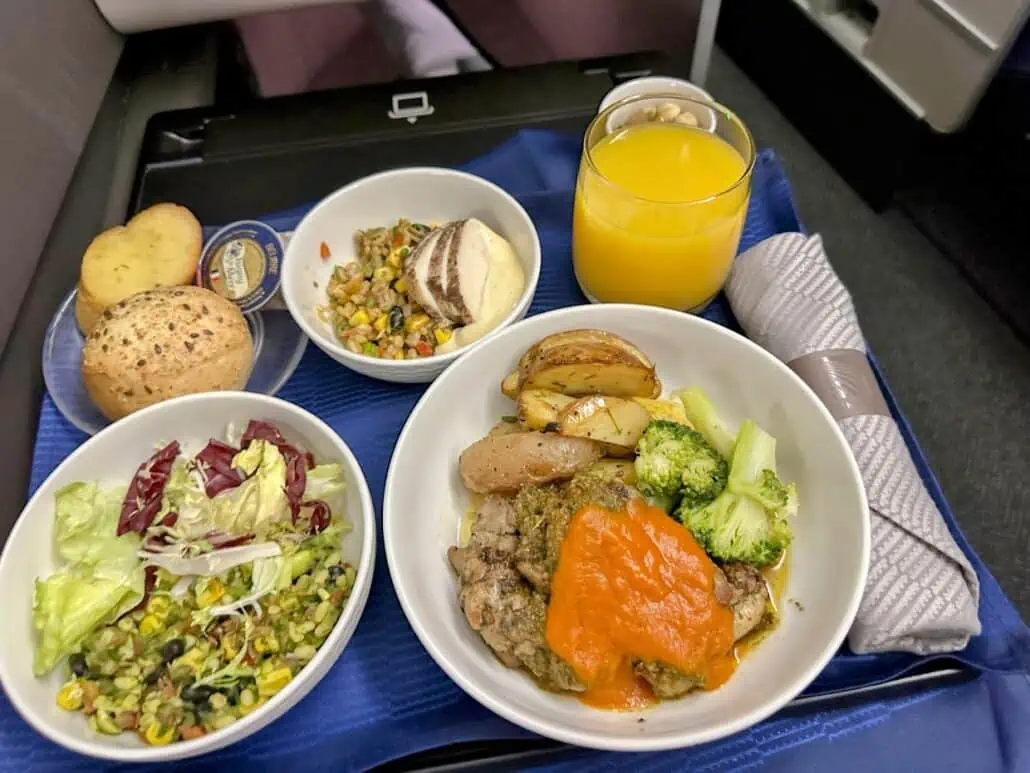 Our first meal was served once the flight reached cruising altitude. I went with the chicken selection and asked for expedited meal service, so instead of dragging it out over an hour, they brought it all out at once. That way seemed more manageable because I wanted to sleep immediately.
I slept for several hours; it was solid non-interrupted sleep. It was my best sleep in days, as I'd been in and out of hotel rooms for the previous week.
A few hours before landing, they served breakfast, an omelet, or blueberry pancakes. As you can see below, I went for the blueberry pancakes, sausage, fruit bowl, croissant, yogurt, and a glass of orange juice.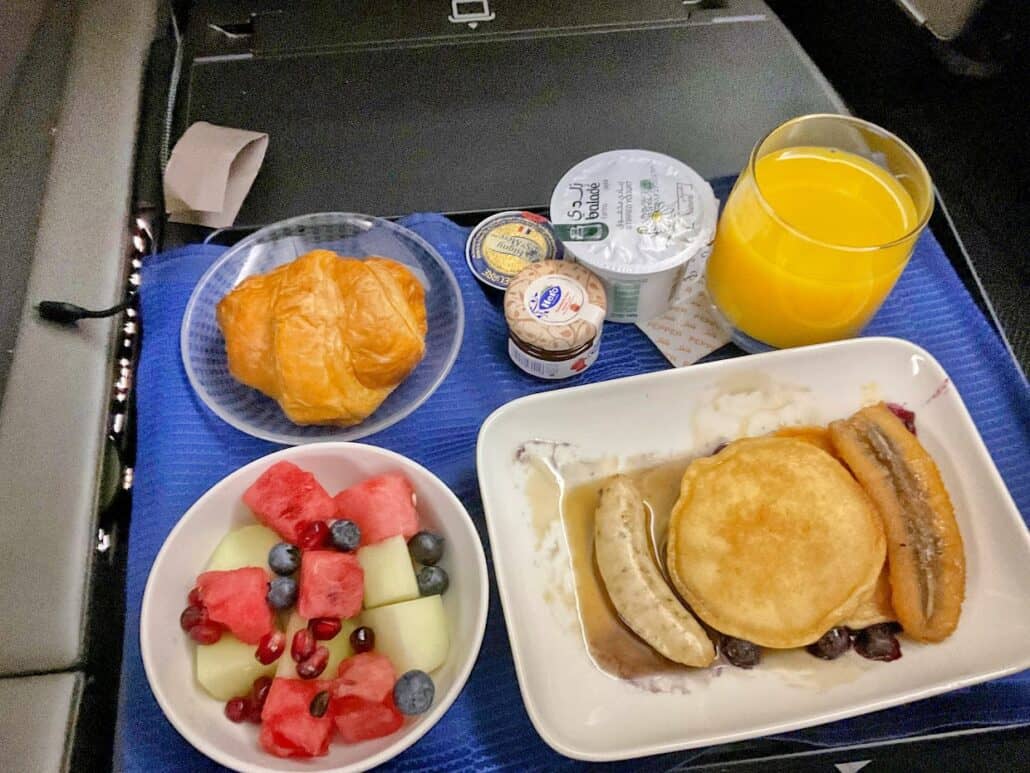 Overall, the United Polaris class's food and beverage service was spot on, and much better than the quality of food you get in the back of the plane.
Arrival in Newark, NJ (EWR)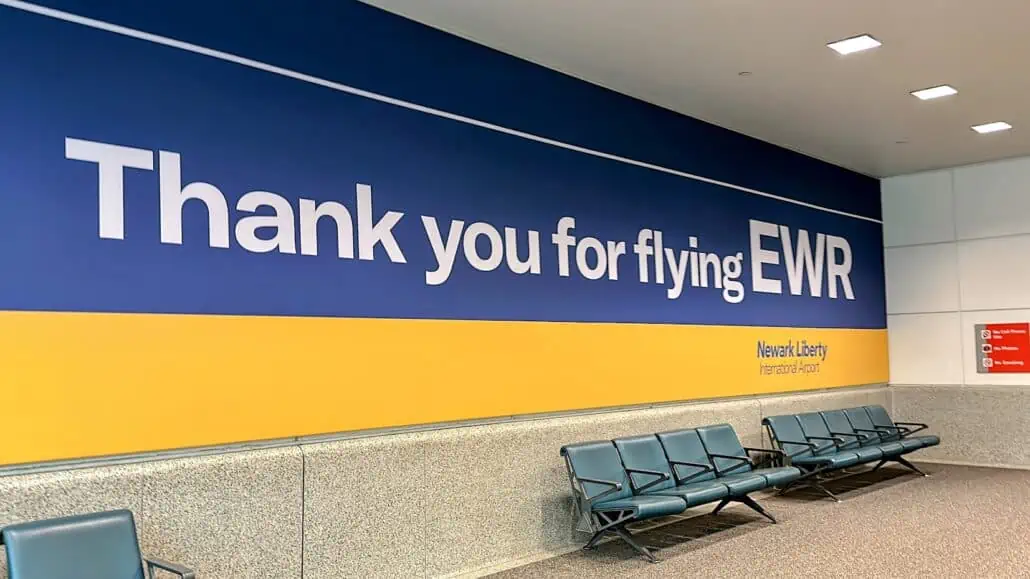 Once we landed in Newark, we rolled to the gate and off the plane in about 10 minutes of touching down. Most of the plane was foreigners coming to New York City from Dubai, and I noticed the customs line getting very busy.
Luckily, I have global entry, so I had to walk to a dedicated kiosk, let the machine take my photo, and get cleared.
Applying for Global Entry is the best financial and time investment I've ever made, and I've never spent over two minutes clearing customs when coming back into the United States.
Final thoughts on the United Polaris class
I highly recommend United Airlines' Polaris class when given the opportunity. From the moment I stepped into the lounge at the Dubai airport until I landed, the experience was top-notch all around.
The crew was attentive and ensured I was comfortable throughout the flight.
The spacious lay-flat beds were even more astounding, and the bedding provided allowed for a good night's sleep. This was the first time I'd ever slept multiple hours on a plane. The food was also delicious, with a wide selection of alcohol and wine.
Overall, the premium amenities and comfort checked all the boxes for me. United's Polaris class made it worth the upgrade in fare, and I'd probably do it again.
Now to board a Carnival cruise ship in Manhattan.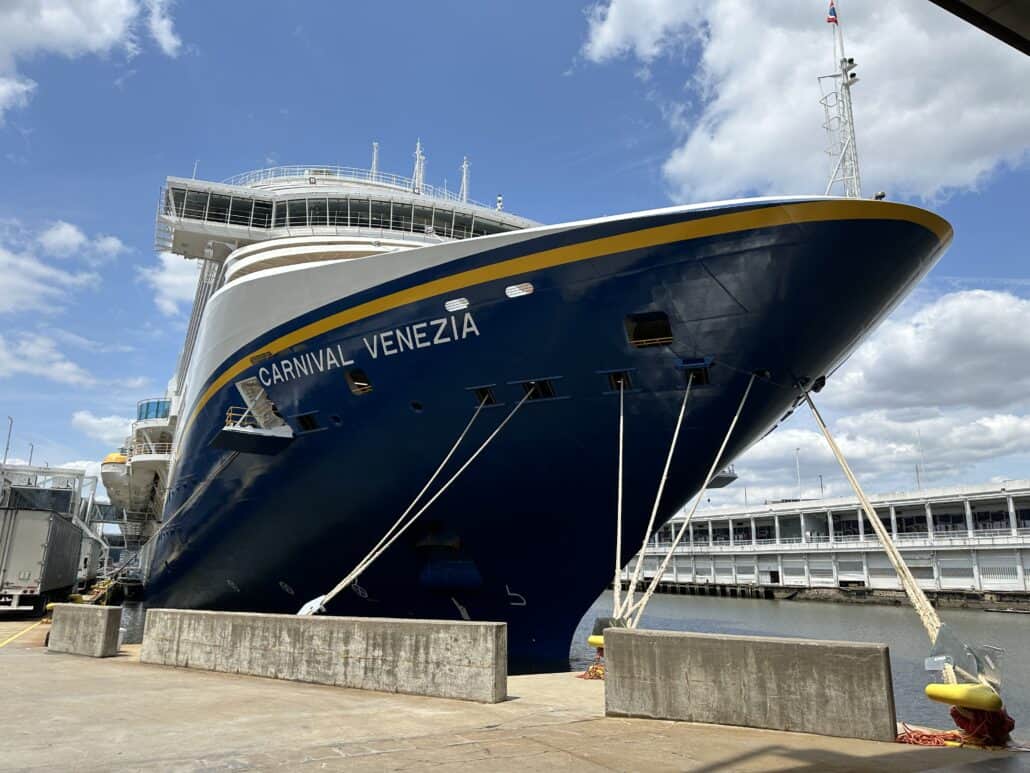 Dig Deeper: What Happened To Carnival Air Lines? A Look Beyond Cruise Ships