Some of us do it for fun, but most of us do it so we can find our way back to the correct stateroom: decorating the stateroom door.
If you've cruised before, you've probably noticed that some people will decorate their stateroom doors with signs hung up by magnetic hooks or printed posters taped to the door.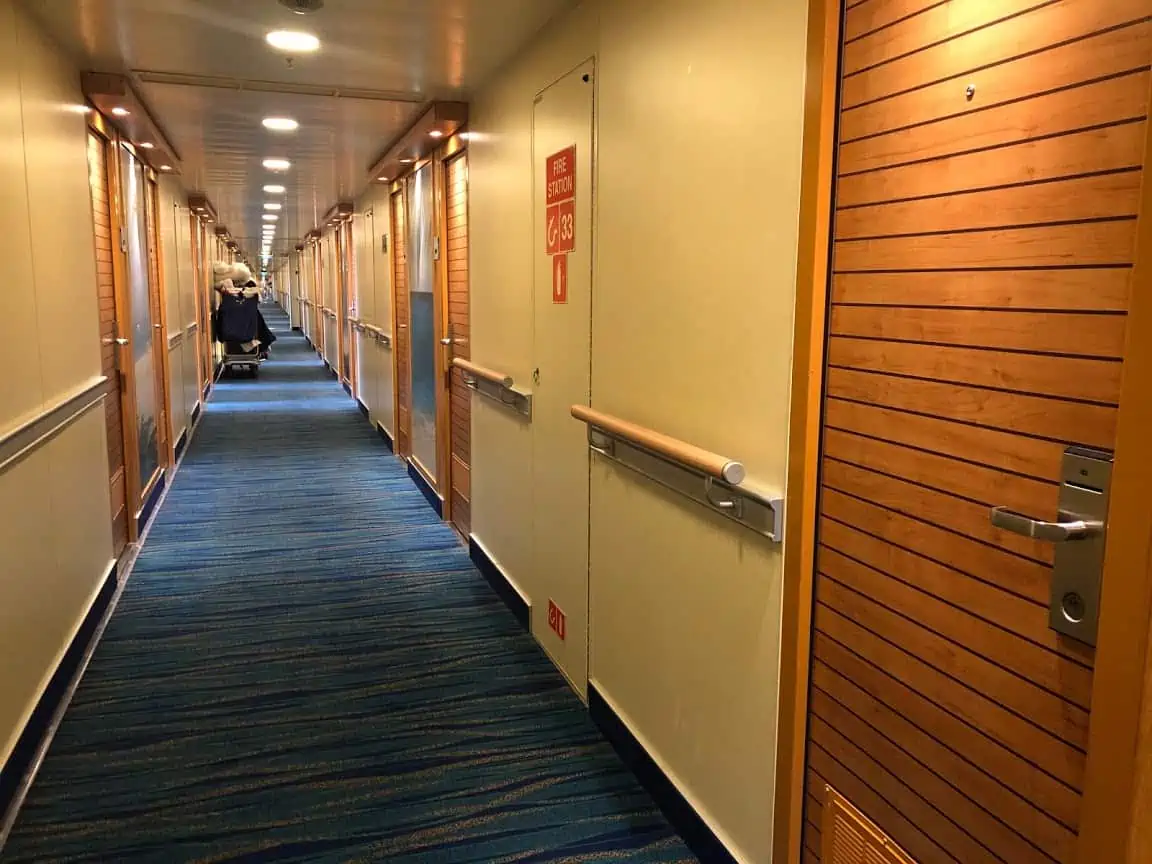 Decorating your door is a fun way to get your group excited for your cruiser (as if you needed another reason) and perhaps even set a group theme for your cruise.
Note that most cruise lines now have rules requiring decor to be fire retardant, and some lines even ban door decor altogether. You'll want to check your cruise line's policy before you go. 
1. Celebrate a group cruise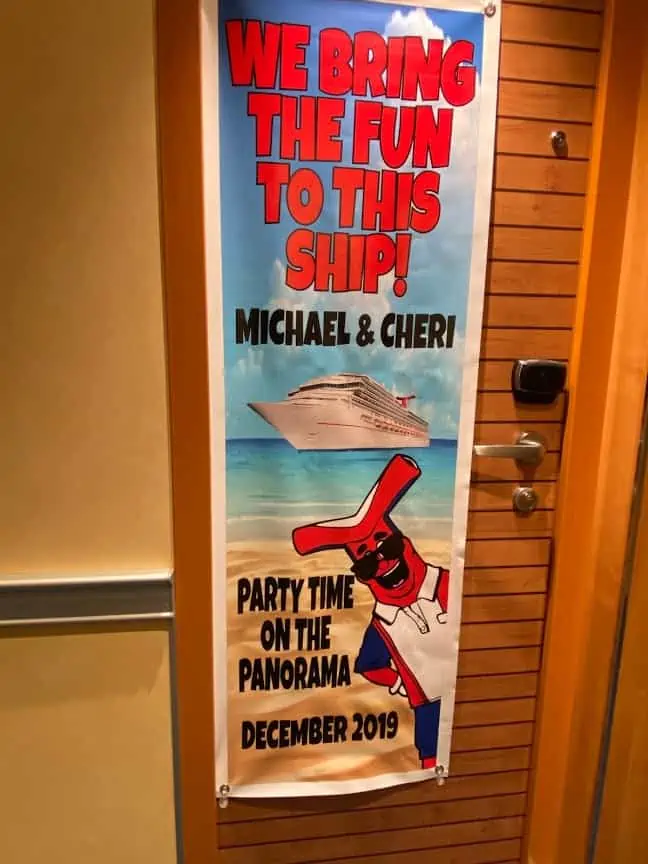 Group cruises like a big family cruise, family reunion, or class reunion are the perfect opportunity to decorate your cabin. You might remember that your friends are staying on Deck 7, but you can't remember the exact room number.
If everyone decorates their door, you can easily find your buddies around the ship, which makes hanging out and making plans much easier. Plus, if you happen to have several rooms in a row blocked off, you "deck the halls" with group banners.
2. Cruising over a holiday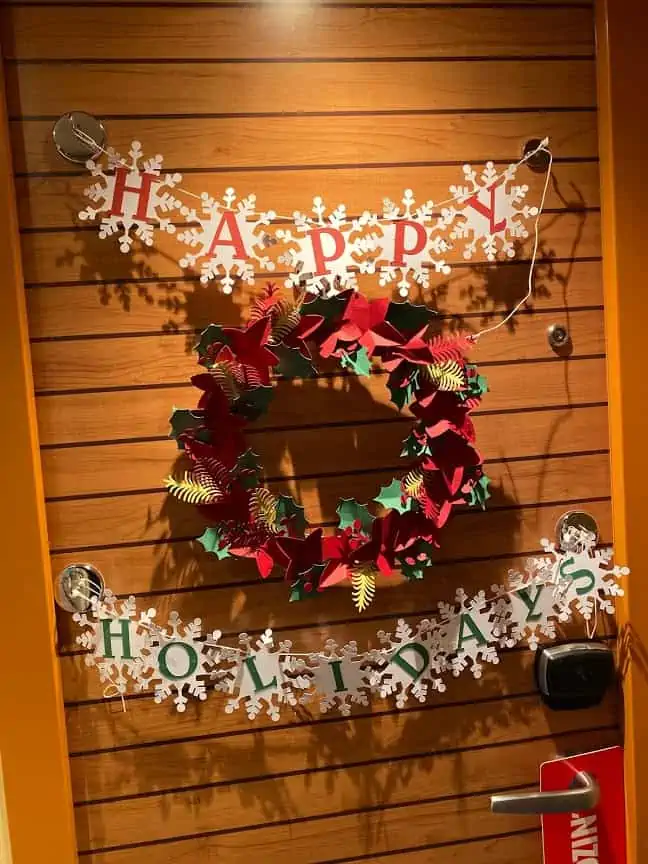 Holidays are made for festivity, and what better way to show you're feeling festive than to decorate your door? Hang a wreath for your Christmas cruise or stock up on spooky costume masks to hang up on a Halloween sailing. No matter the holiday, it's usually easy to find holiday decor at craft stores, or you could simply design the decor yourself.
3. Celebrate an anniversary
When you think of celebrating an anniversary on a cruise, you probably think of booking a night at the steakhouse or a treatment at the spa, not stateroom decor. Advertising your anniversary on your stateroom door is just a public "I love you" to your partner – like a tweet without the Internet.
Add some extra fun into your celebrations by creating a unique sign with your names on it that speaks to your time together as a couple.
4. Honeymooners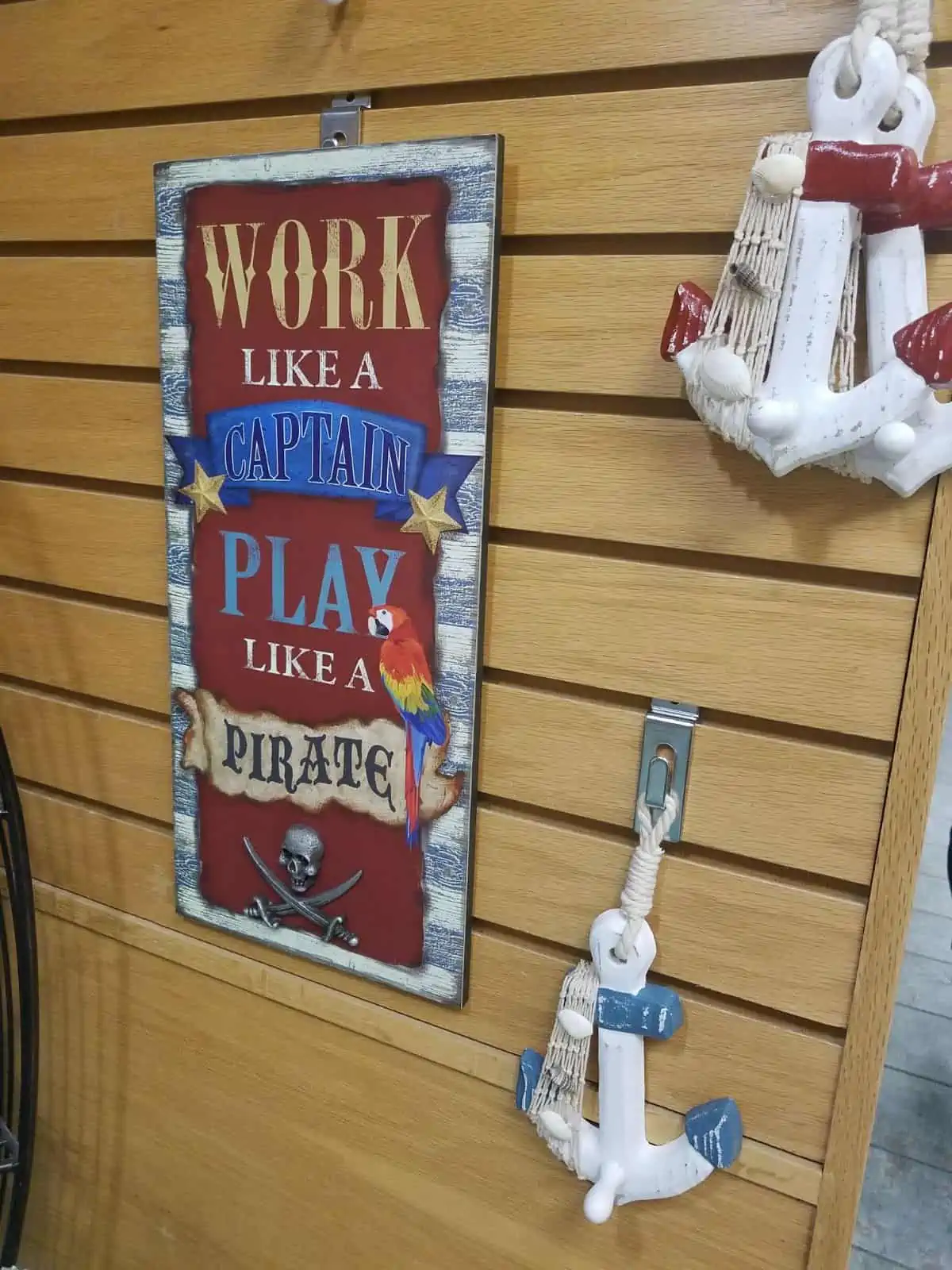 When I took my honeymoon cruise, we put up a sign that said "Just married!" on our door, and people in our hallway took notice and would recognize us as we came in and out of our room. Throughout the seven-night cruise, people would stop us at a bar or by the pool to congratulate us on our recent wedding.
We felt like royalty all week, which is how every honeymooner should feel. You don't get that sort of comradery if you're honeymooning at a hotel or a resort, but on a ship where you end up passing the same strangers throughout the week, you just may make a new friend through something simple like a "Just married!" sign.
5. Send messages
One item that blends decor with functionality is a dry-erase board. With one of these, you can leave messages for your room steward, let your friends know that you've headed to the pool, or encourage other cruisers to write a message.
People love the interactiveness of the board, but be prepared that sometimes strangers can have a bit too much fun and may erase messages that you meant to leave up.
6. First-time cruisers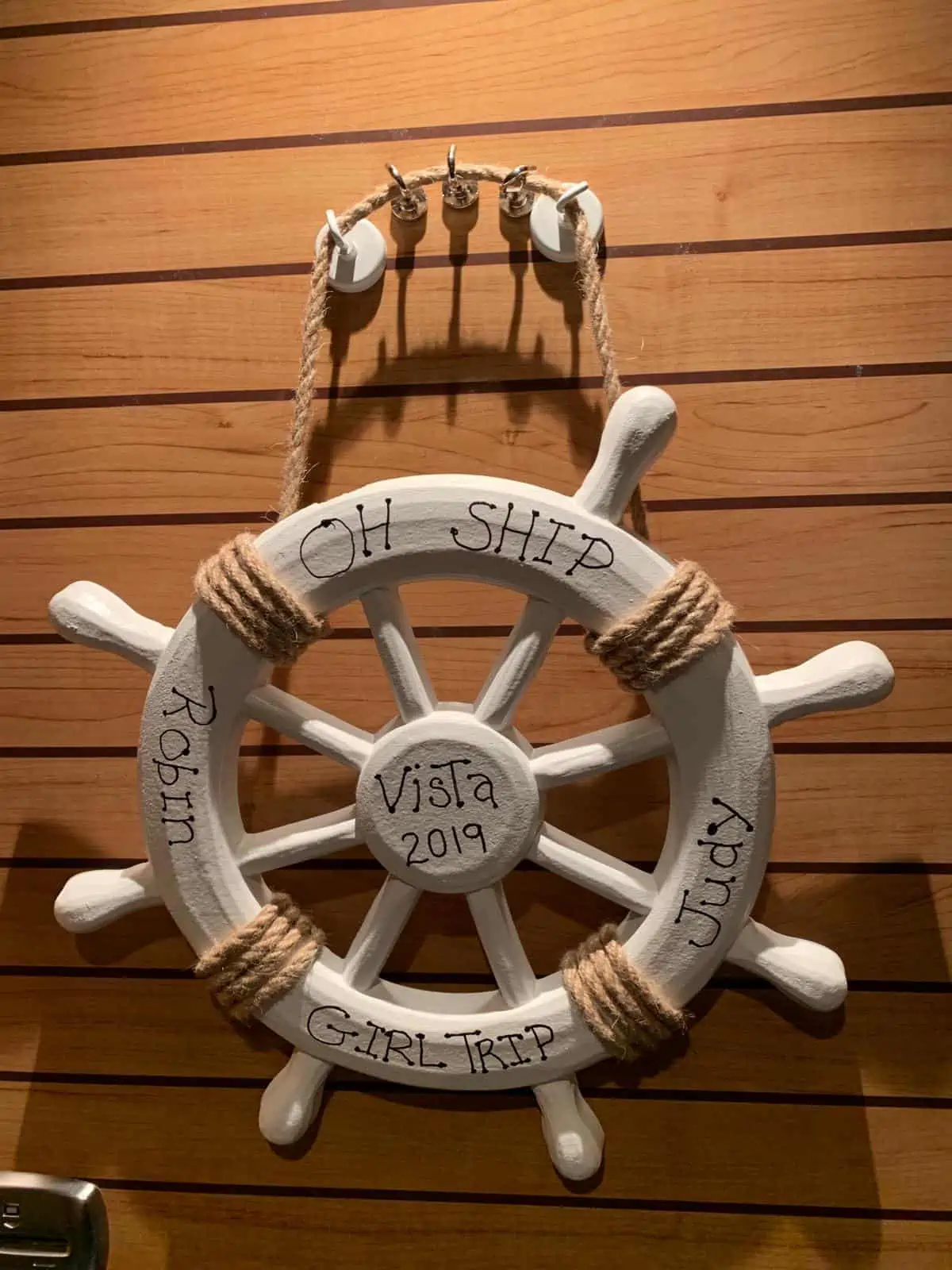 If you're cruising as a first-timer or with a first-time cruiser, stateroom door decor is a great way to get them more excited for the cruise, and to help provide some direction. As a first-timer, it's easy to get turned around on the ship, especially since all the stateroom decks look the same.
Door decor makes it easy to spot your room from down the hallway, even after a few cocktails. You could also incorporate the dry-erase boards and ask passers-by to write words of advice for the first-timer.
7. Leave your room steward notes
Whether you use a dry-erase board or attach sticky notes and a pen to the door, it can always be fun to leave your steward notes. a purposeful note like "need more towels", or just a kind note like "you're the best!". The notes are effective if you rarely see your steward, and are too busy enjoying the rest of the ship's amenities. 
8. Themed decor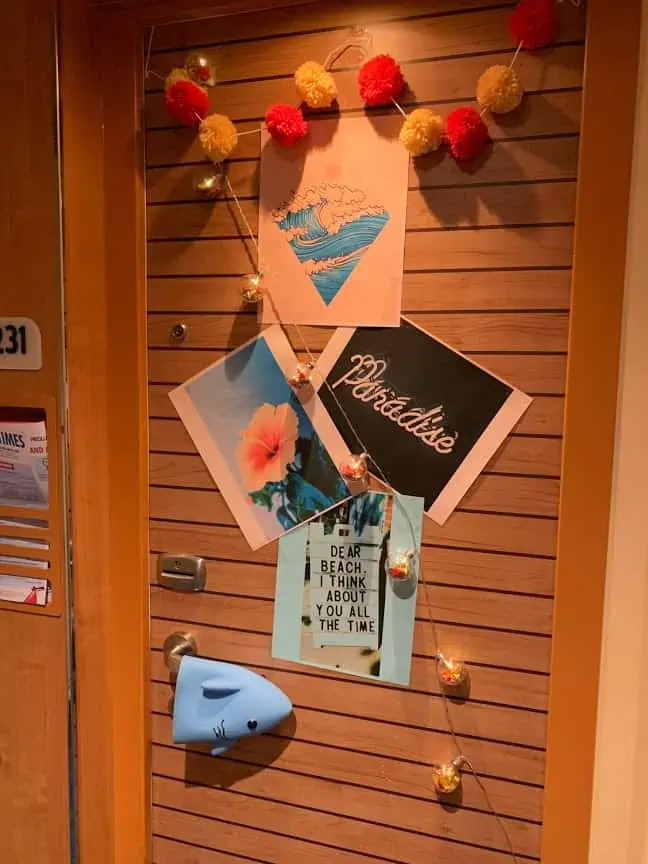 Going on a Disney cruise? Create some Mickey cutouts for each cruiser in your cabin with their name on it. Or maybe you want to decorate your room with a beach theme, in which case you could stock up on goodies from a local craft or home goods store to hang on your stateroom door. The more creative, the better.
9. Cover the full door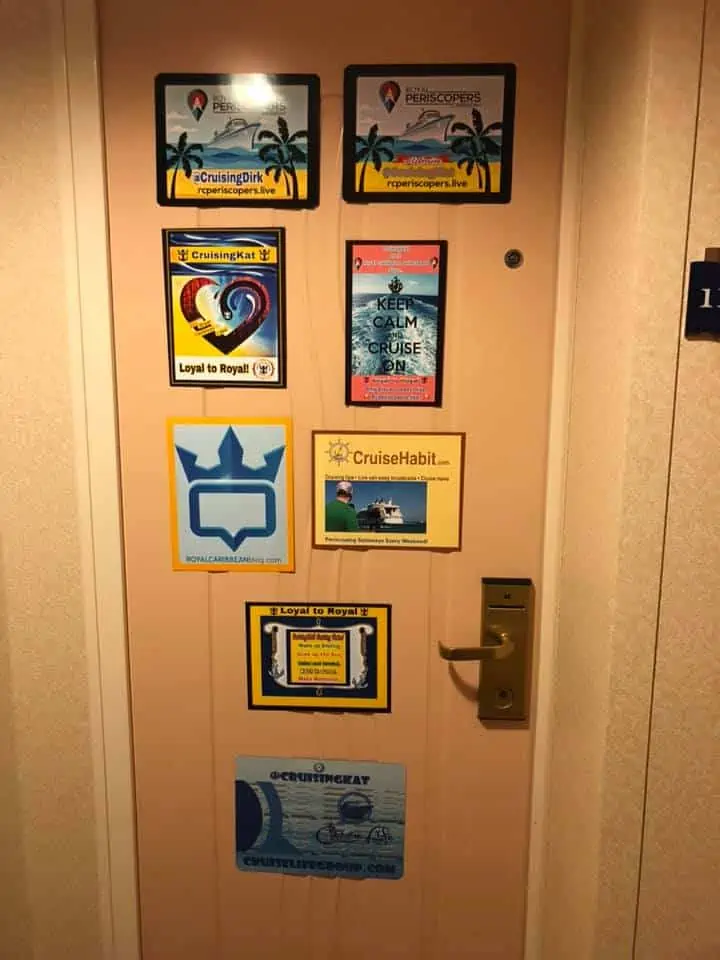 Some people really go all out and choose to cover their entire stateroom door with paper or fake flowers. This can double with a fun backdrop for selfies or pictures, too. And everyone loves an Instagram-worthy vacation photo shoot.
10. Itinerary decor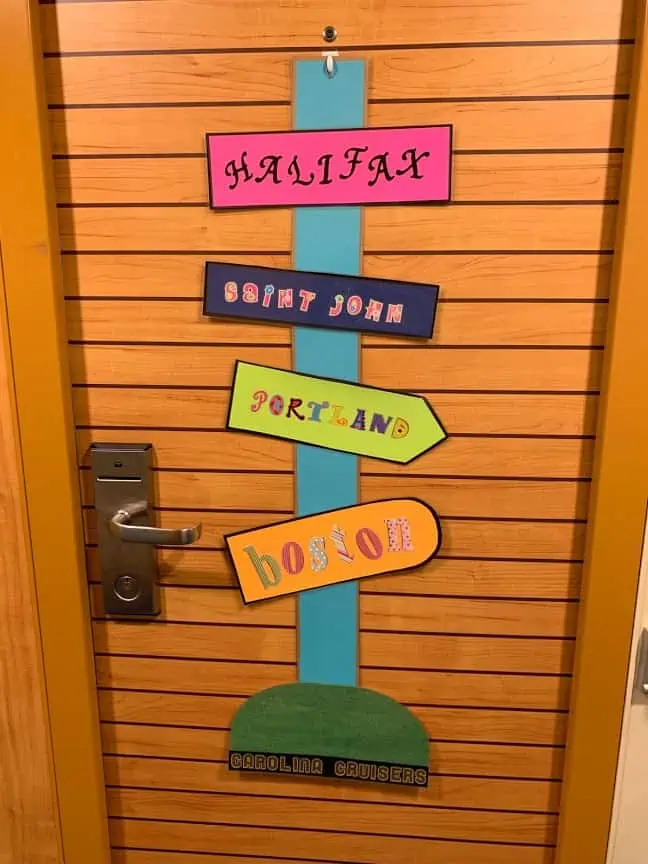 Why not decorate for your destinations? Depending on where you're headed, you could cover your door in pictures of a specific beach or bar, the country's flag, or cutouts of special landmarks. 
11. Announce where you're from
People love to see and meet people who are from the same place as them. Location has a way of connecting us all, even if we've never been to a place, because it gives us a background into that person's experiences.
Sharing where you're from on a banner on your stateroom door makes people go "Oh cool, they're from Ohio too!" while they're walking by, and might even put a smile on someone's face without you knowing.