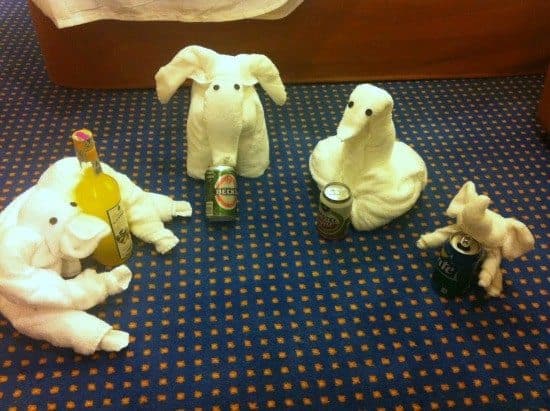 All the fun to be had on a cruise is not just under the sun. The ship comes alive at night, full of entertainment and things to do. Here are 13 reasons to stay up late on your next cruise.
1. Movies on the lido

Cozying up for a movie under the stars has quickly become a favorite activity among cruisers ever since ships began installing big-screen TVs on the lido deck. Show up a little early to get a good seat, and don't forget to save room after dinner for the free popcorn with the show!
2. Theater shows

Catching a theatrical production after dinner calls back to the earliest days of cruising. And nowadays the impressive talents of the singers and dancers are enhanced by state-of-the-art production technology and lighting. Most Royal Caribbean ships also feature shows on ice, or if you're sailing on one their Oasis-class ships you can also catch an aqua show, which incorporates diving and synchronized swimming.
3. Midnight grub

Although cruises have done away with the "Midnight Buffet" of yesteryears, late-night grub is still available and still just as popular. Some ships may have more options than others for what dining venues are open late, but every ship definitely has room service if you get the midnight munchies.
4. Comedy shows

It's been said that "laughter is an instant vacation," and since you're already on vacation, why not add to it? The comedy shows make for great knee-slapping entertainment. However, know beforehand whether you're going to an adult show or a family-friendly show, as the content will reflect that.
5. Deck parties

Whether you go to dance or you go to watch, the late-night dance parties on the lido deck are an absolute riot. You'd think the crowd would skew younger, but the truth is there's no average age there. In fact, the best part of the party is usually when the crowd parts and Grandpa breaks free to do his own Cha Cha Slide for all.
6. Nightclub

For the night owls, the nightclub is usually open all night and into the early hours of the next day, giving you plenty of time to dance it out to your favorite tunes. Look for themed nights, like a groovy 80s theme, for getting footloose.
7. Casino

The casino doesn't even have a closing time; the daily planners on cruise ships usually list the this as "late." That means you can play the slots and tables, linger around the bar, and enjoy the atmosphere into the early hours of the morning if you like.
Read More: Carnival Cruiser Wins $100,000 in Casino
8. Late-night drinks

Your late-night activities don't have to include dancing at the nightclub or gambling at the casino; grabbing a few drinks with fellow cruisers before hitting the sack can be just as fun. If your cruise is a reunion for your group, a few after-dinner cocktails can sometimes be all too perfect for recalling the good ol' days.
9. Hot tubs

Even in the warmest of summers in the Caribbean, the ship can feel chilly outside at night when the wind whips over the deck. That's why hot tubbing can be the perfect late-night activity if you're not ready to go to sleep. Luckily, most hot tubs are open until midnight or are even open 24/7.
10. Piano bar

If you're like my family, who enjoys singing (or rather yelling) to "Bohemian Rhapsody" along with their nightcap every time we get together, the piano bar is the place for you on a cruise. The piano bar is the spot for sing-alongs, song requests, and good times, so bring your best singing pipes.
Read More: First Timers Guide to Onboard Activities
11. Karaoke

Speaking of your pipes, karaoke is another great late-night activity for anyone who wants a good laugh. Sure, you may have to endure a few rather painful, off-key performances here and there, but they're worth it for the random gems. And there's nothing quite as entertaining as convincing your buddy to get up there and sing (and then filming it and saving it as blackmail).
12. Live music

All around the ship, solo artists and bands of every genre are jamming out to the greatest hits of every decade. Whether you're hanging out by a bar, playing in the casino, or relaxing in a lounge, it's not hard to find live music to enjoy around a cruise ship.
13. Meet and greets

Meet and greets are great post-dinner activities for making new friends. Most cruises host opportunities specifically for singles, veterans,  LGBT, and others. Be sure to check your daily cruise planner to see what sort of meet-ups your cruise is hosting each night.
What do you do at night on a cruise?