It shouldn't surprise anyone that Carnival Cruise Line's ships have a wide variety of bars, lounges and nightclubs on board. After all, there's a reason they're known as The Fun Ships. Whether you're looking to meet a friend for a quiet pre-dinner cocktail or grab a Miami Vice while soaking up the sun, you're sure to find a venue that will meet your needs.
While not every Carnival ship will feature all the bars listed below, each will have a wide enough assortment to make sure you only wind up singin' the blues if you want to do karaoke.
1. Alchemy Bar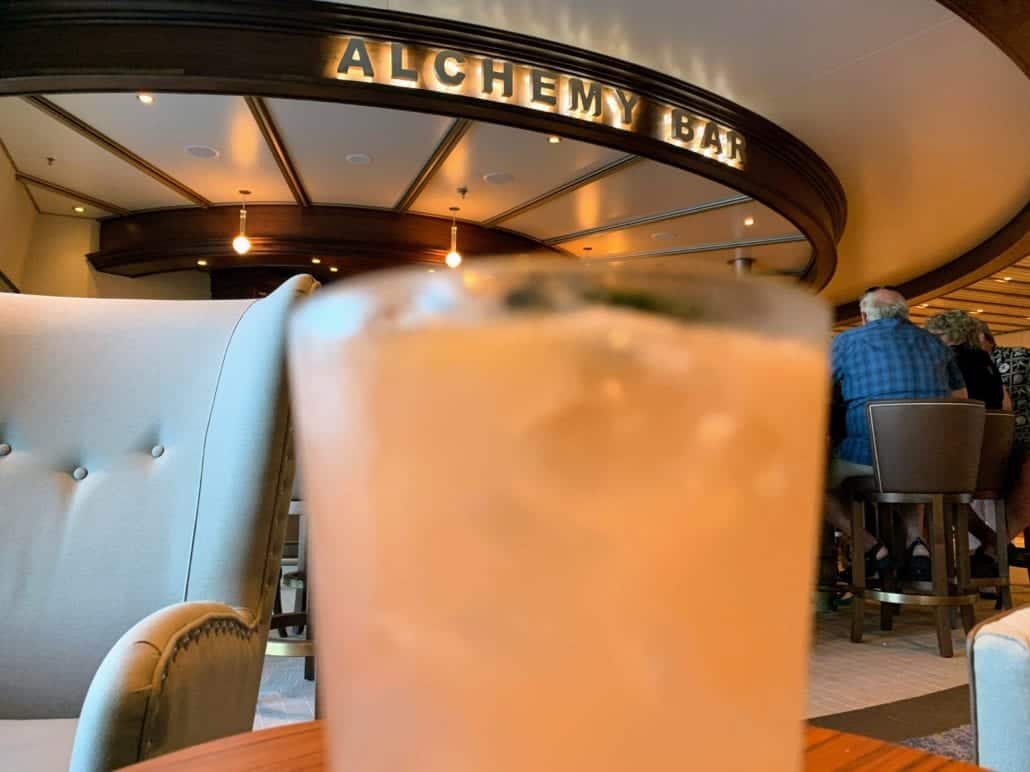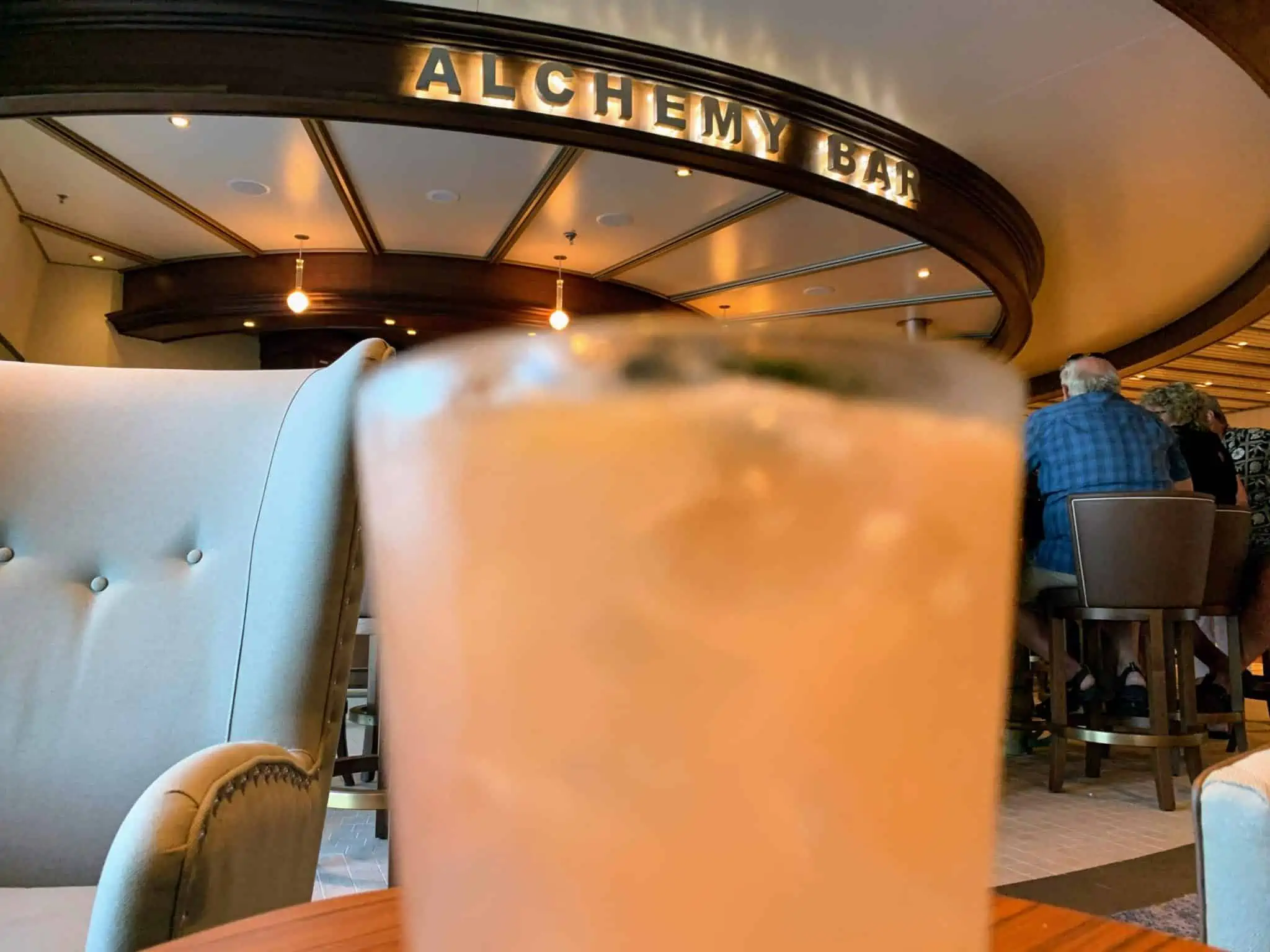 Don't come to this vintage-style hot spot looking for a beer or a glass of wine. The specialty of the house — and the only thing offered — is cocktails. The specially trained mixologists take their time in carefully crafting each cocktail, and the drinks here won't be found anywhere else on board. Not sure what you want? Tell them what you tend to like, and they'll whip up a personalized cocktail from scratch. This is the perfect place to grab a drink before dinner or after a show. 
2. Havana Bar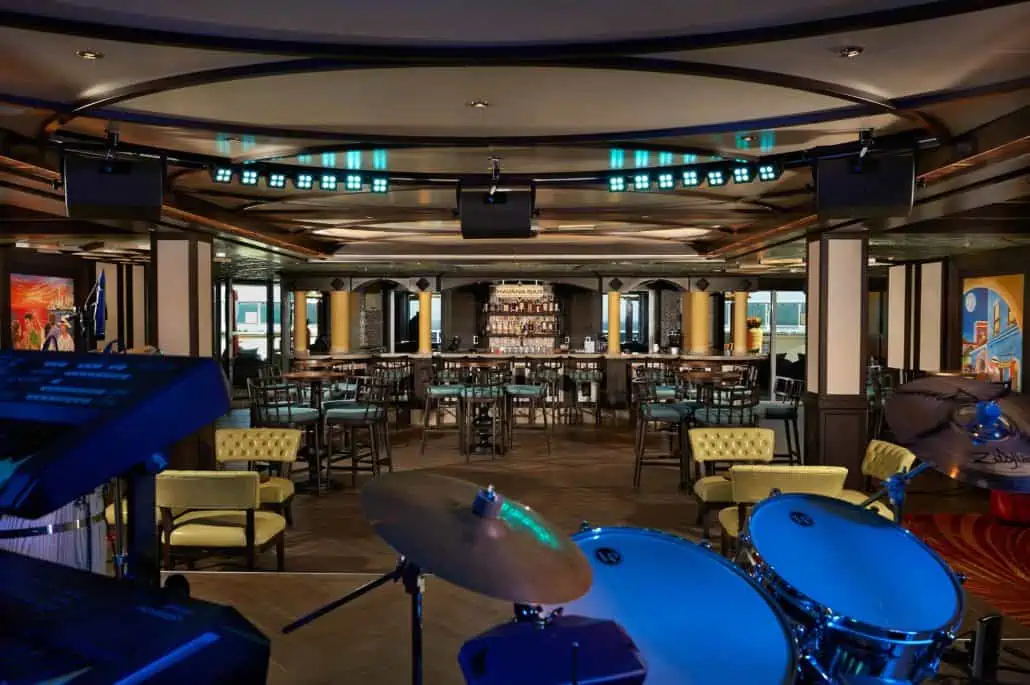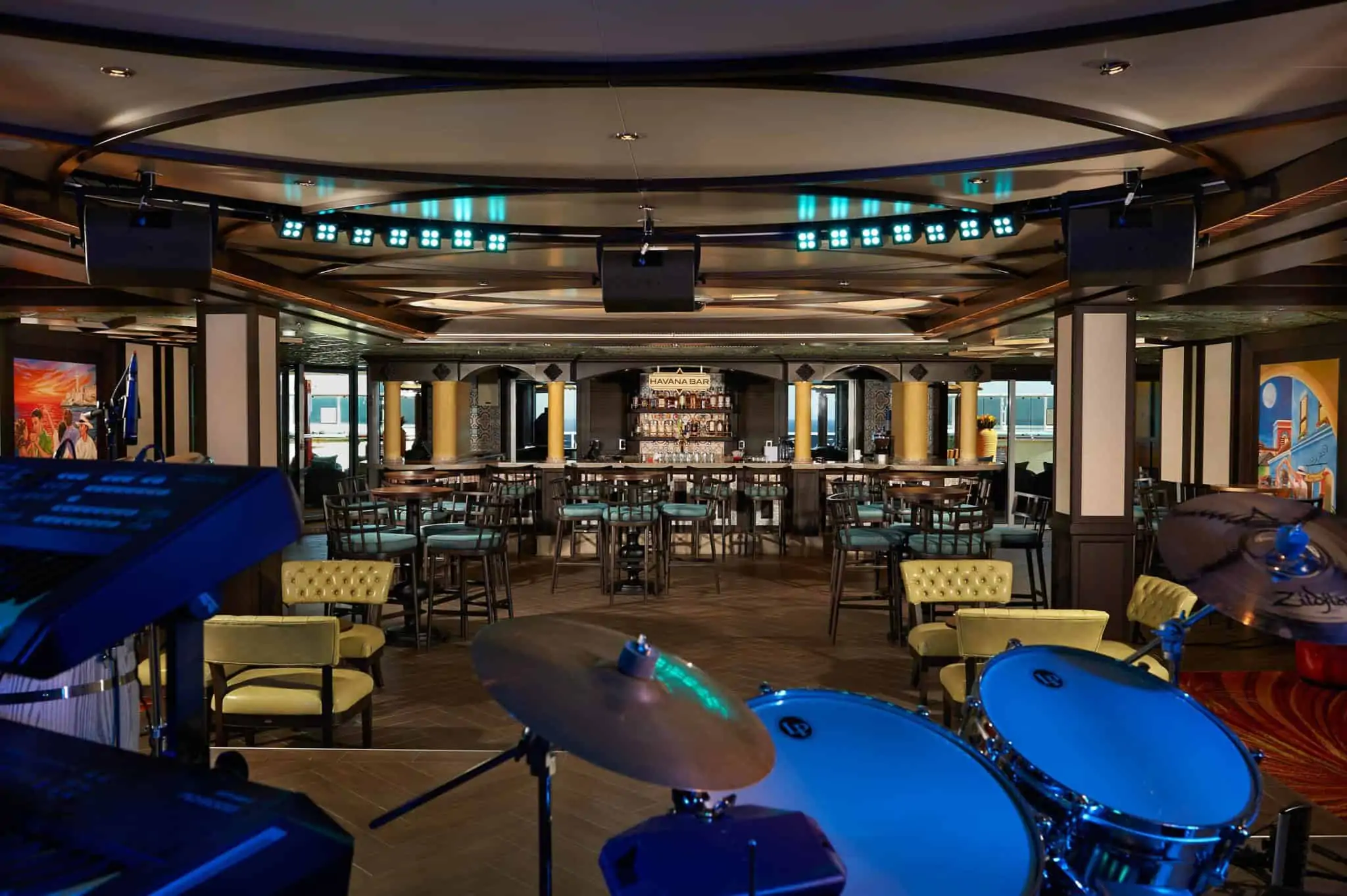 First introduced on the Carnival Vista, this beautiful space with a Cuban flair is a great place to relax during the daytime. But when the sun sets, get ready to shake your groove thing. There are usually live bands playing, and the fun doesn't stop until the wee hours. Make sure to try one of the specialty cocktails, including fantastic mojitos.
3. RedFrog Pub & Brewery
For many cruisers, the RedFrog Pub is synonymous with Carnival. It's the place they head to when they board the ship, and it's the spot they head to again and again while sailing. Not only does it offer a wide variety of beers (including the ParchedPig and ThirstyFrog offerings, which are only available on Carnival ships). There's also a wide selection of fun drinks (including those ginormous "fishbowl" cocktails perfect for sharing) and an assortment of games. Plus, there always seems to be something going on here, from trivia to live bands to karaoke.
4. Guy's Pig & Anchor Smokehouse | Brewhouse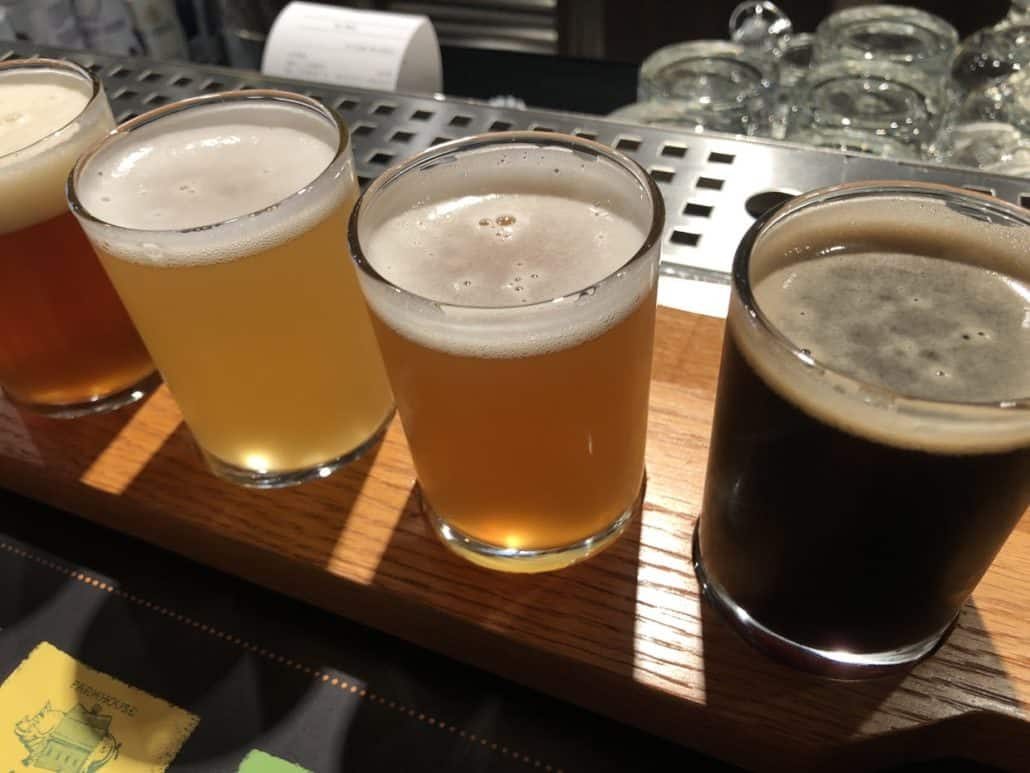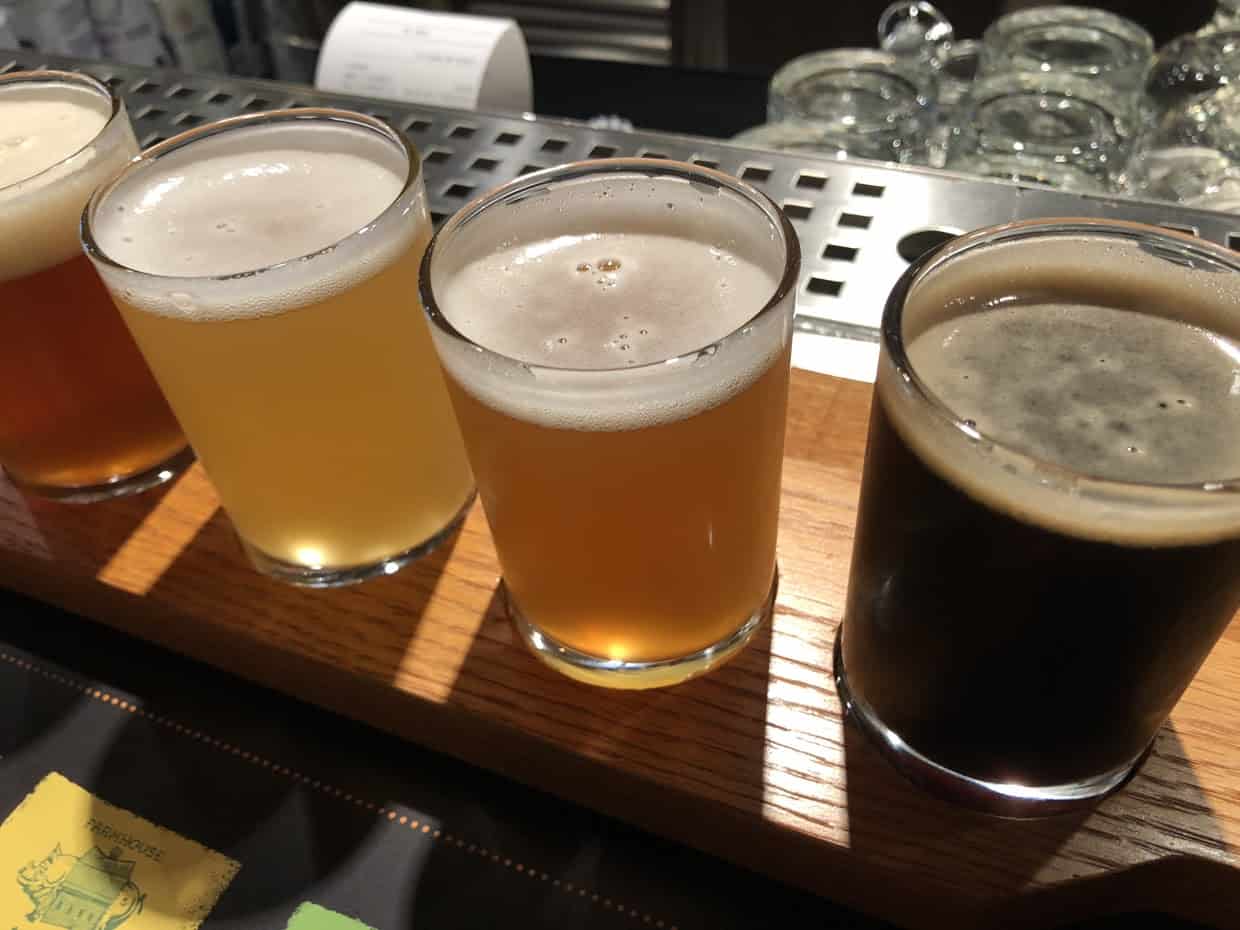 One of the newest additions to the Carnival line-up, this incredible brewhouse – featuring beers made right on the ship – is quickly becoming a fan favorite. And why not? Aside from the beers and specialty cocktails, the brewhouse just happens to be located in Flavortown (aka Guy's Pig & Anchor Smokehouse), meaning you can get some incredible grub to go with your beverage of choice. In the evening, bands will hit the stage, usually offering up the kind of country music that will make you think you've strolled into a honky-tonk.
5. RedFrog Rum Bar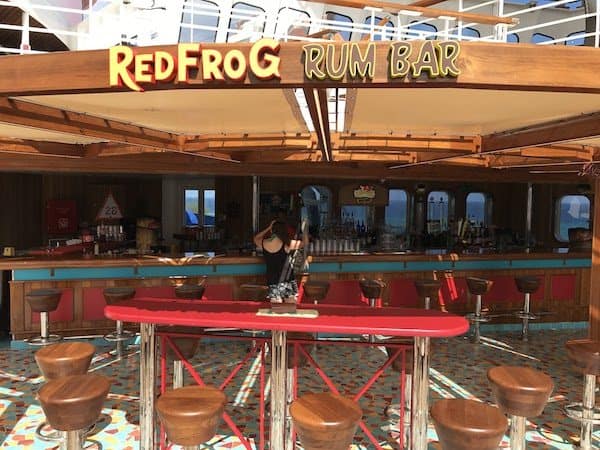 Named after Red, the frog who took that whole "paint the town red" saying literally, this place is always hopping when the sun is shining. From Dirty Mojitos to the Frog's Island Iced Tea, rum rules, although the bartenders also serve up a wide selection of alcohol-free treats. Too lazy (sorry, relaxed.) to get up from your lounger? There's usually a waiter wandering around who'll happily grab your next drink.  
6. BlueIguana Tequila Bar
Been thirsting for a margarita? This is the place you want to head. Whether you want something spicy or fruity, this place has you covered. (Want something offering both? Try the Spicy Chipotle Passion Margarita.) Those looking for a zero-proof margarita, or even a Miami Vice, will find it here. 
7. Piano Bar (Sometimes known as Piano Bar 88)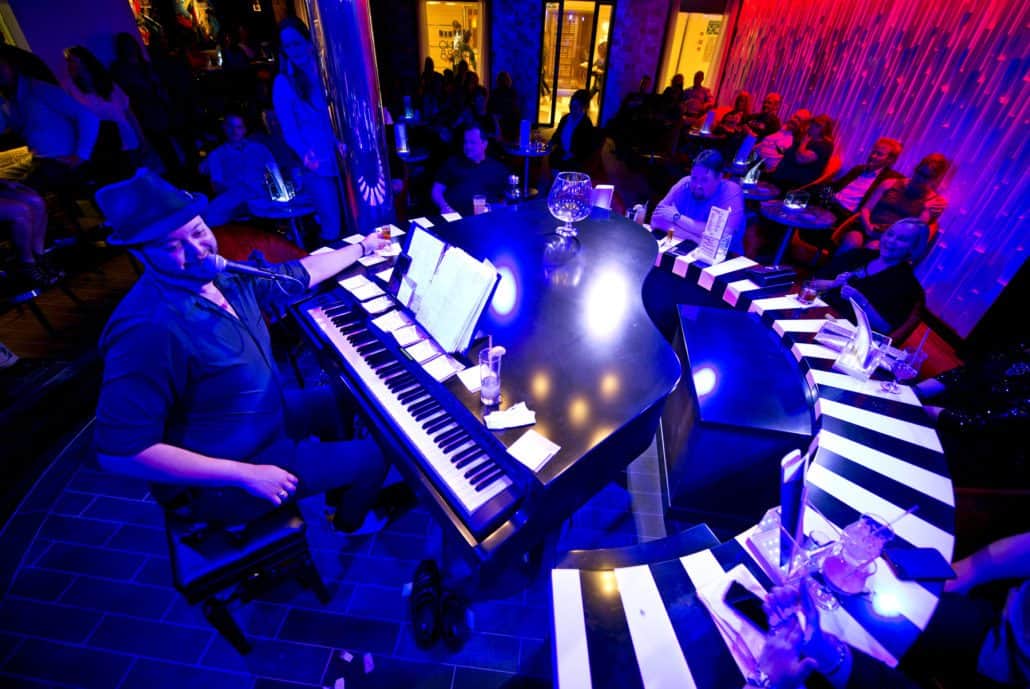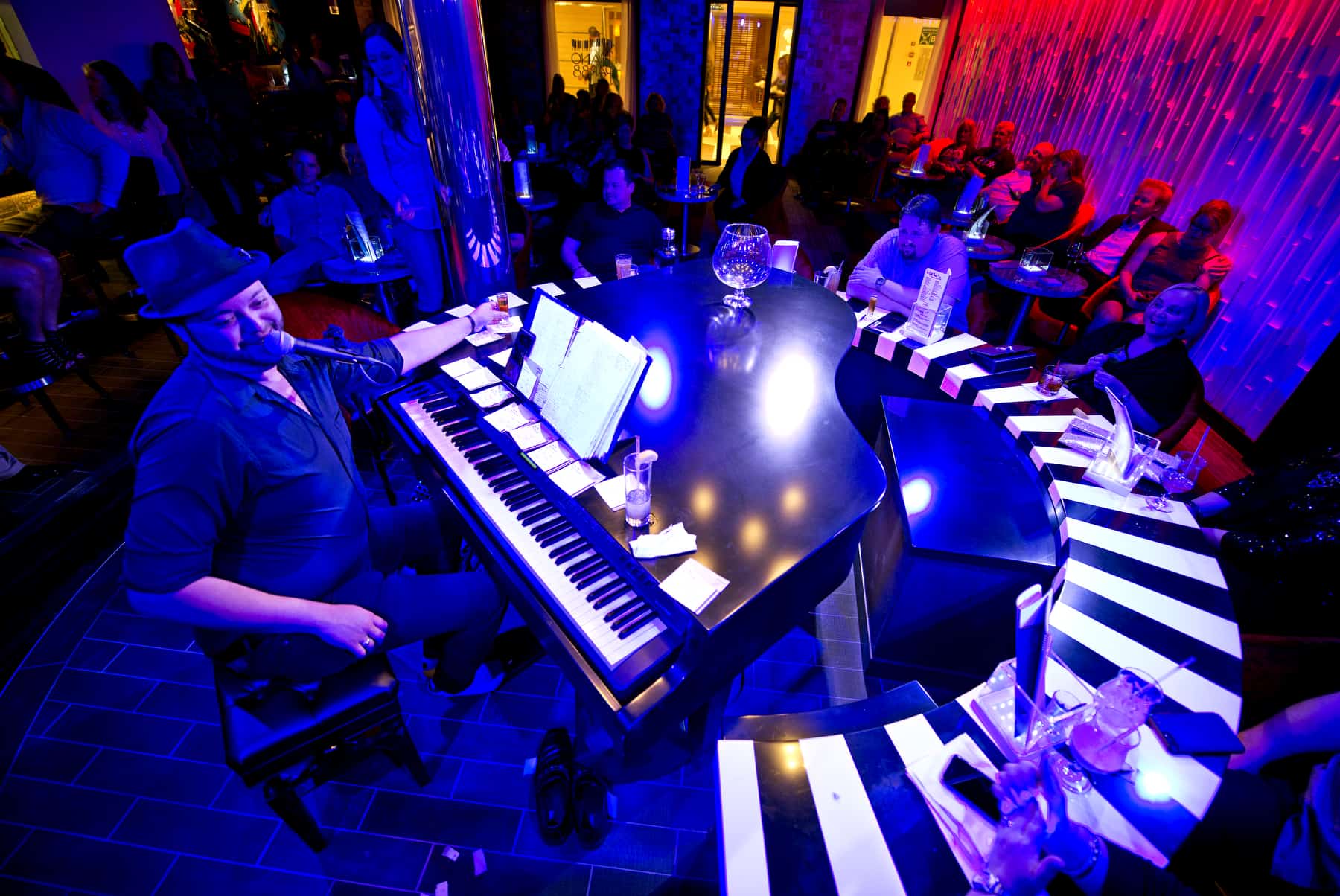 You know those places where everyone stares at you when you start singing along with the performer? This is definitely not that place. From evening to late-night, drinks flow while a piano player tickles the ivories and tunes are crooned by everyone who walks through the door. Offering specialty cocktails and martinis like the "Ragtime" and "The Standing O," the Piano Bar's menu will provide liquid courage to those a little reluctant to join the fun. 
8. SkyBox Sports Bar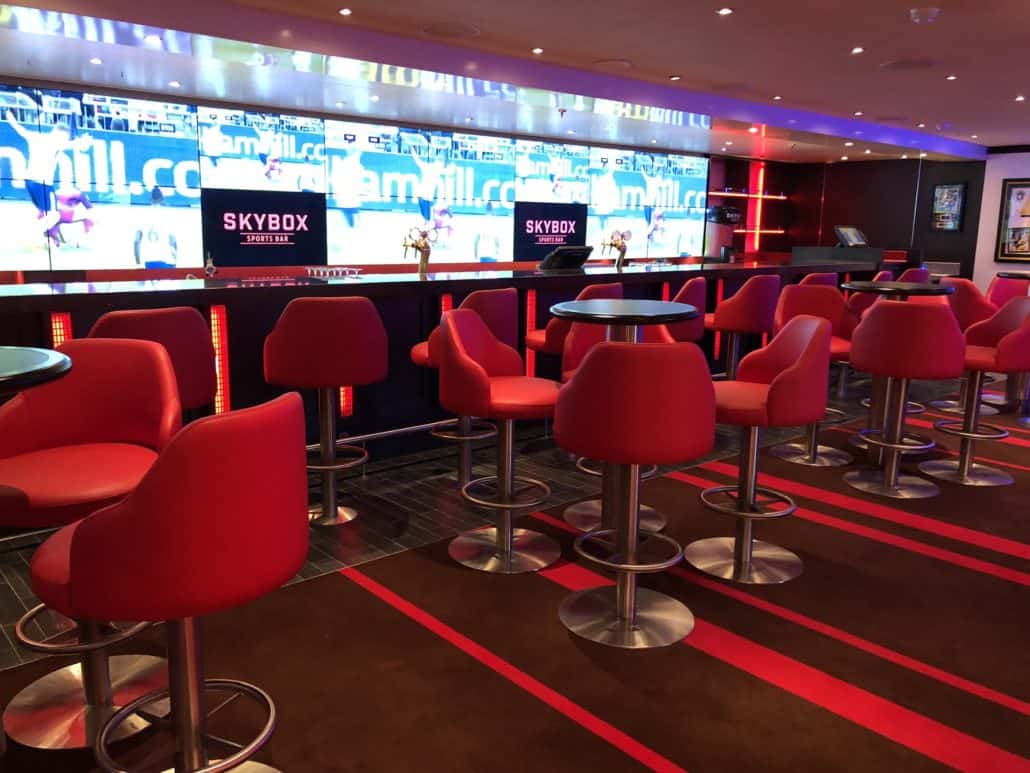 Even if you don't have game, the SkyBox Sports Bar does. It offers snacks like hot pretzels and a variety of drinks to enjoy while you watch the big game or your favorite team on one of the big screens. Even if you miss a game because you were somewhere else on the ship, you can swing by and check out the rolling ticker for all the latest scores. You can also grab a controller and play some of the latest games with your own personal team.
9. Casino Bar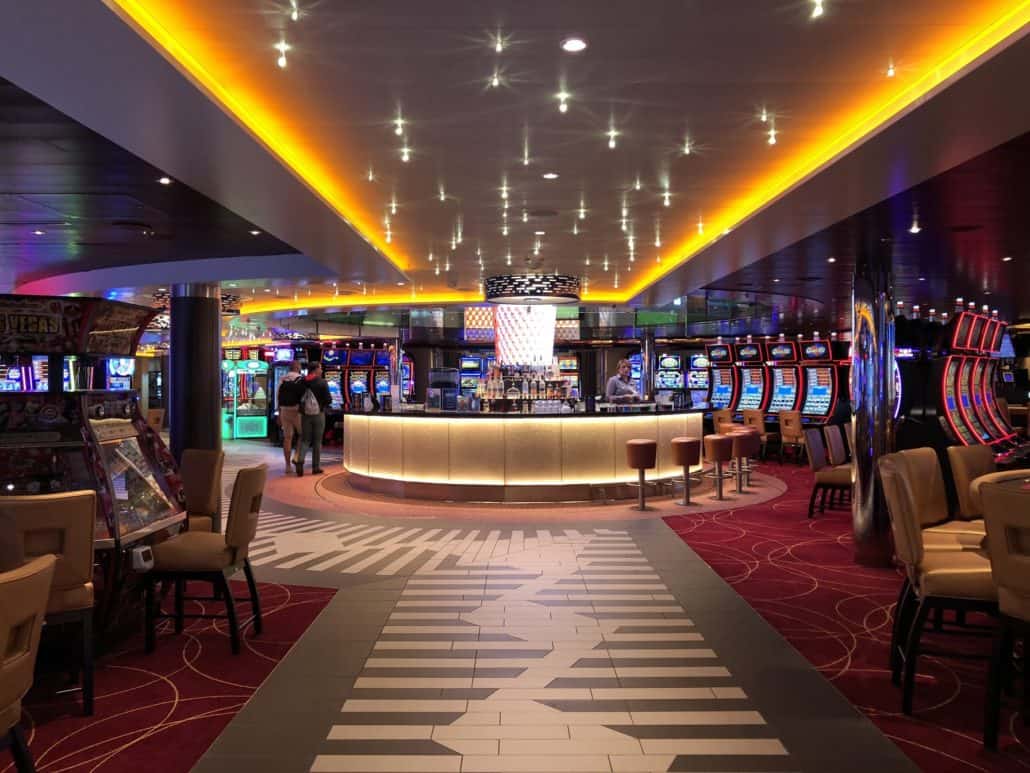 Inside the casino, you can enjoy a top-shelf beer, wine, or cocktail at the Casino Bar. Recently, they've also added specialty cocktails to the menu like the classic Manhattan or Vesper as well as twists on favorites like the Carnival Cosmo and a Tropical Mule.
This is almost always one of the spots that stays open the latest, but be warned: it can also be incredibly smoky thanks to this being one of the few places on the ship where smokers congregate. 
10. The Library Bar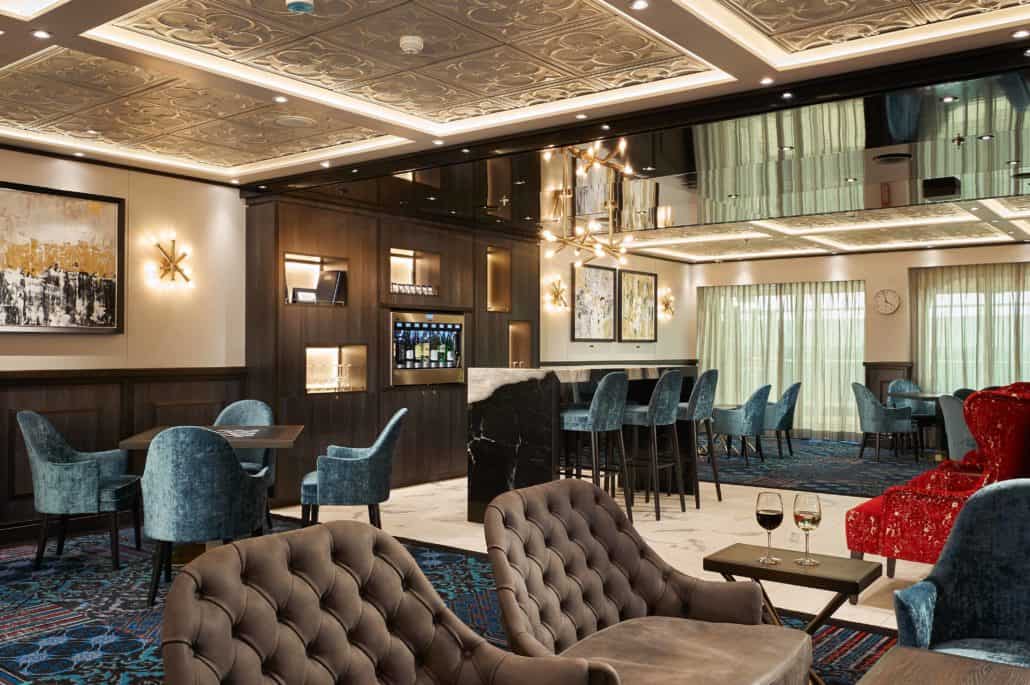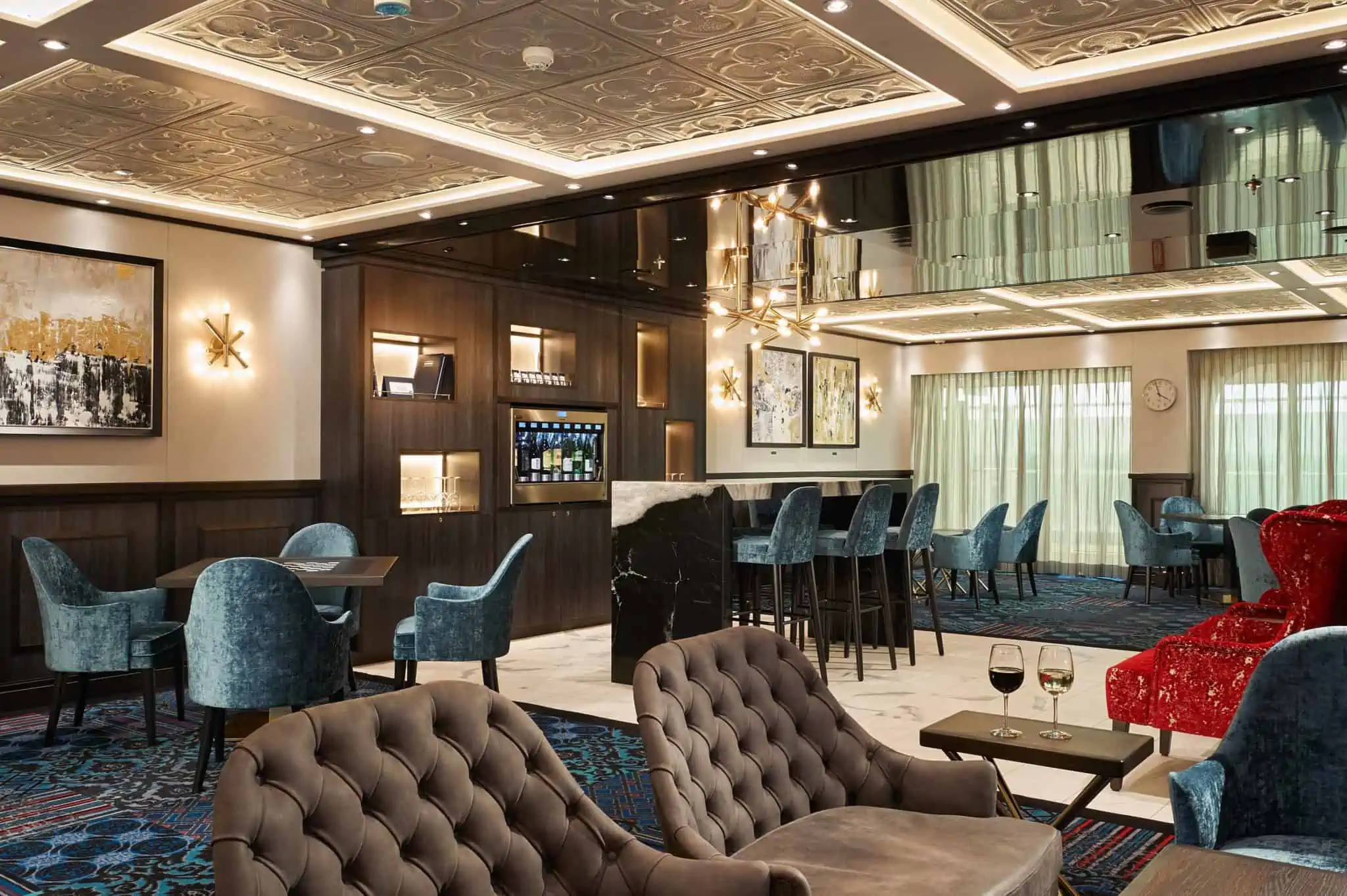 On select ships in the Carnival fleet, you'll find that the library offers not only great literature but some pretty fantastic wines, too. What you won't find is a bartender. Instead, there are state-of-the-art dispensers offering a variety of vinos. One thing to be aware of: If you have the Cheers! package, it won't cover the cost of these wines. If you want to use your beverage package, head to an actual bar instead.
11. Beer Station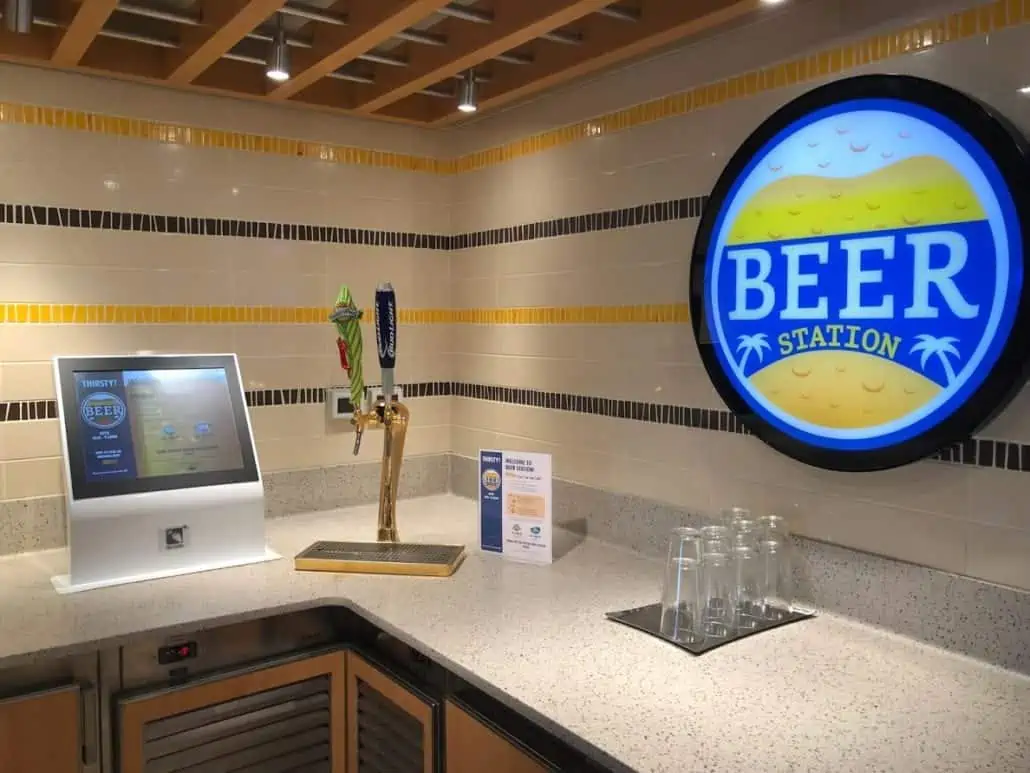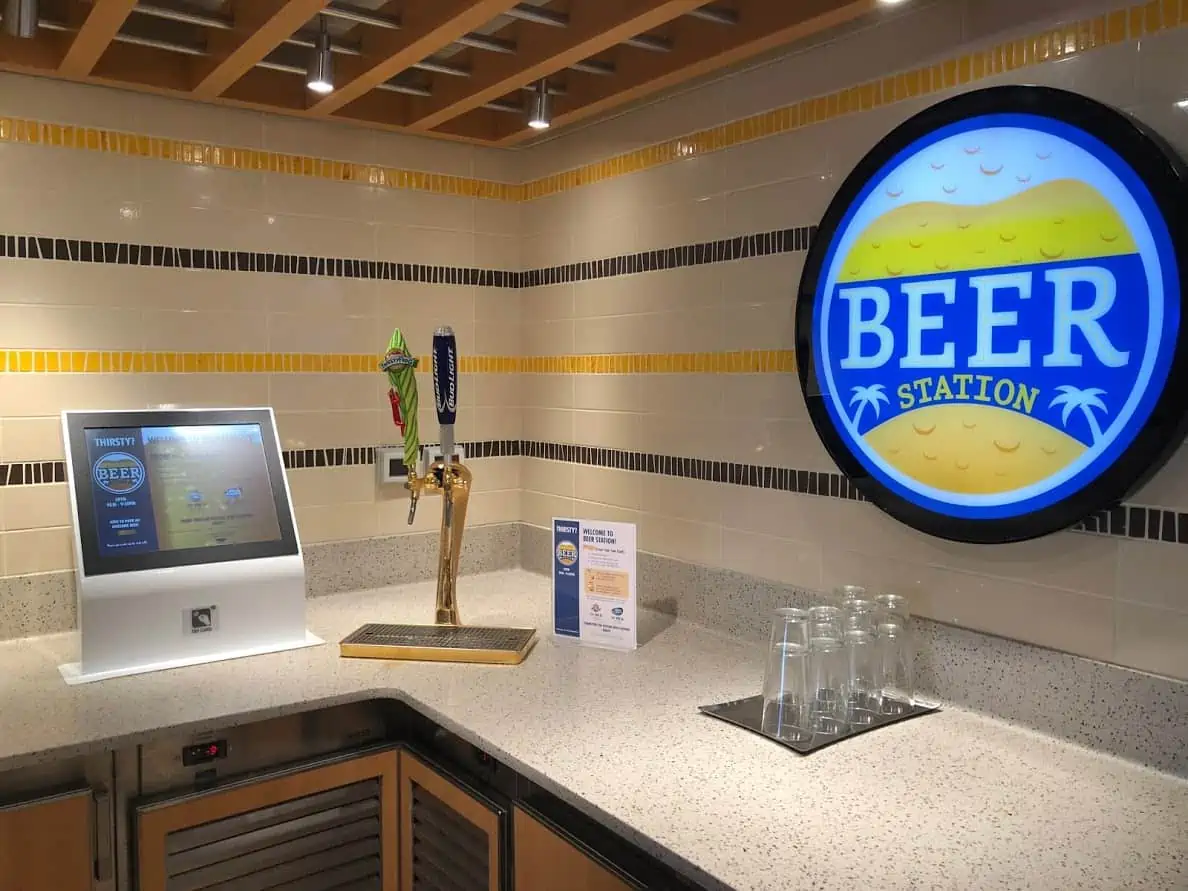 You've heard of BYOB, right? Well, this is PYOB, as in Pour Your Own Beer! If you're feeling thirsty but don't necessarily want to deal with a bartender, grab a glass and fill it at one of these convenient stations. Usually, you'll find Carnival's signature ThirstyFrog Red, as well as a couple of popular selections like Miller Lite or Heineken. As with the Library Bar's wine dispensers, if you purchase CHEERS! these self-serving pours will not be included in your all-inclusive beverage package.
12. Aft Pool Bar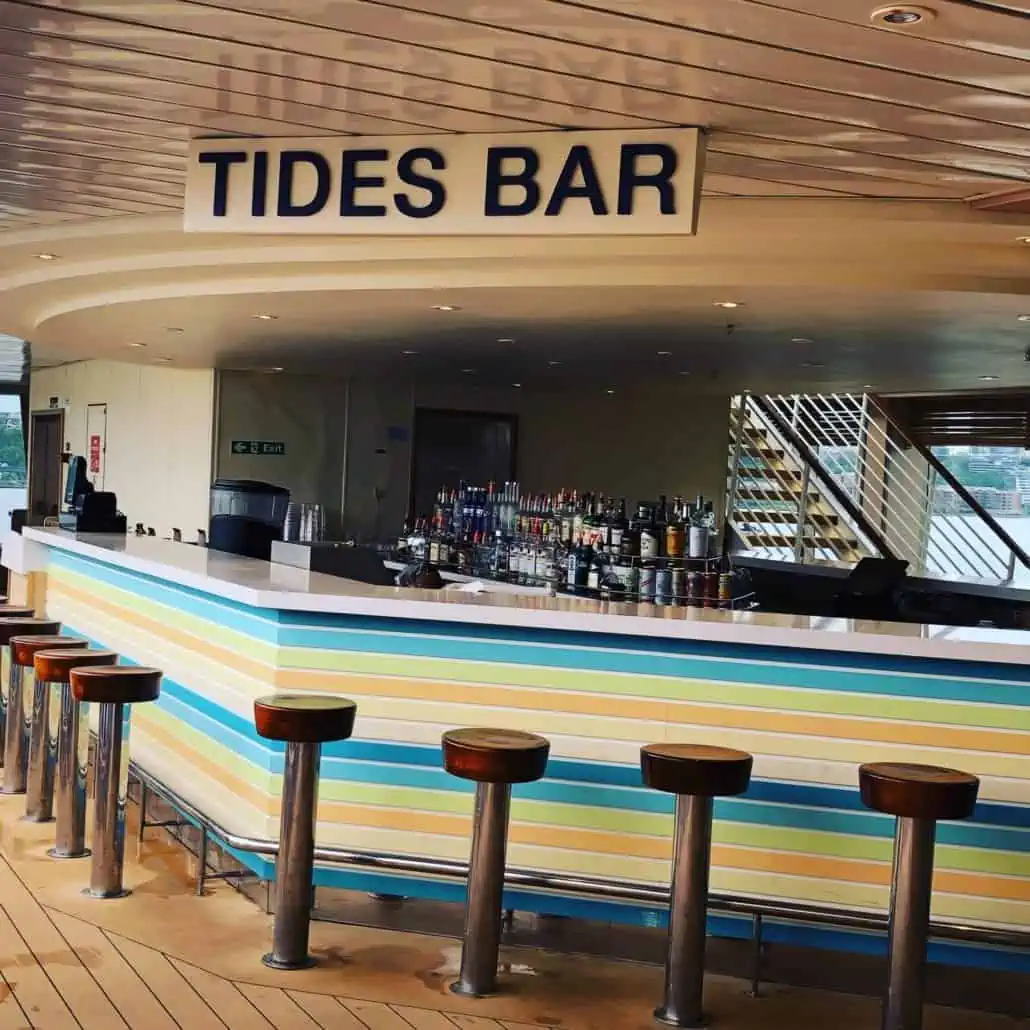 Most people spend their time at the main pool, getting drinks from the RedFrog Rum and BlueIquana Tequila bars. But for something a bit quieter, most ships offer an aft pool with a bar. For example, on the Carnival Sunrise, the Tides Bar can be found near the quieter aft bar. While you won't find hairy chest competitions or live music back here, you will find a place to have a drink while staring at the horizon.
13. Serenity Bar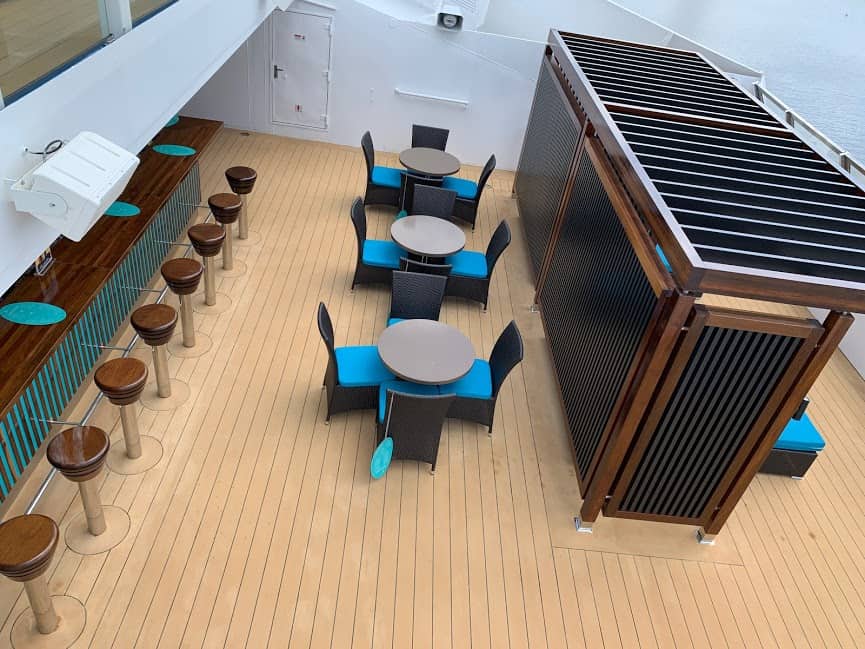 The Serenity Deck is, of course, the adults-only area on Carnival ships. And let's face it, how much fun would that be without a bar? This one offers an interesting array of sangrias, from traditional to white peach, all available by the glass or the pitcher. There are also a variety of specialty cocktails, including the Serenity Cape Cod and several "skinny" cocktails.
14. Atrium Bar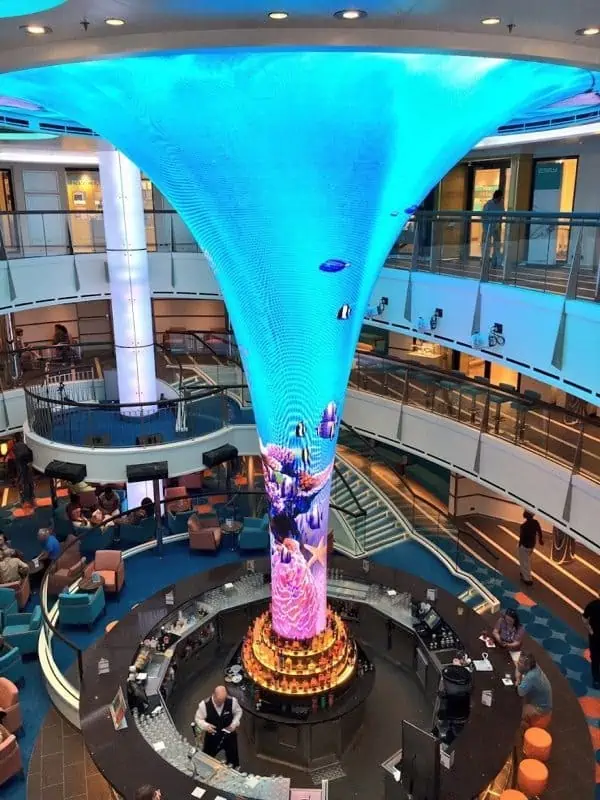 The moment you step aboard most Carnival ships, there sits the atrium bar, waiting to serve you that all-important let's-get-this-cruise-started cocktail. But honestly, we suggest heading someplace else for that initial drink. Why? This space gets pretty crowded during those first few hours. You'll have plenty of opportunities to enjoy the atrium bar over the course of the week, given that it's central location makes it a popular place to meet friends for drinks.
15. SportsSquare Bar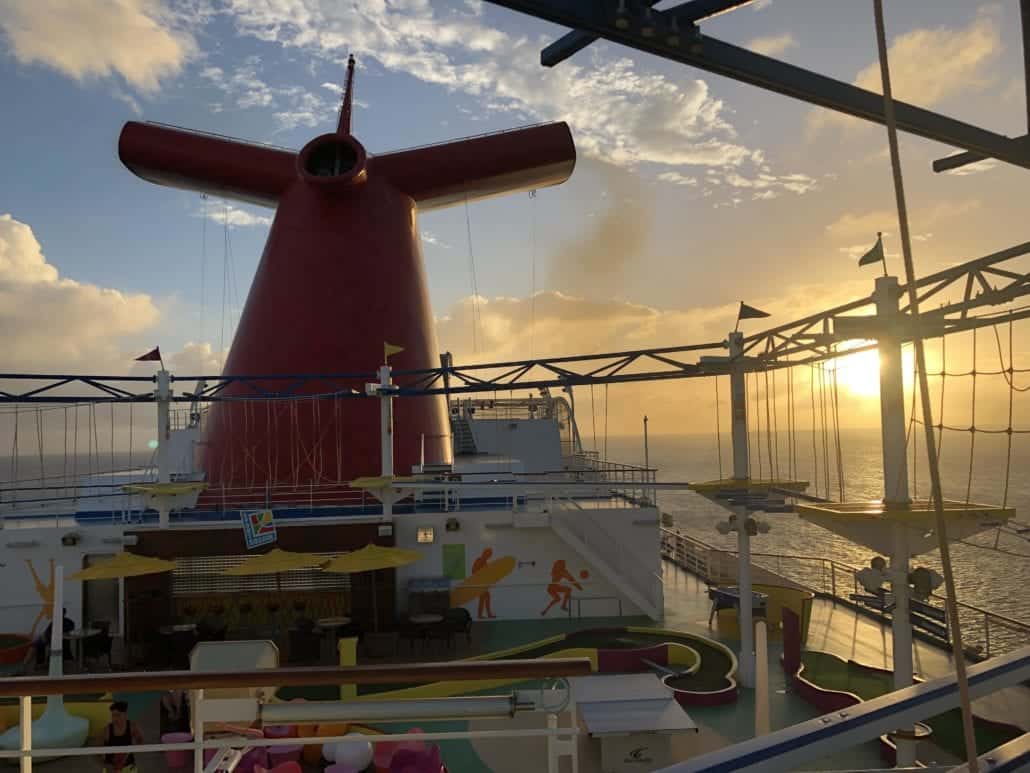 Although mostly only found on the Dream-class ships, the SportsSquare Bar is a great place to quench your thirst between rounds of mini-golf. The pretty much stick to the basic beer, wine and cocktail selection here, but it's quicker and easier than trekking to another bar for something fancier, right?
16. JavaBlue Cafe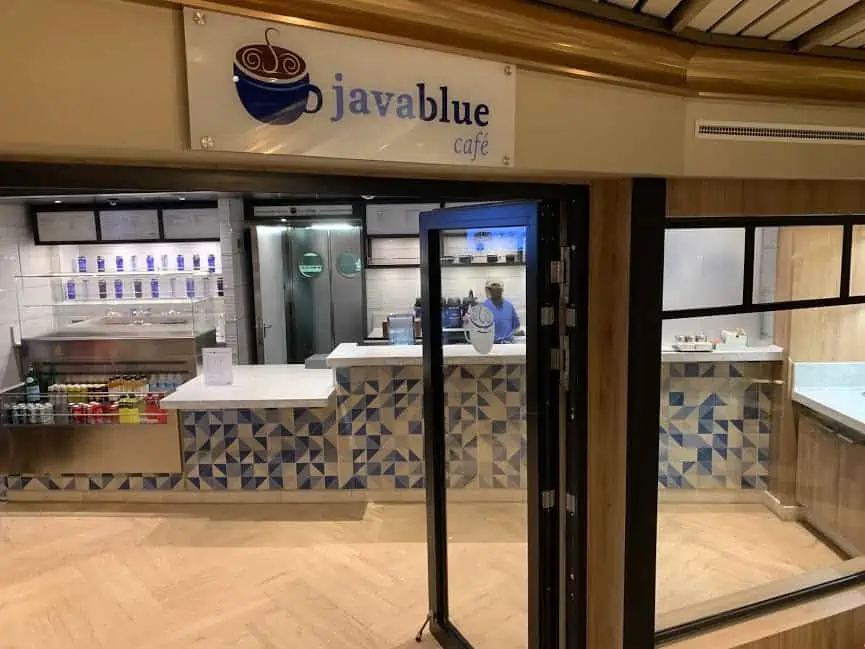 I know, you're thinking, "Doug, why is the coffee shop listed here?" And all I can do is assume you've never had one of their spiked milkshakes or specialty coffees. Did I mention that they're covered by the Cheers! program? Because they are.
17. RedFrog Tiki Bar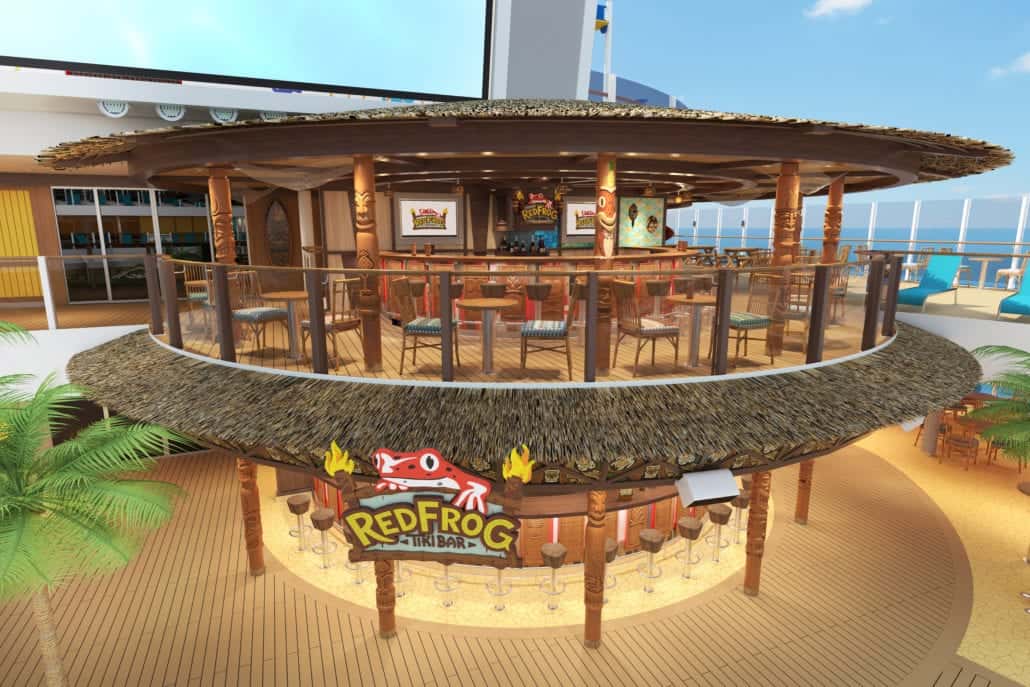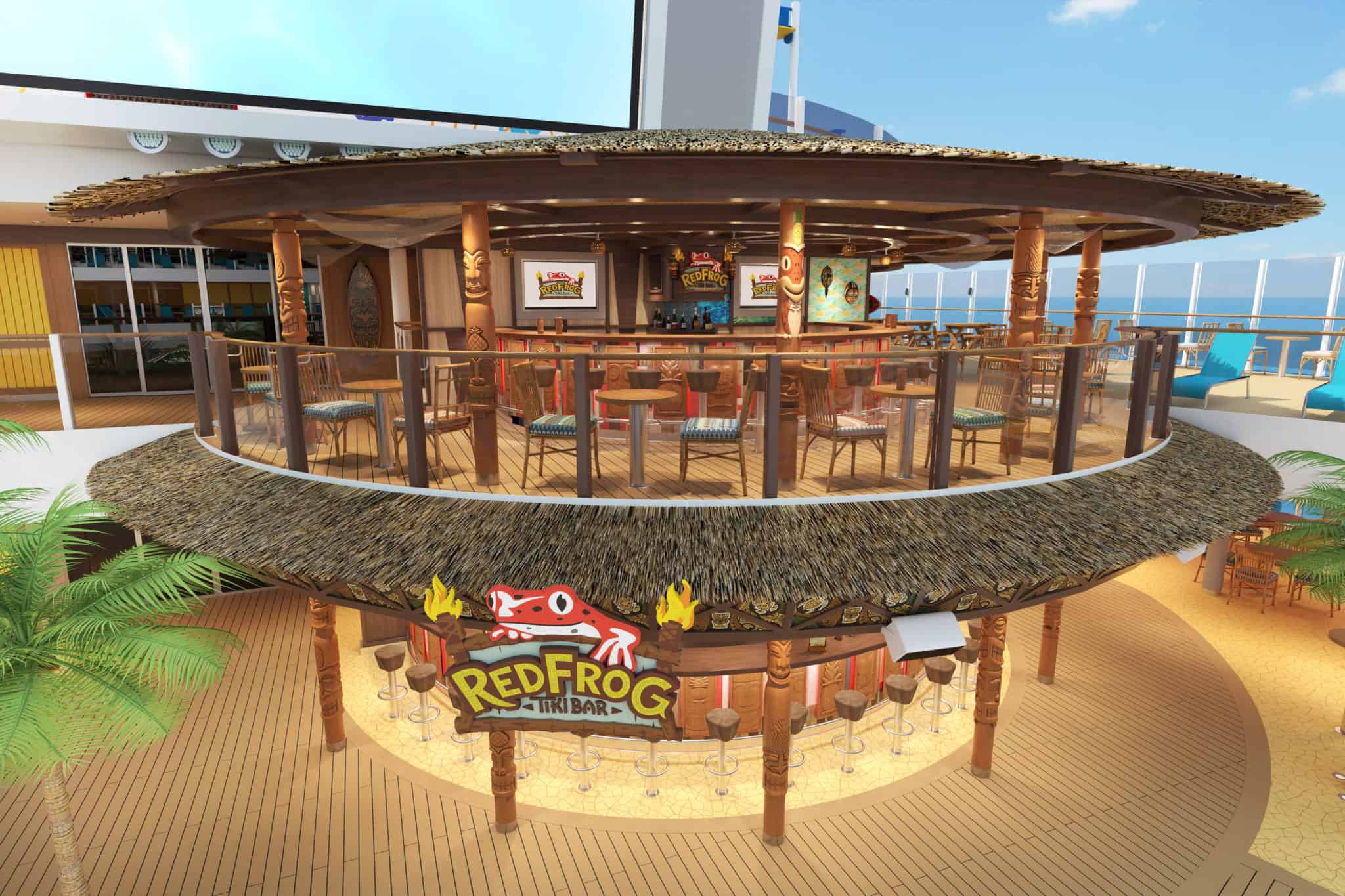 At the moment, the only way you can get your tiki bar on is by picturing yourself on the currently-under-construction Mardi Gras. But once that ship debuts, this two-story poolside oasis promises to be a major hot spot. Not only will it be a great place to see and be seen, but it'll serve up rum-based cocktails like the Polynesian Punch and the Jungle Bird.
Which of Carnival's bars, lounges and clubs is your go-to spot when you want a drink?