The first step in planning a great cruise is also the most important one: booking it. Vacations can be made or broken based on how good a job you do when booking. No pressure, right? Fortunately, we've got a whole slew of cruise booking tips guaranteed to help you navigate these most treacherous of waters! Here are 17 cruise booking mistakes to avoid.
1. Booking based on price alone.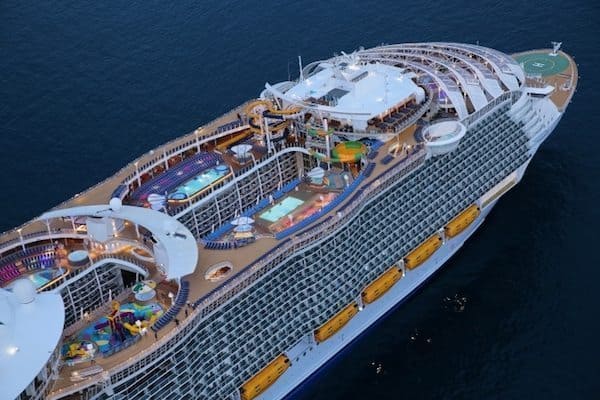 Let's be real, if you're simply booking a cruise to get away and truly don't care where you go, this probably wouldn't be a mistake.  But for the vast majority of us, ports of call matters a lot, and so does the ship and cruise line we choose.  These are all factors to take into consideration, so look at which ports and ship you think will be a good fit, and go from there within your means.
2. Not discussing the cruise with people going.
If you're taking your spouse and two kids on your cruise vacation, you should probably get at least a bit of their input on it (especially your spouse!).  Is there an excursion that half the family wouldn't be interested in?  Is there a particular experience someone wants to have, or a ship they're dying to sail?  The ages of any children sailing with you will somewhat determine how much involvement they have.  But as much as possible, try to include everyone.
3. Not researching the ship.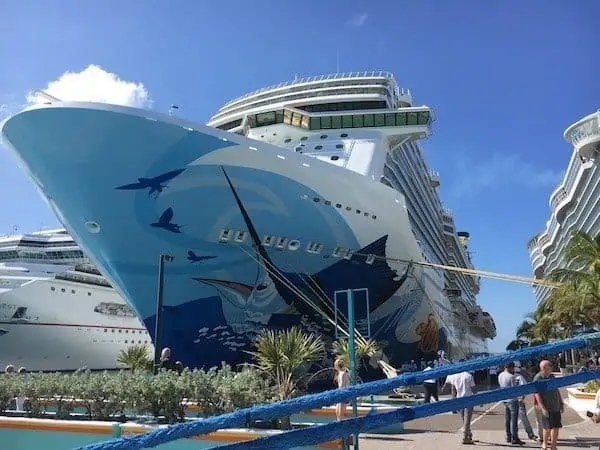 What happens if you and your family love water parks, thrill experiences, or Broadway-style shows and you board your ship onto to find out they're just not there?  Or what if you're looking for a relaxing, luxurious experience and end up on a ship filled with kids and family activities?  Neither of these things would automatically mean you're going to have a horrible time, but it probably means you didn't do your research.  Looking online is the best place to find up-to-date info on all of the lines and ships that are a possibility for your destination and budget.  That way, you'll find the ship that works best for your personal preferences.
4. Researching TOO much, leaving nothing to the imagination.
On the flipside, spending every waking evening watching every video and reading every article about your ship is overkill.  Research enough to feel confident that the ship is right for your family, and that you've made your list of must-do's while onboard (as well as pre-booking any dining or entertainment experiences that need that) but once all of the essentials are covered, take a step back.  The less you know about your cruise ahead of time, the more surprised you'll be once you're actually on it.
5. Booking the wrong type of cruise line.
This also would occur due to a lack of research.  Each cruise line is known for different amenities, experiences, and target audience.  Depending on whether you have kids or not, whether you desire luxury or are on a tight budget, and whether you're okay with spending more while onboard will help determine which cruise line is right for you.
6. Not factoring extra costs.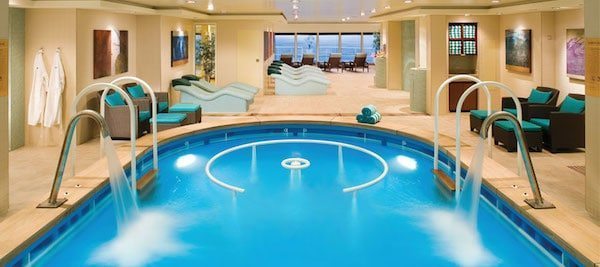 Don't make the mistake of thinking once your cruise is booked and flights scheduled, you're scot-free with the price of your vacation.  There are so many other variables to consider that will probably come out of your wallet: shore excursions, specialty dining, spa treatments, alcoholic beverages, onboard shops, and gratuities are almost universal extra charges.  Factor in everything you can think of when planning around your budget.
Read More: 5 Reasons Cruises Are Budget Friendly
7. Thinking it's all-inclusive.
Going along with the last point, most cruise lines are not going to be all-inclusive.  I can only think of a couple ocean cruise lines that are.  In general, your cruise will include your accommodations, main dining room, buffet, and (most) room service meals, and most activities, entertainment, and amenities onboard (like the water park, stage shows, and group games).
8. Selecting the wrong cabin type.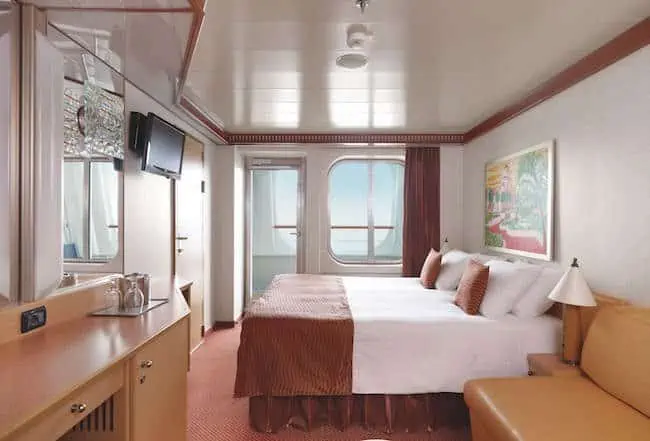 Most potential guests understand the basic cabin categories available – interior rooms with no windows, exterior with a window or porthole, balcony rooms, and suites.  While it is indeed important to figure out which of these types of rooms works best for you and your family, your stateroom location can also be important.  The best example of this is probably for guests with motion sickness issues, and noise tolerance.  Some cabins are directly below busy nightclubs or main decks, which means some thumbing nights and loud mornings.  Be aware of your ship's deck plans when choosing a cabin.  For those that easily become seasick, it's best to book a lower cabin toward the middle of the ship.
9. Assuming the price will drop. Book what you can afford and hope for the best, but don't assume the price will drop significantly.
Not every voyage will drop in price, and many that do only drop a few percentage points.  Instead of gambling with your hard-earned money and booking a cabin you can't afford, just choose something in your price range and then be extra thankful if it does drop in price.  After all, any money saved can go toward a future cruise!
10. Not taking advantage of credit card points.
Before you book your cruise check your credit card points. With my card, I have the option to use my points for air miles, cruises, hotels, rental cars, and vacation packages. Double check your credit card rewards before booking your cruise.
11. Missing your final deposit date.
The minute you put the deposit down for your cruise, make sure you mark down when the due date is. If you miss your final payment, there's a good chance you'll forfeit your deposit and will lose your spot. Make multiple notes around your house, in your phone, and set a calendar reminder on your computer. If you think you may forget it, set reminders everywhere!
12. Not knowing the cancellation policies.
Make sure you know the cancellation policy for the cruise line you're booking. Some cruise lines will refund your cruise if you cancel within a certain time period, some won't. Every cruise line plays by their own set of rules. Be confident you know the cancellation policy and penalties.
13. Not leaving enough time when booking air.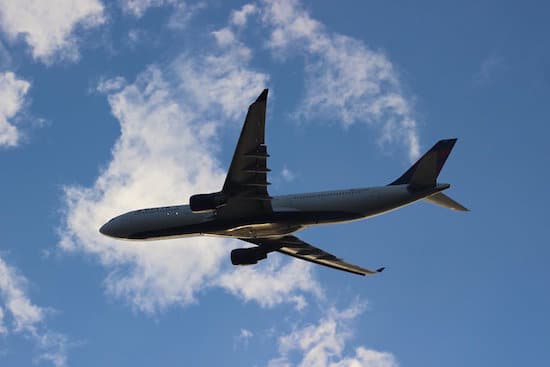 This point is twofold.  First, lots of guests make the mistake of booking an early-morning flight, only to have it severely delayed and miss their ship when it sails out of port.  It's always best if you're driving a long distance to your embarkation port or flying, to come in the night before and stay at a hotel.  The other part of this point can be simply waiting too long to even book your flight to begin with.  You may come to realize that your ideal flight is now full, or the price has gone through the roof since it's last-minute.  Book your flights as soon as possible – that way you'll have peace of mind.
14. Not buying travel insurance.
Travel insurance is important. You never know when that winter storm will delay your flight or when the unexpected will happen on your cruise. For a few percentage points of the cost of your cruise, it's worth it. The last policy I bought from TripInsurance.com cost $33 and covered my air, cruise, and transfers.
15. Not taking advantage of your roll call.
Whether it's on Facebook, ShipMate app, or Cruise Critic, you can get some very valuable info from people who've been on the ship and know its secrets.
16. Not knowing the liquor policy. The last thing you want is to have all your booze confiscated because you're only allowed one bottle of wine.
Almost every cruise line out there has a limit to the amount of alcohol you're allowed to bring aboard during embarkation.  They also have restrictions on the type of alcohol allowed – for example, most only allow sealed bottles of wine or champagne.  If you're planning to bring a special bottle or two onboard with you, be sure to check your line's specific policy concerning them.
17. Disregarding the upgrade schedule.
Just like your car gets routine maintenance, ships do the same thing. Don't let the current features on a ship steer you away from booking it. Check to make sure that ship isn't going into dry dock to get upgraded before you decide on another ship.
Search: Cruise Ship Dry Dock Schedules
What cruise booking tips do you use?
Pin this!