MSC Seaside is the first purpose-built ship for the North American market from MSC, the world's largest privately-owned cruise line.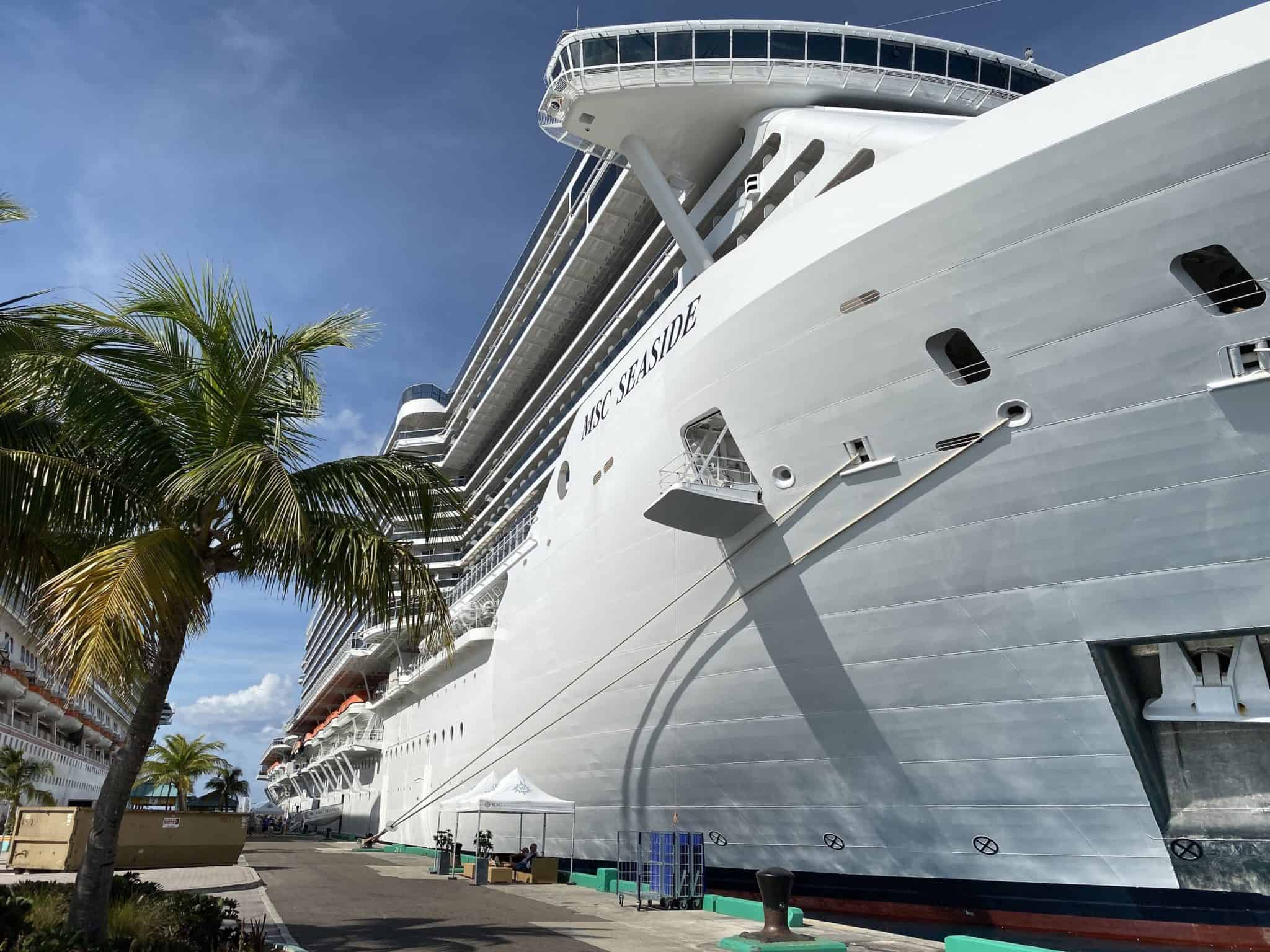 A better godmother couldn't have been chosen, as Seaside subtly blends Italian design and tradition with spaces and amenities desired by modern North American cruisers.
With a passenger capacity of 4,132 (double occupancy), Seaside compares favorably with the largest and most modern ships from the other big lines such as Royal Caribbean, Carnival, and Norwegian Cruise Line.
17 MSC Seaside Tips and Suggestions
1. Download the MSC for Me App to your smartphone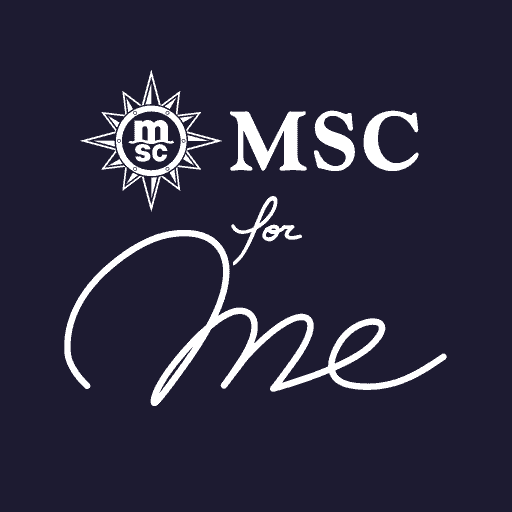 MSC for Me is an incredibly functional and fun app for anyone on an MSC cruise. Before you sail, users may book a show, shore excursions, prepay for drinks or specialty restaurants, and add activities to a personal agenda. 
Once onboard MSC Seaside, guests can use the MSC for Me chat function to message fellow cruisers without purchasing an internet package. Additionally, a "what to eat" feature gives insight into local in season and fresh ingredients in meals onboard as the ship moves from port to port. Of course, the app also includes a map of the vessel, and the ability to check events and add them to the planner. 
2. Look into the Easy Drinks Package
MSC offers drinks packages on every sailing like every other major cruise line, and there are several levels to choose from. Passengers often overlook the Easy Package, but it certainly shouldn't be. For only $35 per day (at writing time), the package includes anything under $6 in most venues and includes beer, wine, liquor, specialty coffees, and bottled water. Sometimes this package is offered as a promo during booking, so keep a lookout for that.
3. Asian Market Kitchen
Many of the largest ships at sea now have teppanyaki restaurants onboard, and MSC Seaside has one too. Unique, however, is the Asian Market Kitchen, a concept from celebrity chef Roy Yamaguchi, the creator of Hawaiian Fusion. Asian Market Kitchen differs from his land-based restaurants by presenting an unforgettable pan-Asian menu.
For something different, consider ordering the Triple Play, a fun dish consisting of kaiware (radish sprouts), yamagobo (pickled burdock root), shrimp tempura, spicy tuna, and Hamachi fish with a delicious garlic aioli sesame sauce. Another popular item is the poke bowl, which has various choices. Asian Market Kitchen is a la carte pricing. 
4. Have a Drink at the Seaside Bar
Located in the spectacular atrium onboard the ship, the Seaside Bar is the place for evening entertainment and drinks. The whole atrium is ensconced in glass and crystal, scattering the light and creating a magical venue, especially in the evening.
Live music takes place on the small stage with acts consisting of musical trios, soloists, and other entertainment with dancing couples common. The selection is vast, with all types of liquor, beer, wine, and cocktails. Daily specials are available (try the Moscow mule.)
5. Order a drink with a side of sea views
For passengers who prefer to have sweeping views of the ocean while they sip their beverage of choice, the Top Sail Lounge is the place to be! Be warned, though. This lounge is for the exclusive use of Yacht Club guests, which means you have to be staying in a Yacht Club suite to access it. 
Located on Deck 16 all the way forward, this lounge has outside walls consisting of floor-to-ceiling glass windows, giving spectacular views of the sea. The Top Sail Lounge is also a great spot to watch a sail in or away from the port or to enjoy a Caribbean sunset. 
6. Brave the Bridge of Sighs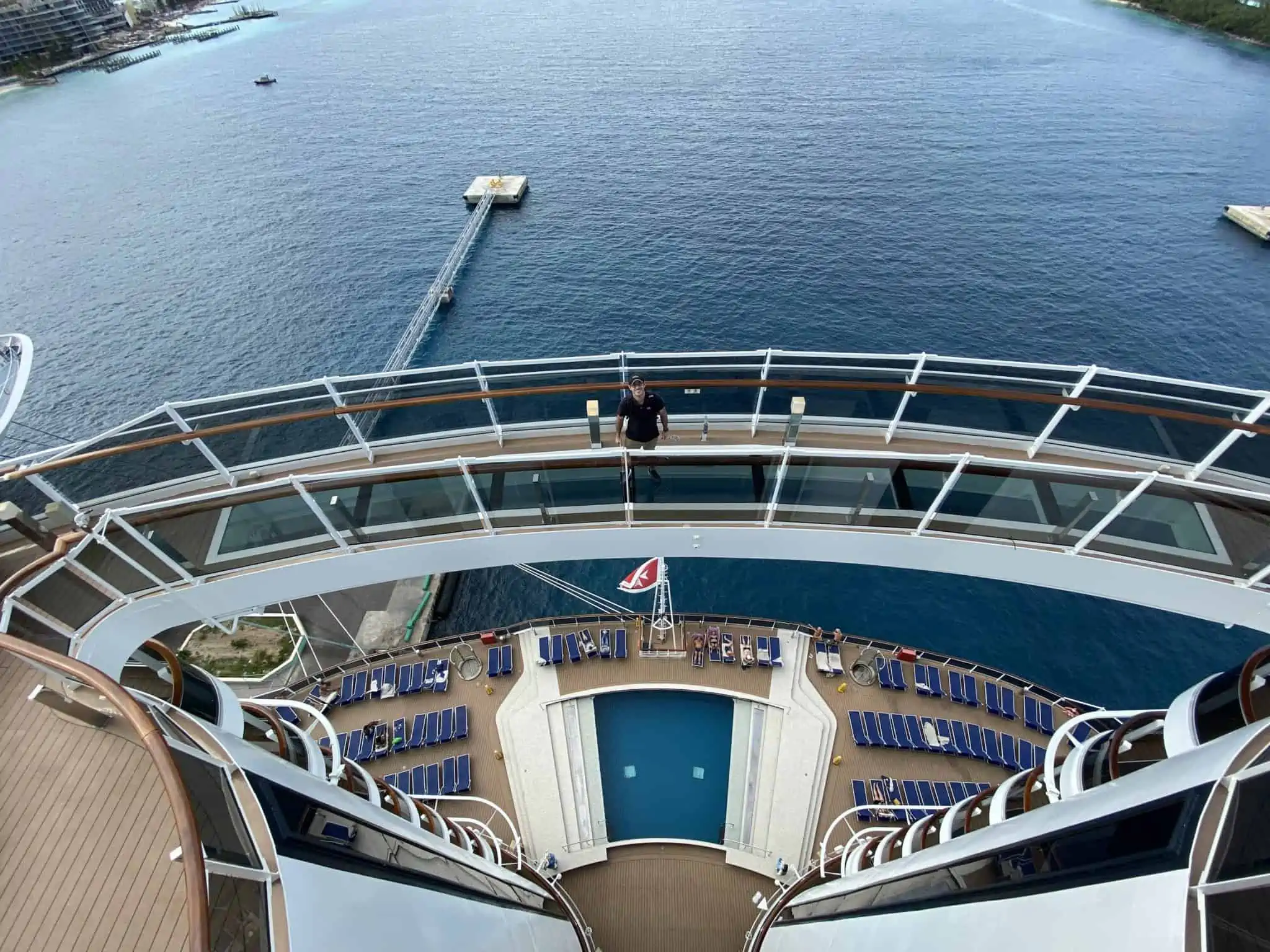 Named after the famous bridge in Venice, MSC Seaside has its own Bridge of Sighs. This bridge is at the far back (aft) of the ship on Deck 16 and consists of a glass-bottomed walkway positioned high above the South Beach pool.
The bridge is a great photo stop and is a fun place to visit during your time onboard. If you enjoy the Bridge of Sighs, there are two additional glass walkways on either side of the ship on the Waterfront Promenade, Deck 8.
7. There's a chocolate bar, and it's spectacular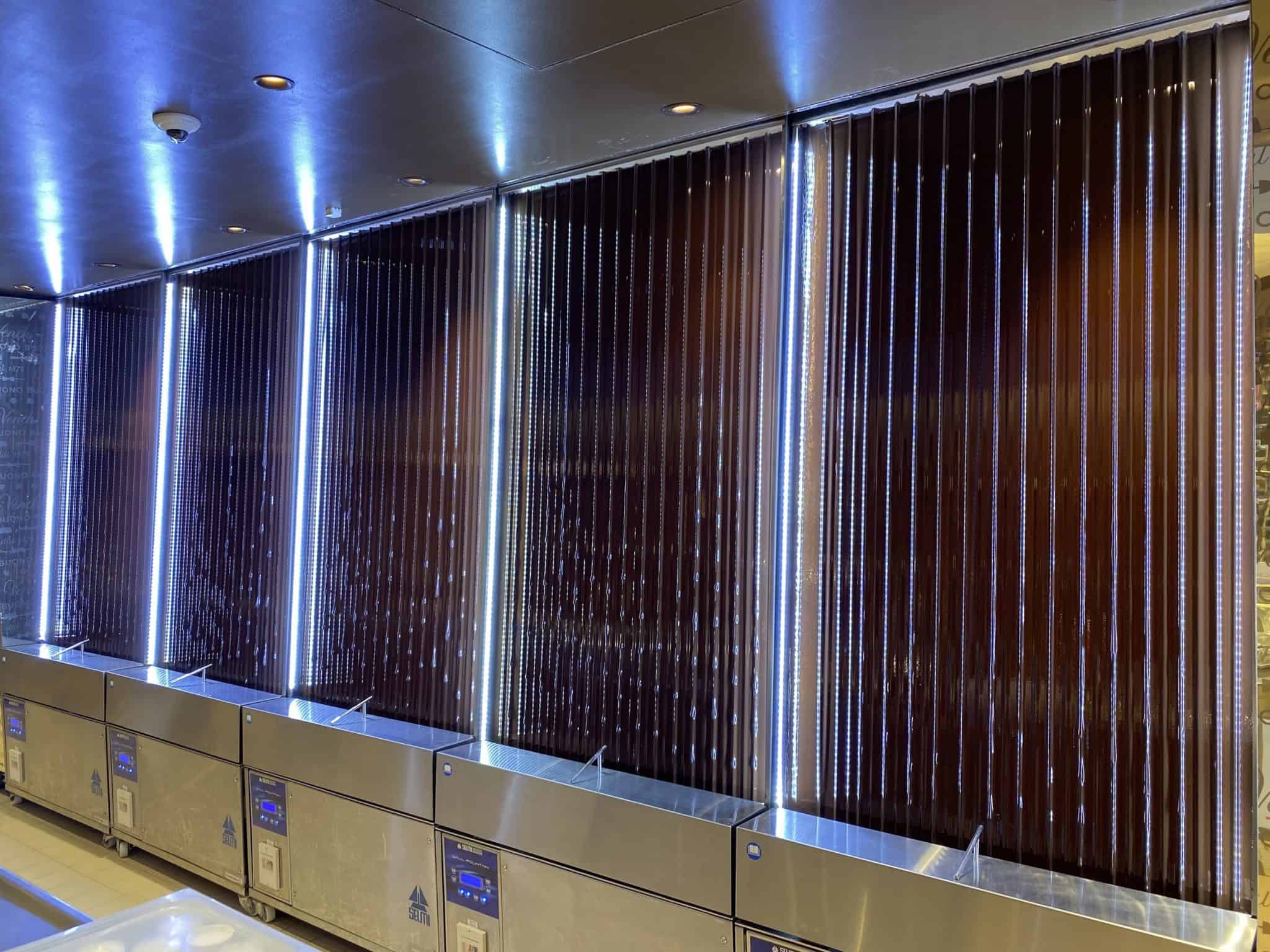 On Seaside, they take their desserts seriously — so much so that there's a space devoted to the art of chocolate! The Venchi 1878 Chocolate Bar is located on Deck 6 near the Piazza Grande and is a treat for the eyes as much as it is for taste. 
Stunning designs are created from chocolate and candies, truly works of art. In addition to the displays, there are vast quantities of chocolate available to purchase, which makes excellent souvenirs for friends and family back home.
8. Speaking of the Piazza Grande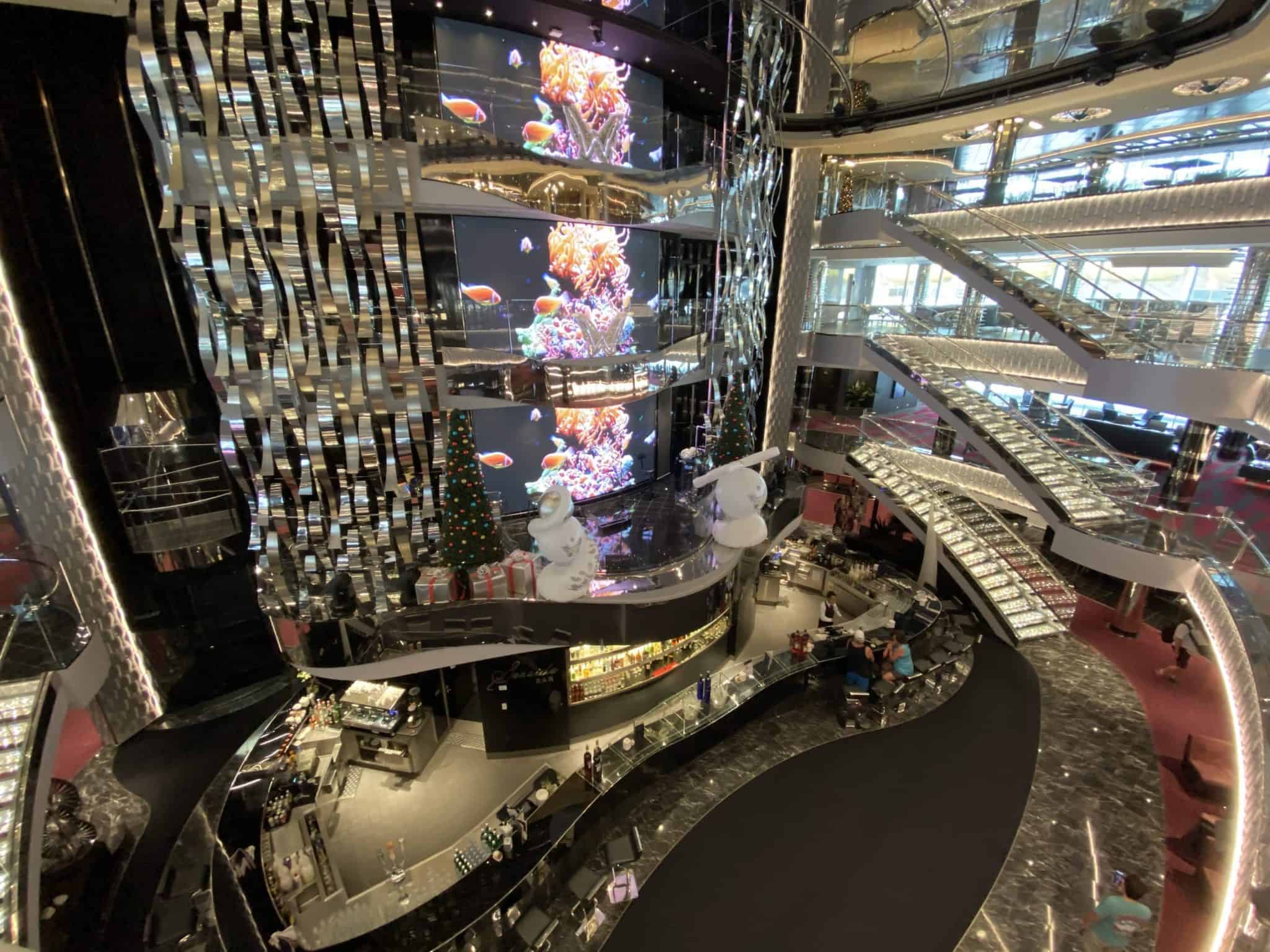 In Tip #7 we talked about the Venchi 1878 Chocolate Bar located on the Piazza Grande. This Piazza is centrally located on deck 6 and is where most of the shopping on the ship is located. In addition to the shops and boutiques, there is also a great bar serving all kinds of drinks with a good quantity of comfortable chairs. Along with the dance floor and stage, this spot is a great place to unwind while onboard and is more relaxed than the atrium or the top decks by the pool.
9. If you are a family, look into the Super Family Cabins
For families or groups, a great way to sail is in the Super Family Cabins. These cabins are three combined staterooms, usually with two typical rooms and one center bedroom with a fold-out couch; they come in both balcony and ocean view options. The standard cabins have a king or two twin beds, along with a set of twin bunks, sleeping up to 10 people comfortably.
The Super Family cabins also have two full bathrooms. When booking, pricing is done by the cabin rather than per person, which can be a nice savings.
10. The MSC Seaside has a full-fledged adventure park onboard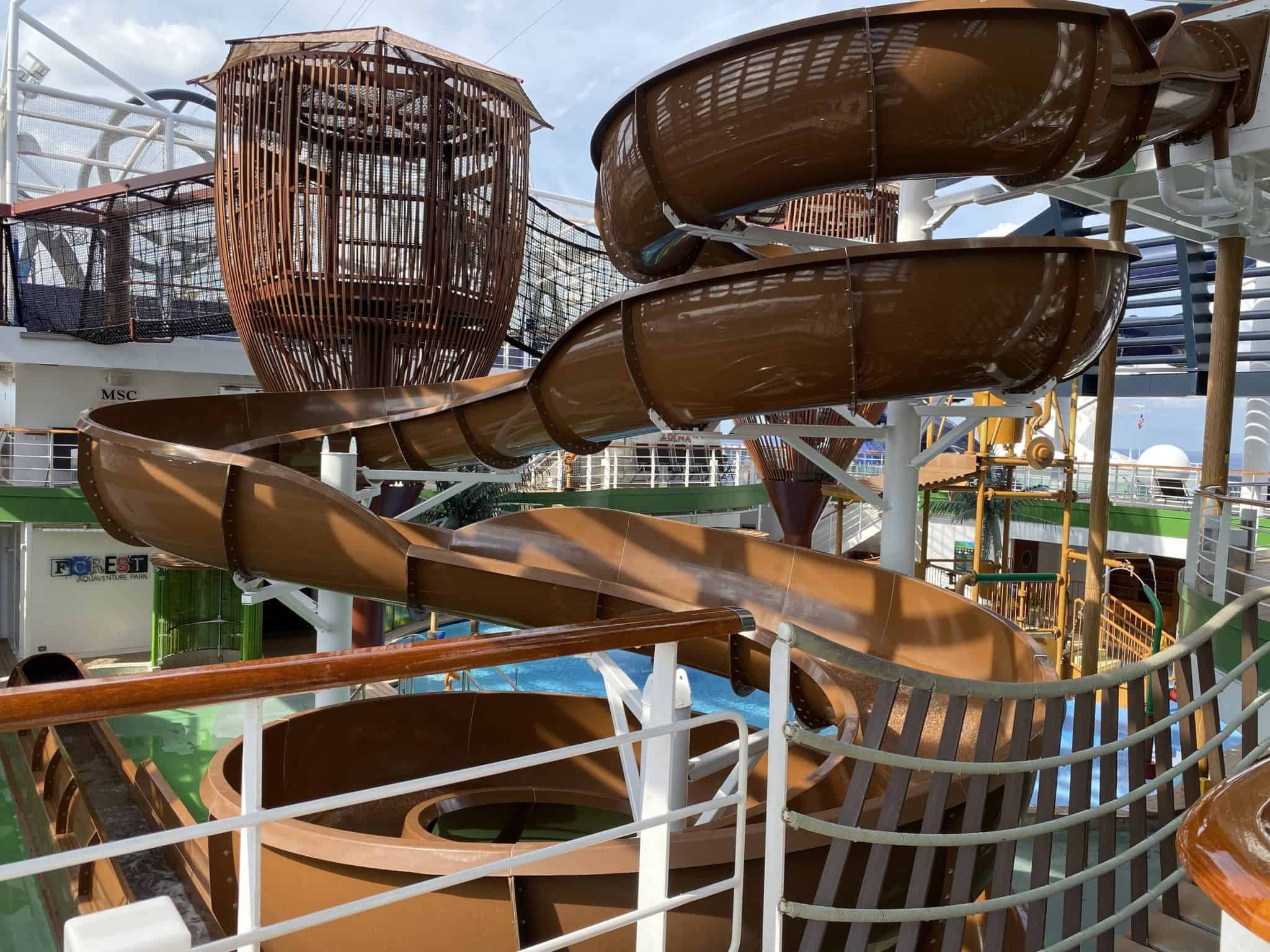 MSC Seaside has a multi-story waterpark called the Forest AquaVenture Park. Inside the park, there are five water slides, including two racing slides that extend over the side of the ship.
The MSC Seaside' Adventure Park also contains an AquaPlay and AquaSpray park for younger guests. Above all this water play, passengers who wish to climb can enjoy the Adventure Trail. This ropes course even has spray cannons for shooting other adventurers.
11. Dress for the White Party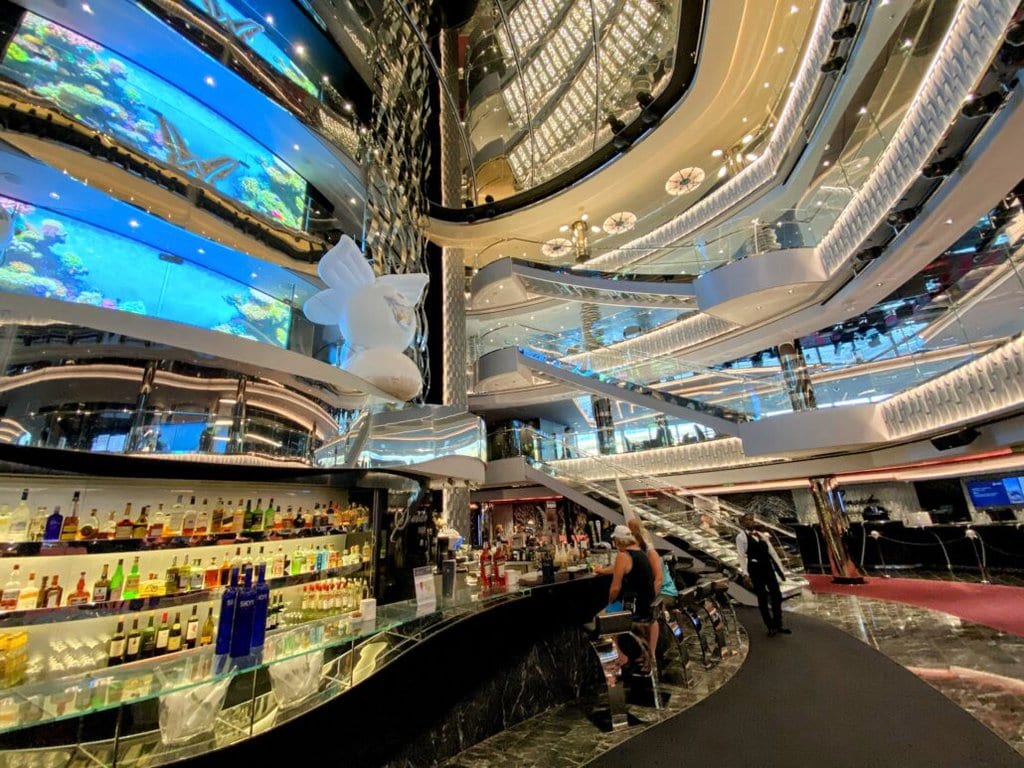 Every sailing of the MSC Seaside includes a White Party where guests dress all in white and staff don fantastic costumes. Don't forget to pack appropriately to enjoy the party fully.
12. The kids club is not just a kids club
In addition to age-separated kids and teen clubs, the MSc Seaside has a fun and engaging entertainment space called Doremi's Studio. Located on Deck 18 with the other kids' stations, Doremi's Studio is where kids can watch and enjoy special programming for their ages. Fun varies by sailing, so be sure to check with the kid's staff or the schedule of events.
13. Panoramic Elevators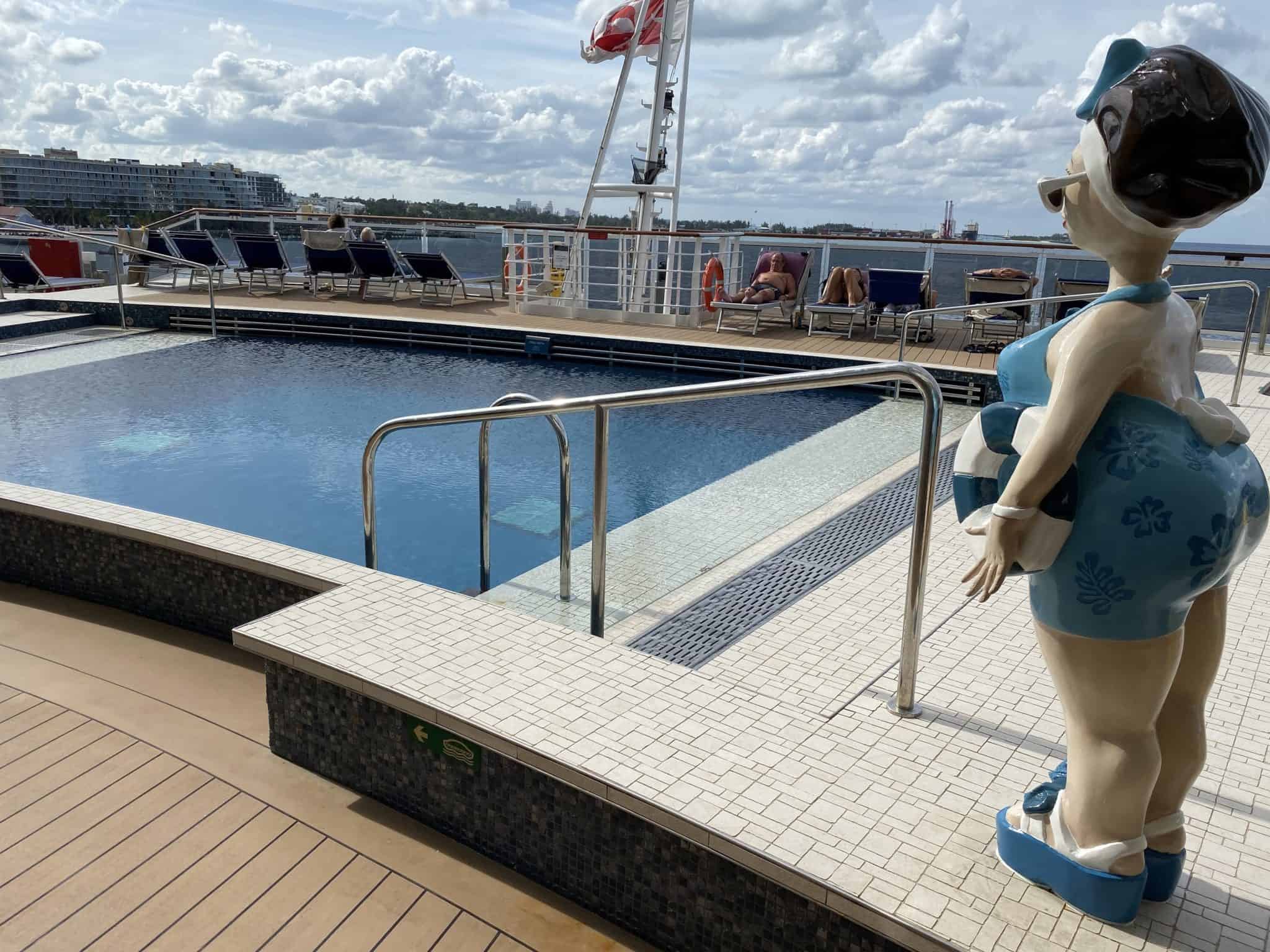 Should you be excited about an elevator? YES! At the rear, or aft, of the MSC Seaside, are a pair of panoramic elevators that wizzes up and down the outside of the ship, giving spectacular views of the sea and the fun going around below. The higher you go, the better the view, culminating on Deck 16, right by the Bridge of Sighs (Tip #6 above).
14. Do you really enjoy chocolate?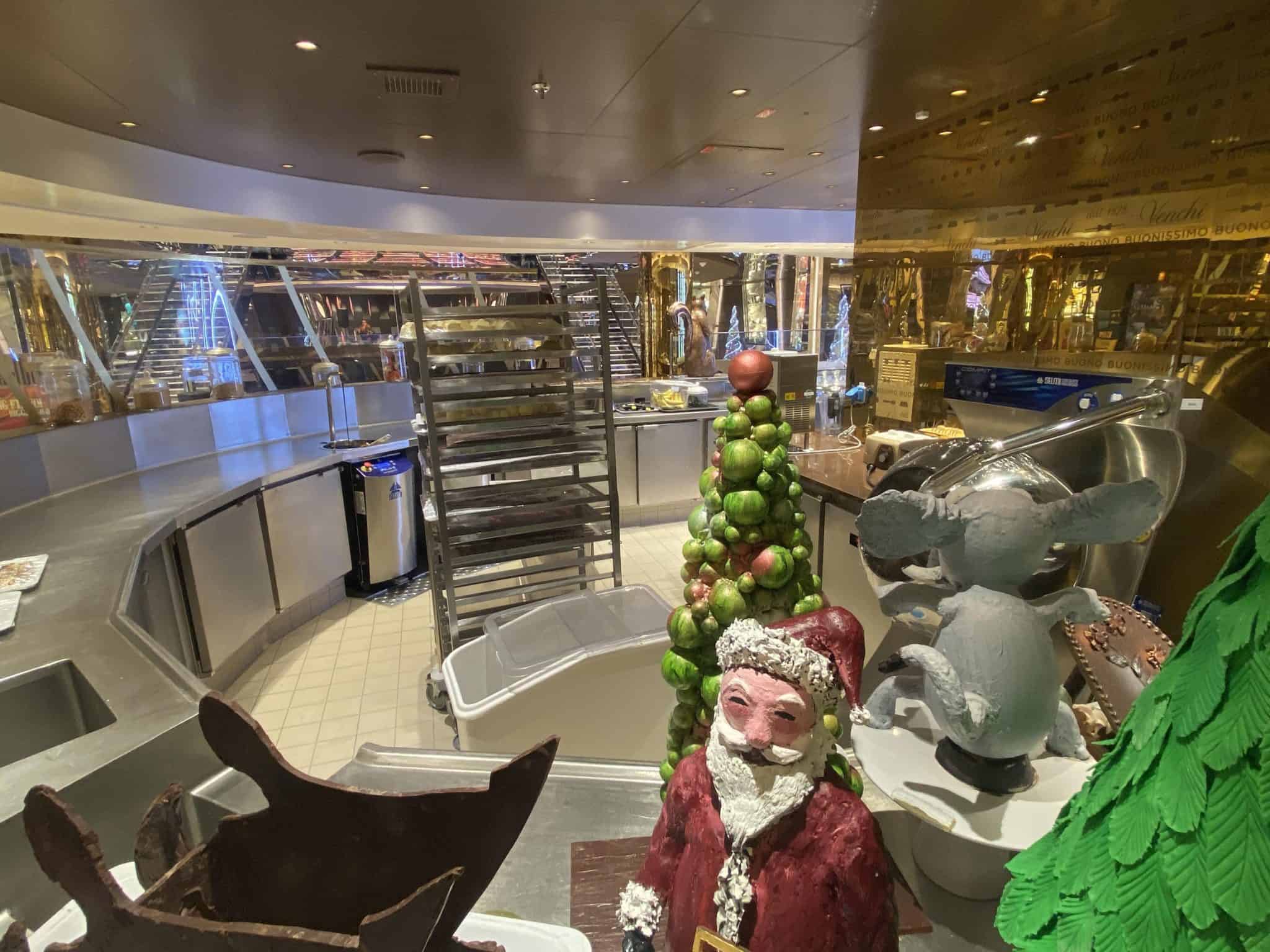 Then say "hello" to the Venchi 1878 Gelato and Creperie, the ship's second (but different!) Venchi location. Situated aft on Deck 7, this incredible space is THE place to get your Italian gelato and coffee treats. With MSC being an Italian line, they know how to make a fine coffee and a seductively smooth gelato. Even though this restaurant has an a la carte menu, you will not be disappointed with the quality or the taste.
15. Race in the F1 simulator
Looking for some competition with your friends or family? Try the F1 Simulator on Deck 7 where you can sit in the drivers' seat of an F1 race car and participate in a virtual reality race! Additional fees apply, but they are a small price to pay for the fun to be had.
16. Dine Al Fresco at the Marketplace Buffet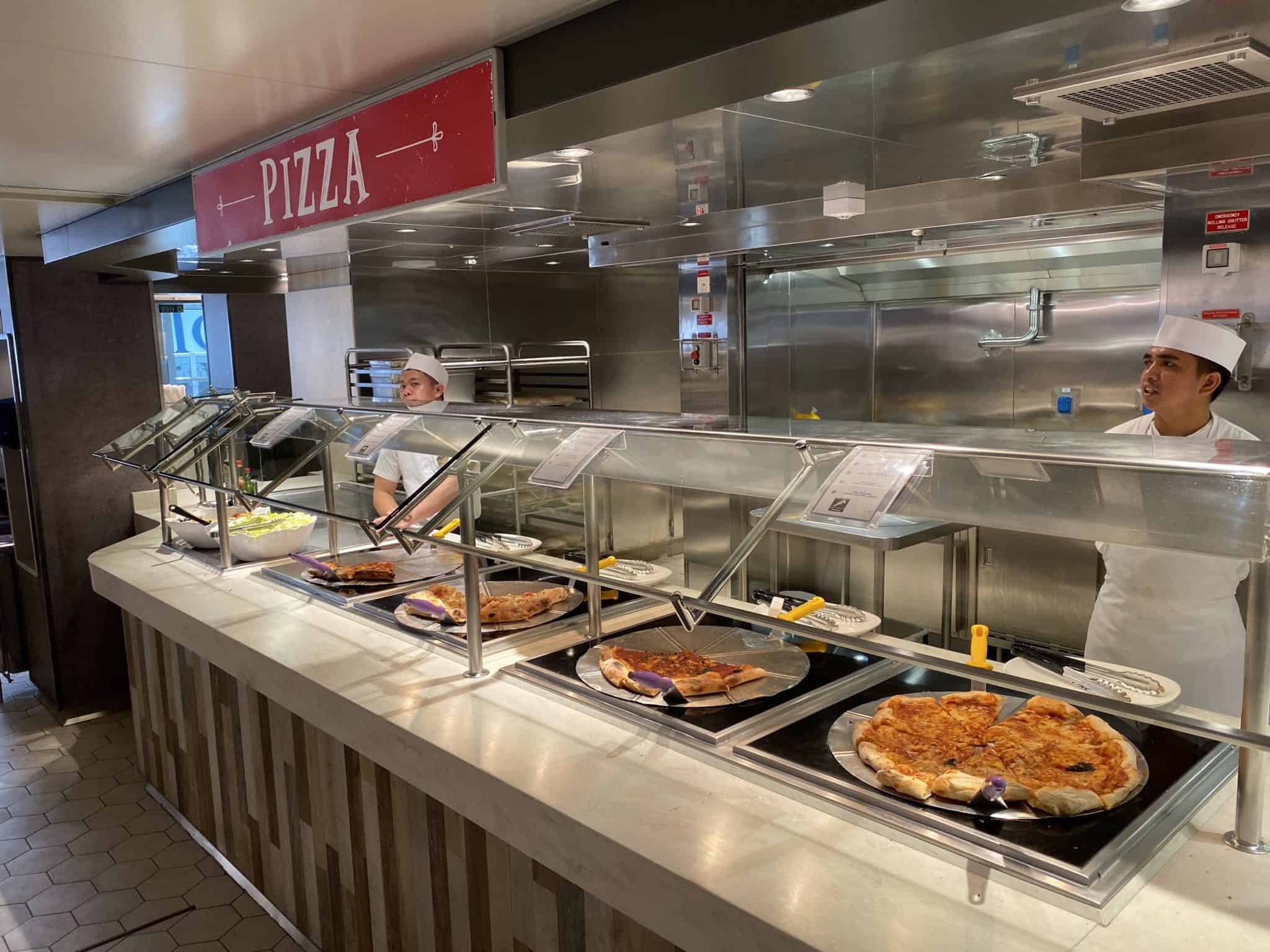 If you enjoy a lovely meal with a view, fill your plate at the Marketplace Buffet on Deck 8, and head all the way aft, past the food and outside. 
On the ship's rear is a fine place to enjoy your meal with sea views and gentle breezes. When you are finished, take the panoramic elevators up to deck 16 to enjoy the Miami pool and all the action there.
17. Pretend you're in Europe
This may be a Caribbean cruise, as MSC Seaside sails year-round from Miami, but the clientele is decidedly international. In addition, many announcements are in multiple languages along with English, such as Spanish, Italian, and French. Embrace it!
Enjoy the different cultures and foods, and maybe make some new friends. Who knows, you may end up in Rome one day, visiting with your new friends from the cruise. 
Michael York helped contribute to this article.