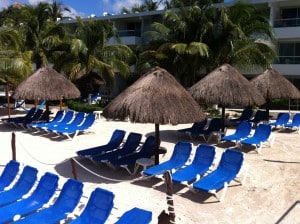 Cozumel has thousands of cruise passengers a day and offers a variety of things to do off the Yucatan Peninsula.
Over the past year of visiting Cozumel, I found the following things exciting and worth doing:
This resort is located to the left-hand side of the International Cruise Pier and you can't miss it. They offer a day pass for $15 that includes access to their resort, pools, cabanas, free wifi, bars, spa, and small beach with a snorkeling area. They also offer an all-inclusive pass for $45 for unlimited bar, food, and use of snorkel gear.
2. 12 meter America's Cup
Board a racing sailboat and experience what it's like to race in the America's Cup. You get assigned a position on the boat while you and your team work together to try to beat the other sailboat. This excursion lasts about three hours and ends with your own America's Cup of rum punch. You can book this through the ship and see our latest video here.
3. Isla Passion by Twister
Board a performance racing boat that does high-speed turns, jumps wakes, and heads to a private beach destination. When you get to all-inclusive Isla Passion you spend the day with an open bar, buffet, cabanas, chairs, kayaking, and water sports. After a day in the sun, head back to your cruise ship on the power speed boat but not before more high-speed turns. You can also get to the island by a catamaran.
4. Eat at La Choza
True Mexican cuisine that isn't far from the cruise terminals. Located four blocks from the Punta Langosta cruise terminal and a short taxi ride from the International Cruise Pier. A popular spot for cruise passengers and locals. Be sure to try their homemade guacamole and lobster fajitas. The average plate runs around $12 USD but filling. Credit cards accepted and free wifi. Check out their Facebook page for directions and details.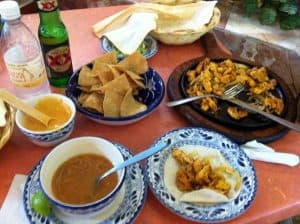 5. Take a ferry to Playa del Carmen
$13 each way ($8 kids), 45-minute ride right the 12 miles across, Punta Langosta Cruise Ship Pier, a couple miles from the International Pier (under $10 cab ride). Playa del Carmen offers shopping, golf, Mayan ruin tours, and dining in Little Italy. The ferry schedule is located here and operation hours can vary during extreme weather.
Whatever you do in Cozumel, just enjoy it. The information desks at the cruise pier can assist you in whatever you're looking to do.