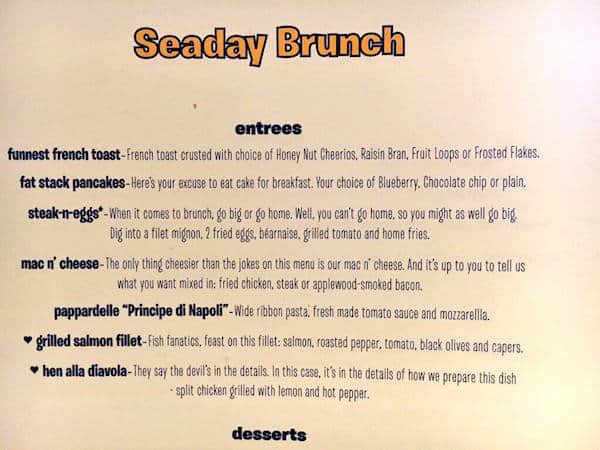 Although one peek at the menu should be incentive enough for anyone to try out the seaday brunch, there are other reasons to go too. Sleep in and take your time – a sea day means there's no rush to run off the ship to an excursion. So take our advice with these 5 reasons and stop by the main dining room on a sea day during your next cruise.
1. No Getting Up
Another plus to the seaday brunch is the fact that the main dining room staff wait on you the entire time, answering your every need. This makes enjoying a meal much easier than having to decide who is going to volunteer to get up for more food, coffee, juice, etc., while the other stays to save the table.
2. No Fighting the Lido Deck Rush
No one enjoys fighting the long lines at the lido deck breakfast buffet only to then wander around with a full tray of food in search of a free table. At the seaday brunch, let the crew do the work.
3. The Friendly Staff
For many cruisers, one of the best parts of a cruise is getting to know the crew. The seaday brunch gives cruisers another opportunity to interact with the crew in a way that the lido buffet or room service does not. The crew are always happy to entertain and usually have good stories to tell if they're willing, which is why building a relationship with them can make such a difference in your cruising experience.
4. Meet Friends
Although you can request your own table, the seaday brunch is a great time to meet new people, as the crew will often seat you at a table with others. Sharing your meal with other cruisers offers the perfect opportunity to make new friends and share your cruise experiences. You never know you're going to meet; you may just hit it off and make a lifelong connection!
5. And Of Course – the Menu Itself
Have you seen the menus for the sea day brunches on cruises? Carnival's features almost every breakfast food you could imagine – eggs benedict, omelets, French toast, a pancake stack, mac n' cheese with your choice of meat added, steak-n-eggs – and that's just to name a few. There's also a dessert menu featuring ice cream, cheesecake, banana cream pie, and a double chocolate brownie. With options like that, the food is just too good not to give the brunch a try.
Pin this: