There are a lot of things about your cruise that you can control, but weather, sadly, is not one of them. So no matter when or where you sail, there's a decent chance that you're going to run into some bad weather. And given that we are smack-dab in the heart of hurricane season, it's not surprising that every week finds cruisers nervously checking forecasts to see if their trips are going to be impacted. With that in mind, we thought this was a good time to remind everyone that there is no reason to let foul weather ruin an otherwise awesome vacation! With that in mind, we offer up these suggestions for ways to pass the time when the going gets rough!
1. Watch a Movie
Generally speaking, we tend to ignore the TV in our stateroom. But stormy weather offers up the perfect opportunity to stay in your pajamas, order room service, and watch a movie. Singing in the Rain, anyone? (We'd suggest The Perfect Storm, but that ending isn't exactly a feel-good moment for folks on a ship!)
2. Do Something You Normally Wouldn't
On any given day, there are plenty of events taking place on a cruise ship, and chances are good there are a few you've never had a bit of interest in. A friend of ours went to their first art auction when a shore excursion was canceled because of bad weather. A few rounds of heated bidding later, they'd procured both a new painting and a new hobby. Bingo, trivia, lectures. Trust us, you can find something that doesn't involve heading out into the elements!
3. Organize a Pub Crawl
We know what you're thinking: How can I "organize" a pub crawl when I only know the people I'm traveling with? Trust us: Go to, say, the atrium bar, let it be known to fellow imbibers that you're thinking of doing a pub crawl, and you'll have takers. Better still, you'll pick up others as you move from lounge to lounge. (You'll also likely lose some along the way, whether to booze-fueled naps or other distractions!) Those who are prone to wave-induced seasickness might want to make sure their cocktails are ginger based. Why not start with the appropriately named Dark & Stormy?
4. Get Wet
Some people opt to cancel their shore excursions rather than explore in bad weather. As far as we're concerned, if the weather isn't so bad that the excursion is canceled by the ship or tour operator, we're game! We'd just as soon not don one of those ugly plastic rain ponchos that scream "tourist", but if we think rain might be in the forecast — and we always assume that's a possibility — we make sure to have some appropriate all-weather gear. One of the best days we ever had was on a beach during a warm deluge. When the rain stopped an hour later, lesser mortals had fled… leaving us with the beach literally to ourselves!
5. Get Lucky
We mean hit the casino! But hey, you know what they say… "Don't come knockin' if the ship's a-rockin'!"
Pin this: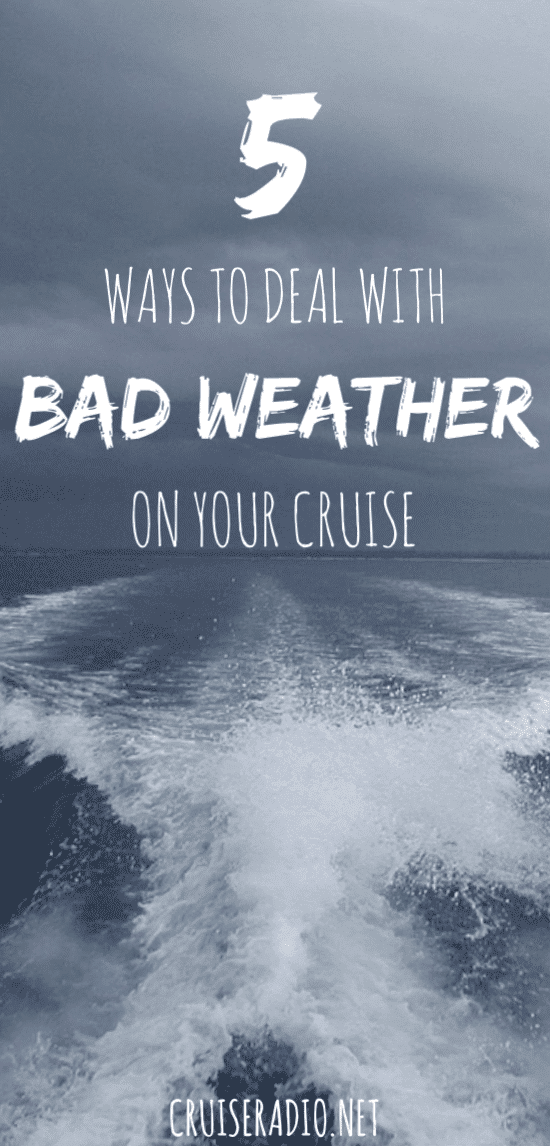 Photo used in Pinterest image: Kim on Flickr