Jumping into a taxi in a faraway land can be very daunting, especially if you're not even used to taking a taxi cab in your own city. Most taxi drivers in the Caribbean are very friendly, but that doesn't mean they don't like to make money. So, before you jump into a random taxi at your next Caribbean port, consider these five things.
1. Negotiate the fare beforehand.
No one likes sticker shock. Before you sit down in the taxi, ask the driver flat out how much the fare would be. By the time you're in the cab it'll be too late.  This is even more important if you plan on taking a non-metered cab.
2. Make sure they take your currency.
Most islands in the Caribbean will accept US dollars, but check first. In a case where they don't accept USD, the driver may drive you to an ATM so you can take out local currency to pay him. You can pretty much bet on them never taking credit cards in the Caribbean.
3. Look for a taxi number or medallion.
Taxis are owned by private companies and are usually licensed to operate by a tourism board or local authority. These means that the company has been vetted and safe. I always take a photo of the license plate before I get in the cab.
4. Get taxi suggestions from port officials.
When the ships dock you will normally see a tourism or port official (welcoming committee) standing on the dock and answering questions you may have. Pull one aside and ask who the most reputable company to use is. The port wants to make the cruise ship guests happy so they'll be straight up with you.
5. Have a backup plan.
This is extra important if you're going a long distance and don't book a shore excursion. Dunn's River Falls in Jamaica comes to mind on this one. Make sure there is alternate transportation available if the cab doesn't show up. If you're going to a resort for a day, a beach, or a popular area, you'll find plenty of transportation options.
Final Thoughts
Although Uber and ride-sharing services are popular in some Caribbean destinations, I've never had first-hand experience with them there so I left them out. Keep in mind that using a service like Uber requires you to turn on your international data, and that could rack up your data charges on your phone.
My experience has been that taxi drivers in the Caribbean are very friendly and willing to help you make the most out of your day on the island. Remember, they make their dollars from the cruise ship. A lot of these destinations thrive on cruise tourism and want to keep the passengers satisfied.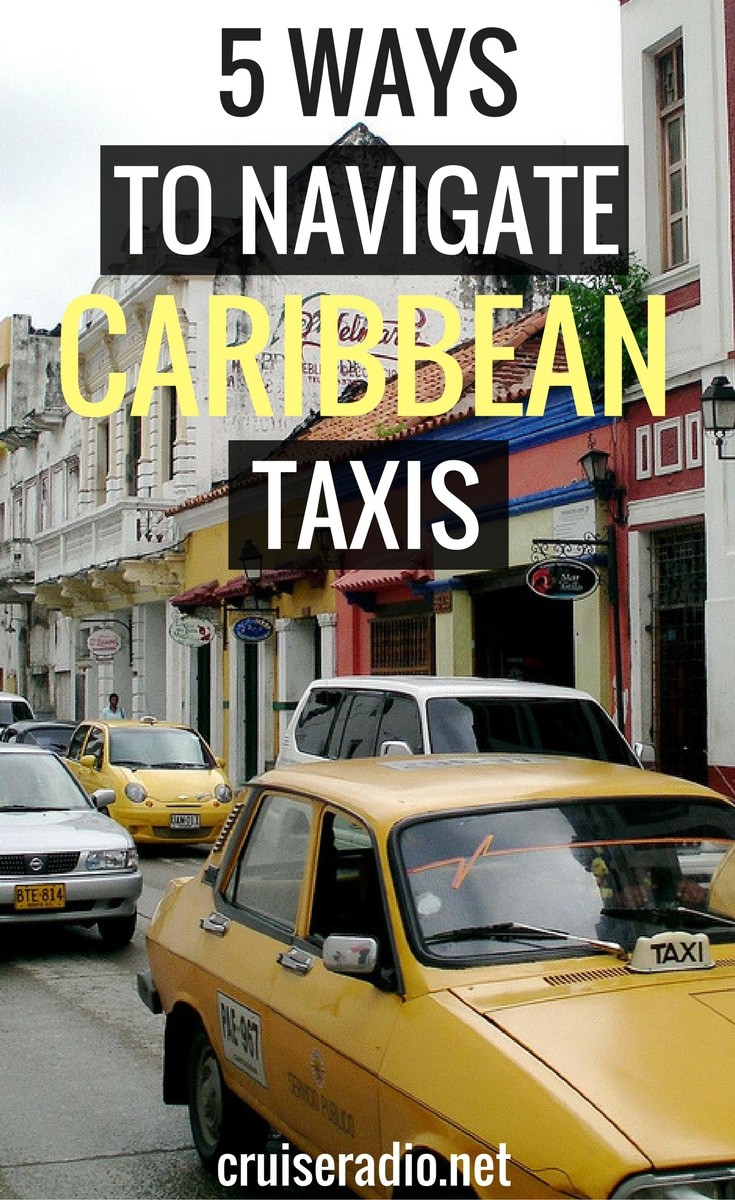 Featured/Pinterest photo: Flickr Creative Commons