UPDATE: Tuesday evening, Royal Caribbean's Twitter feed addressed the situation and how it would impact future sailings. "The incident," they said, referring to the crane which damaged Oasis of the Seas, "resulted in damage to the Aqua Theatre and some suites. Considering the situation and our need to complete the scheduled maintenance, we've only cancelled the sailings on 4/7, 4/14 and 4/21 in order to undergo repairs." It was also indicated that those on impacted cruises would receive both a full refund and a future cruise credit. 
A large construction crane toppled onto the Royal Caribbean ship Oasis of the Seas, which is currently undergoing a brief dry dock at the Grand Bahamas Shipyard in Freeport, Bahamas. Eight injuries have been reported, although it is unclear precisely how the incident took place and how it will impact the scheduled work on the ship.
Why The Ship Is Now Listing
— Bahamas Press (@Bahamaspress) April 1, 2019
Details are scarce as to exactly how the accident happened, although one video uploaded to social media, and reportedly shot by a worker at the shipyard, offers the following explanation. "Working on the big Oasis, the ship collapsed, the dock collapsed, the crane collapsed," the videographer narrates.
"A couple of people might, I don't know, be missing. I was right there on the dock, working, and just missed it by the grace of God. Big accident, big accident. Something the shipyard will never survive from this one. Dock two is gone, dock two is finished. All the cranes collapsed. I've never seen anything like this in my lifetime."
Elsewhere, an anonymous source told The Tribune, "All hell is breaking loose because of this. The Oasis of the Seas was in dry dock and was too heavy or large for the dry dock. As they were lifting it the dry dock collapsed, along with the cranes and the ship."
What Royal Caribbean Is Saying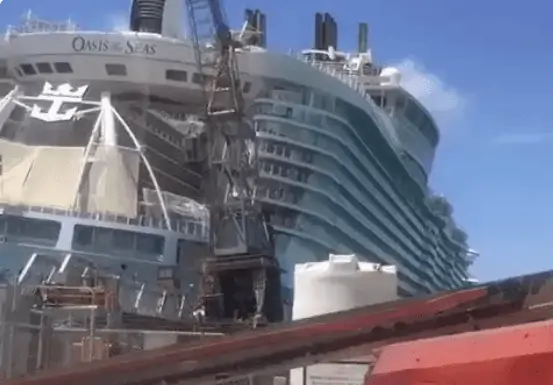 In a statement released to the media, Royal Caribbean said the following: "Earlier today, we responded to a site incident at the Grand Bahama Shipyard, where Oasis of the Seas is currently in drydock. Shipyard management has informed us of eight injuries, none of them considered life-threatening."
In response to passengers asking if upcoming sailings would be impacted, Royal Caribbean's official Twitter feed (@RoyalCaribbean) responded Monday evening, "We're still assessing the damage at this time, but we'll have more info within the next 24 hours."
Oasis of the Seas joined the Royal Caribbean fleet in 2009 and, at the time, set a record where capacity levels were concerned, carrying over 6,000 guests.