There's nothing like curling up with a warm bowl of soup or sitting down to a warm meal at the dinner table on a chilly day, right?
In the spirit of fall and the impending cold of winter, we decided to put together another article full of popular cruise line recipes — this time curated for this time of year. Most are main dishes, but you'll also find two soups and a delicious (alcoholic) hot chocolate.
Check out the dishes just below, and then click on the ones you want to view. We hope you enjoy!
Orange Cilantro Marinated Flank Steak | Hazelnut-Crusted Salmon with Maple Glaze | Gnocchi with Gorgonzola and Walnut Sauce | Split Pea Soup | Lobster & Ricotta Ravioli with Lemon Sauce & Arugula Oil | Spiced Tequila Hot Chocolate | French Onion Soup | Grilled Honey-Glazed Pork Chops
1. Orange Cilantro Marinated Flank Steak — Disney Cruise Line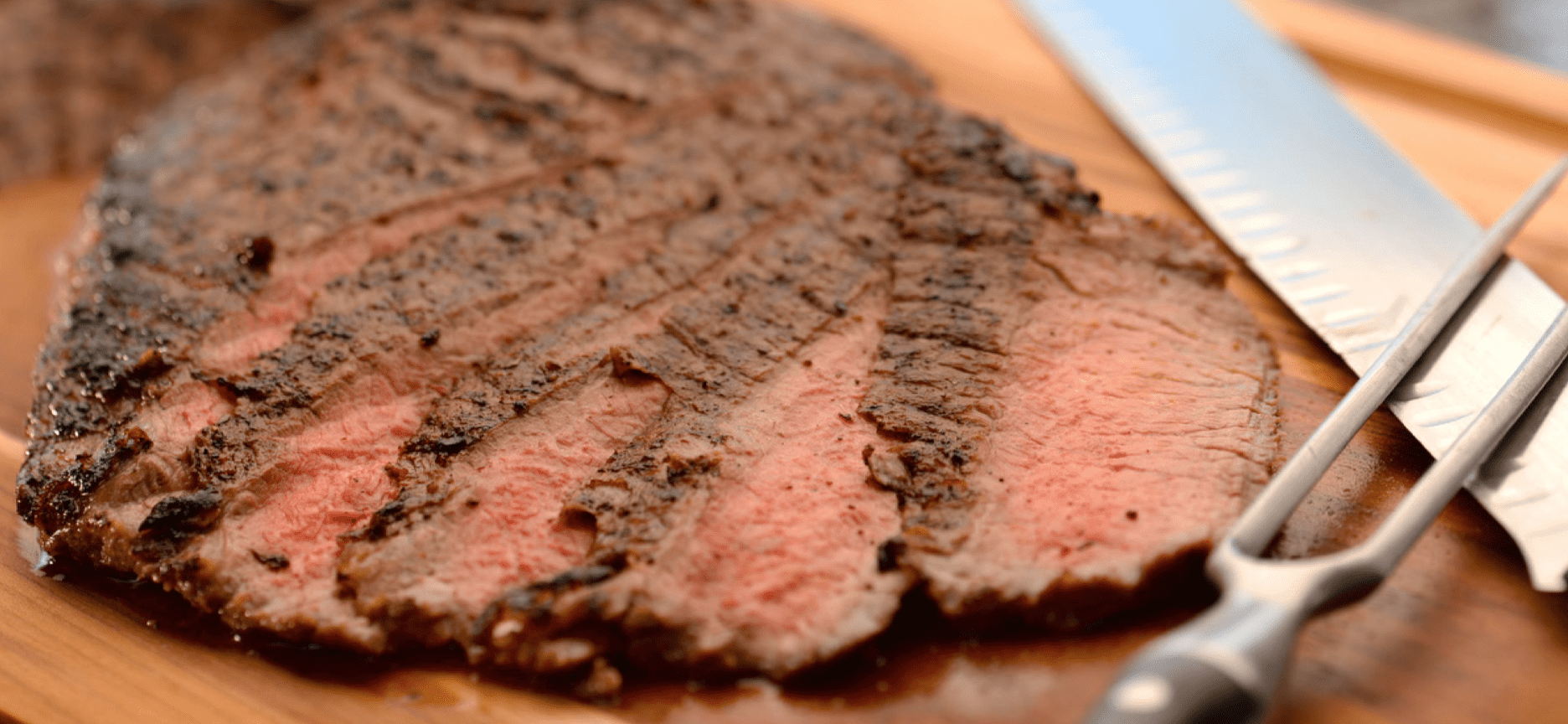 Serves eight.
Ingredients
Whole 6-pound flank steak
Marinade:
1 bunch cilantro, finely chopped
5 oranges, juiced and zested
4 tablespoons brown sugar
2 bay leaves
2 teaspoons ground cumin
2 teaspoons dried oregano
2 teaspoons dried thyme
2 teaspoons ground pepper
1 onion, roughly chopped
1/2 cup distilled white wine vinegar
1/3 cup vegetable oil
Chimichurri:
2 tablespoons bunch parsley, finely chopped
2 tablespoons picked oregano, finely chopped
2 garlic cloves, crushed
1 white onion, finely chopped
2 tablespoons olive oil
1/3 cup mil red wine
1 lime, juiced
1 tablespoon salt
Instructions
For the Marinade:
Place all ingredients in a blender except the vegetable oil.
Once blended, put into a mixing bowl and whisk in the vegetable oil.
Cover the flank steak with the marinade and marinate for 24 hours.
For the Flank Steak:
Remove the flank steak from the marinade and sear both sides on a griddle or pan.
Place on a baking tray and put into a preheated oven or grill at 320

° F for 10 minutes or until medium rare.

Remove and rest before carving.
For the Chimichurri:
Mix all ingredients together and serve as a side with the steak.
2. Hazelnut-Crusted Salmon With Maple Glaze — Princess Cruises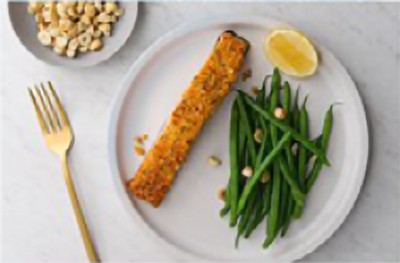 Serves five.
Ingredients
Hazelnut Crust:
1/2 cup blanched, toasted hazelnuts, plus extra for vegetable garnish
1/2 cup Panko breadcrumbs, divided
1/4 cup fresh parsley leaves, finely chopped
1/2 teaspoon smoked paprika
1/4 teaspoon salt
2 tablespoons unsalted butter, melted
Maple Glaze:
1/4 cup maple syrup
2 tablespoons Dijon mustard
1 tablespoon olive oil
1/2 teaspoon smoked paprika
1/2 teaspoon cumin
1/4 teaspoon chili powder
pinch of salt
Other:
5 (6 to 8 oz) salmon fillets
1 pound fresh green beans or haricot vert, trimmed
fresh lemon wedges
salt to taste
Instructions
Preheat oven to 400° F.
Place hazelnuts and 1⁄4 cup of Panko in smaller bowl of a food processor. Process until hazelnuts are ground to the size of breadcrumbs.
In a medium bowl, combine hazelnut mixture, the remaining 1⁄4 cup of Panko with the balance of hazelnut crust ingredients. Stir to combine.
In small glass bowl, whisk all maple glaze ingredients to combine. Reserve 2 tablespoons of maple mixture for green beans.
Spread crust mixture onto a large dinner plate. Brush salmon tops (skin side will be down) with maple glaze and press into crust to coat top. When all salmon tops are glazed and crusted, place on an oiled sheet pan, skin side down. Bake for 8 to 10 minutes, until top is golden and salmon is just barely cooked through.
Blanch green beans in a pot of salted boiling water for a few minutes. Drain; toss with reserved maple glaze and a squeeze of lemon. Salt to taste.
Plate salmon alongside green beans. Garnish with chopped toasted hazelnuts if desired.
3. Gnocchi with Gorgonzola and Walnut Sauce — MSC Cruises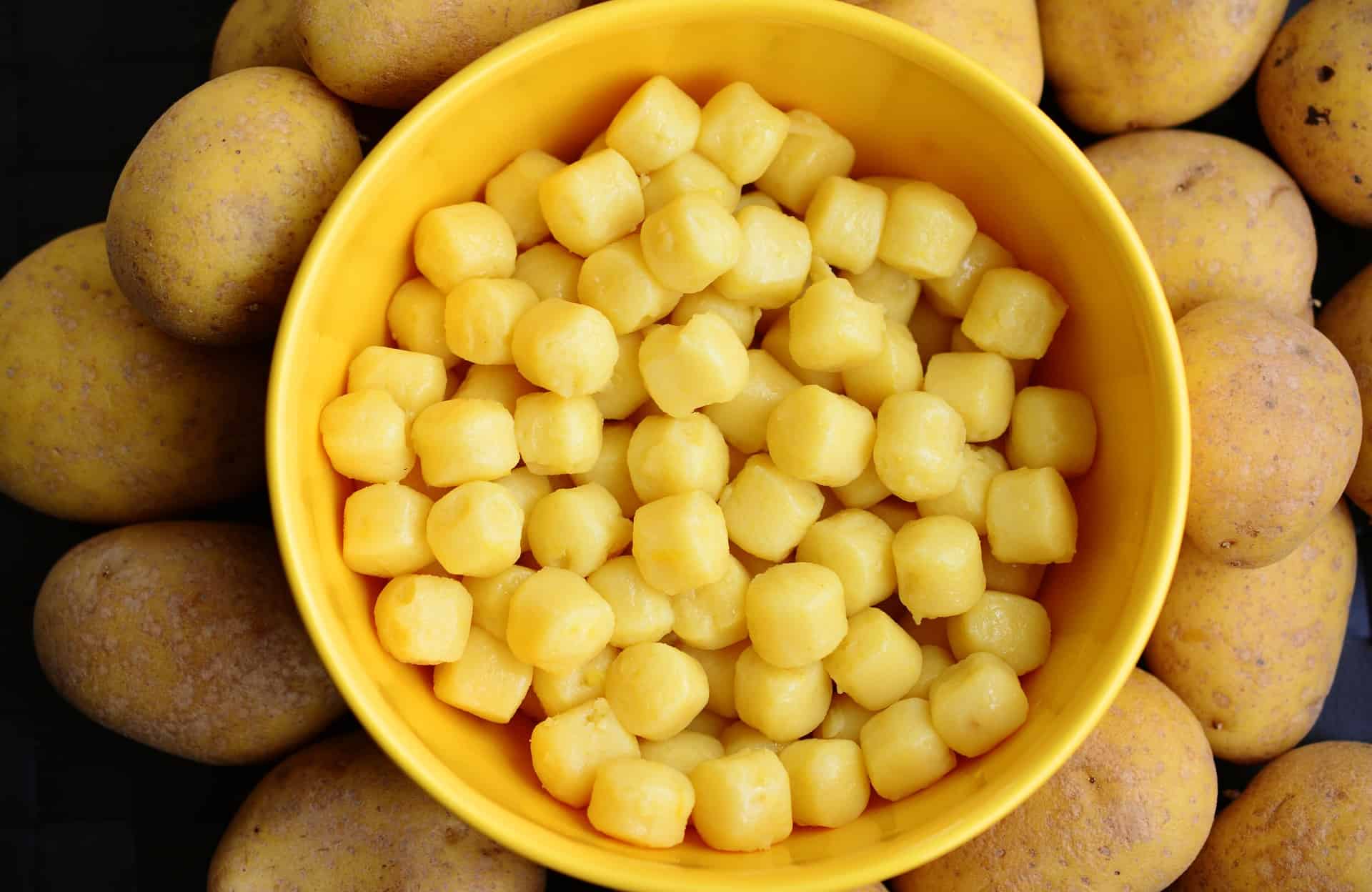 Serves approximately six.
 Ingredients
1 pound of potato gnocchi
3/4 cup heavy cream
3/4 cup gorgonzola cheese
1/4 cup toasted walnuts, chopped
1 cup béchamel sauce
To taste – spiced sweet paprika
To taste – salt
Instructions
Cook the gnocchi in plenty of salted water
Melt the gorgonzola cheese in a bain-marie with hot béchamel sauce, stirring until you get a smooth creamy sauce. Dilute with a little heavy cream and add the walnuts.
Make sure not to bring the sauce to a boil, keep the sauce warm, at a temperature no higher than 150

° F.

Toss the gnocchi with the gorgonzola sauce, and season to taste.
4. Split Pea Soup — Viking

Serves six to eight.
Ingredients
Soup:
1 1/2 pounds dried green split peas
2 1/2 tablespoons unsalted butter
3 large carrots, peeled and finely diced
1 large yellow onion, finely diced
4 cloves of garlic, crushed
4 oz ham, finely diced
8 cups of low sodium chicken broth
6 to 8 cups of water
Salt and pepper to taste
Garnish:
1/4 cup flat leaf parsley, chopped
2 oz ham, cut into thin strips
Instructions
Soak peas overnight. The next day, drain and rinse.
Place butter in a large saucepan over medium low; add carrots, onion, garlic, and ham and cook for 12 minutes, stirring frequently.
Stir in peas, then cook for 8 more minutes, stirring frequently.
Add chicken broth and six cups of water and bring to a boil over high, then reduce heat and simmer, stirring frequently to prevent the bottom from burning — this will be about 1 hr 10 minutes or until peas are very tender, skimming a discarding any scum that forms and adding more water if the soup thickens too quickly.
Remove about 1/3 of the soup and cool it for 10 minutes.
Purée the removed 1/3 in a blender and add it back into the rest of the soup, stirring to combine. Season with salt and pepper.
Ladle soup into bowls and garnish with parsley and ham before serving.
Recipe: Carnival's Official Warm Chocolate Melting Cake
5. Lobster & Ricotta Ravioli with Lemon Sauce & Arugula Oil — Oceania Cruises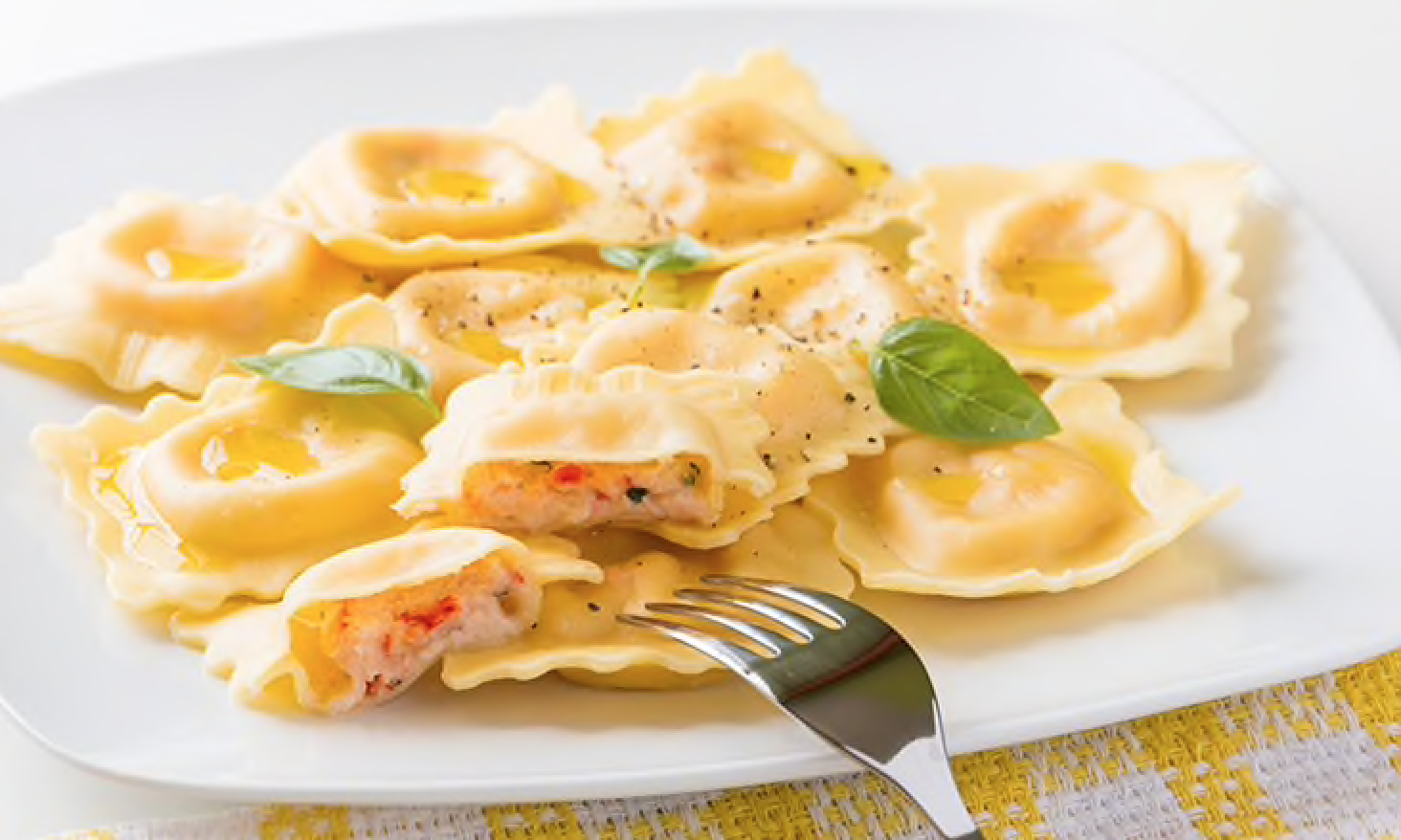 Serves four.
Ingredients
About 2 pounds of pasta dough, and three tablespoons of arugula oil
Arugula Oil:
1/4 cup olive oil
1 cup arugula
Basic Pasta Dough:
1 cup semolina
2 cups flour
5 eggs
Filling:
1/3 cup scallions, thinly sliced
3/4 cup ricotta cheese
1 lobster tail out of the shell, cut brunoise-style (7 oz)
1 teaspoon lemon zest
1 egg yolk
2 slices white bread, crust removed, cut brunoise-style
salt and pepper
Sauce:
3 tablespoons shallots, chopped
3 tablespoons butter
3/4 cup white wine
1 bay leaf
3/4 cup white chicken stock
3/4 cup cream
Juice from half a lemon
Salt and pepper
Instructions
Arugula Oil:
Heat the oil to 185° F. Add the arugula and cook for 15 minutes.
Blend, pass through a cheesecloth, cool down, and reserve in the fridge until needed.
Pasta Dough:
Arrange the flour in a fountain-style shape with a well positioned in the center of the pile.
Add the eggs to the well and mix vigorously until the dough appears to be smooth and slightly shiny.
Allow it to rest a minimum of 2 hours and cover to prevent it from drying.
Filling:
Combine all ingredients. Season with salt and pepper and mix well. Keep refrigerated.
Sauce:
Sauté the shallots in 1 tablespoon butter until translucent, then deglaze with white wine and add the bay leaf.
Reduce by three-quarters, then add the chicken stock and cream.
Reduce by half, then add the lemon juice and season to taste with salt and pepper.
Whisk in the remaining 2 tablespoons of butter.
Ravioli:
Roll the pasta dough to about 1 millimeter thickness and brush with water just to moisten.
Pipe the stuffing, cover with a second layer of dough and cut with a 6 centimeter cutter. Remove the air bubbles.
Place on a tray dusted with semolina.
To Serve:
Cook the ravioli in abundant salted water for about 2 minutes, skim out with a slotted spoon and place on an absorbent cloth to remove excess water.
Just before serving, blend the sauce until foamy and pour over the ravioli. Garnish with arugula oil.
6. Spiced Tequila Hot Chocolate — Oceania Cruises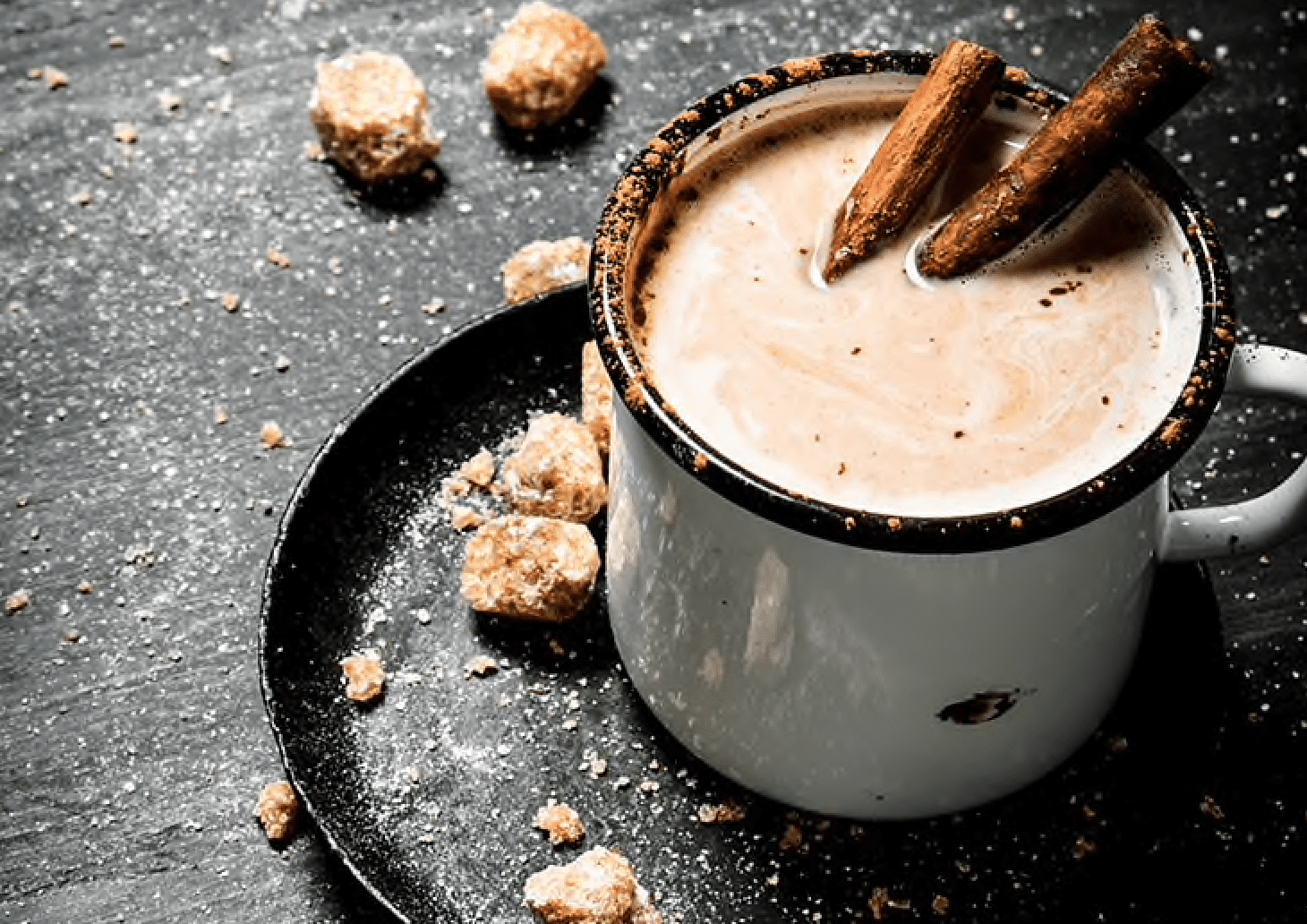 Serves two.
Ingredients
1/4 cup heavy cream
2 tablespoons powdered sugar
1/2 teaspoon mezcal
12 oz whole milk
2 tablespoons cocoa powder, plus more for dusting
1 tablespoon light brown sugar
1/2 teaspoon ground cinnamon
1/4 teaspoon ground ginger
1/8 teaspoon ground nutmeg
3 oz añejo tequila
Instructions
In a small bowl, combine the cream and powdered sugar and whisk with a hand mixer until soft peaks form.
Quickly whisk in the mezcal, adjusting the sugar and mezcal to taste as needed. Refrigerate until ready to use.
In a medium saucepan over medium-low heat, whisk together the milk, cocoa powder, brown sugar, and spices and warm to desired temperature.
Divide the tequila between two coffee mugs and add the hot chocolate.
Top with mezcal whipped cream and a light dusting of cocoa powder.
7. French Onion Soup — Oceania Cruises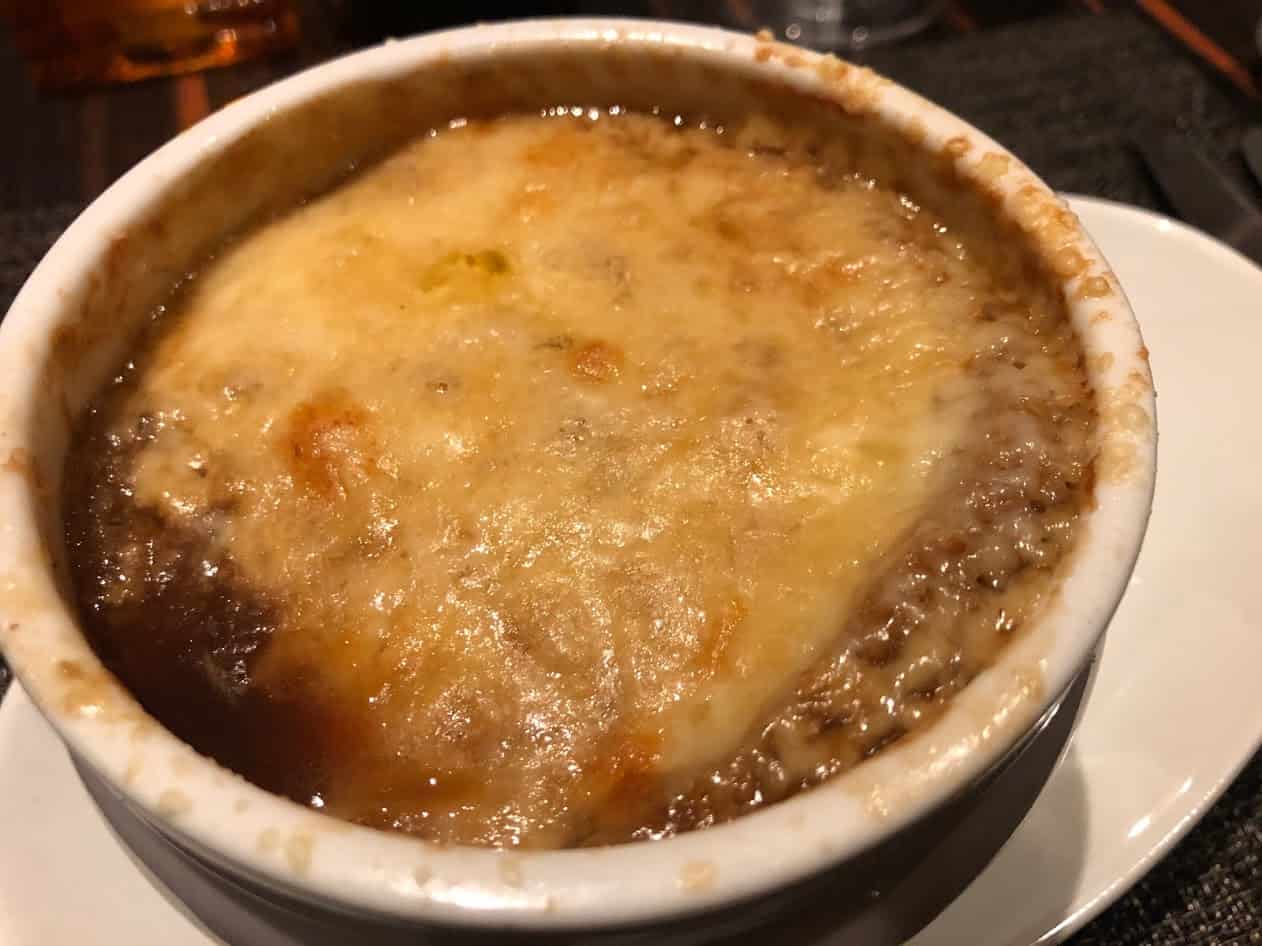 Ingredients
7 cups beef stock
3 tablespoons unsalted butter
9 cups thinly sliced onion (3 pounds)
3 thyme sprigs
2 marjoram sprigs
12 to 16 slices baguette, each 1/4 inch thick
Extra virgin olive oil
1/3 cup dry white wine such as Chardonnay
1/3 cup dry red wine such as Merlot
3 tablespoons brandy
3 1/2 cups chicken stock
Salt and black pepper
About 2 cups shredded Gruyère or Emmentaler cheese
Instructions
Pour the beef stock into a large saucepan and bring to a gentle boil over medium-high heat. Adjust the heat as needed to maintain a gentle boil and cook until the stock is reduced to 3 1/2 cups, 25 to 30 minutes. Set aside.
In a stockpot or soup pot, melt the butter over medium heat. Add the onion and garlic and cook, stirring often, until the onion is translucent and a light golden brown, 15 to 20 minutes. Reduce the heat to medium-low and cook until the onion is a rich brown, lowering the heat as necessary to prevent scorching, 45 minutes to 1 hour.
Meanwhile, place the thyme and marjoram sprigs on a small piece of cheesecloth and tie into a sachet. Preheat the oven to 350°F.
Select 4 flameproof individual serving bowls. Using the bowls to judge how many slices you will need, lay enough baguette slices to cover the openings of all 4 bowls on a sheet pan. Lightly brush the baguette slices on both sides with olive oil. Place in the oven and heat, turning once, until dry, about 5 minutes on each side. Do not allow the bread to color. Set aside.
Add the white wine, red wine, and brandy to the browned onion, bring to a simmer over medium-high heat, and simmer, stirring occasionally, until the alcohol evaporates and the onion is glazed, about 5 minutes. Add the sachet, the reduced beef stock, and the chicken stock and bring to a simmer. Keep at a low simmer, uncovered, for 1 hour. Season with salt and pepper.
Preheat the broiler. Place the serving bowls on a small sheet pan. Ladle the soup into the bowls. Top with bread slices, and then top the bread slices with enough cheese to cover the bread completely and extend to the rims of the bowls, about 1/2 cup for each bowl. Place under the broiler until the cheese is bubbling and toasted.
8. Grilled Honey-Glazed Pork Chops With Braised Red Cabbage, Roasted Pear, & Sweet Mashed Potatoes — Celebrity Cruises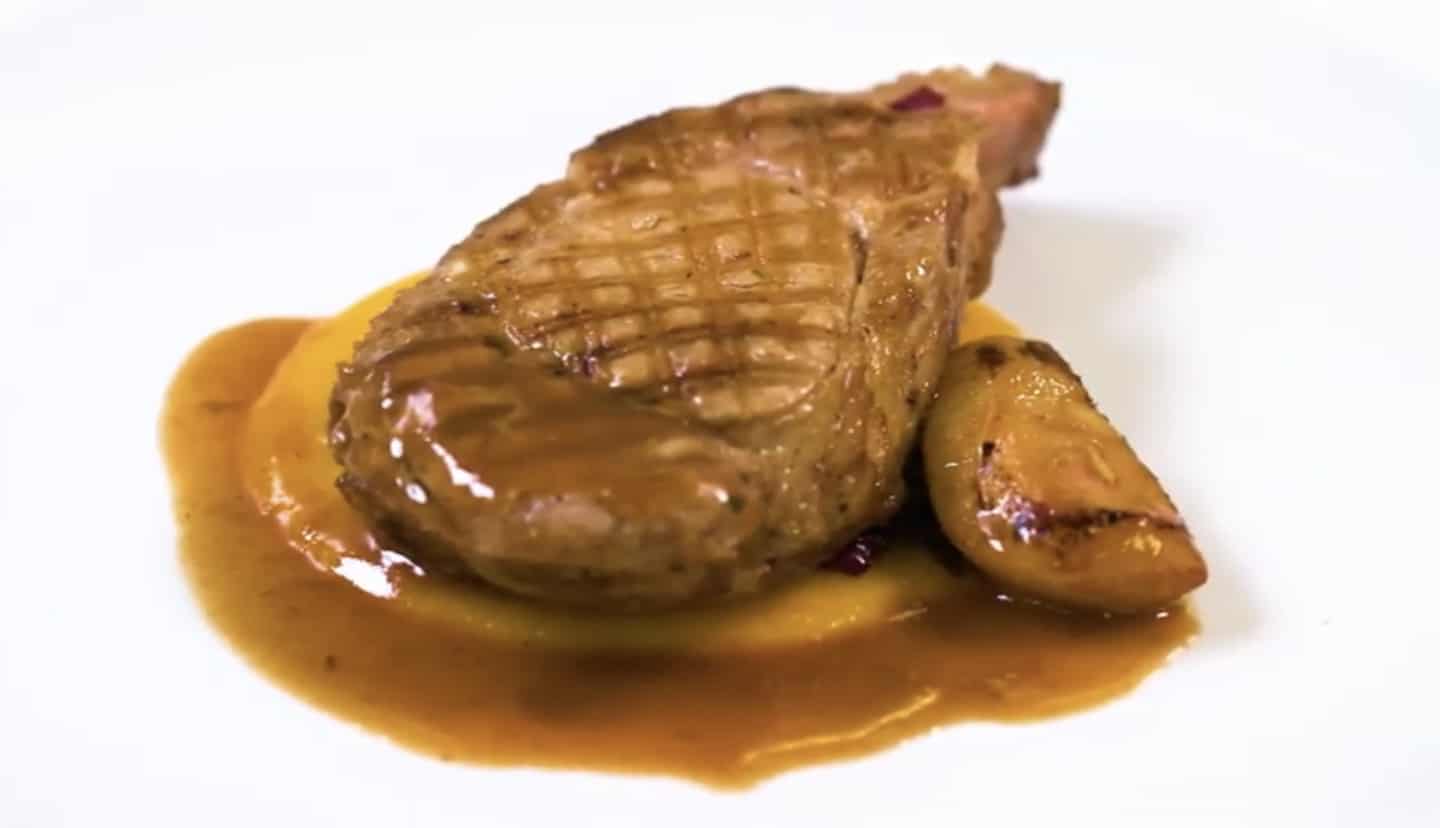 Serves five.
Ingredients
Pork Chops:
5 pork chops, Frenched bone-in
1/2 cup honey
Salt and pepper to taste
Braised Red Cabbage:
3/4 pound red onions, fine Julianne
1 pound red cabbage, fine Julianne
3/4 cup white sugar
3 cups red wine vinegar
1 1/2 oz red wine
1/2 cinnamon stick
1 whole star anise
Salt and pepper to taste
Roasted Pear:
1 1/2 pounds pear, peeled, cored, and cut into wedges
1/2 cup honey
1/2 pound butter
Sweet Mashed Potatoes:
1 1/4 pounds sweet potato, peeled and cut into 1 inch cubes
3/4 cup heavy cream
1/2 teaspoon pureed garlic
1 1/2 oz salted butter
1/4 teaspoon white pepper
1/4 teaspoon sea salt
1/4 teaspoon nutmeg
Honey Pork Juice:
1 1/2 cup pork jus
1 1/2 oz honey
Salt and pepper to taste
Instructions
Pork Chops:
Season the pork chops with salt and pepper.
Sear on grove grill.
Brush with honey and bake in oven until the center reaches 145° F. If you prefer well-done, cook until center reaches 165° F.
Braised Red Cabbage:
In a large pot, heat up olive oil, then add onions and red cabbage and sauté until halfway cooked.
Add remaining ingredients, simmer and stir.
Remove cabbage and reserve the liquid. Reduce remaining liquid until it has a syrup consistency. Once desired consistency is reached, add liquid to the cabbage and mix until well-coated.
Roasted Pear:
Marinate the pear with honey and butter.
Cook in the oven at 350° F for 5 minutes, or until tender and golden.
Sweet Mashed Potatoes:
Steam peeled potatoes in combo oven until fully cooked.
Add cooked potatoes to tabletop mixer with paddle attachment and mix.
Add hot cream to the potatoes and mix until completely incorporated.
Once mixed, remove from mixer and reserve for plating.
Honey Pork Juice:
In a small sauce pot, add pork jus and honey, and simmer until desired consistency is reached.
Adjust seasoning.
Plating:
Place sweet potato puree in the center of the plate.
Add the cabbage over the puree.
Arrange the pork chop leaning over the cabbage.
Place pear close to the pork chop.
Spoon sauce over and around the pork chop.
READ NEXT: 10 Cruise Ship Dessert Recipes You Can Make With Your Family
Pin it!