Want your kids to be extra invested in your family cruise? Get them to help plan it! Kids spend their lives being told what to do, which can turn them grouchy and defiant, even when you're planning fun activities for them. A little input goes a long way to ensuring excitement about your upcoming family vacation at sea.
Here are a few ways to involve your whole family in the cruise planning process.
1. Ask the kids where they want to go.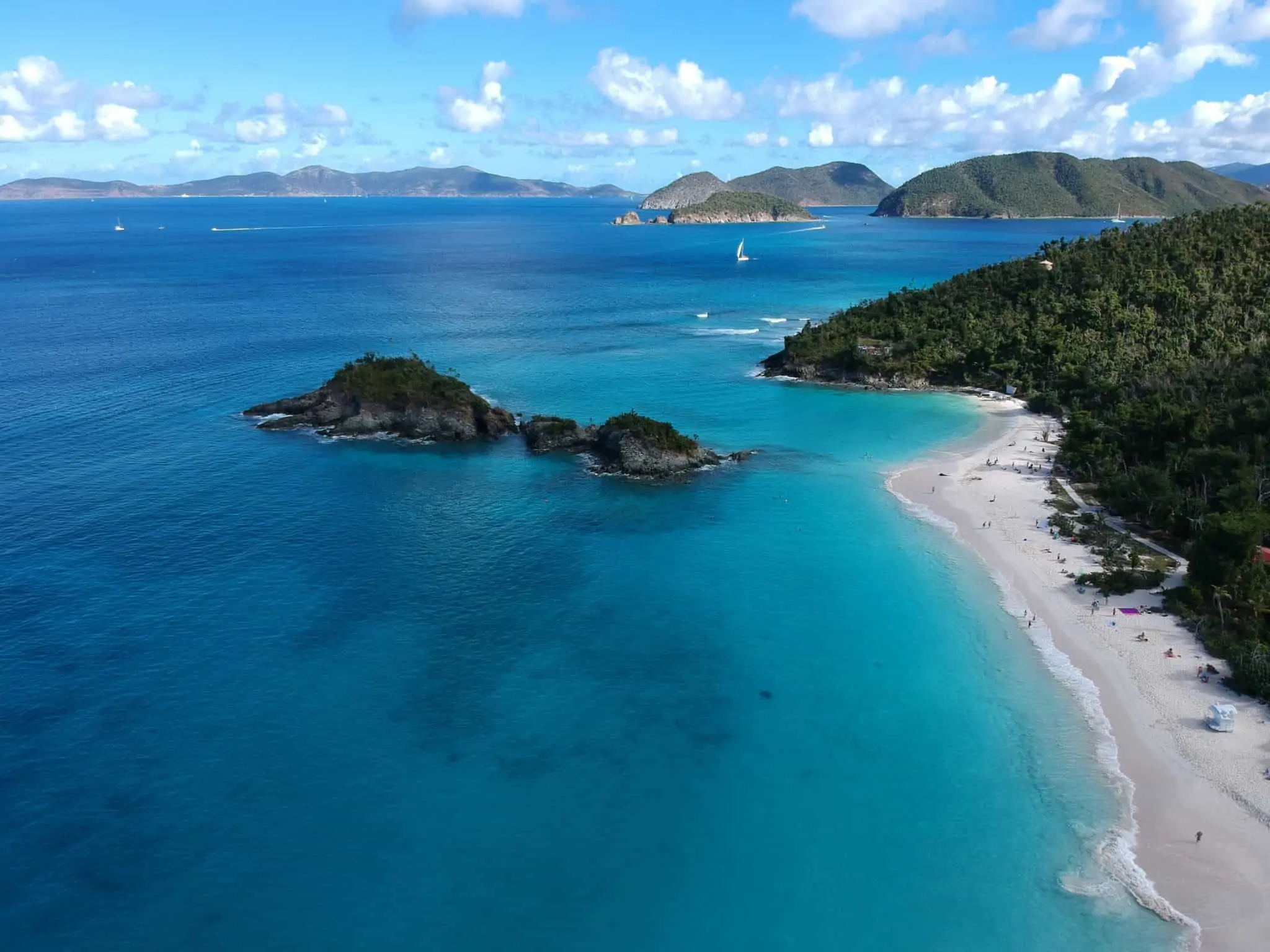 If you're debating between the Eastern and Western Caribbean, or a cruise to Bermuda vs. one to the Bahamas, seek out the opinions of your children. Don't give them the entire cruise brochure, or they'll demand to be taken on a 14-day South American odyssey. Instead, let them look into the two, maybe three, finalist itineraries, and weigh in on the pros and cons of each. Just be clear that parents get the final say in case your kids can't agree.
2. Let them pick the cruise ship or line.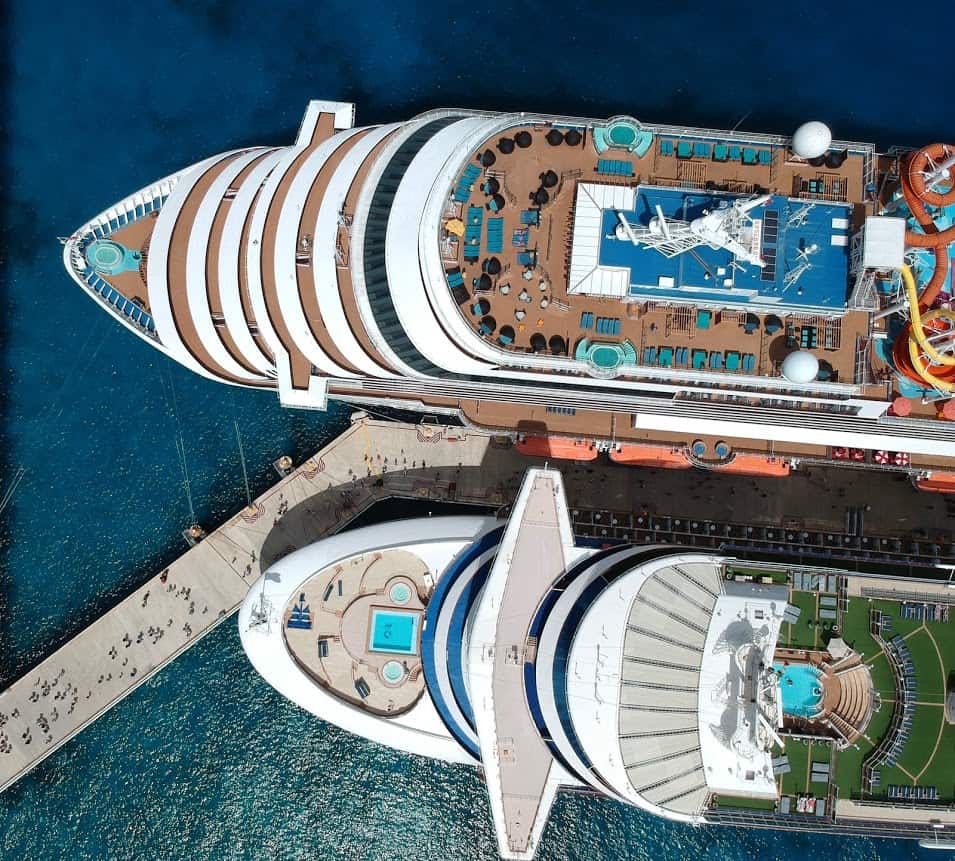 You think the bells and whistles of a modern Royal Caribbean ship are worth a splurge, but your spouse is pushing for Norwegian's Free at Sea inclusion package. Get the kids to resolve your stalemate. Perhaps they have strong opinions about top-deck options (surfing vs. go-karts) or kid's club locations. Not only will they be happy to have a say, but they might shed new light on the choices that help you come to a final decision.
3. Get their say on sleeping arrangements.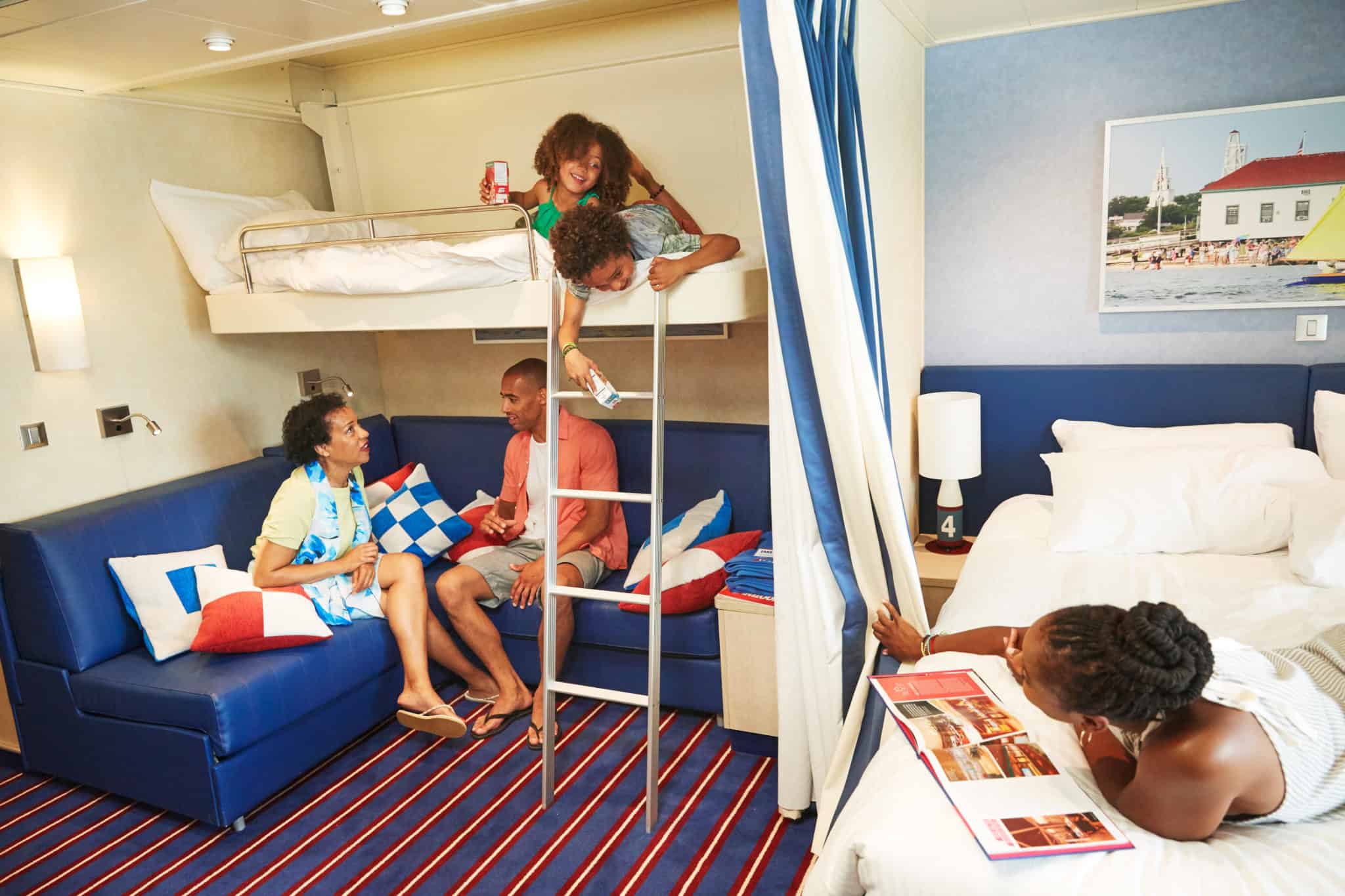 When planning a cruise, the first thing you do is pick a ship and itinerary. After that, you'll need to pick your cabin(s). Families have a few options when it comes to standard cabins. Along with the regular beds that can be separate or pushed together to create a queen bed, there are a few other options for kids: pull-out couches that turn into beds and pull-down beds from the wall or ceiling that are sort of like a top bunk bed. Some cabins will have both.
If you can't imagine squeezing yourselves and two kids into one regular cabin, there are other considerations. You could get a specifically designed family cabin that's got dedicated and private space for everyone, adjoining cabins that share an interior door so there's more room to spread out (keep in mind each cabin has to have an adult booked in it, though no one will be verifying the sleeping arrangements), or splurge for a suite for even more room. 
MORE: Carnival Cruise Line Family Harbor Staterooms 
Some specially-designed family cabins include the Family Harbor Suites on Carnival's Vista-class ships, which have two changing areas, a privacy curtain, and a dedicated lounge for families to grab breakfast and snacks. Many Disney Cruise Line staterooms were also designed for families —  boasting a split bathroom concept and privacy curtain. 
Your decision will be easier if you poll the entire family about the various choices. No matter what category you get, discuss the location that best suits everyone's needs, etc. If you have older kids who will be venturing out on their own, consider picking a memorable cabin number so they're less likely to forget it… think A111 vs R217. Seeing where you're going to be staying during the trip is sure to make the trip feel even more real and get everyone excited!
4. Make a cruise countdown.
If you search something like "vacation countdowns" or "vacation countdown crafts for kids" on Pinterest or Google, there are lots of ideas out there — whether they be printables or DIY projects.
You can start the countdown right when you tell the family about the trip, or wait until you're a month or two out to really build the excitement. You could even give the kids something on specific countdown milestones (like the three-week, two-week, and one-week mark) to use during the trip such as new sunglasses or a spiffy outfit to wear on a formal night. 
And let's be honest… the countdown wouldn't just be for the kids. Adults love countdowns too… even the Shipmate app has a countdown clock to count the days (and hours!) till it's time to set sail.
READ MORE: 11 Family Theme Parks Near Cruise Ports
5. Make choosing shore excursions a family affair.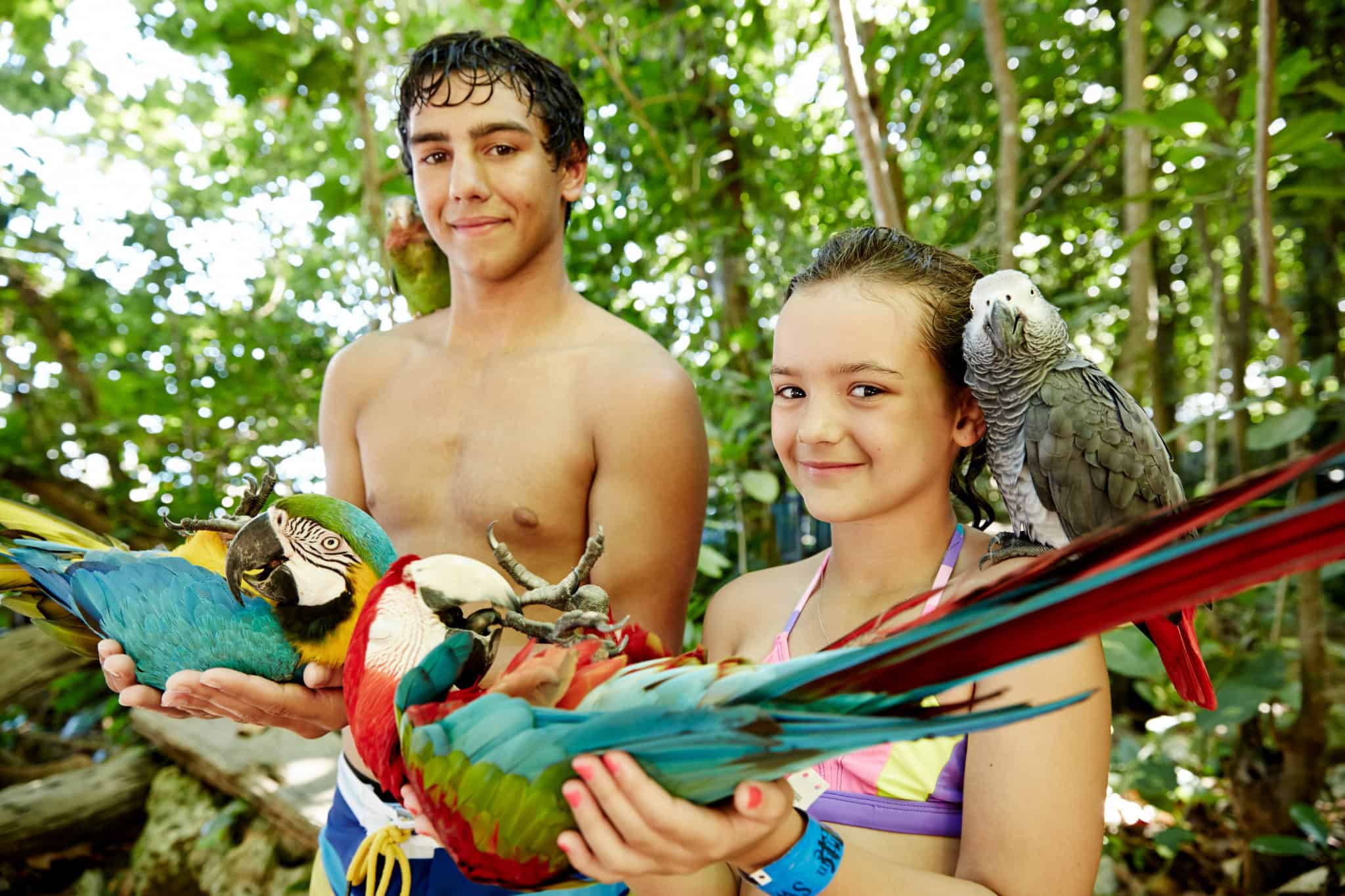 One of the best ways to get the kids involved is to choose your shore excursions together. If members of your family have different ideas of what a day in port should look like (for example, a beach day vs. zip lining vs. a historical tour), working together to ensure that everyone gets a bit of what they want will make the trip that much better. 
A great way to do this is to look for shore excursions that include different activities.
For example, many sightseeing tour excursions also offer time at a beach. Riding quads through a nature preserve might also include a lesson on local culture and wildlife. You could also let each family member take charge of a port day during the cruise, so everyone gets the chance to do what they really want. 
Lastly, and possibly the best option for families who have very different interests, is to not take an excursion at all. Instead, map out an itinerary for yourselves and explore the port on your own. Shuttles, cabs, and other means of transportation are usually readily available to get to each point of interest you want to experience, and many ports are easily walkable, too.
6. Pick specialty dining together.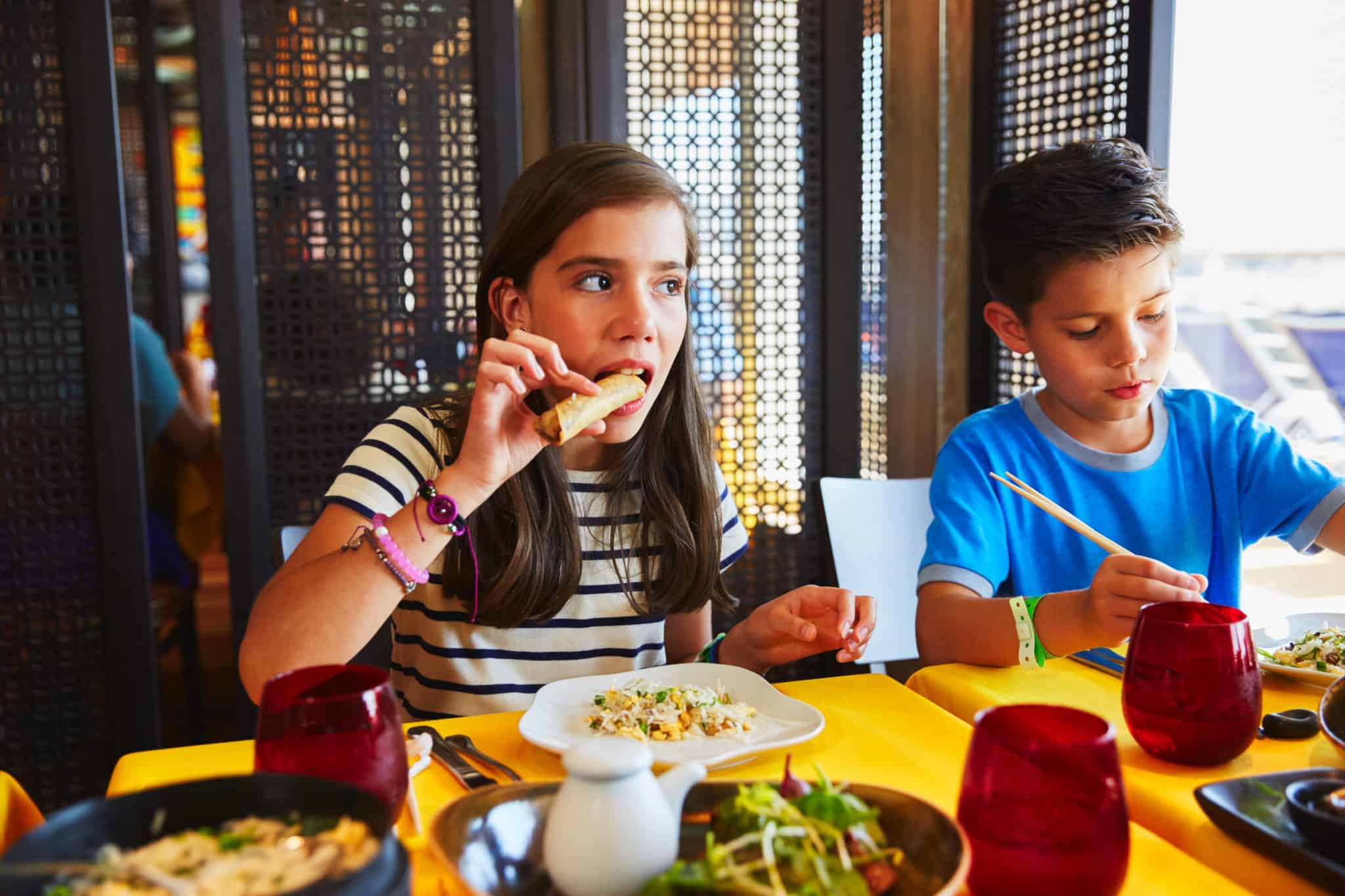 If you want to expand your horizons and try some specialty dining in addition to all of the included venues on your ship, think about involving your kids in that decision as well. This is assuming you will visit these venues as a family, although you certainly can drop your kids off at the youth club for an evening and have a special dinner to yourselves, too. 
If you plan to hit up specialty venues together, discuss the types of cuisine that everyone likes and go from there. If your family loves steak and potatoes, see about making a reservation at the steakhouse. Some ships have a lot to choose from these days — everything from Mexican and Asian-fusion to Italian, Brazilian, and good ole American barbecue. The best part? Cruise ship specialty dining usually has a flat price, and kids are almost always significantly cheaper than adults.
7. Have them design family T-shirts or hats.
A fun cruise tradition is printing matching T-shirts or hats for your family to wear on embarkation day (or another day during the voyage) — perhaps to acknowledge a milestone celebration or group theme. Kids can be fickle about wanting to dress matchy-matchy with their parents, but you'll get more buy-in if you let your little artists help with the design. 
You could sketch out ideas together and then create a design based on those ideas to have printed, or go full DIY and use fabric paint and other materials to create your masterpiece yourselves.
We recommend that if you want all of the shirts to be the same, have a fun design printed. If you don't mind that they're different, let everyone get crafty! Among decorative elements, many families put their last name on shirts, followed by "family vacation" or "family cruise" and the year (or month and year if you cruise more frequently).
No matter how the kids help, they'll be more likely to dress the part if they have a say in what they're wearing. Don't forget to take a family photo the day you wear them!
8. Put kids in charge of door décor.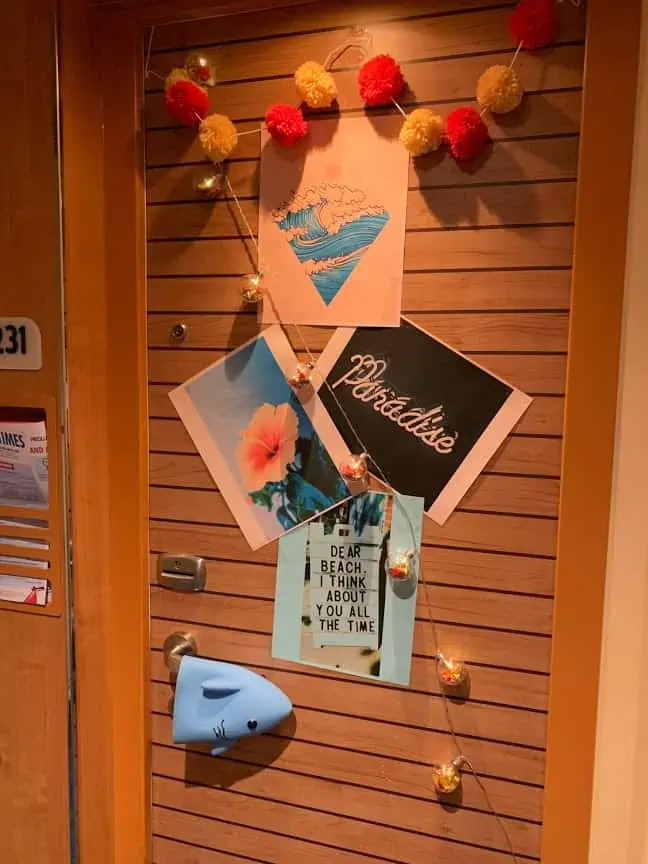 Does your family love to decorate their door or cabin on a cruise? This is a great way to put the kids in charge. Give them a budget for Etsy or Amazon, or have them design signs and posters to display. 
If you're going the DIY route, there are plenty of ideas to get you started online, or you can let the kids' imaginations run wild and see what they come up with. But before you do that, make sure to check your cruise line's policy on door decorations. They are generally still allowed, but rules have gotten more strict in recent years as to what materials can be used for them. If you aren't keen on the restrictions, consider buying some fun magnets to stick on the door — they're metal!
The great thing about making door decorations is not only that they are pretty, but they're another way to help your family identify your cabin. Those long, loooong hallways can get confusing, and it can be easy to forget your cabin number — especially since it's not printed on your cruise card for safety reasons. At the very least, if you know your hallway, you'll be able to find your cabin based on the door décor — which makes it a lot easier for kids, too.
We hope you'll be able to use some of these ideas to help get the entire family excited for your next cruise vacation!
READ MORE: The 7 Best Cruise Lines for Babies and Toddlers
Pin it for later!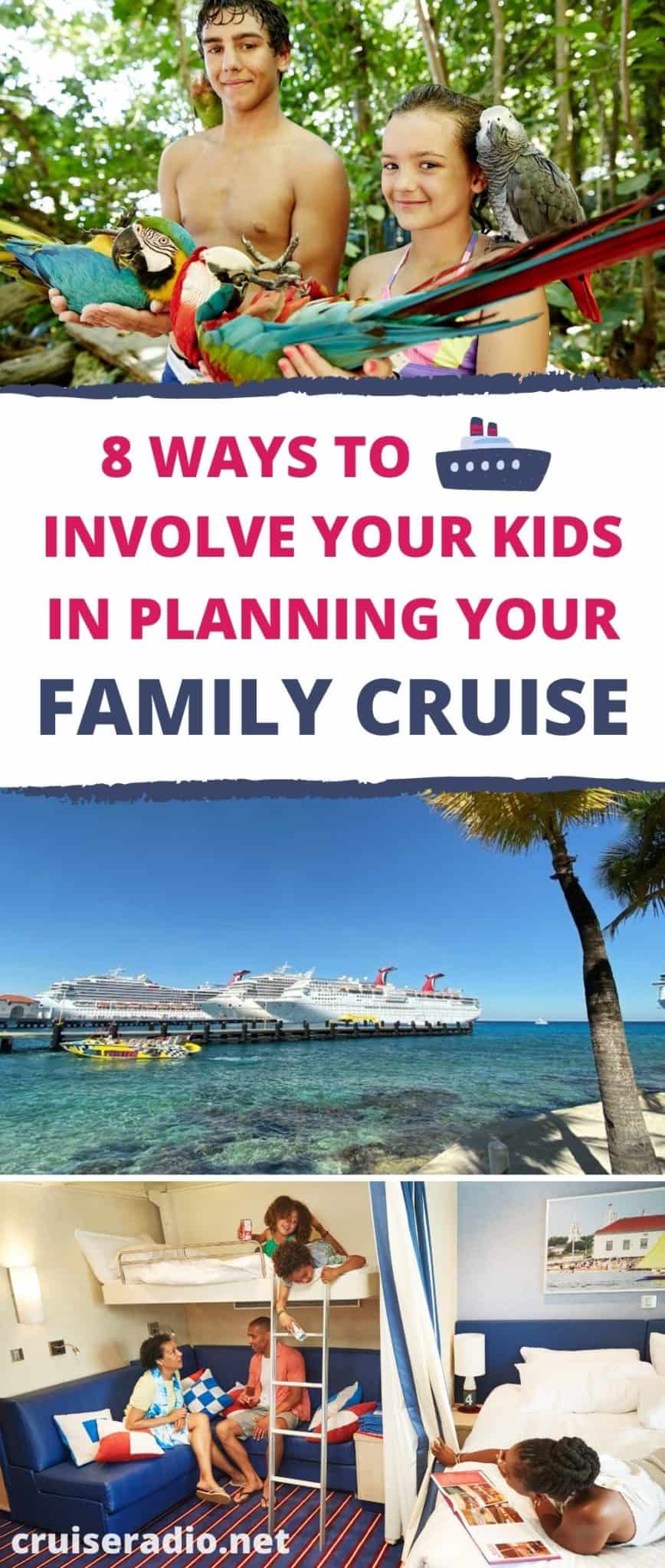 By Sarah Bretz and Erica Silverstein