Over the years of doing Cruise Radio I've come to realize one thing – there is so much cruise related material out there and only so many hours in a day! On my favorites tool bar I have some websites that I check on a daily basis. Not because I always agree with them (ahem, Jim Walker), but because they give a 360-degree unbiased insight into what's going on in the cruise world.
My 9 bookmarked cruise websites
1. John Heald's Blog. The senior Cruise Director of Carnival Cruise Lines started this blog about 10 years ago and is now carried over to his Facebook page. John gives insight of working on a cruise ship, answers day-to-day questions he gets and even addresses the occasional passenger bitching and moaning about the size of the shrimp cocktail and the brand of soap in the cabins. Overall it's very comical and worth a follow, if not for a virtual escape, for the comedic values itself.
2. Porthole Cruise Magazine relaunched its website this year with three new weekly blogs: The Monday Mantra blog, written by cruise writer, Judi Cuervo, is an honest, humor blog that appreciates — and pokes fun at — all things cruise related. Wednesday's Five Faves blog, written by Porthole editors and guest bloggers, provides a "best of" list on a variety of cruise topics from best bars to best onboard thrills. Fridays bring a cruise news blog by industry expert, Fran Golden, who sums up the week's latest cruise and travel news. Readers can also sign up to receive the weekly cruise newsletter via email.
3. ChrisCruises. Recently this lad has sold-out on sailing the big cruise ships and is hyper focused on luxury cruises and river cruising. Chris provides frank and honestly information on his cruise experiences. If something isn't good, he lets his readers know. You can always count on Chris to be accurate and dependable with his cruise vacation coverage.
4. Travel Pulse. I first met the cruise beat editor for TravelPulse.com at an industry conference in 2011, since then we've been great friends. Travel Pulse reminds me of a news-talk station always providing accurate, up-to-the-minute coverage you can count on. This website is a big resource for me when I cross check the weekly Cruise News talking points for the show.
5. Popular Cruising. Jason Leppert started PopularCruising.com as an independent cruise news website but recently moved into the video podcasting space. Jason is known for providing great video coverage and ship tours though his podcast feed and YouTube videos, with some of his videos exceeding 100,000 views. Jason also aggregates a number of cruise travel websites on his CruisingNav.com website.
6. Cruise Currents. This blog, formerly under the moniker Mikey's Cruise Blog, annoyed me at first because it was basically cruise gossip, little facts and all speculation. Mike Faust recently woke up, rebranded under CruiseCurrents.com and has redeemed his blog. You'll find onboard experiences, unique cruise vacation features sprinkled with cruise news and deals. Worth a look.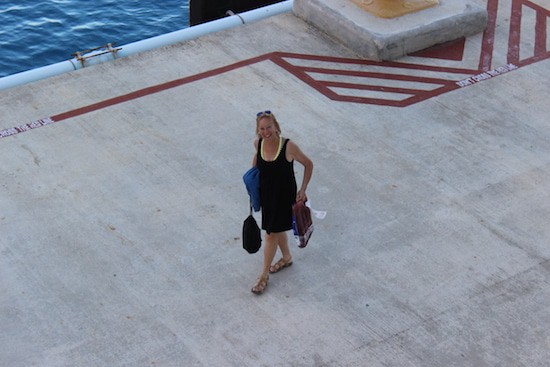 7. Cruise Maven. Sherry Laskin has traveled the world for the past 20 years without stepping foot on a plane. Every year Sherry sets sail over to Europe for a couple of months to check out the local river cruises, food, wine and lay of the land. I've had the chance to set sail with Sherry a few times and she's more than just a great photographer and writer, she's a great friend.
8. Cruise Law Blog. Jim Walker is a maritime attorney who used to represent the cruise lines and then jumped to the other side of the fence and started working for the people. This modern day Patrick Henry gives information on cruise ship evacuations, covers the cruise line health beat and is the first to call out the cruise lines when something goes awry. When Jim isn't pushing his agenda, he can be found moonlighting on 60-minutes, FOX News and the Today Show.
9. CruiseFever. I'm not a big fan of websites like Cruise Critic because they are filled with a lot of negativity on the message boards, trolls hiding behind a computer looking to cast their next spear. Cruise Fever is a refreshing site filled with cruise advice, port guides, and super detailed narrated videos that give walk throughs of cruise ships. Worth checking it.
Though these are the nine sites that I follow on a daily basis, I would be remiss if I didn't mention websites like the Royal Caribbean Blog, Disney Cruise Line Blog and Cruise-Addicts.
Have you subscribed to Cruise Radio yet? Subscribe to us on iTunes and check out our special cruise deals page here.