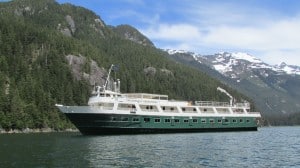 There are plenty of reasons why you want to cruise. There's the fact that you an break away from reality, see new parts of the world, meet new people and experience new things. Recently I had the opportunity to sail on Un-Cruise Adventures on a seven-night one-way sailing from Juneau, Alaska to Ketchikan, Alaska. I thought of over a dozen reasons to sail Un-Cruise Adventures before I went, now that I have actually sailed, I can easily double that.
1. No set schedule. You have a general outline of your cruise but there isn't a hard scheduled. You follow the wildlife and the weather. If there are a lot of humpback whales in the area then you very well could circle them for a while and change the plans.
2. Intimate atmosphere. While I love cruising the big cruise lines, there's something to be said about fewer people and the one-on-one service that small cruise lines bring you.
3. Be as active as you want. You have plenty of options when doing an Un-Cruise. You can hike, kayak, whale watch, bear watch, paddle board or just do nothing at all. That's the beauty of the Un-Cruise adventure. If sitting in the hot tub is your style, you can do that all week.
4. Go off the beaten path. You won't see a lot of the same ole islands on an Un-Cruise. A typical Alaska cruise out of Seattle may hit Juneau, Sitka, Ketchikan and Victoria, BC – not an Un-Cruise. Depending on your itinerary you may just hit one cruise port and the rest are spend going from cove to cover, or inlet.
5. Naturalists. The on-board naturalists can teach you everything from salmon spawning, brown and black bears, history or photography. Every sailing has experts that will inform you about the area and the habitat.
6. Activities included. With the exception of a couple of excursions, all activities are included in your sailing. So long are the days of paying every day for a different excursion. Plus, Un-Cruise has open paddle days when you can just take a kayak or paddle board off the back of the ship and you can do your own thing.
7. Great food and local ale's. One of my favorite things in Alaska (besides the scenery) is the food and ale. If you're sailing an Un-Cruise in Alaska, you'll have regional cuisine like salmon, halibut, crab legs, fresh greens and Alaskan beer from Alaskan Brewing Company. Alaskan Summer Style Ale is my favorite.
8. One-way sailings. If you really want to experience the ports without having to see the same one twice, Un-Cruise offers a one-way sailing
9. Off the grid. This was the hardest thing for my to accept but when you're on a Un-Cruise you will be off the grid, completely.  Depending on your itinerary you may have spurts of service but don't count on it. You're on an adventure cruise – you're supposed to be disconnected! Sometimes a detox from the iPhones, computers, TV's and internet is what you need to push the reset button.
These are just some of the reasons to take an Un-Cruise adventure. I had a blast on my cruise and was impressed – it was nothing like the boring misconception I had. Oh, and being off the grid is actually nice every once in a while.
Pin this: