Start planning (and saving) now, because this 2021 cruise around the world is the kind of voyage dreams are made of. Visiting 44 countries and six continents over the span of six months, the Around The World In 180 Days cruise aboard the Oceania Insignia promises to be the trip of a lifetime.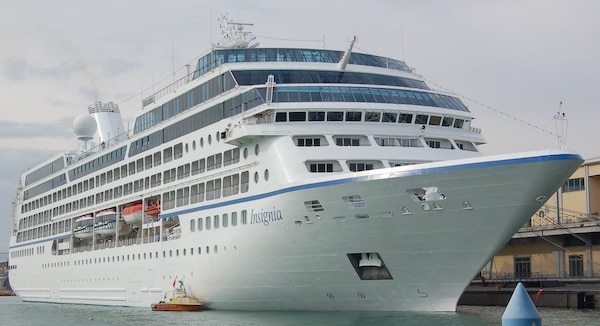 Where This Amazing Cruise Will Go
The ship will depart Miami on January 9, 2021 and arrive six months later in New York City. But in between these two destinations lies adventures on both land and sea, thanks to the ports of call and the incredible ship — which will literally be a home away from home for the guests who take part in this special journey.
"This is a landmark itinerary for Oceania Cruises," says the line's president and CEO, Bob Binder, adding that it matches "our famous onboard luxury with personal and profound visits to the world's most compelling destinations."
Thanks to the length of the cruise, passengers will have opportunities not only to relax like never before but also to truly explore some of the destinations. For example, they will have three days in both Yangon, Myanmar, and Istanbul, Turkey. There will also be overnight stays in Bora Bora, Cairns, Hong Kong, Saigon, Bangkok Singapore, Mumbai Dubai, Luxor, Jerusalem, Venice, Lisbon, Seville, and Bordeaux. All in all, the ship will call on 100 ports
As one might expect of so unique a voyage, there will be a series of exclusive shoreside events, including a visit to Alpamare Beach Resort (owned by Andrea Bocelli and his kin) during which a wine tasting and lunch will be held, followed by a visit to the family villa where Andrea's son, Matteo, will perform. And a visit to Dublin's historic 18th-century Mansion House will include a private performance by the Riverdance troupe.
About The Newly Refurbished Ship
The ship upon which this voyage will take place, the Insignia, is in and of itself a special destination… especially since it recently underwent a massive transformation. Virtually every space — from the staterooms to the four open-seating restaurants — was refurbished.The Insignia also features eight lounges and bars, a casino, and a world-class fitness center and spa. Each of the 342 suites and staterooms have been completely redone, and there are 400 professionally trained European crewmembers on hand to serve the approximately 680 passengers.
By now, you're no doubt wondering how much such an amazing trip would cost… and the answer to that question ranges from "probably less than you would imagine" to "possibly more than you can afford," depending on the type of stateroom selected. Beautifully appointed inside staterooms, at 165 square feet, run around $43,000 per person (again, remember, this is a six-month trip!) while the Owner's Suite — with its 1,000 square feet of room and teak veranda — comes in at $147,000 per person.
It's worth noting that a whole lotta perks are included in that price. For starters, each stateroom gets to choose between 70 free shore excursions, a free beverage package or a whopping $7,000 in shipboard credit. On top of that, there's free laundry internet and medical care. All specialty dining is included, as are Artist Loft Workshops.
For more information about Oceania Cruises, guests should call 855-OCEANIA (855-623-2642) or contact their preferred travel advisor.