Getting ready to set sail on Royal Caribbean's Anthem Of The Seas? Well, we couldn't let you get onboard without first arming you with a whole slew of tips, tricks, advice, and warnings.
50 Tips for Anthem of the Seas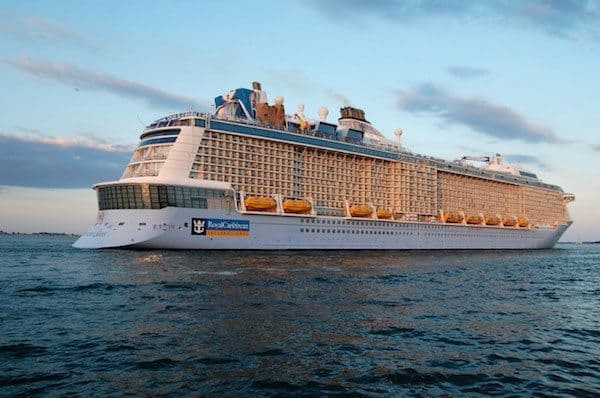 1. Don't be intimidated.
As you approach the ship, you can't help but be wowed by how humongous it really is. And that feeling will continue when you step onboard and onto the Royal Esplanade. And yes, it'll take you a day or two to figure out where everything is. But exploring – and getting lost – is half the fun of sailing on a new ship.
2. Make reservations in advance.

Anyone who suggests you "wing it" on this ship is not your friend, especially if you're traveling with a group of people. Can a single person walk into Two70 at the last minute and find a seat for one of the popular shows? Possibly. Can a group do so? Unlikely.
3. Do not miss Spectra's Cabaret.
Speaking of reservations, Two70, and the shows hosted in this stunning venue, make sure to find out when Spectra's Cabaret is playing. Nothing you read or hear or see can prepare you for the actual show, which combines live performances and high-tech wizardry to create nearly two hours of jaw-dropping spectacle.
4. Book North Star before you board.
While some people report having been able to walk onto the popular attraction without a reservation, the odds of you being able to are pretty slim. And trust us, you do not want to miss this experience.
5. If you don't have a North Star reservation…
… check the daily Cruise Compass and head to the loading platform a little before the attraction is slated to open for the day. There's a good chance some folks will be no-shows if they had a little too much of a good time last night or simply decided to sleep in! But again, you should definitely make a reservation if you have your heart set on riding the North Star.
6. Be on time for your North Star reservation.
Show up late, and they'll likely have given your spot away. The Cruise Compass almost always includes a notation reading, "Arriving late for appointments will result in losing your time slot and we will be unable to re-book as we are at full capacity." This goes for not only North Star, but the iFly and Flowrider as well.
7. Time your Northstar experience to the view you want.
Figure out exactly where the ship is going to be at the time of your Northstar reservation. Do you want to see a particular port from 300 feet up, or would you rather take in the vastness of the ocean?
8. You will be charged for missed iFly reservations.
Because this is a crazy popular activity and they want to discourage people from canceling, those who don't show up will see a $25 fee on their final folio.
9. You will not "fly" the way they do in the commercials.
Those shots of someone doing tricks and soaring high in the iFly cylinder are real, but they aren't something you'll experience. Instead, at the conclusion of your session – during which you'll take a much more controlled flight about three feet off the ground – the instructors do a little hot-dogging for the enjoyment of the guests.
10. Observers will have almost as much fun as participants on the FlowRider.
Whether you know someone who is giving the surf simulator a try or just want to watch others, there are several benches on which to sit. Think of it as a peanut gallery where you will be able to cheer… although, if we're being honest, it's kinda more fun to watch people wipe out.
11. Make sure to sign up for the right type of FlowRider session.
You can ride a boogie board or try to surf standing up, but each is done at a different session. So when making a reservation, make sure that the time you sign up for features the style of water sport you're looking to participate in.
12. You have to check out pool towels… and are charged if they aren't returned.
When getting a towel at one of the stations near the pools on deck 14, you show your Seapass card. You can exchange the towel for a fresh one as often as you like during the trip, or you can return it each day and check out a new one tomorrow. But if your towel isn't returned by 11 p.m. on the final night of your vacation, you'll get a $25 charge to your shipboard account.
13. The ship features what might be the world's smallest lazy river.
It's probably not really considered a lazy river, but that is in essence what you'll find on the pool deck. A bit larger than a hot tub, it features jets of water which take kids (and the occasional adult) in endless, potentially dizzying circles. It's as odd as it sounds, and kind of ridiculously fun.
14. The scavenger hunt is a blast.
Generally held on sea days, the scavenger hunt will send your team scurrying about the ship seeking out specific things and asking strangers to help you achieve your goals. Check the Cruise Compass for the starting point.
15. Bingo can get crowded.
This is true for several events held in the Music Hall. But if you head upstairs, you can usually find plenty of seating up there – much of which will have a great view of the big screen on which the called numbers are tracked.
16. Bring your own Bingo blotter.
We all know that Bingo can be pricey on cruises. Want to save a couple bucks? Bring your own blotter or marker. Otherwise, you'll have to pay an additional $2 for one when you buy your Bingo tickets.
17. The Solarium Bistro is complimentary.
Because this lovely little spot is listed under "specialty" restaurants, many people wrongly assume there is a fee attached. The Solarium Bistro is a nice opportunity to have a sit-down meal in a spot other than the main dining rooms without having to pay extra.
18. The Solarium Bistro is a bit different than other venues on board.
Upon being seated, guests here can get their own breads and appetizers from a decent-sized buffet, but order their main course from the waiters.
19. Late night food is tough to find.
If you're looking for something to nosh on after closing down the casino, your options will be incredibly limited. Sorrento's offers pizza until around 2 a.m., and there are munchies at the Cafe Promenade 24 hours a day. Otherwise, your best bet will likely be room service.
20. Anthem's internet service is pretty fantastic.
Voom is advertised as "the fastest internet at sea," and that's not just hype. The reasonably priced service is better than any we've encountered on a mainstream cruise line.
21. You can often get a bargain by pre-booking internet and other services.
Check Royal Caribbean's website regularly in the months leading up to your cruise. It's not at all unusual to find them offering 30 percent off on internet, beverage, and dining packages for the specialty restaurants.
22. They offer an all-inclusive photo package.
While it ain't cheap, the all-inclusive digital photo package could be a real deal if you're the type of person who will want all the pics the ship's shutterbugs snap. And because it's digital, it's perfect for sharing with family members and posting to the internet once you get home.
23. Always have your SeaPass on you when going ashore.
Whether the port is on American or foreign soil, you will need your SeaPass card to get on and off the ship. It's also wise to make sure you always have photo ID. They will make announcements at each port as to exactly what ID you will need, so pay attention. The information will usually also be printed on the front page of that day's Cruise Compass.
24. The most unique cocktails can be found at Boleros.
The bartenders here mix a mean drink, many made with tequila. But be warned… some of those drinks – such as the radioactive-looking Electric Island Breeze – are a lot stronger than they taste!
25. Watch the Cruise Compass for drink specials.
During our recent sailing, there were 2 for 1 margarita happy hours at Boleros and $1 mimosas in the casino on several days. These won't mean much to people with a beverage package, but for those without one, it can be a great way to grab a few drinks and save some cash!
READ MORE: 7 THINGS TO KNOW ABOUT ANTHEM OF THE SEAS
26. Keep your eyes open for pop-up stands selling drinks.
One morning outside Boleros, a bartender was making special spicy Bloody Marys. They weren't free, but they were covered by the beverage package… and they were pretty fantastic.
27. Your best bet for a late-night drink is the casino bar.
While Boleros, the Music Hall, and the Schooner Bar stay open fairly late, the casino bar, not surprisingly, tends to be the last place to close down.
28. You do not have to insert a special card into the slot machines to earn points.
Each time you sit down to play a slot machine, tap your Seapass card (or Wowband) where indicated on the machine. Once acknowledged, you can insert cash or have play charged to the credit card you registered upon checking in.
29. You can win a $500 onboard credit during a casino raffle.
On the second-to-last night of most week-or-longer sailings, they do a random drawing, the winner of which wins $500 off their folio for the week. To enter, make any bet of $1 or more and be sure to have tapped your SeaPass card so the machine recognizes you.
30. The Cruise Compass will tell you how well people are doing in the casino.
On the bottom right hand corner of the front page of each day's Cruise Compass, you'll find the Slots Payout. On the first day of your cruise, it will indicate how much was paid out by the casino on the ship's previous voyage.
31. The adults-only solarium is practically empty when the ship is in port.
Want to grab one of the loungers in front of the forward-facing wall of glass in the solarium? Get there early on a regular day, or wander in practically any time when the ship is in a popular port. You'll find the solarium a truly peaceful respite on those days.
32. There are "secret" observation decks just off the solarium.
On either side of the frontmost part of the solarium are doors most people wrongly assume to be off-limits. Push the button to open the door and step out onto a great little observation deck offering unique views and a great photo op!
33. The solarium really is adults-only.

We've all been on ships where kids are allowed to run rampant in areas that are supposedly reserved for those over 18. That did not seem to be the case here, whether because of the efforts of the staff or the fact that passengers didn't seem shy about "helping" enforce the policy.
34. There is no self-service laundry available.
Like most ships, you can have your laundry sent out to be done if you find you didn't bring enough to get you through the cruise. Want to save a little money? Watch the Cruise Compass for discounts on having a bag of laundry done.
35. You can get breakfast as early as 6 a.m.
While the Windjammer buffet opens at 7 a.m., and Cafe Two70 (more on that spot in a moment) opens at 7:30 a.m., you early birds can swing by the Cafe Promenade for breakfast bites as early as 6 a.m. If you're looking for a sit-down breakfast, you'll have to wait until one of the dining rooms opens at 8 a.m. (It's usually the Grande, but check the Cruise Compass just to be sure!)
36. Vintages is a great spot for a quiet drink.
We were genuinely surprised by how often this fantastic little wine bar is virtually empty. Sometimes, there were more people sitting in the venue reading or playing cards during the day – when it wasn't open – than in the evenings! But if you're looking for a nice spot for a pre or post-dinner glass of wine, Vintages can't be beat.
37. The Bionic Bar is kinda badly situated.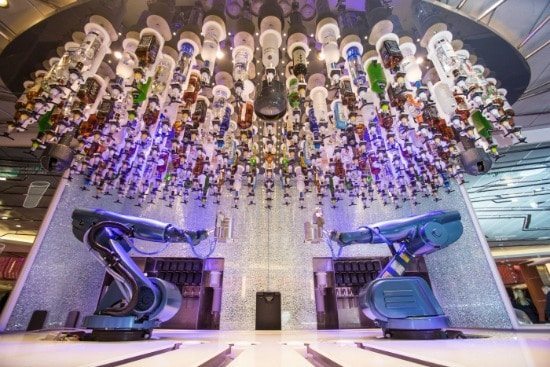 The big appeal of this bar – at which robotic bartenders mix up your beverage – is watching the machines do their thing. And yet the way the space is laid out means people sitting at the few tables in the bar have their view pretty constantly blocked by the flow of passengers who are passing through.
38. Cafe Two70 is perhaps the best complimentary venue on board.
Paninis, soups, and a great selection of salads make this a perfect venue for quick snacks or a sit-down lunch. Plus, the best seats in the house are only steps away in Two70, probably the most gorgeous spot on the entire ship.
39. Wonderland is a must-do for foodies.
While it is most definitely not for everyone –  fussy eaters will want to stay away – this is one of the most unique restaurants you'll find on a cruise ship. In our book, this is a great way to kick off your trip on the first night or end it on the last.
40. Avoid the Royal Esplanade during sales.
Whether it's an opportunity to look at designer jewelry or taste free booze, this area can become crazy congested whenever there's a special occasion. On the plus side, if you want to avoid the crowds, it's pretty easy to do by either going up or down a level.
41. The daybeds on CocoCay are a bargain.
Located on the same beach as the bungalows – meaning far from the crowds on the main beach – the daybeds run around $100 bucks, hold up to four people, and include bottles of water, a delivered lunch (with a limited menu), mats for floating in the water, and more.
42. You can sometimes upgrade from a bed to a bungalow… for free!
The day we were on CocoCay, an attendant informed us that two groups who'd rented bungalows had canceled at the last minute. "If you want," they told us, "you can take one of the bungalows." While we passed – kinda digging the daybeds – the people in the daybed next to ours happily accepted the free "upgrade."
43. Make sure to order a Coco Loco while on the island!
The cocktail – sort of a mango slushy with rum – isn't available on the ship. Trust us, we tried to get one at every bar on board! You can order them with or without alcohol.
44. Yes, your beverage package works on the island.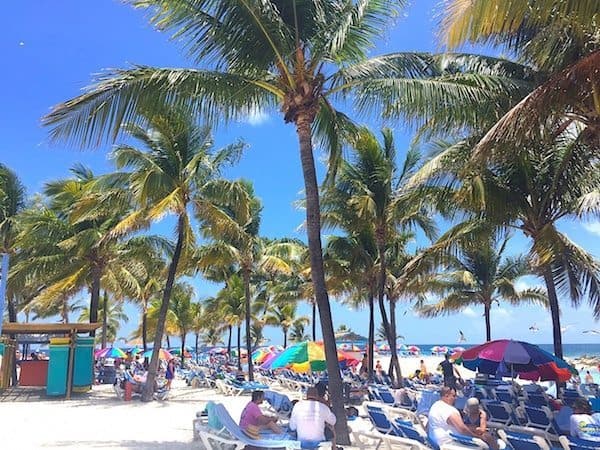 Be warned, however, that there are some specialty drinks sold on the island which are not included. So delicious as those rum-filled pineapples are, you'll have to charge them to your SeaPass card!
45. The Royal Champagne Brunch is hit-or-miss.
Yes, you get to take a behind-the-scenes tour of the galley, but how good it is will depend entirely on the chef who serves as your guide. Our group's guide was very friendly, but he was also very soft-spoken (not great for a loud environment like the ship's kitchen) and had a very heavy accent which made understanding what he was saying tough. The best part of the for-fee experience? Coming back from the tour to find appetizers from several of the onboard specialty restaurants, including buffalo chicken eggs from Wonderland.
46. The Champagne Brunch is definitely not for kids.
The menu is extremely limited with only two or three choices, and the children in our group were bored to death by the tour of the kitchen.
47. Chops is occasionally open for lunch.
Check the Cruise Compass daily, because on certain occasions – usually sea days – the steakhouse is open for lunch. At $19 per person, this is definitely worth checking out.
48. There is no piano bar on the ship.
You will, however, often find someone playing piano and singing in the Schooner Bar, which features a rotating roster of entertainers, most of whom either tickle the ivories or strum a guitar while crooning.
49. Keep your eyes open for the stowaway piano player!
Thanks to his piano-on-wheels, you never know exactly where this entertainer will show up. And we mean you literally will not know, as his appearances are so random that they aren't listed in the Cruise Compass. He might show up by the pool, outside a shop, or even in an elevator!
50. You won't go hungry for trivia.
Anthem's entertainment staff apparently knows that people like trivia… a lot. Even the day we were at CocoCay – meaning the ship was practically deserted – there were four different trivia sessions plus three quizzes, all offered in the Schooner Bar.
Got a tip you want to share with future Anthem cruisers? Hit the comment section with your best advice!