I recently read an article in my local paper debating whether or not it was tacky for engaged couples to ask for money towards their honeymoon. The debate was heated. On one side, people argued that "If they can't afford the honeymoon on their own, they have no business going on one!" Others argued that "It's their business how they spend their money."
Honestly, I was shocked at the debate. Perhaps because I myself had a "honeymoon registry" at my wedding. Had my wedding guests thought I was a tacky bride?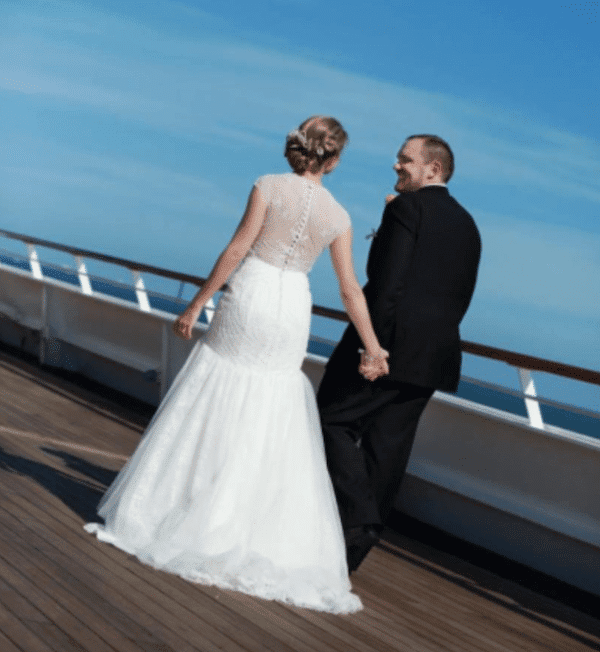 My husband and I got married last year on Carnival Freedom. As part of our cruise wedding, Carnival set us up with a Carnival registry directly related to our cruise. We could choose specific excursions, spa experiences, photo credits, drink package credits, general onboard credit, etc., for our wedding guests to purchase. If they chose to purchase any credit for us, it would be applied to our booking through Carnival.
However, we also had the "traditional" wedding registries set up through JCPenney and Amazon, so the honeymoon registry was not the only option for our guests. But, there weren't too many household items we desperately needed, aside from maybe some decent silverware. Not needing that many home goods, we agreed to set up the honeymoon registry with Carnival.
Those who cry "TACKY!" should know one thing first. We never expected others to pay for our honeymoon. And that's not the point of a honeymoon registry. We were always ready and willing to foot our own bill. The registry was there in case guests would like to choose to help us out in that way. We did have several guests purchase credit for us: some bought onboard credit and one bought an excursion for us. Again, we were not asking for any handouts. But by lessening the blow of our final bill of our honeymoon cruise, our guests in turn helped us free up more money to put towards paying off student loans or saving for a down payment on a house – things that were more important to us than a ceramic gravy boat.
That being said, there are always a few bad apples in every bunch. I'm sure there are rather ungrateful couples out there (to put it lightly) who set up a honeymoon registry and do indeed expect their guests to foot the bill. Yet, while I don't agree with their intentions, I would still argue that it's not tacky to ask for money for the honeymoon. To me, the point of a registry is to ask for what you need. If the couple feels they need some R&R on a dream cruise more than they need new pots and pans, then who am I to say otherwise?
Long story short, I don't think it's tacky to ask for money, whether it's for the honeymoon or something else. What I do this is tacky is expecting gifts – whether they're cold cash, home goods, or something else.