The mom who was told she couldn't board a Disney Cruise Line ship because she was too far along in her pregnancy was surprised by just how much attention her story got… and now, she wants to set the record straight.
"I Didn't Think There Was Any Concern"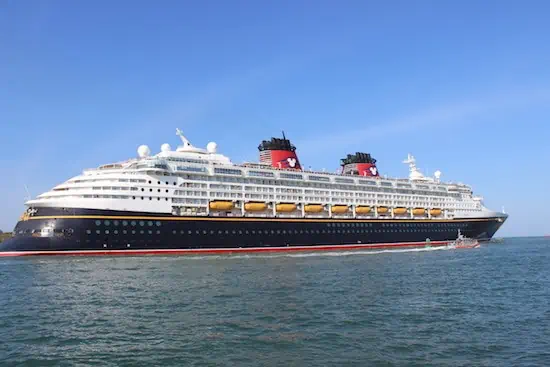 Vlogger Emily Jackson garnered more attention than she anticipated after posting a video detailing the circumstances under which she says she was not only prevented from boarding the Disney Magic but that her entire family was treated badly by Disney cast members and members of the Port Miami security team. Now, she has posted another vlog in order to answer criticisms leveled against her. Not surprisingly, the question asked most often was how the mom-to-be didn't know that Disney, like most major cruise lines, has a policy stating that women who have passed the 25-week mark in their pregnancy are not allowed on board.
"I first want to start off by saying I was not the one that booked the cruise," she insists. "That's all I'm going to say. I had no reason to be… concerned, just because I've never had any babies early or anything like that. I was just now 25 weeks. I didn't think there was any concern. My doctor had told me two days before I was fine to travel."
Although Jackson's family could have gone on the trip without her, they made the decision that if she was not able to board the ship, they would all return home together.
Clearly upset by some of the more negative feedback, Jackson says, "All these people are making it like I knew Disney had this policy and I was going on there thinking I was going to get on  anyways." Insisting she wouldn't have made the trip from St. Louis with her two small children if she'd thought there was even a chance of the family not getting on the ship. "I thought I was going on a vacation, so this was a huge surprise to me!"
Jackson's real issue, however, had nothing to do with being unable to board. "Forget the policy," she says. "That is not my issue." Instead, she says their problem was "how they treated us after that point."
Jackson's original post claimed that she and her family were escorted out by security guards armed with AR-15s and forced to wait in the heat while their luggage was retrieved. "I'm mad because they made my two babies, under two [years old], wait outside with no water in the heat and get red-faced. I'm mad about all of those things. The fact that they felt they needed AR-15s to escort us out when they knew we had no weapons because we had been through security."
The vlogger goes on to say that she never wanted the kind of attention this incident has created, although it's worth noting that her two cruise-related vlogs have garnered far more views than has anything previously posted on her YouTube channel. The family did receive a refund for their cruise fare, although they still had many additional expenses — including flights and rental vehicles — associated with the cancelled trip.