With the introduction of Royal Caribbean International's mega ship Wonder of the Seas came the debut of a brand-new specialty restaurant for the line: The Mason Jar Southern Restaurant & Bar.
The venue serves both brunch (select days from 10 am to 2 pm) and dinner from 5:30 to 9 pm.
Here is the full brunch menu, which has a flat fee of $25 per adult and $11 for kids ages 6 to 12. If you're looking for the dinner menu, head over here.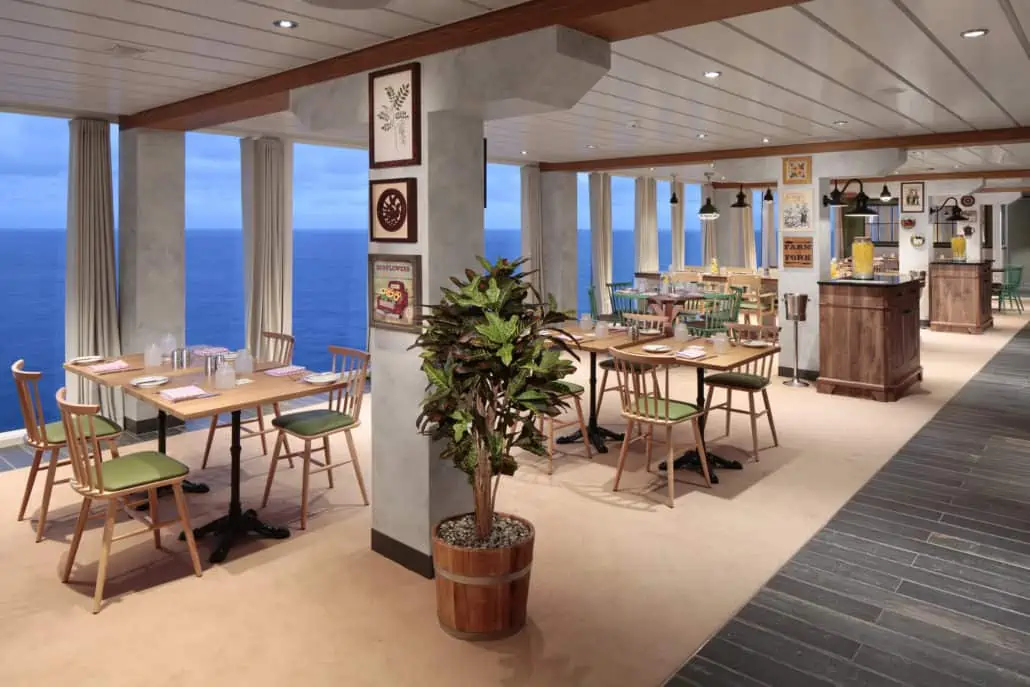 Eggs n' More
Meemaw's Fried Chicken n' Waffles: Boneless fried chicken sitting on top of two fresh buttermilk waffles with a side of warm maple syrup and hot honey
Southern Breakfast: Two eggs cooked how you want, served with crispy bacon, sweet potato hash, and Meemaw's biscuits
Smoky Deviled Eggs: With pickles and peppers, crispy capers, fried chicken skin, dusted with paprika
Breakfast Biscuits: All done up with bacon onion jam, cheddar, homemade sausage and gravy topped with eggs cooked how you want
Spinach n' Pimento Cheese Omelet: Three whipped eggs with peppered gooey cheese and sautéed spinach, seasoned breakfast potatoes, and grilled tomato
Blueberry Johnnycakes: Savory cornmeal flatbreads slathered with BBQ pulled pork, with crispy chicken skin and cool coleslaw
Salmon-Avocado Toast: On thick-cut, toasted sourdough bread, garnished with fresh sliced chili and lime
Charred Watermelon Salad: With ripe beefsteak tomatoes, jalapeños, onions, and a sherry-mustard vinaigrette, topped with crumbled feta, crispy chicken skin, and torn mint
Somethin' Sweet
Peanut Buttery Banana Overnight Oats: Old-fashioned rolled oats with Greek yogurt, peanut butter, sliced banana, candied bacon, and a smidge of maple syrup
Stuffed French Toast: Thick-cut and stuffed with banana slices, creamy peanut butter, and crispy candied bacon
Sweet-Tooth Cinnamon Roll: Generously glazed and rolled with chopped candied pecans and a healthy helping of cinnamon
Red Velvet Pancakes: Mouth watering smooth and fluffy hotcakes stacked high with sweet cream cheese glaze
Handhelds
Classic Po'Boy: Shrimp or oysters deep-fried till golden and served on a French roll with lettuce, tomato, and spicy remoulade
Crispy Chicken Sandwich: Buttermilk-brined and deep-fried until golden, served on Cajun buttered brioche with lettuce, tomato, spicy remoulade, and crinkle-cut pickles — (the chicken can be regular or Nashville hot)
The Southern Burger: Quarter pound Angus patty stacked high with sharp cheddar, crispy bacon, chicken skins, BBQ sauce, and remoulade on a toasted brioche bun
Handhelds come with a choice of sweet potato hash, Cajun fries, or crispy tater tots.
Dessert
Cherry Pie: Sweet and tart cherries in a flaky, buttery crust served à la mode
Warm Bread Puddin': Buttery croissants and raisin bread soaking up a rich vanilla-bourbon custard, topped with creamy vanilla drizzle
Chocolate Pecan Pie: A bourbon-chocolate and caramelized pecan filling, a buttery crush, and crumbled toffee bar
Twice-Fried Oreos: Funnel cake battered, deep-fried and sizzling hot, dusted with powdered sugar — plus a bourbon sauce for dipping
Gone Bananas: Layers of roasted bananas, vanilla pudding, and graham cracker crumble topped with whipped cream, toffee, chocolate and caramel sauces
Ice Cream: Georgia Peach, Maple-candied Bacon, Bourbon Butter Pecan, Chocolate, Vanilla, and Strawberry
Kids' Menu:
Starters: Sweet jarred peaches with cottage cheese, crunchy crudités with ranch for dipping, and a buttered biscuit
Entrées
Fried Chicken Tenders: Paired with buttery mashed potatoes and coleslaw
Chicken or Vegetable Pot Pie: Flaky, buttery crust stuffed with a creamy filling of shredded chicken, hearty potatoes, carrots, and sweet peas
Lil' Southern Burger: Angus patty stacked high with sharp cheddar cheese, crispy bacon, BBQ sauce, and remoulade on a toasted brioche bun, served with regular or sweet potato fries
Mac n' Cheese: Rich and creamy to just hit the spot!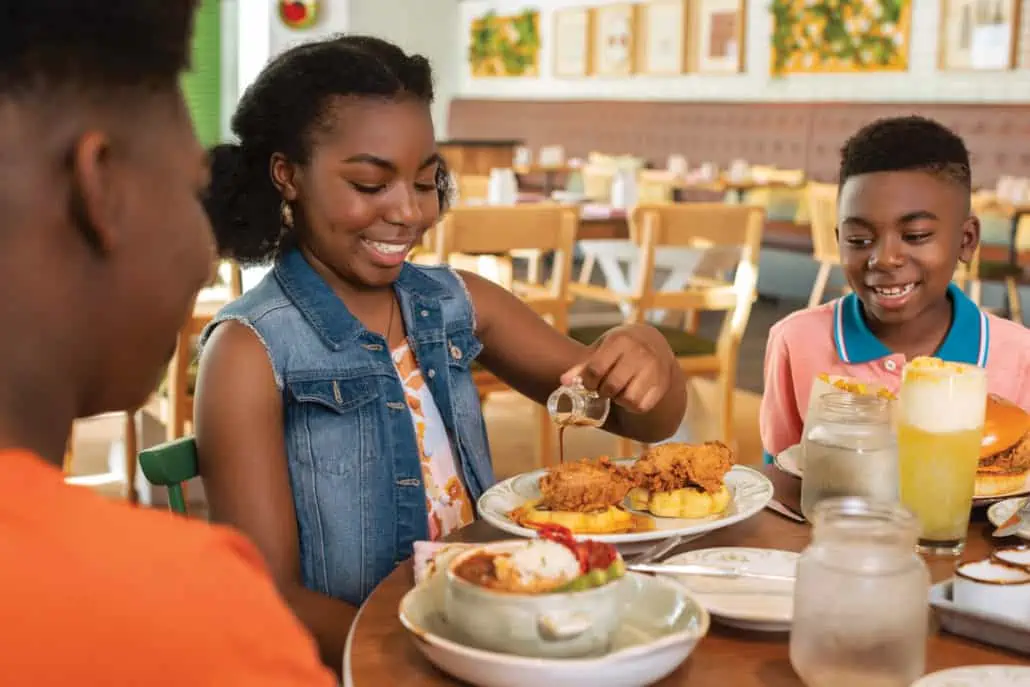 Specialty Drinks
Alcoholic – $13 each
All Shook-Up: Skrewball Peanut Butter Whiskey and Blue Chair Banana Cream Rum, topped with whipped cream, brown sugar, and caramelized bananas
Floatin' on Sunshine: Absolut Vanilia Vodka, vanilla ice cream, and orange soda
Riverboat Float: Absolut Vanilia Vodka, Kahlúa, and Abita Root Beer with vanilla ice cream
Moo Hoo Chocolate Float: Vanilla ice cream topped with Terrapin Moo Hoo Chocolate Milk Stout
Non-Alcoholic – $11 each
Root Beer Float
Creamsicle Float
Coke Float
Shakes: Chocolate, Strawberry, or Vanilla
Note: All meals come with pimento cheese and saltines as well as jalapeño cornbread, served with Cajun and whipped honey butter.
READ NEXT: Wonder Of The Seas Dining Guide: Which Restaurants Are Complimentary?
Pin it!