Carnival Cruise Line's next ship Carnival Celebration received a construction milestone at the Meyer Turku shipyard in Finland on Tuesday. The 180,000 gross registered ton vessel was granted its signature wing-shaped funnel.
Lifted off the ground by a giant crane at the facility, the funnel was slowly brought into place before being set on the ship to be secured.
Up next, Carnival Celebration will be floated out to make sure she's airtight. After the float out, the ship will head out for sea trials to test all the technical aspects of the vessel.
Like sister ship Mardi Gras, the Celebration will have the zone concept, BOLT roller coaster, new-to-Carnival dining concepts, and the Excel suites that come with exclusive Loft 19 resort area access.
Review: Carnival's Megaship Mardi Gras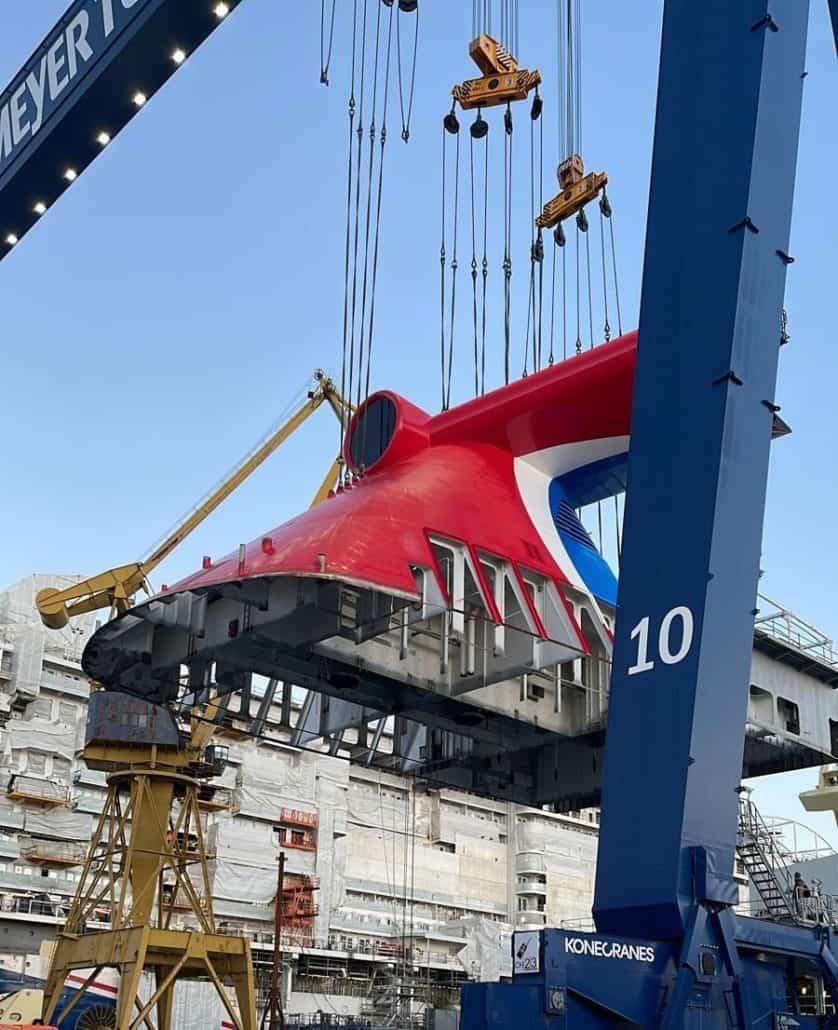 The ship carries the name of Celebration, a former Carnival Cruise Line Holiday-class vessel that was launched in 1987. That ship was retired from the fleet in 2008.
The currently-under-construction vessel is scheduled to enter service in November 2022. The 14-night maiden voyage is scheduled from Southampton, UK to Miami, Florida.
Once in Florida, the ship will sail seven-night Caribbean cruises.
Carnival Cruise Line's LNG Order History
September 2016: Carnival Cruise Line orders two LNG-powered cruise ships for launch in 2020 and 2022.
December 2018: Carnival picks the name Mardi Gras for the first LNG ship. The name was debuted on prime time during the TV show Wheel of Fortune.
June 2019: Construction started for Carnival's first mega-ship Mardi Gras.
August 2020: Carnival Celebration is chosen for the name of the second LNG ship.
January 2021: Construction was started for Carnival Celebration.
June 2021: An LNG new-build from AIDA Cruises was transferred to Carnival Cruise Line.
July 2021: Mardi Gras enters service from Port Canaveral, Florida.
November 2021: Carnival's third Excel-class ship is named Carnival Jubilee.
January 2022: Carnival Celebration receives its signature funnel.
November 2022: Carnival Celebration is scheduled to enter service.
October 2023: Carnival Jubilee is scheduled to enter service.
Carnival Mardi Gras Ship Tour [VIDEO]