After a handful of delays, Carnival Cruise Line's newest ship Mardi Gras entered into passenger service on July 31, 2021. The much-anticipated vessel was a departure from previous vessels in the fleet in both size, layout, and technical aspects.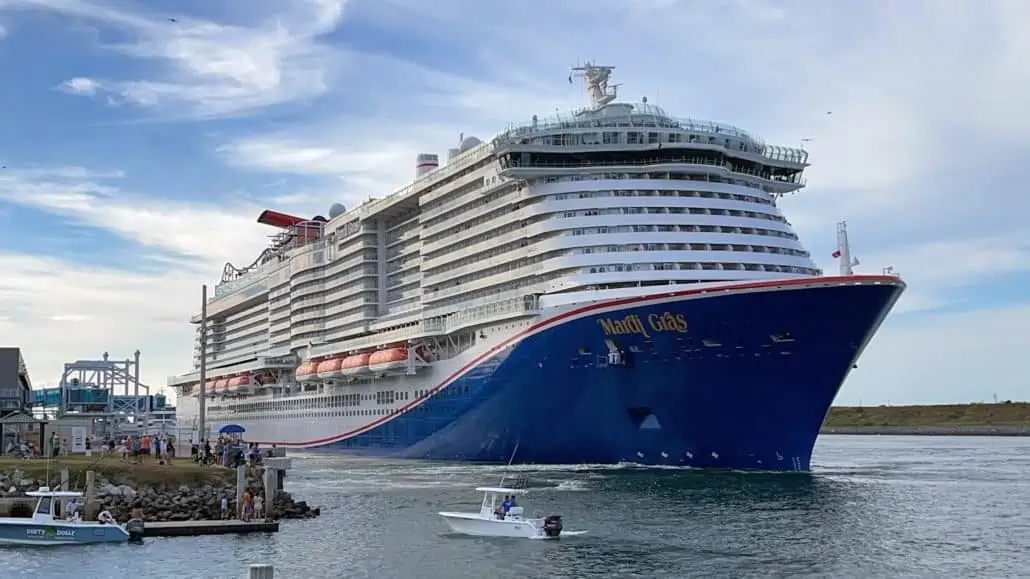 The Facts
Length: 1,130 feet

Total guest capacity: 5,282

Gross registered tonnage: 181,808

Passenger decks: 17

Itineraries: Eastern and Western Caribbean
Notable Features
BOLT Roller Coaster

New side-facing atrium design

6 themed "Zones"
Itineraries (as of January 2022)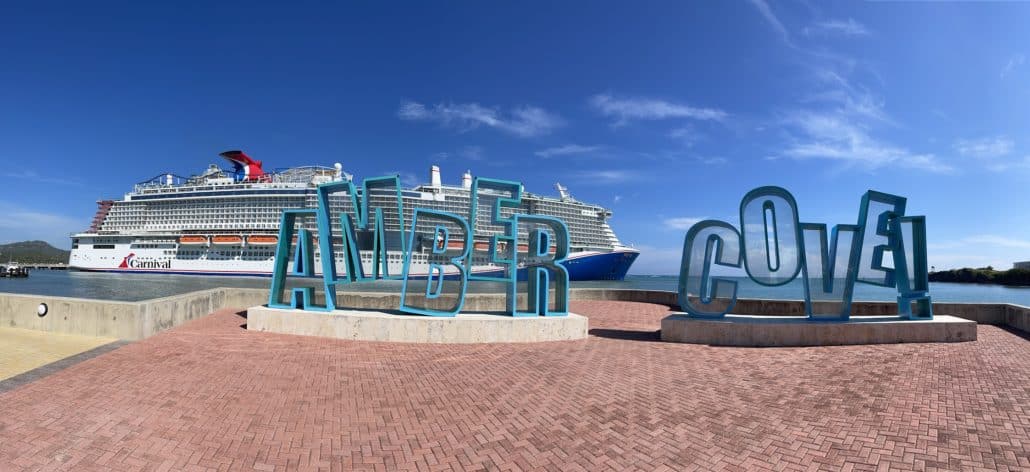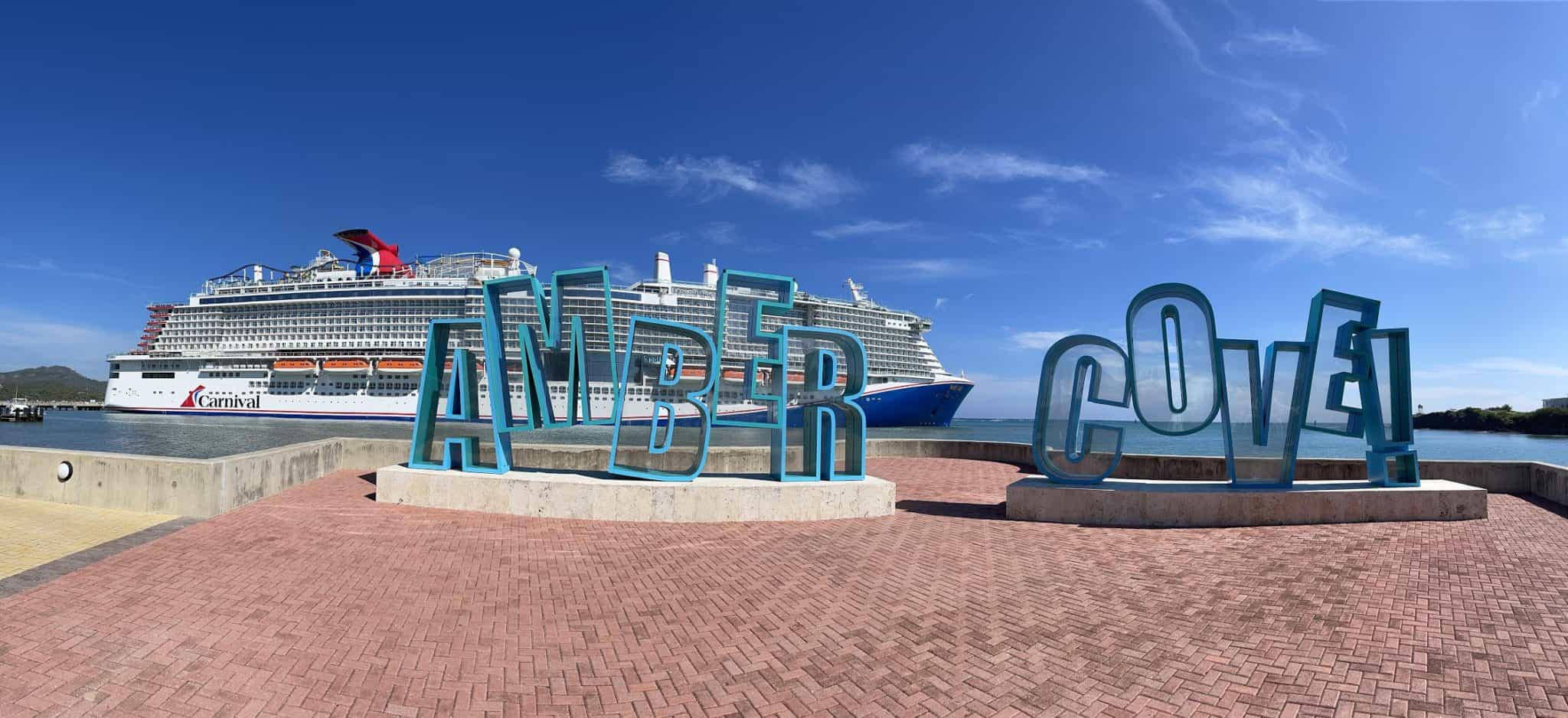 Eastern Caribbean: San Juan, Puerto Rico; Amber Cove, Dominican Republic, and Nassau, Bahamas
Western Caribbean: Cozumel, Mexico; Mahogany Bay, Honduras; and Costa Maya, Mexico 
Overview
Mardi Gras is the second Carnival ship to carry the name. When the cruise line was founded in 1972, its first ship was named TSS Mardi Gras. The latest version is over 150,000 gross registered tons larger.
At 30 percent larger than the line's previous new build Carnival Panorama (December 2019), Mardi Gras is considered a game-changer for the cruise line with many first-to-Carnival features on board.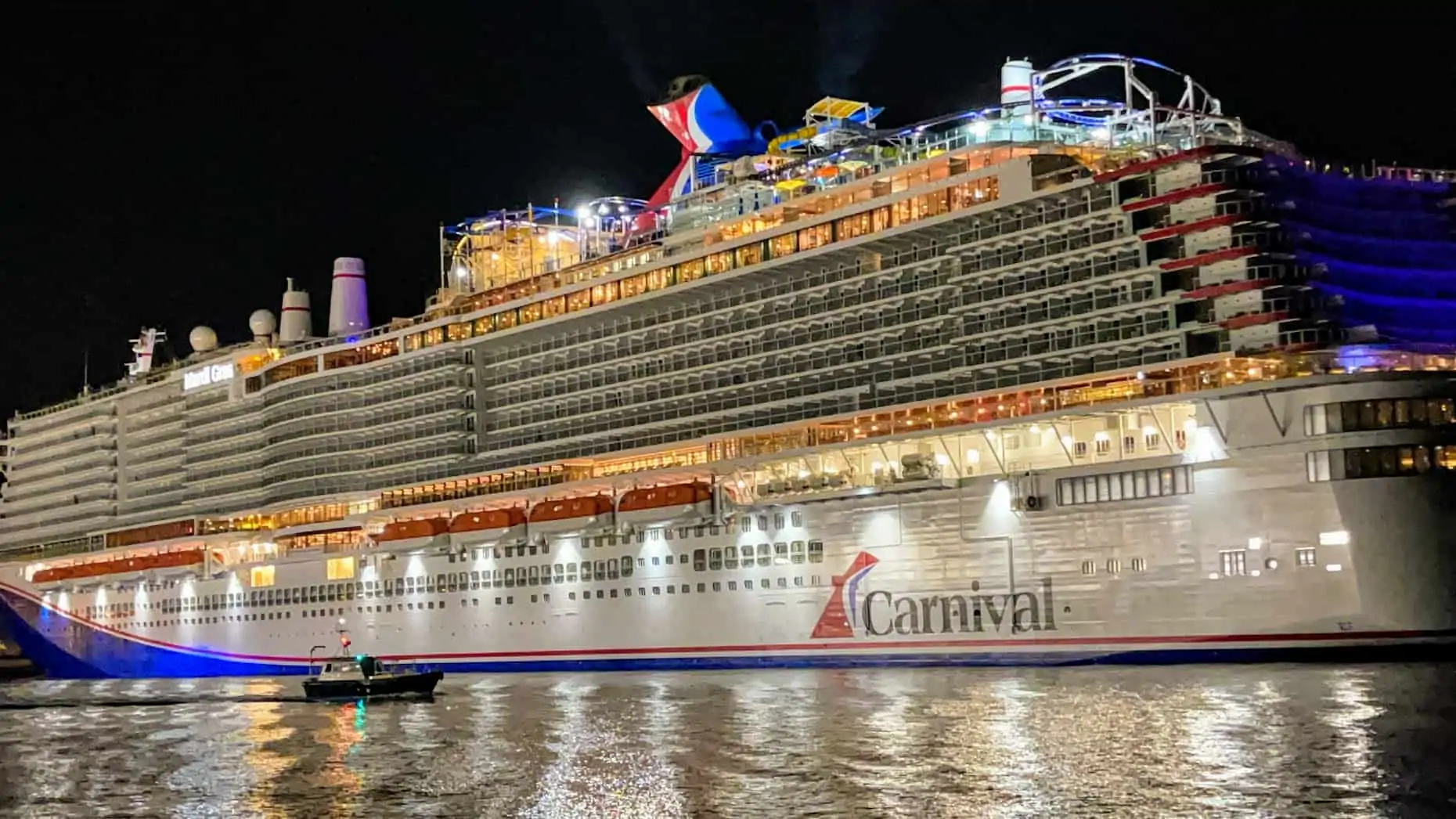 Some changes are very noticeable, like moving the guest service area; BOLT, the first roller coaster at sea; or the side-facing Grand Central atrium. Other below-deck changes, like the engines that are powered by liquefied natural gas, work quietly and efficiently behind the scenes. 
The ship is currently sailing seven-night voyages from Port Canaveral.
Public Spaces
Mardi Gras is a departure for Carnival Cruise Line when it comes to its layout. If you've sailed a Carnival ship before, you know exactly where you are at any time on other vessels.
However, once you grasp the zone concept (similar to Royal Caribbean's Neighborhoods on the Oasis-class ships), navigation will be a breeze. 
It took a bit for me to get my bearings, but by the second sea day I had a pretty good grip on things.
Mardi Gras Themed Zones:
French Quarter

Grand Central

La Piazza

Lido

Summer Landing

The Ultimate Playground 
You'll see the main focal point of the ship when you first embark on deck six. This is where the Grand Central Atrium is located and it's hard to miss. The side-facing atrium spans decks six, seven, and eight, and acts as a tranquil place by day for a connection with the ocean.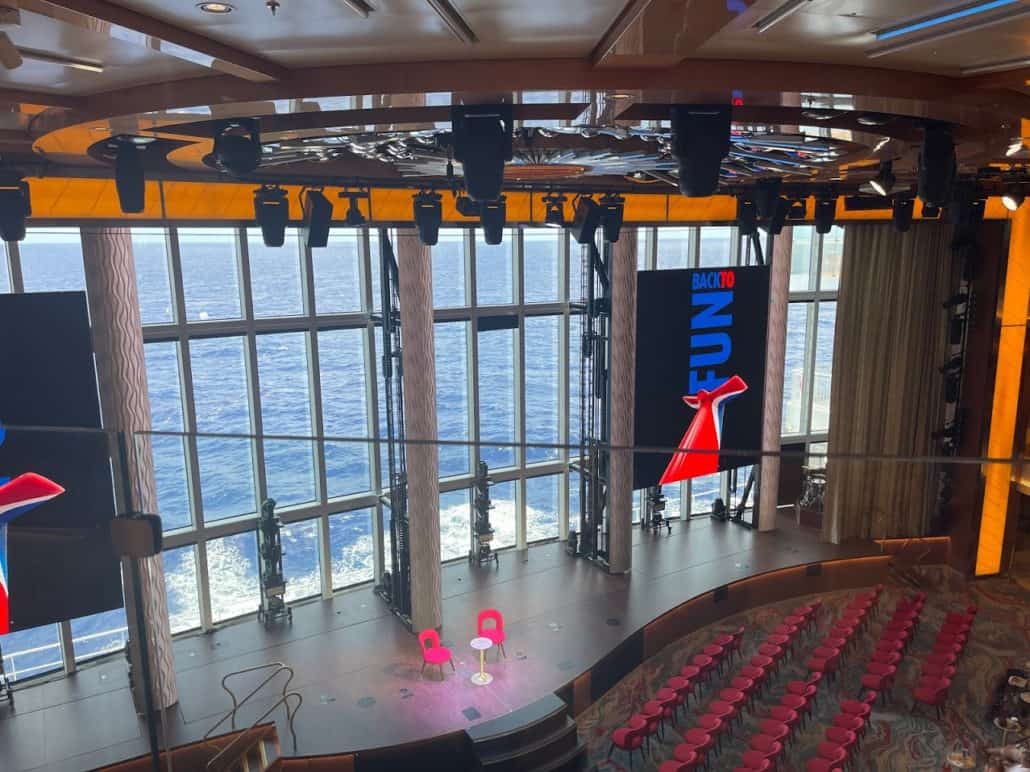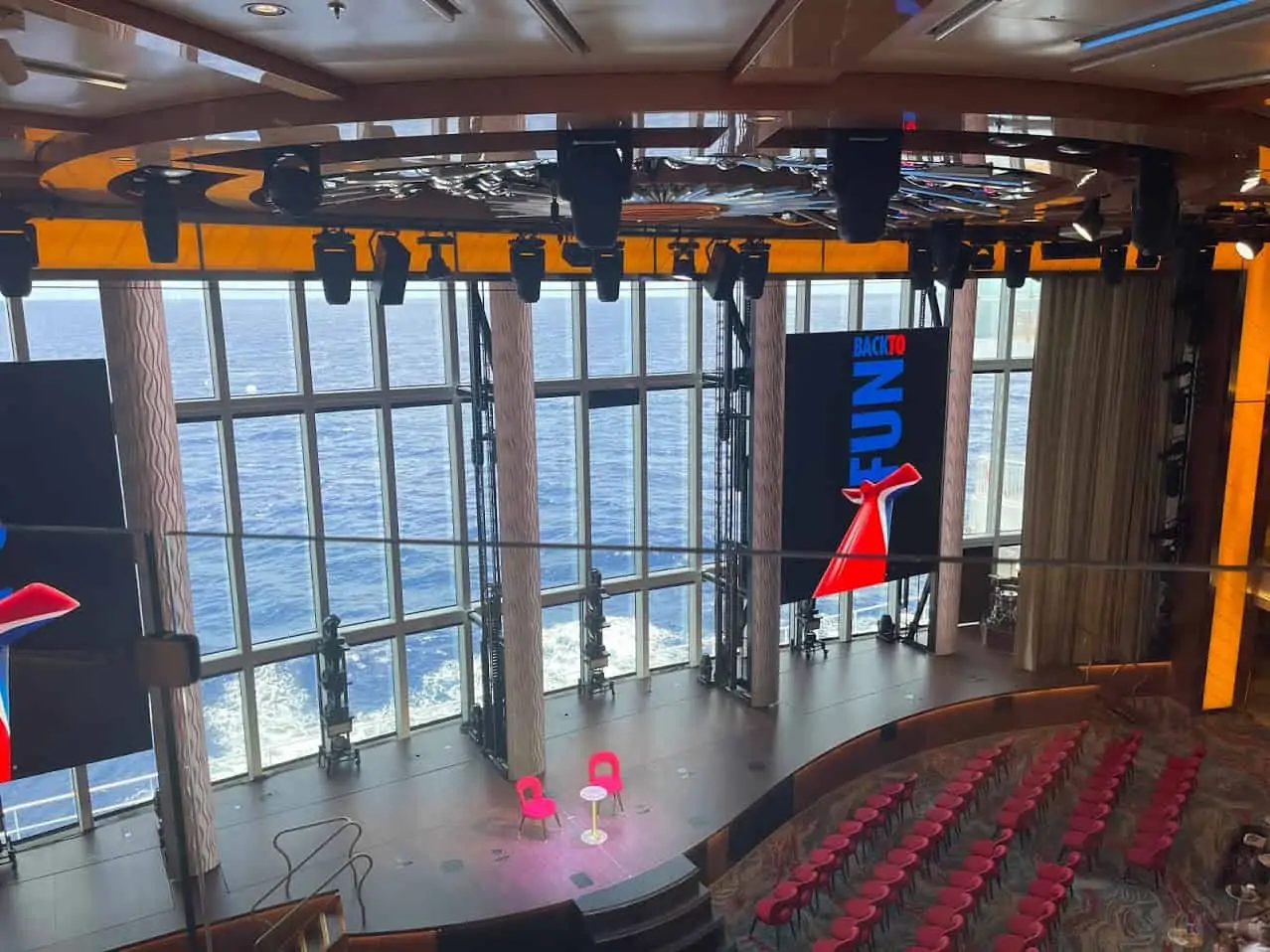 At night, large LED panels come out of the ceiling and the space acts as a music and presentation venue that complements the Mardi Gras theater. A variety of shops, bars, and a couple of restaurants are also located within a few steps of Grand Central. 
Like other Carnival ships, there are still plenty of familiar spaces onboard like Guy's Burger Joint, BlueIguana Cantina, Alchemy Bar, Guy's Pig & Anchor Smokehouse | Brewhouse, and the adults-only Serenity Retreat.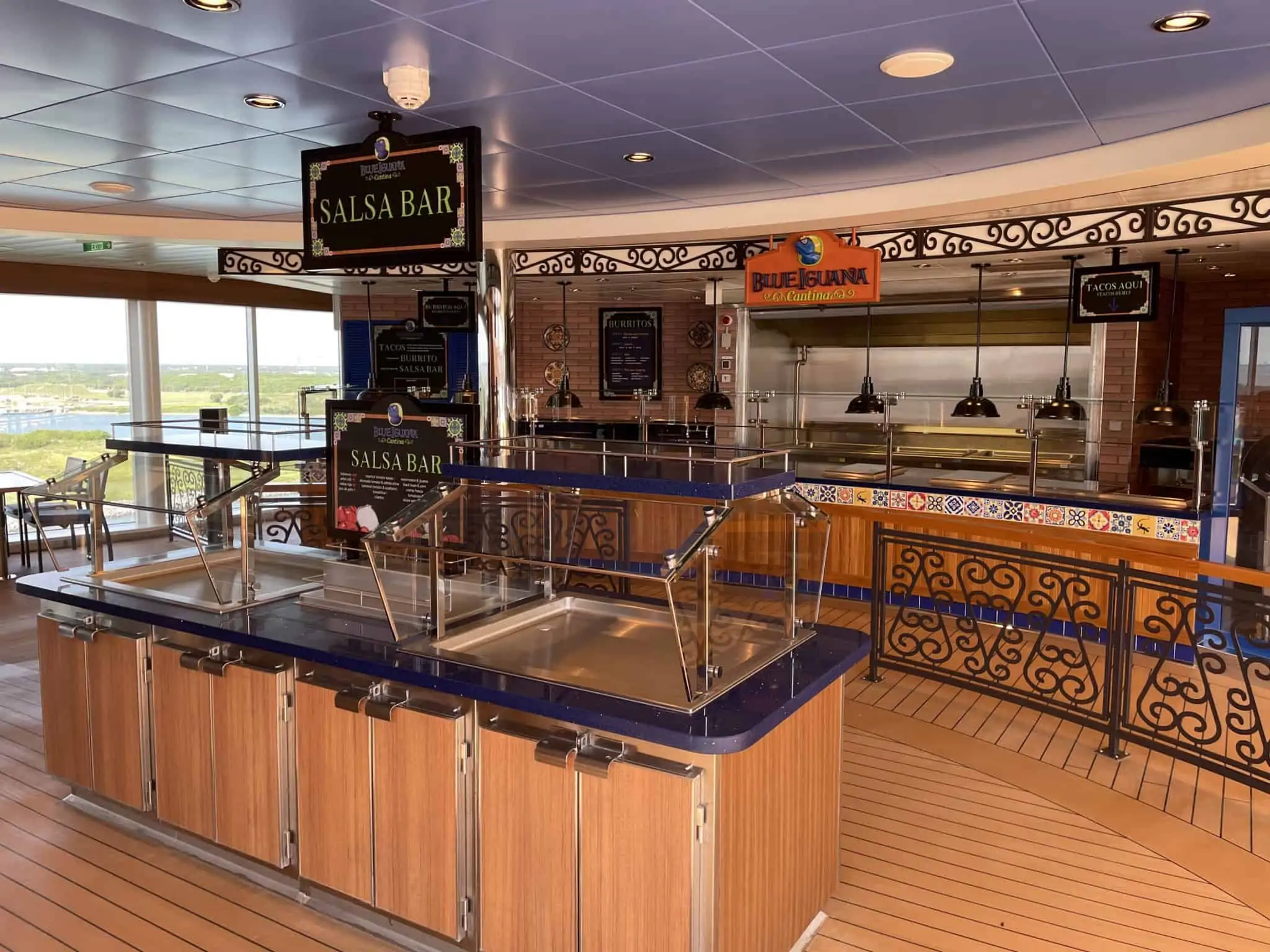 There are also newly-welcomed food and drink concepts like Shaq's Big Chicken and The Fortune Teller Bar that give cruisers more options and help disperse the crowds.
Like other Carnival ships, Mardi Gras does have a poolside bar, but instead of it being the separate RedFrog Rum and BlueIguana Tequila bars, it's blended into a two-deck RedFrog Tiki Bar on deck 16 and 17. Here, Carnival has even dipped its toe into the handcrafted hard seltzer area. Being two stories, there is plenty of seating around the bar on either deck.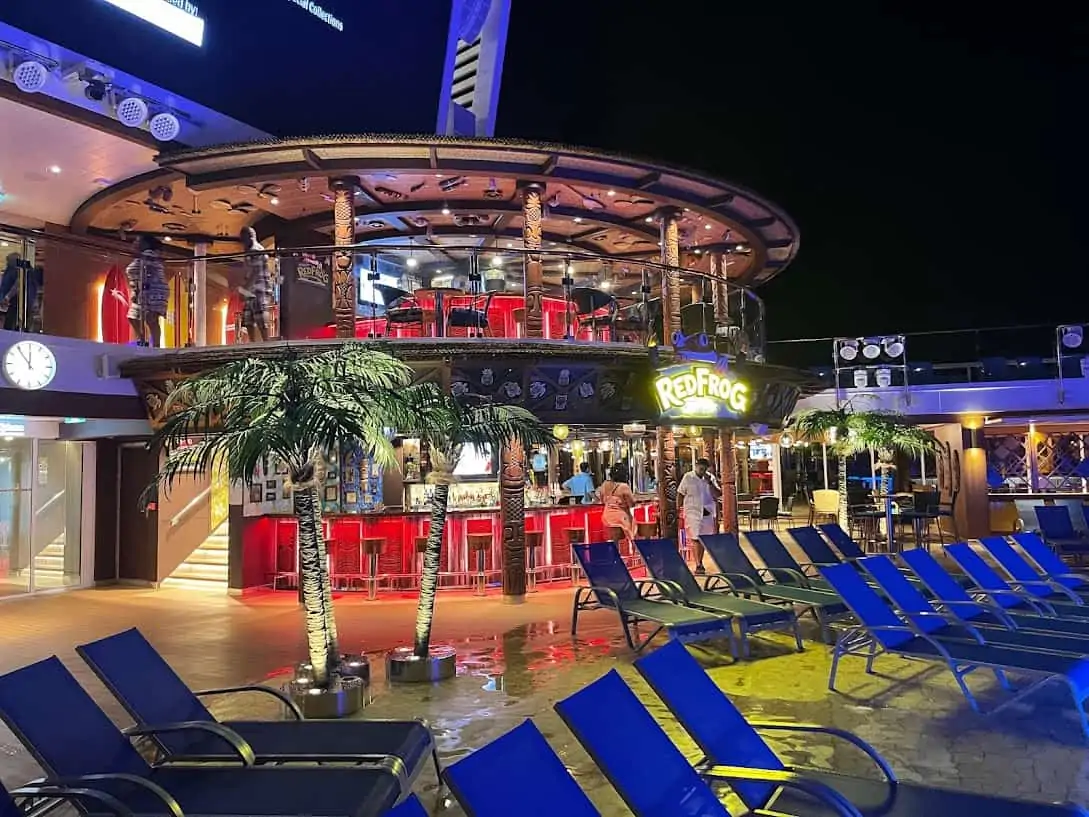 Given the size of Mardi Gras, you'll find that a lot of the venues are larger, especially revenue-generating spaces like the casino on deck seven that spans almost the entire deck.
The Alchemy Bar is almost double the size of other vessels. Guy's Pig & Anchor Smokehouse | Brewhouse takes up a large amount of space on deck eight aft in the Summer Landing zone. 
Depending on what type of cruiser you are, you'll likely spend most of your time inside on decks six, seven, and eight, or outside on deck eight aft, 16, 17, and 18.
MORE: Carnival's Mardi Gras: Is Aft Excel Suite Worth The Price?
Mardi Gras Staterooms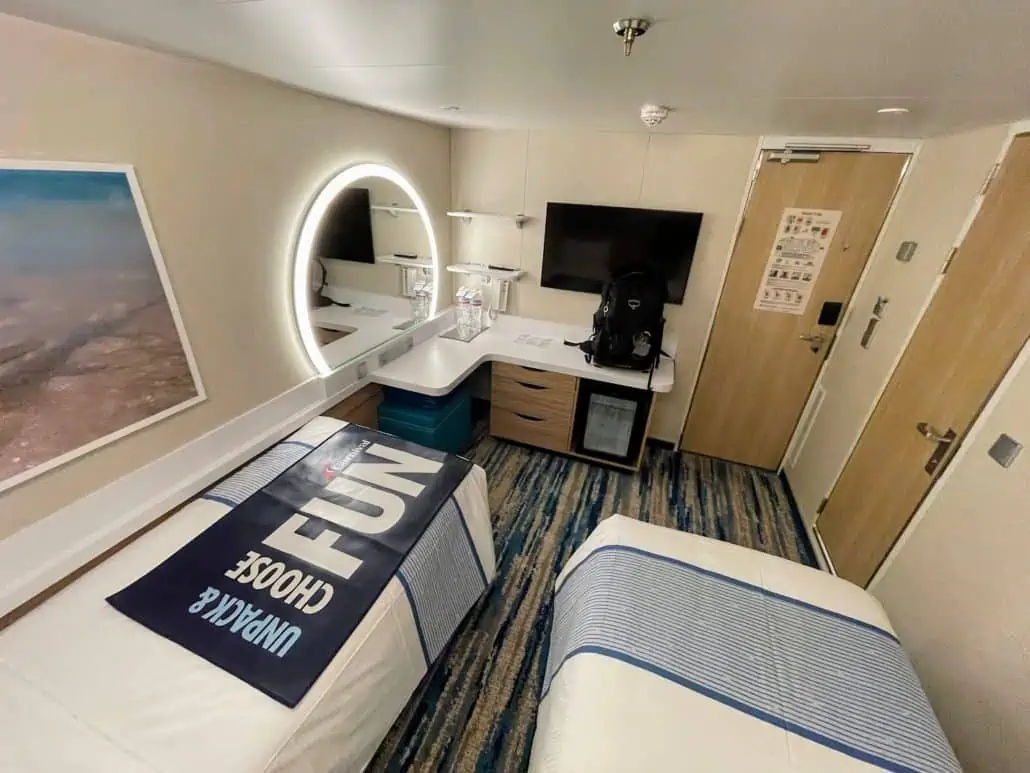 Mardi Gras has more stateroom categories compared to the Vista-class, which makes sense given its much larger size. Collectively, the ship has 2,642 total guest staterooms.
Stateroom categories include:
Interior

Oceanview

Balcony (including Cove)

Havana Suites

Cloud 9 Spa suites

Family Harbor Staterooms

Excel Suites 
As with many of the venues onboard, staterooms on Mardi Gras are going to be familiar to this cruise line's passengers. Carnival knows the value of familiarity, and that if something isn't broken, you don't need to fix it. They have, however, added onto their already-efficient stateroom model. 
Mardi Gras is no exception. Here, you'll find up to six USB ports (varies per cabin) and two 110 AC standard power outlets in each room, along with a European power outlet. The bathroom is pretty standard, and we were very excited to see the shower curtain eliminated and replaced with a glass door. Women will appreciate the newly-added shaving bar in the shower. 
Family Harbor Staterooms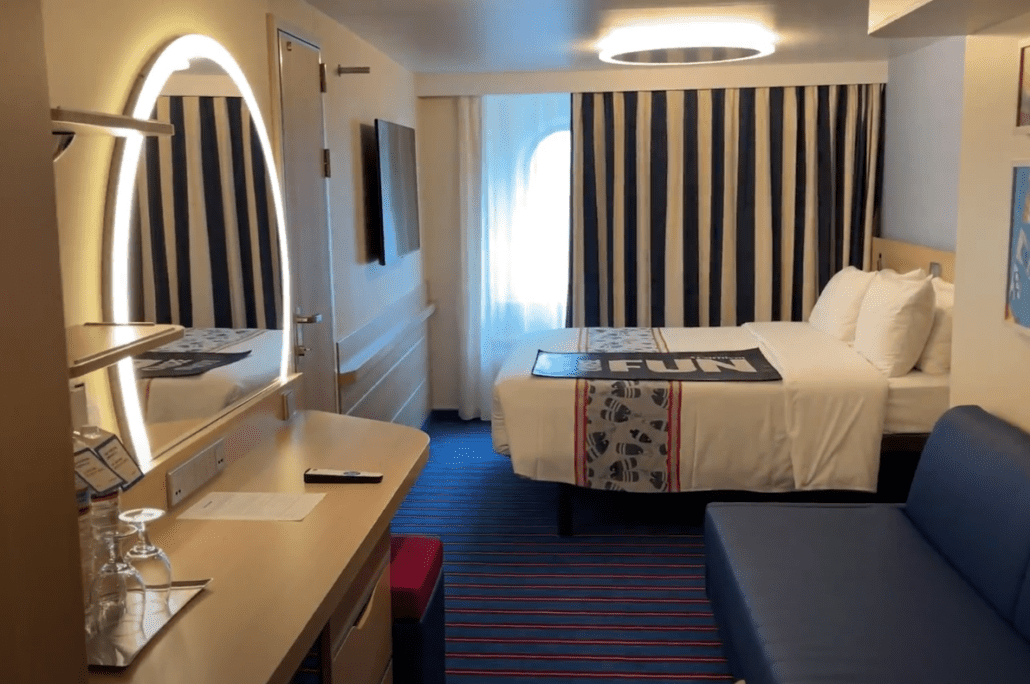 Carnival is very proud of the fact that it carries more families than any other line. And it was with those families in mind that the line designed the Family Harbor staterooms, which come in a variety of categories from interior all the way up to the popular Family Harbor Suite with Cove Balcony.
The latter category features two bathrooms, as well as a dividing curtain between the bed and the sleeper sofa to give everyone a bit more privacy than they'd have in a conventional stateroom.
All the Family Harbor cabins have access to the Family Harbor Lounge, where you'll find gaming units, an ice cream machine, board games, and more. At various times of the day, you'll also find food items, such as a continental breakfast in the morning and cookies and milk each evening.
It's a fantastic place for families to hang out, giving them a space beyond the confines of a stateroom. It's also a good place for families to meet others with similarly aged children. Access to the lounge is keycard restricted, allowing only those who are staying in Family Harbor staterooms to enter so there's no fear of unwanted people wandering in.
Havana Suites
Ever since their introduction on Carnival Vista, the Havana staterooms, suites, and retreat have been extremely popular. Everything about them is special, from the decor to the fact that guests staying in Havana staterooms have exclusive access to the Havana Retreat on deck eight.
Make no mistake, the Havana Retreat is definitely a special area, especially for those looking for something a bit quieter than the lido deck. Unlike the previous ships that offer the Havana area (Vista, Horizon, and Panorama), the outdoor space on Mardi Gras runs along the starboard side of deck eight, and instead of a giant pool, it's more of a giant hot tub. The pool is one space where Carnival fell short given that the Havana rooms come with such a premium attached to them.
As for the Havana staterooms themselves, they come in everything from interiors to suites. It's worth noting that the popular Oceanview Havana Cabana staterooms with Patio Cabana are not traditional balconies. Havana Cabanas are set back a bit from the ocean, overlooking an outdoor promenade instead, which is only accessible to other Havana guests. This means that while you get one of those very cool lanais, you won't have as much privacy as you would with a standard balcony.
Excel Suites
Carnival has elevated the accommodation experience with the debut of Excel suites. Guests who book one of these 32 suites will have access to a private outdoor area called Loft 19 with the option to rent a cabana (at $500 per day), guaranteed specialty reservations (Teppanyaki and Chef's Table), and a prime cabin location.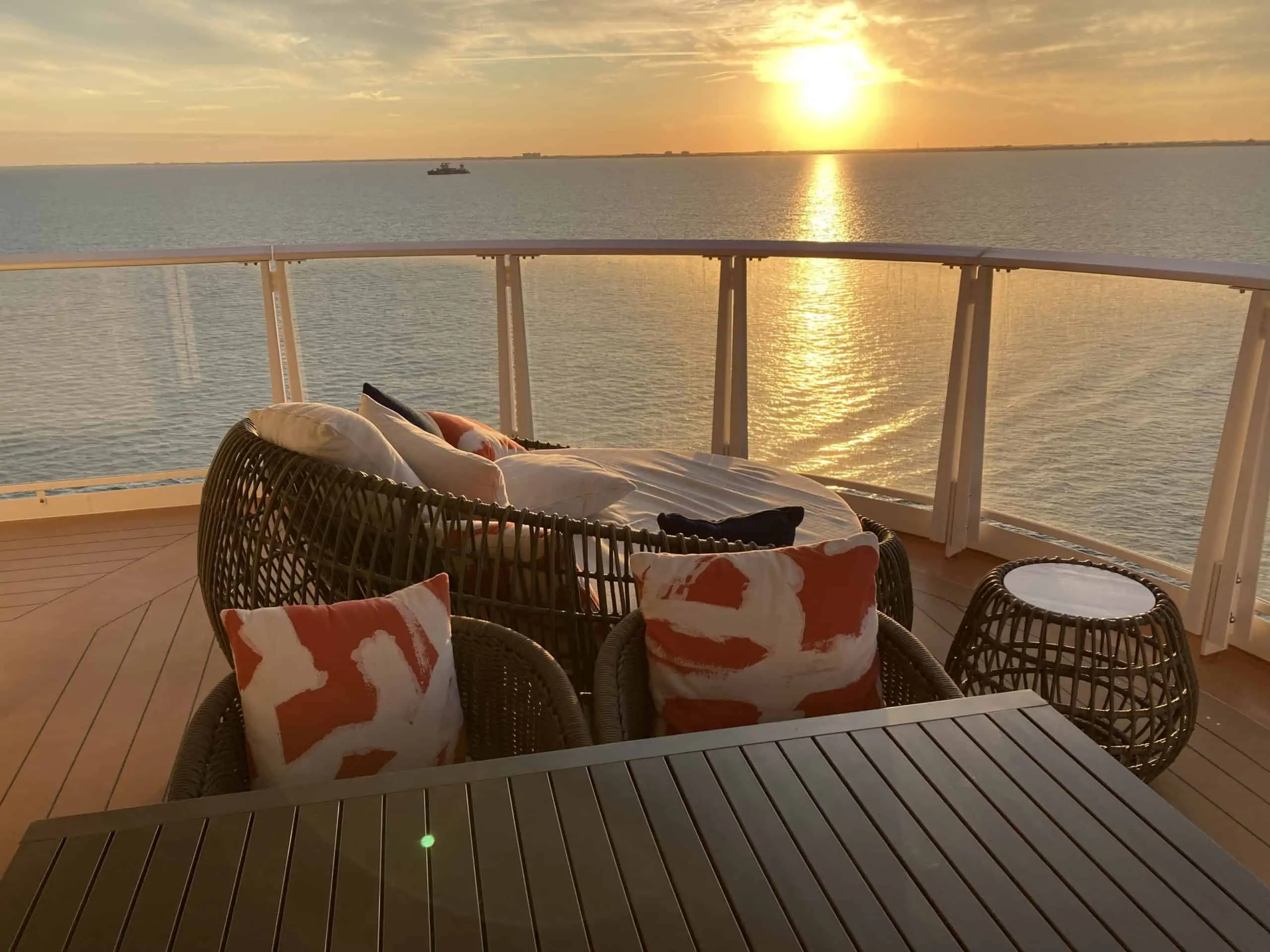 Bars and Entertainment
The Mardi Gras theater on deck seven is the main show venue on Mardi Gras. Having seen several shows in the theater from various vantage points, I've come to the conclusion that you'll have a better experience during the big production shows if you sit closer to the stage. One big change to the theater is that, unlike every other Carnival ship, the theater is only a single deck and has movie theater-type seating. You can still enter from deck six or seven, but there isn't balcony seating like on other ships in the fleet.
The ship features two Playlist Productions shows. Broadway Nights is set in New York City and, as you might guess from the title, focuses on musical numbers from popular Broadway shows. Rock Revolution is a concert-style show which is set during the infamous 1969 Woodstock Festival.
Like other Playlist Productions, the shows are jukebox musicals, making them more focused on a collection of songs than on a defined plot. 
The newly added Family Feud game show is a riot because you never know what the contestants are going to say. Since it's officially licensed from the TV game show, the game is set up just like the studio version, but without Steve Harvey hosting.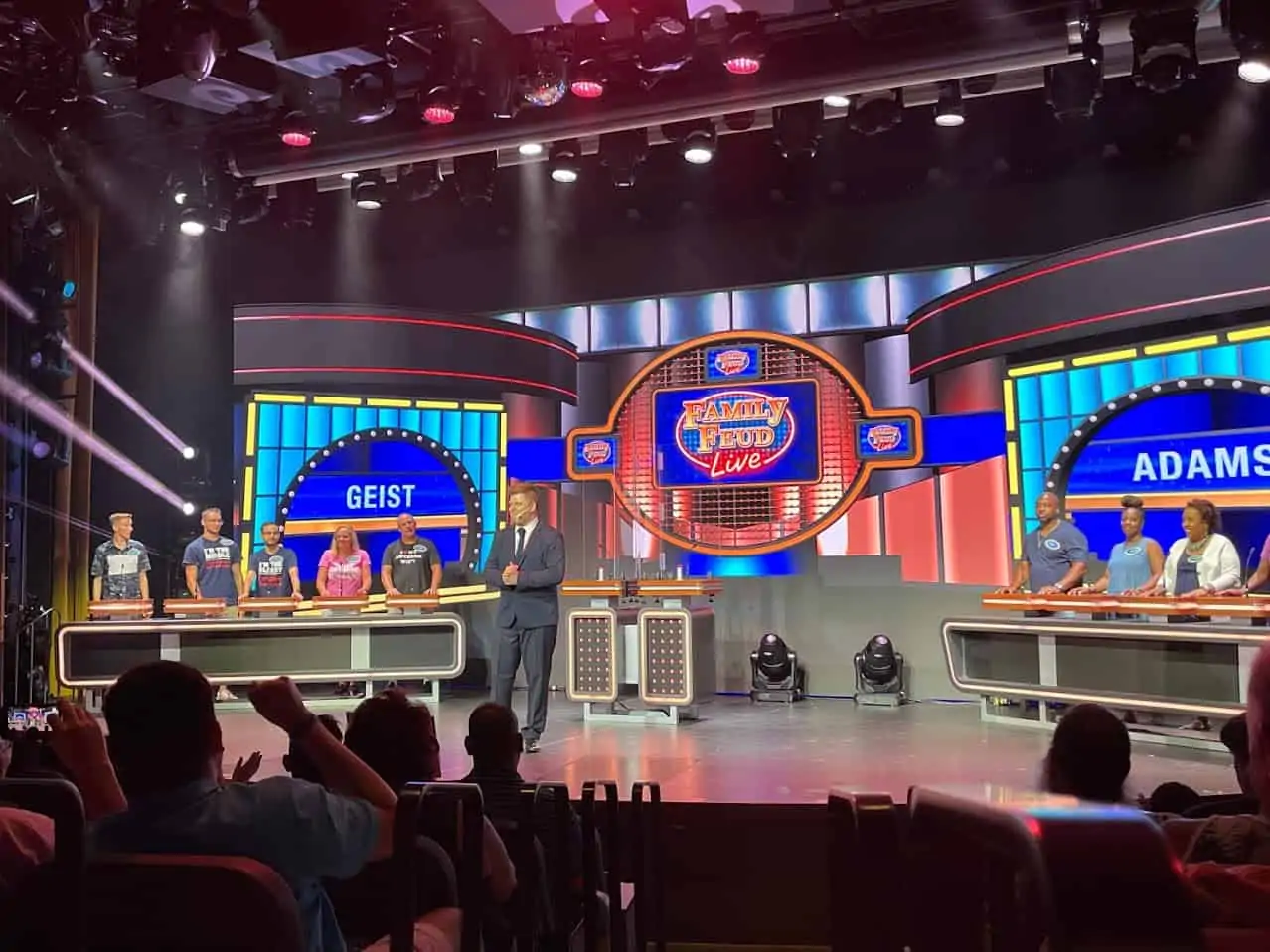 The Limelight Lounge is the nightclub on board that doubles as an activity space during the day for things such as trivia.
Other Carnival ships use the Limelight Lounge for the Punchliner Comedy Club at night, but not on Mardi Gras. There is a dedicated Punchliner located on deck six forward, right across from the piano bar.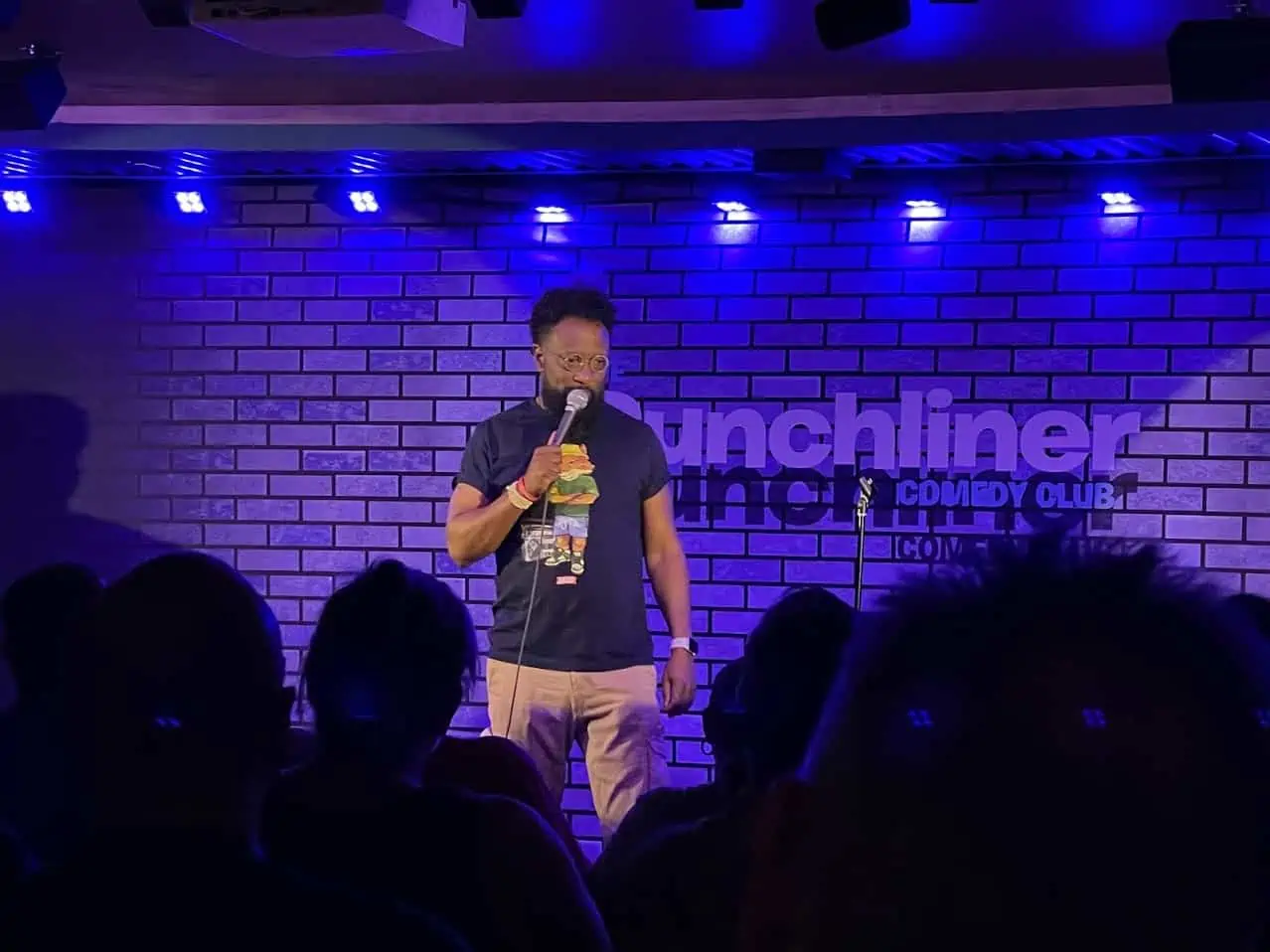 The casino on this ship is at least 25 percent larger than on other ships in the fleet. Located on deck seven, it spans from the Mardi Gras Theater all the way back to the Limelight Lounge. It has a wide selection of slot machines and table games, both electronic and with live dealers.
The Casino Bar is located almost in the center of the casino and seemed to be a popular place where people would light up. 
On the back of deck eight is the Summer Landing zone. This is a space where Carnival really outdid itself. Here you'll find Guy Fieri's Pig & Anchor Smokehouse | Brewhouse, a popular venue both day and night.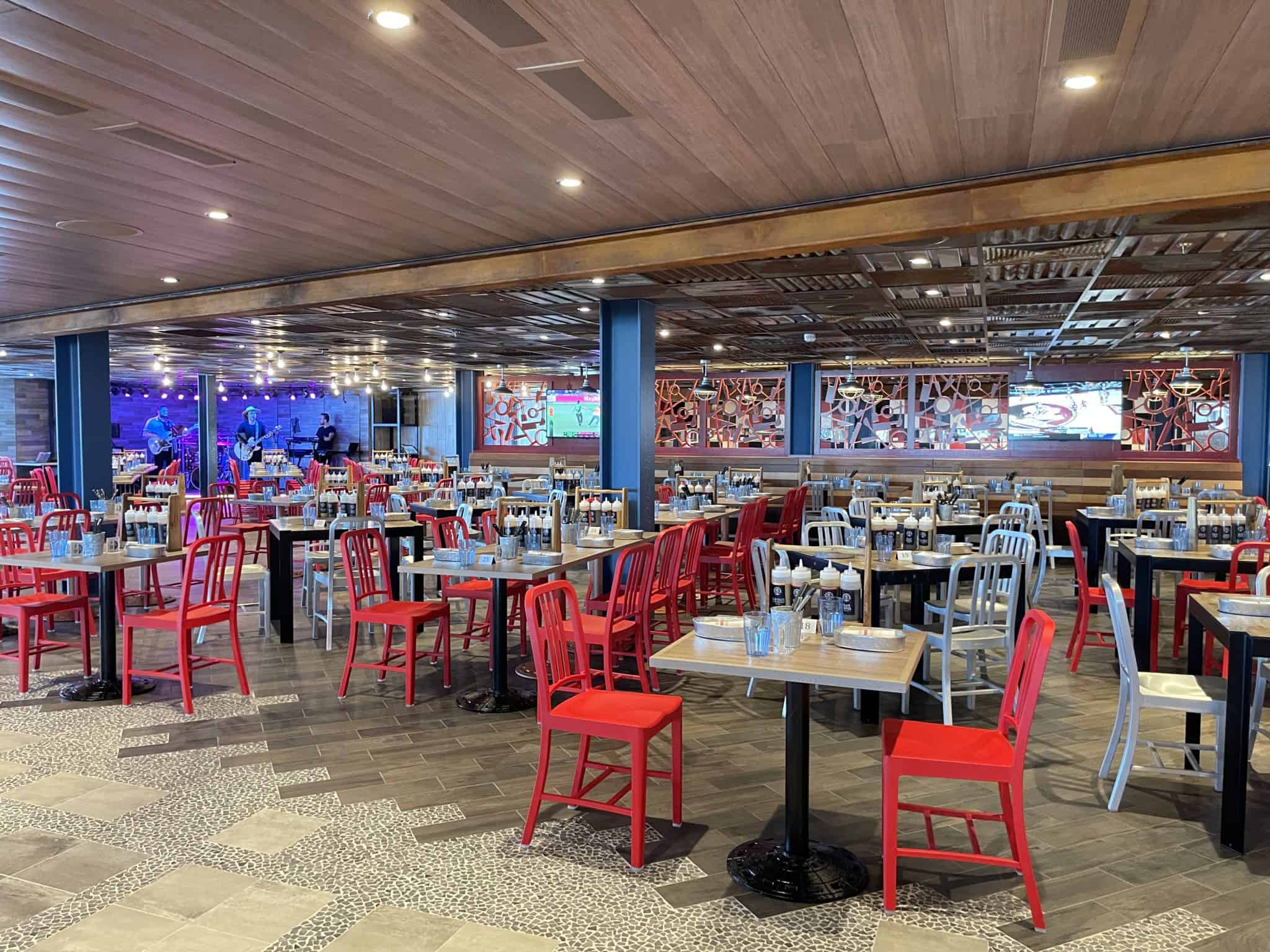 Not only is there live music and cold drinks served up inside, but outside you'll find The Patio, complete with an aft pool and two hot tubs. The pool back here is great because it's located closer to the ocean and you are only steps away from a couple of bars.
If you don't feel like walking up to deck 16 to the RedFrog Tiki Bar for a frozen concoction, you can walk over to the Watering Hole for a refreshing drink to complement the Caribbean. A crowd favorite was the Elderflower Spritz.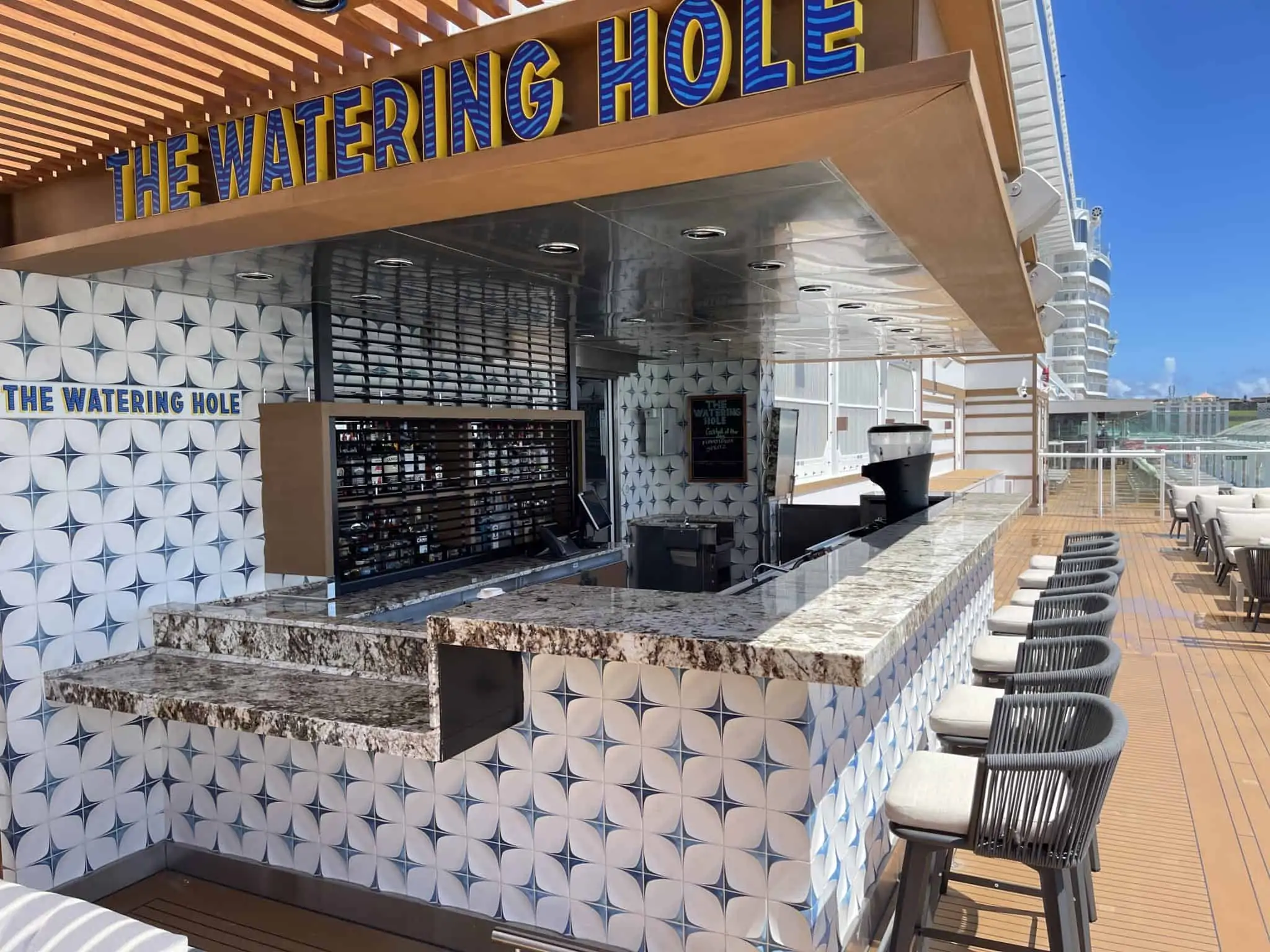 Also located in Summer Landing is The Heroes Tribute Bar, honoring those who served and serve in the armed forces with unique cocktails and a color scheme that could only be described as patriotic. 
While this did replace the SkyBox Sports Bar, you'll still find TV screens to keep you up-to-date on your favorite teams. Unlike the venue on Panorama, this isn't actually a bar but a lounge with a cocktail menu. 
Another place that really gets going in the evening is The Havana Bar. Don't be confused by the name, this popular spot is open to all guests all the time. It's the outside retreat area that is restricted to Havana guests only. 
At night, this Latin-inspired bar serves up Cuban cocktails and the kind of music that even those of us with two left feet can't help shaking our groove thing to. The horn section is very impressive!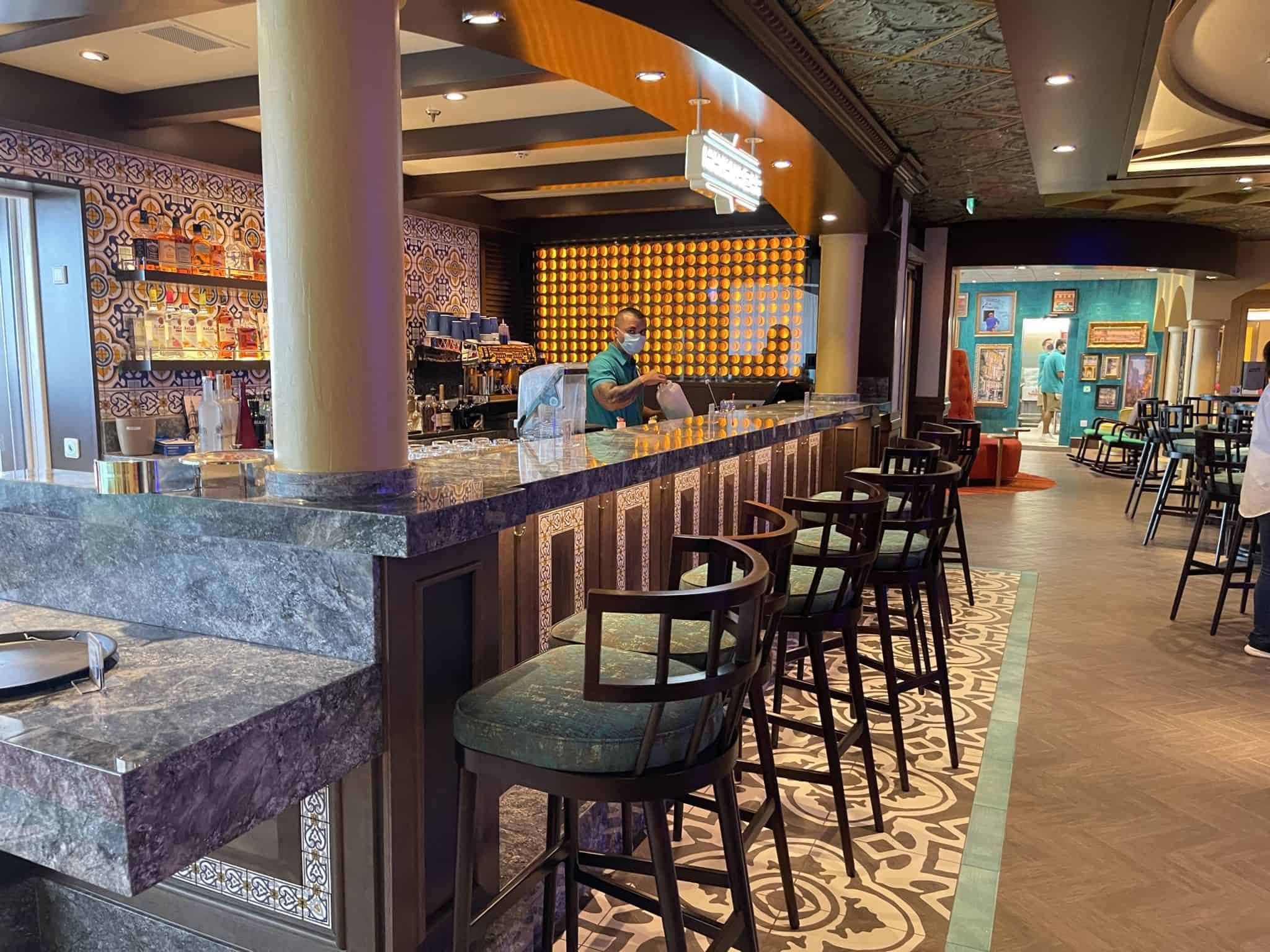 If you have the CHEERS! drink package, you won't have to worry about finding a place to use it. There are over a dozen different watering holes from the poolside RedFrog Tiki Bar to the mysterious Fortune Teller bar in the French Quarter zone. 
Our personal favorite? The Brass Magnolia, where you can get a legit New Orleans-style Hurricane; it's perhaps one of the most potent drinks on the ship.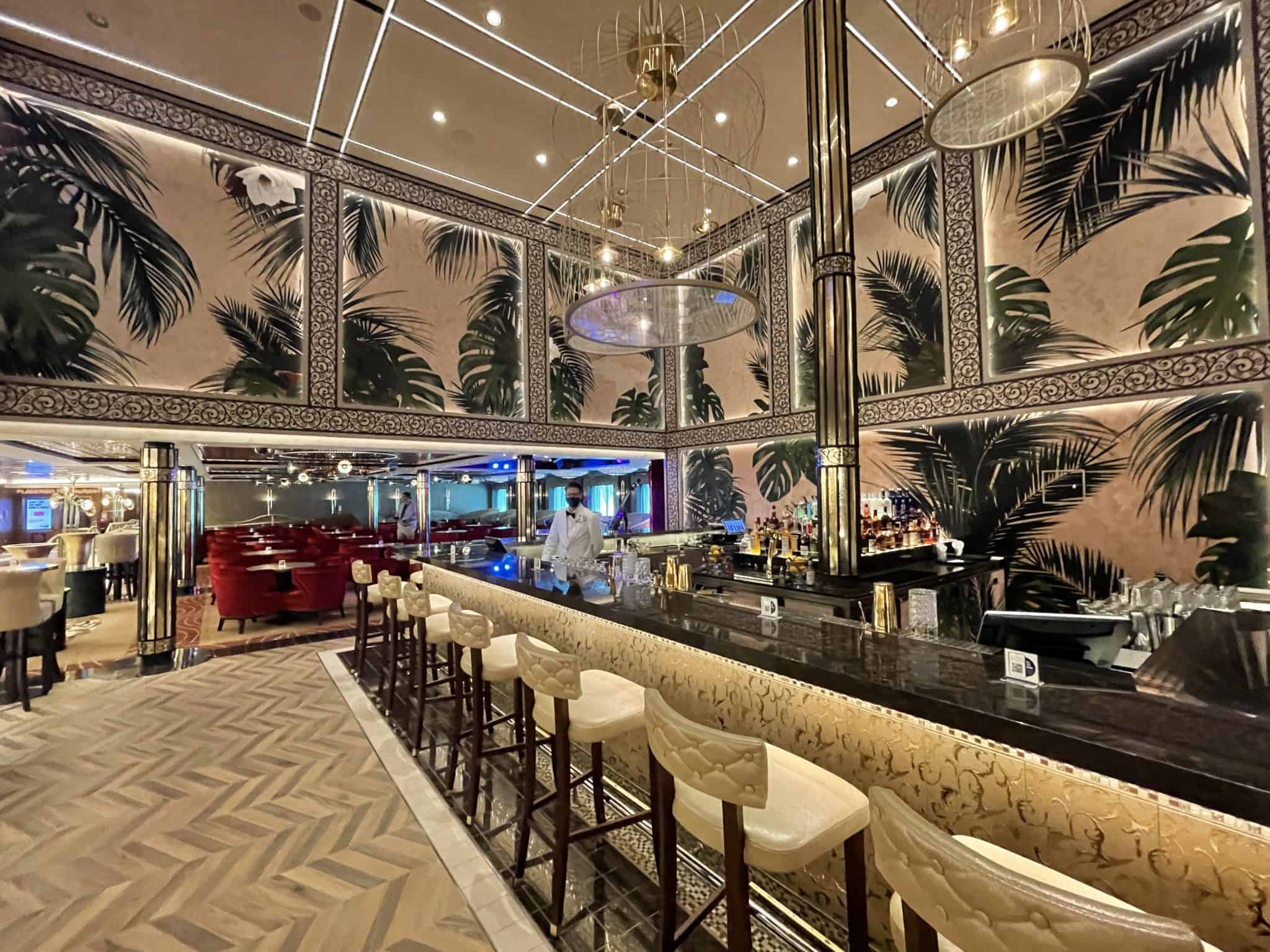 For smoking indoors, the designated areas in the casino are the only spot indoors where guests can smoke. Outdoors, guests can smoke on the patio at Bar Della Rosa (deck 8 starboard) and the terrace above the aft pool (deck 17 starboard)
(Note: Because the ship is powered by liquefied natural gas and takes on fuel while in port, smoking is only allowed after the ship's departure time.)
MORE: Mardi Gras Dining Guide: Which Restaurants Are Complimentary?
Dining
Mardi Gras has two main dining rooms, each of which features the same menu and offers both traditional and anytime dining times.
The Palms Restaurant is located on decks six and seven aft, while The Flamingo dining room can be found on six. Both serve traditional cruise fare, and have menu items from the steakhouse that you can buy for a $20 upcharge. 
Fun Fact: The Flamingo was the name of the main dining room on the original Mardi Gras.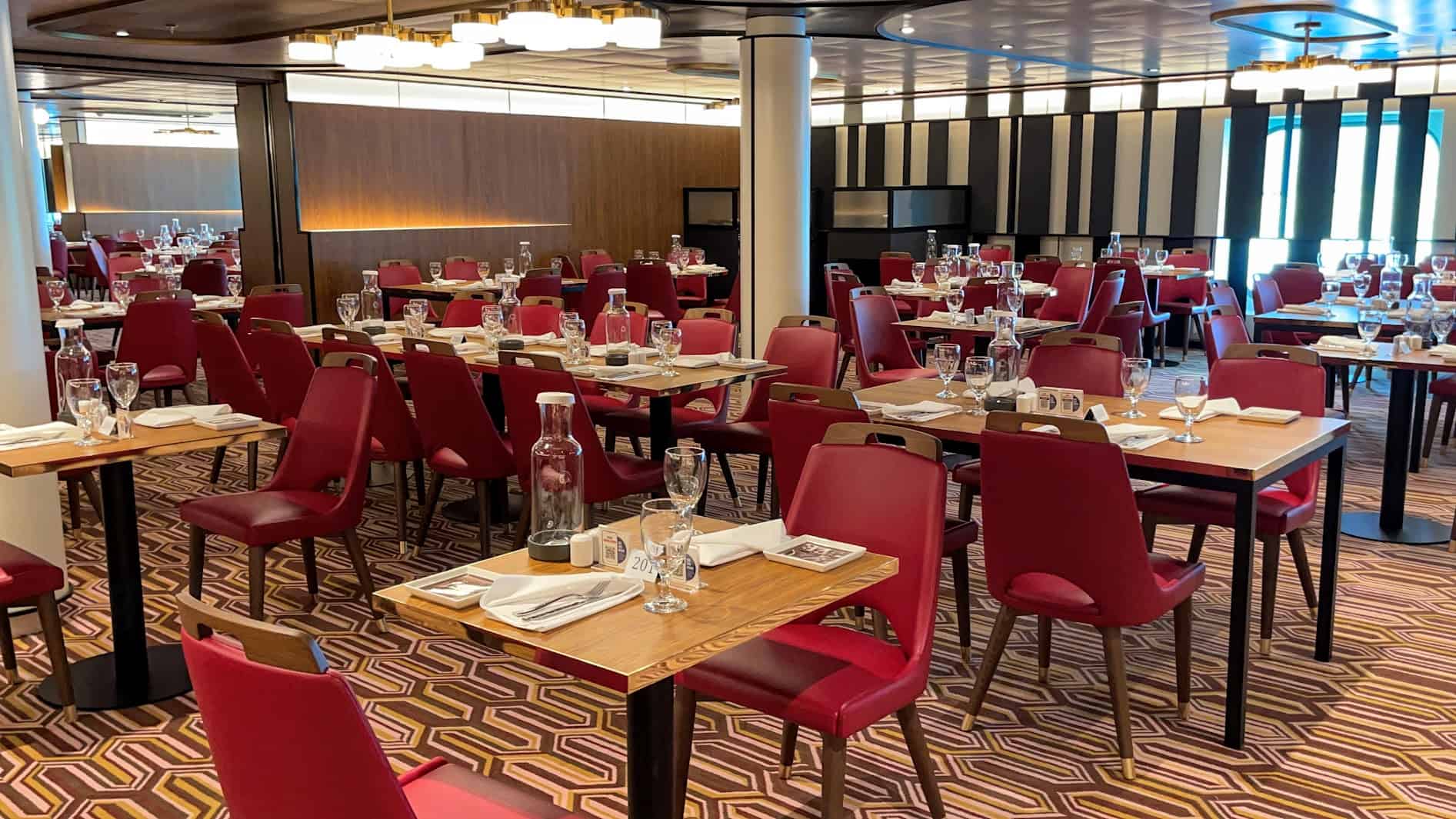 Make sure you download the Carnival HUB app before you leave because you'll be able to check into Your Time Dining when you're ready to eat. Instead of standing in line, you can simply request a table on the app and receive a notification on your phone when the table is ready. 
During the ship's Fun Day at Sea, a special Sea Day brunch is served in the Palms Restaurant. The massive menu offers everything from breakfast favorites to classic lunch dishes. Although you will find a selection of items that come with an additional fee, the vast majority are included in the price of your cruise.
For the foreseeable future on Mardi Gras, you can also order selections from the dining room, including lobster on elegant nights, in both Cucina del Capitano and Chibang!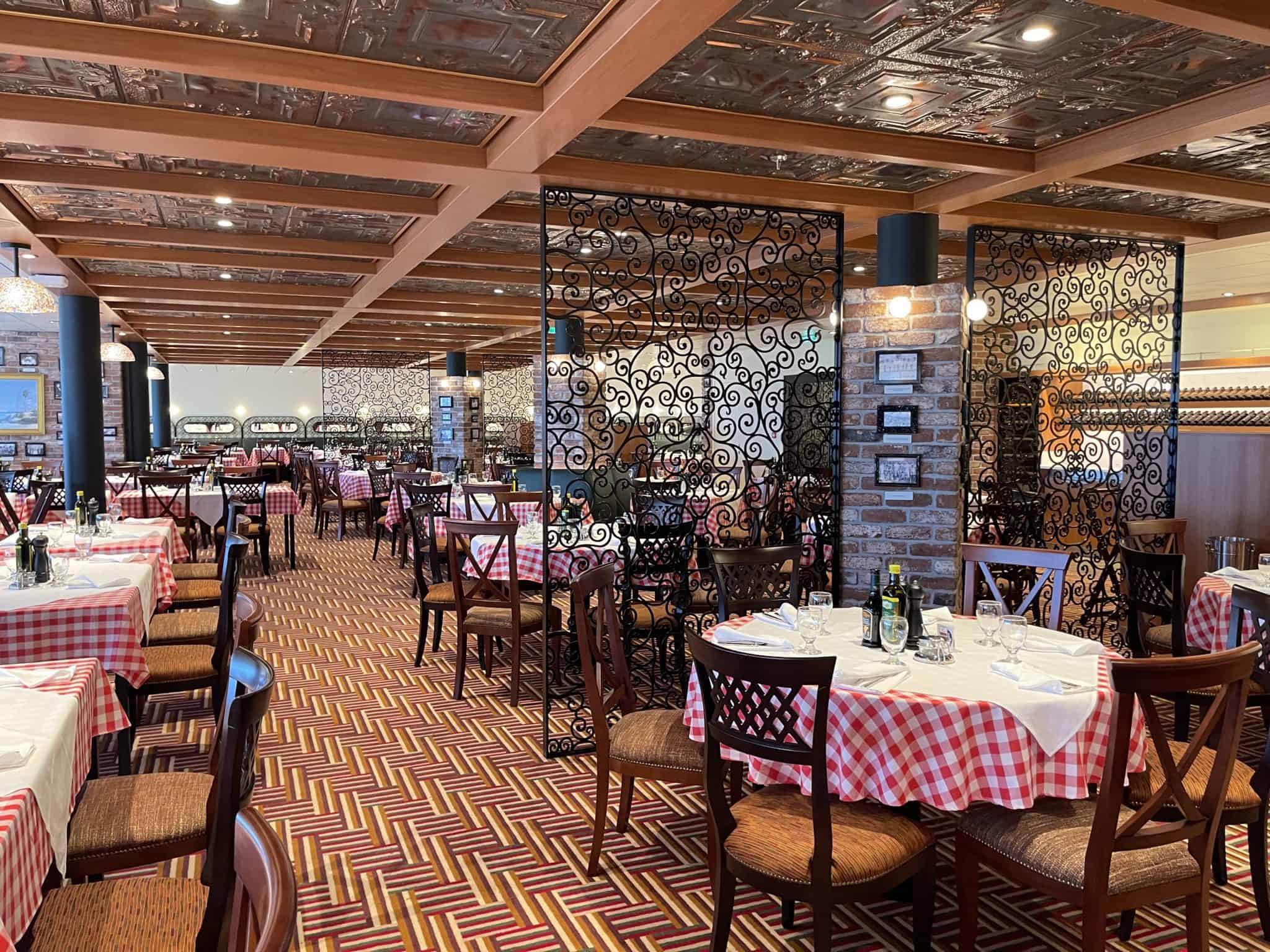 Lido Marketplace
Located on deck 16 is the buffet where guests will flock in the morning and for lunch. The marketplace has two sections that mirror one another. You'll find a nice-sized salad bar, meat carving station, and classic hot dishes you'd expect from a buffet. In addition, you'll find counters for hot dogs, shawarmas, and gelato within the buffet.  
Seating in the Lido Marketplace is plentiful, forming a giant rectangle around the food stations with many booths and fewer tables and chairs. There are also tables set up by both the midship and aft pools if you want to enjoy your meal poolside.
A handful of complimentary quick-service venues were also added to Mardi Gras. Big Chicken, a restaurant by NBA Hall of Famer Shaquille O'Neal, offers complimentary breakfast and lunch on deck 16 aft. My personal favorite menu items are the Uncle Jerome sandwich (a Nashville Hot Chicken sandwich) for lunch and the chicken honey biscuit for breakfast.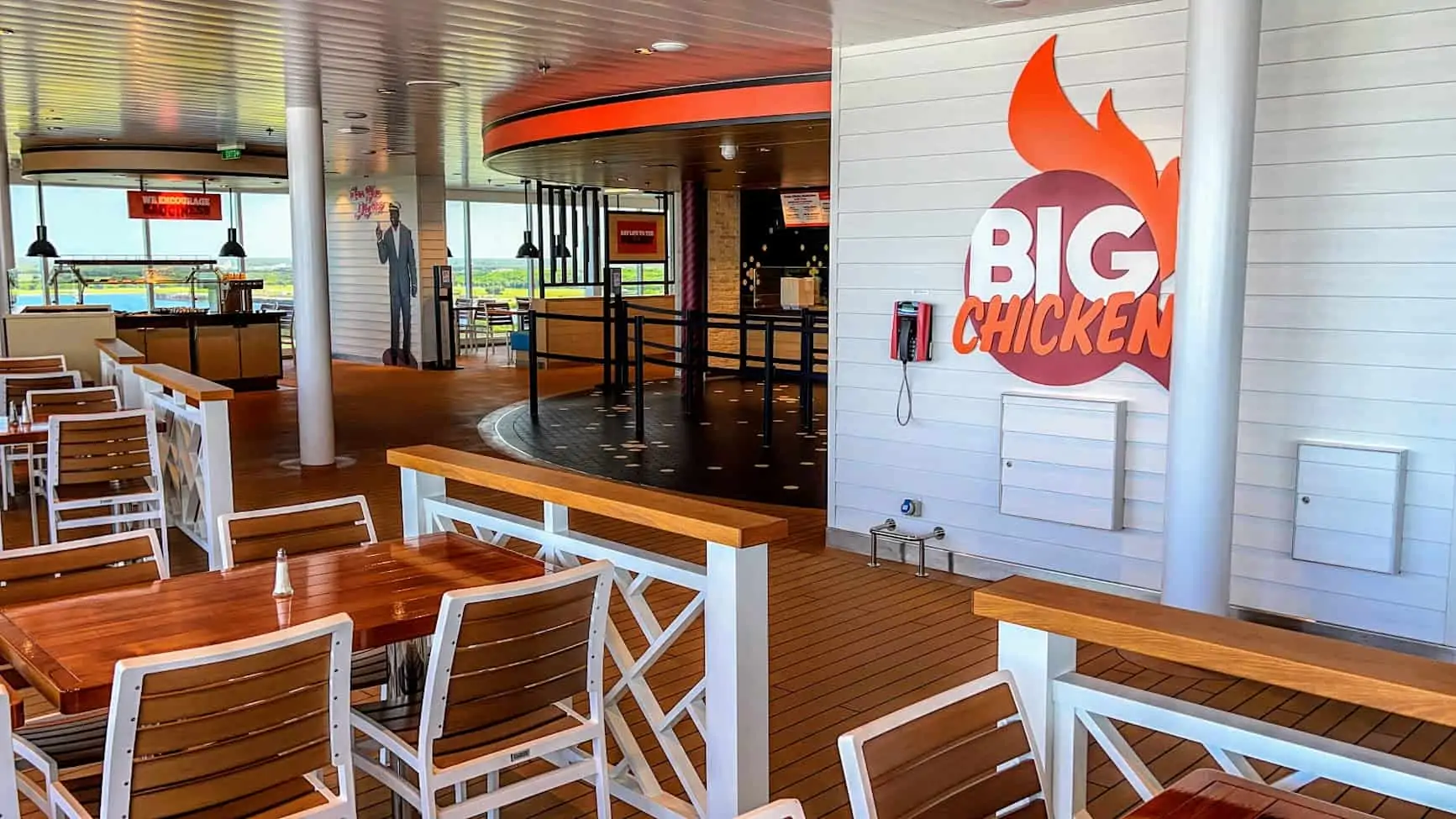 BlueIguana Cantina is located just off the lido pool, and serves up burritos, tacos, and taco salads. Make sure to drop by for a breakfast burrito, arepas, or huevos rancheros in the morning.
Just opposite of the Cantina is Street Eats, which consists of three different food truck-style stations: Steam Dreams (bao buns), Mad Sizzle (kebabs), and Time Fries (french fries topped with cheese/meats). Out of the three, Steam Dreams had the best offerings in my opinion. 
The for-pay Seafood Shack is also in this area. It has different a la carte options like lobster rolls, fried shrimp, crab legs, and chowders.
For Guy's Burger Joint, you'll have to go up a deck to 17. Even though you'll have to walk up a flight of stairs to get there, you'll walk right past the RedFrog Tiki Bar, so you can pick up something to wash it down. The good news is that Guy's is serving both breakfast and lunch on Mardi Gras. The space is easily twice the size as Guy's Burger Joint on other ships.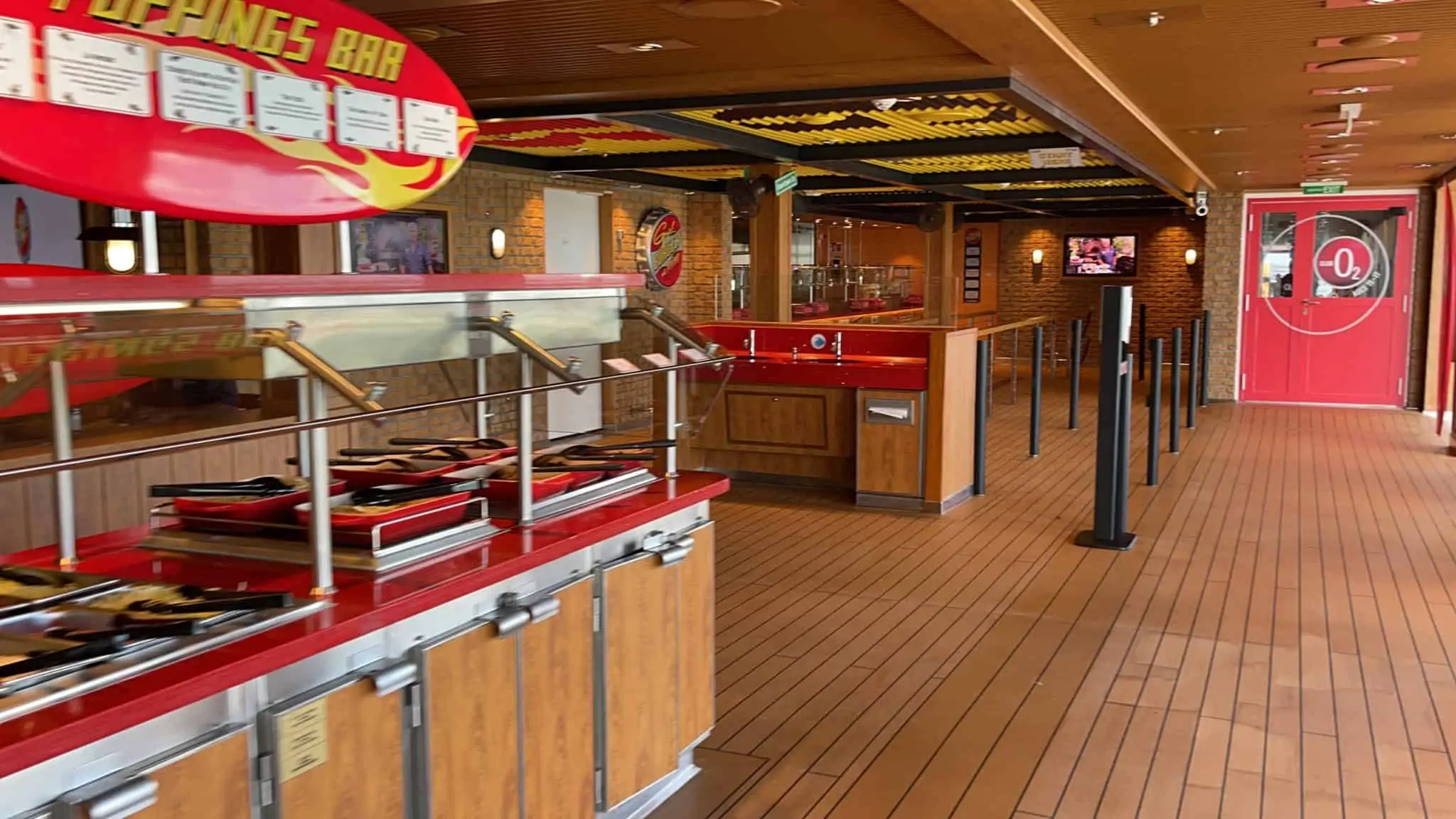 Speaking of the Tiki Bar, Carnival is serving frozen drinks, rums, beers, and hand-crafted seltzers from the draft. In my opinion, mango was the best seltzer out of the four being served. 
The Pizzeria Del Capitano and Piazza Panini are located on deck 6 midship in the La Piazza zone. Both places are complimentary with the option to have it delivered anywhere on the ship via the Carnival HUB app, for a $5 charge.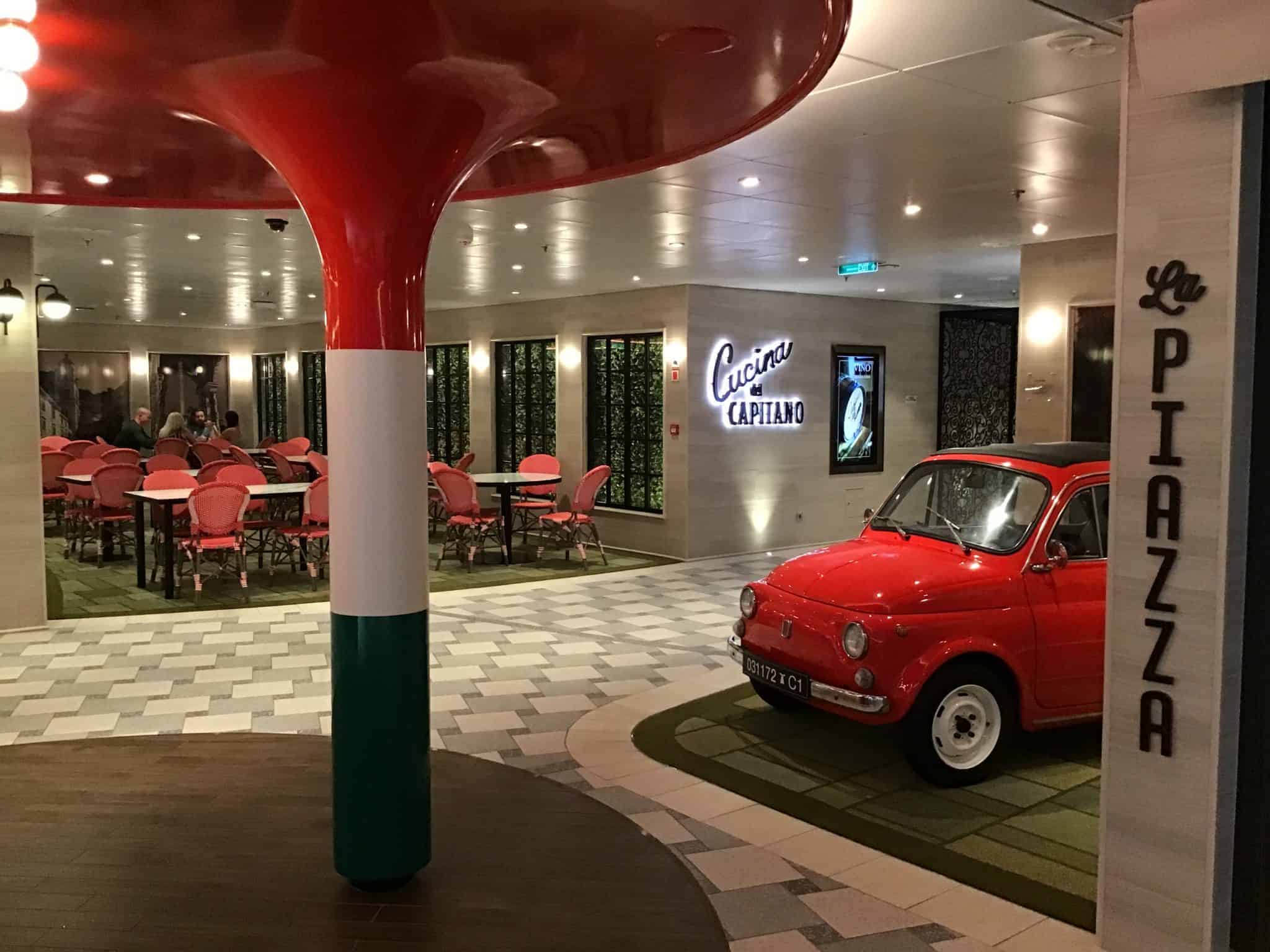 Additional for-fee venues include Fahrenheit 555 Steakhouse ($38 per person), Rudi's Seagrill ($38 per person), Emeril's Bistro 1396 (a la carte pricing). The Italian restaurant Cucina del Capitano and the Mexican and Chinese sit-down venue Chibang! are complimentary for the foreseeable future. 
Activities
BOLT, the first roller coaster at sea, is the big attraction on Mardi Gras. The coaster takes guests on a loop around the back of the vessel, where they can control their own speed. There's a cost of $15 per rider for two laps around the track, and it's definitely worth it if you're a thrill-seeker. Plus, you'll get to say you've ridden the only roller coaster on a cruise ship thus far!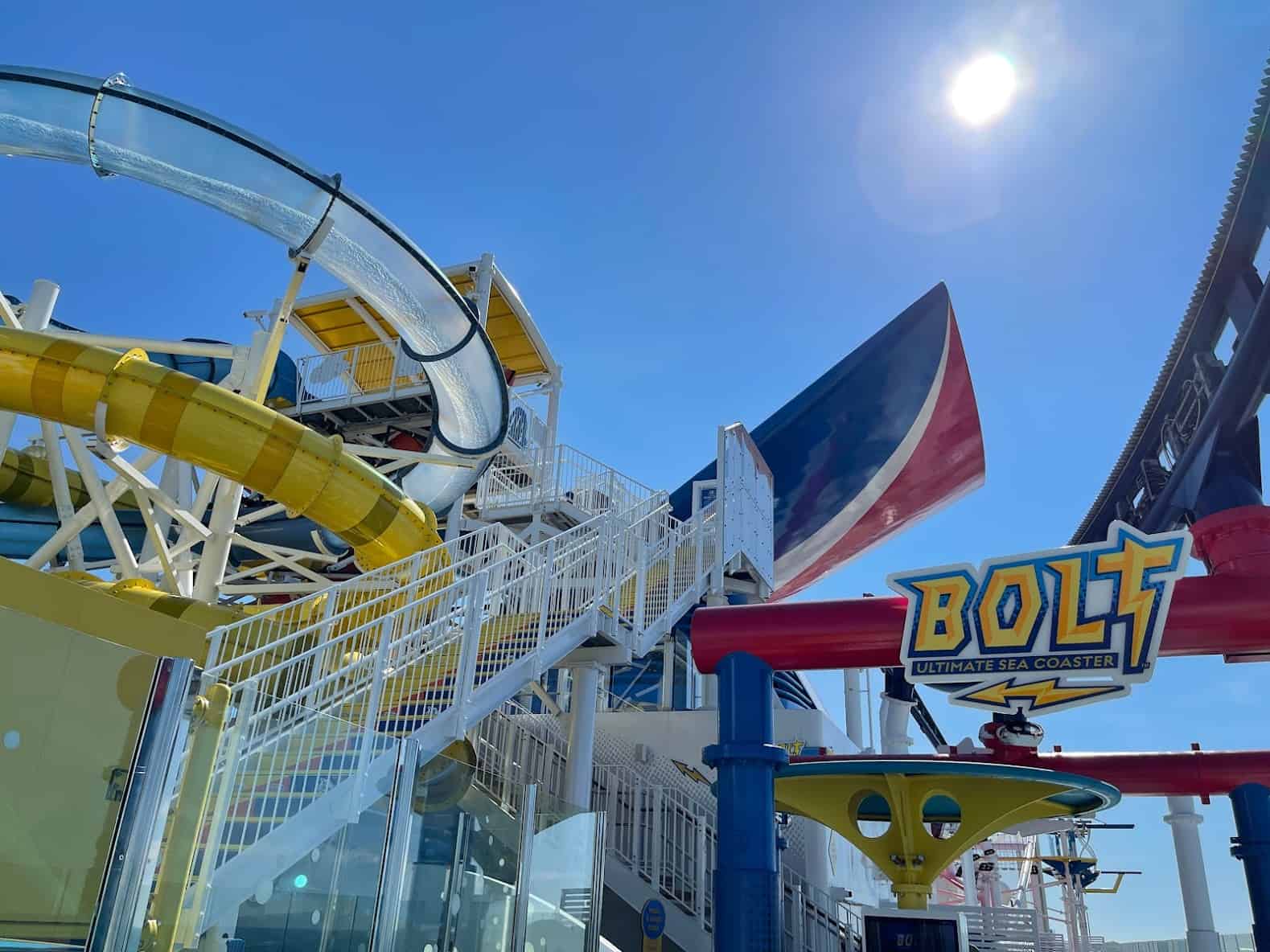 Carnival Kitchen, a hands-on culinary studio first introduced on Carnival Panorama, allows guests to learn how to make some of the line's most popular dishes. Located on deck six, members of the onboard culinary team teach a wide variety of cooking classes, including pizza or cupcake making, sushi, barbecue, and others. They also offer longer classes after which you sit and enjoy a meal you've prepared.
Classes run between $39 and $59 per person, and they fill up quickly. I'd advise looking to see what's offered as soon as possible and, if something strikes your fancy, sign up quickly.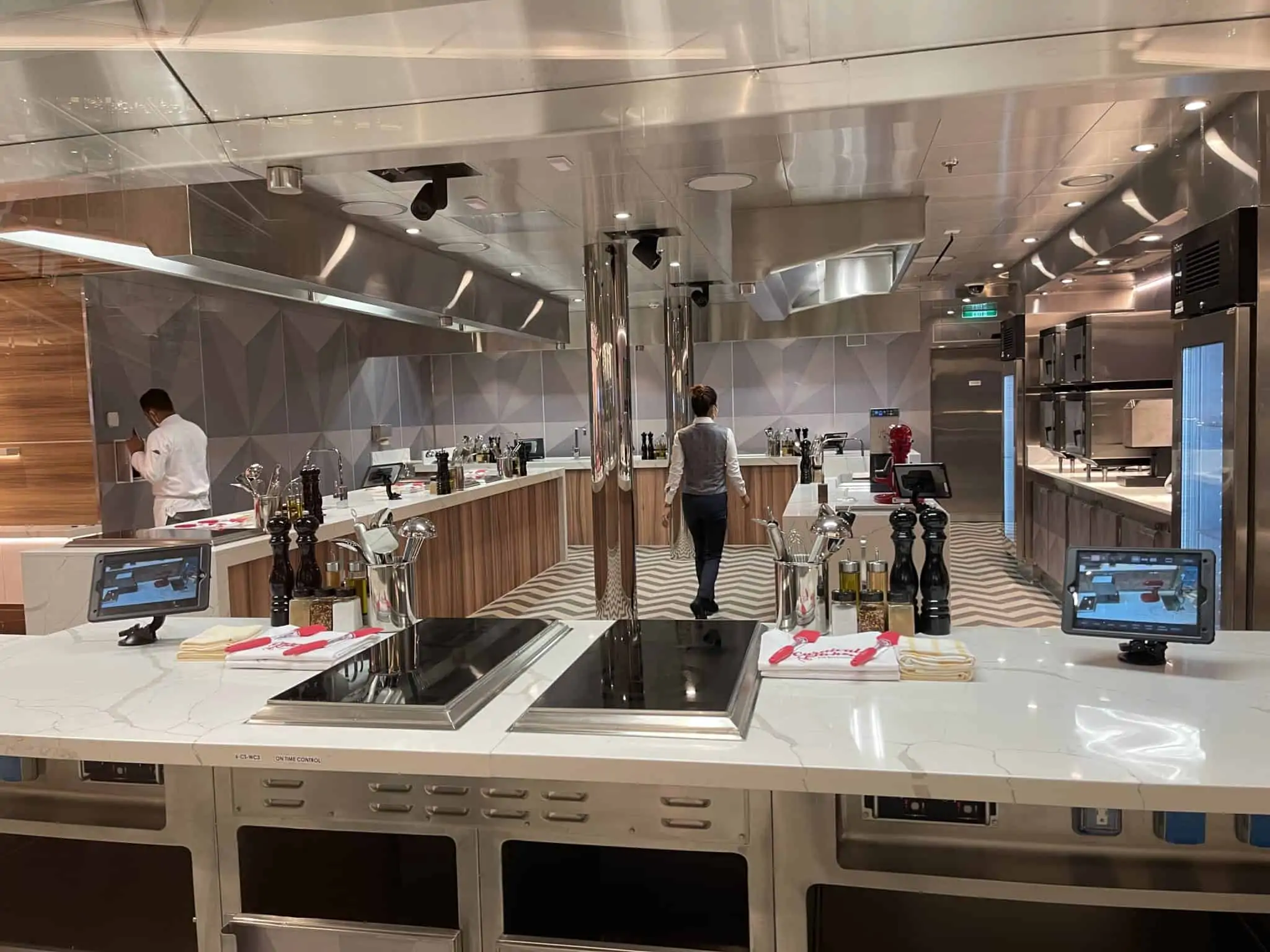 The Chef's Table has its own space onboard and can be found on the deck below the Palm Restaurant.  
Outside Decks
Mardi Gras has plenty of outdoor areas where you can relax and really connect with the ocean. The midship beach pool on deck 16 has two shaded areas where you can sit and splash your feet while avoiding the direct sun.
There are plenty of loungers located around the pool as well as on the two decks that overlook the watering hole. And if you're hungry, you won't have to look far for food because Street Eats and BlueIguana Cantina are both located poolside.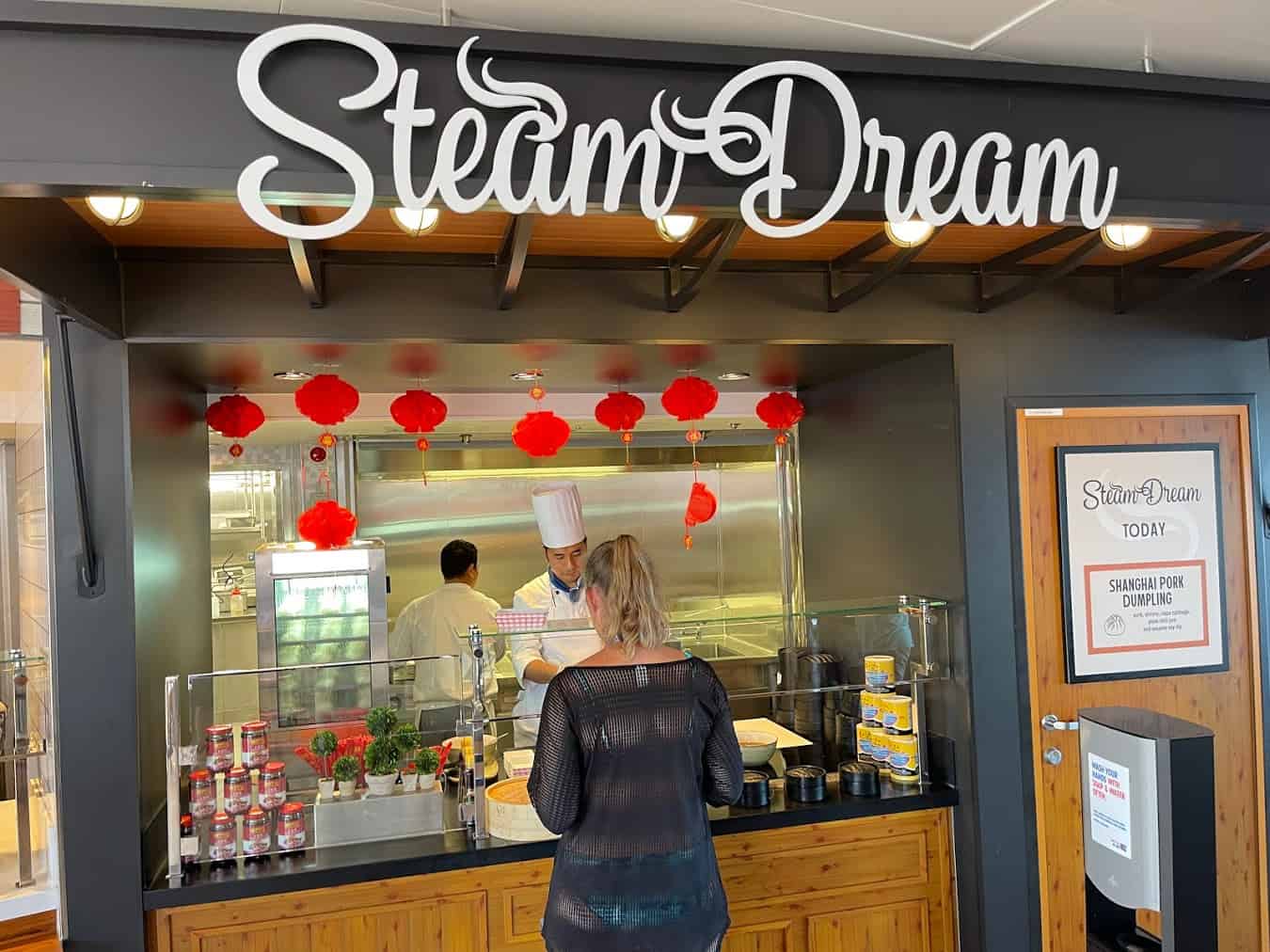 The aft pool on deck 16 is nice in that it offers not only killer views, but also a respite from the more crowded main pool. It has hot tubs on either side, making it the perfect spot to head for a soak, especially on a sea day.
As I mentioned earlier, Carnival is proud to carry more families than any other line. But at the same time, they recognize that sometimes, you need a little adults-only time. The Serenity Retreat provides that escape for the 21-and-over crowd, with lots of loungers and daybeds, a pool, two oversized hot tubs and, of course, the Serenity Bar. On sea days, you can even get a custom salad made to your liking at Fresh Creations. 
If you want the Serenity experience elevated, you can book a previously mentioned Excel Suite or a day pass to Loft 19, located on deck 19 forward. 
The Ultimate Playground is located on the upper decks of 17, 18, and 19. Aside from the BOLT roller coaster, there is also a ropes course with a mini zip line, Carnival's signature WaterWorks aqua park, a miniature golf course, a basketball court, a jogging track, and workout equipment. 
Cloud 9 Spa
Within the two-deck Cloud 9 Spa, you'll find treatment rooms, a salon, a fitness center, and a thermal suite.
The Cloud 9 Spa offers your typical menu of services such as facials, body wraps, massages, anti-aging treatments, and even botox injections. The salon onboard offers pedicures, manicures, hair styling, and hot shaves.
One popular spot on Mardi Gras for ultimate relaxation is the thermal suite within the Cloud 9 Spa. Here you'll find both dry and steam heat chambers, a mineral pool, and heated loungers. On my sailing, this was the ultimate spot for relaxation during sea days. Day- or week-long passes for the thermal suite are available.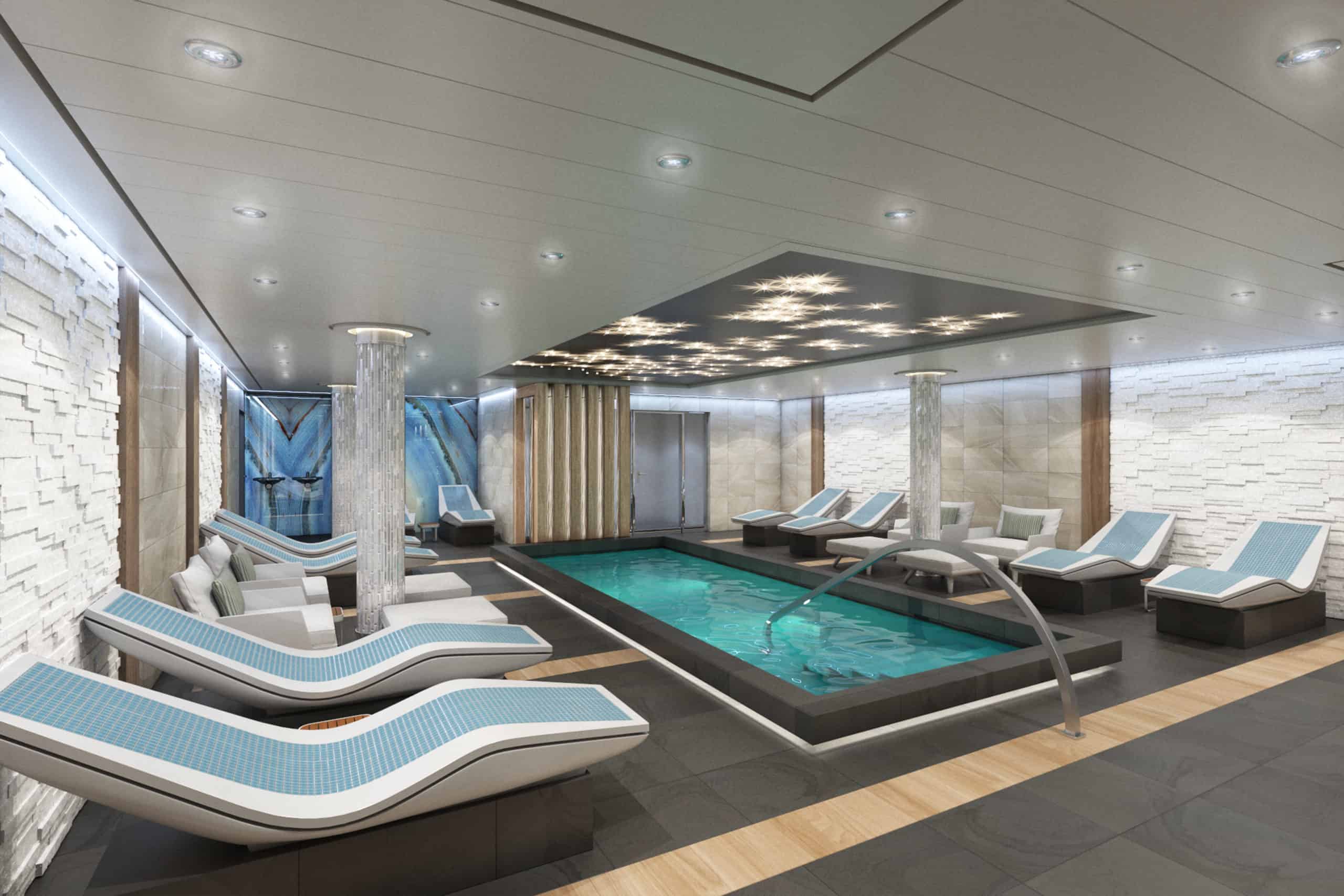 Keep in mind the thermal suite is capacity-controlled because guests in the Cloud 9 Spa staterooms also have access, so you'll want to get your pass in advance or on embarkation day. Our pass was $179 for the seven-night cruise. The spa manager told me they were only selling 50 passes for our voyage. That is likely to increase as protocols loosen in the future.
Kids' Spaces
Camp Ocean kids' club is dedicated to kids ages 2 to 11, while Circle C is for the 12-14-year-olds and Club 02 is for the 15-17 set. Each offers age-appropriate activities and is run by specially-trained youth program crew members and counselors. 
With Carnival being a cruise line dedicated to families, it's not surprising that their various programs routinely receive high marks, especially from the people who matter most: young guests and their parents.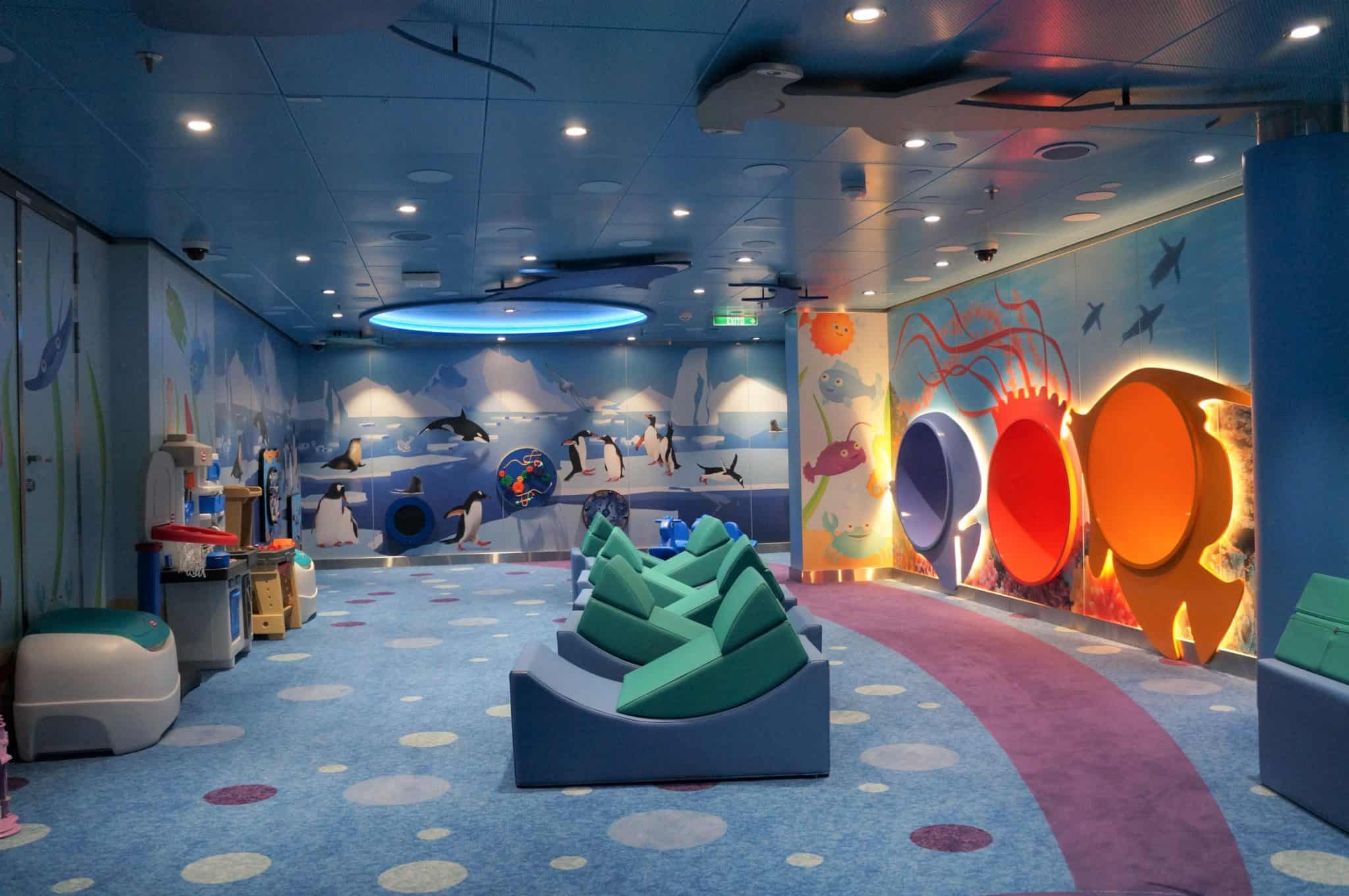 Final Thoughts
After spending seven nights onboard Mardi Gras, it's clear that there are two different types of cruisers: ones that like small ships, and the ones that prefer the larger ones. 
If you're a small ship person, Mardi Gras may not be for you because even a seasoned cruiser like myself was still trying to find my way around on the second day.
The zone concept seemed to work well, and you could tell everyone had their favorite space. For my friend and I, it was the French Quarter zone by early evening, then bouncing back to Summer Landing for live music in the late evening. By day, the Serenity pool was our go-to spot because of the freshwater pool and shade.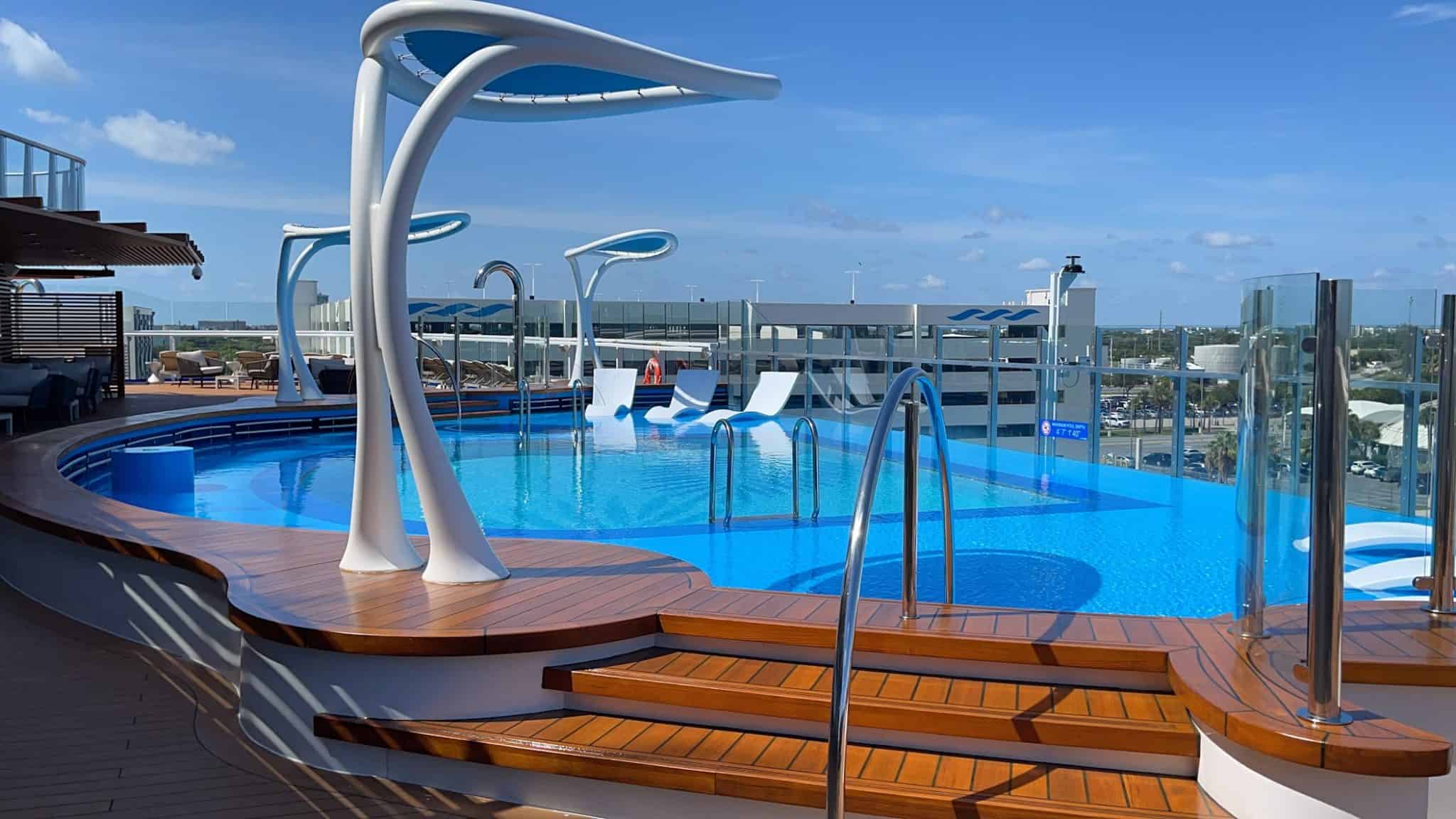 As with all new launches, there will be growing pains, like getting guests familiar with complimentary sit-down dining options outside of the two main dining rooms. 
Overall, both the Mardi Gras crew and design team excelled at giving guests the ultimate new ship experience.
READ NEXT: 21 Things to Do on Carnival's Mardi Gras
Pin it!