With Carnival Cruise Line's newest ship, Carnival Celebration, set to debut in less than six months, the company finally has released details about the last of six "zones." Appropriately enough, given the ship's theme, the newly-unveiled area will be known as The Gateway.
All About The Gateway on Carnival Celebration
The two-story Gateway is, said Carnival Cruise Line president Christine Duffy, designed to celebrate what we all love most: Travel.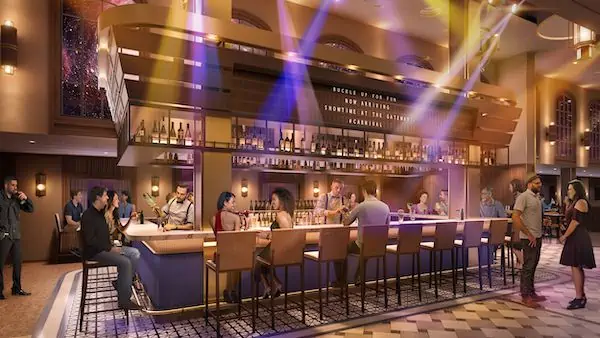 The space — which replaces what was the French Quarter area on Mardi Gras — will include the previously-announced Carnival Jubilee bar, which celebrates all aspects of the cruise line's history with unique drinks and even decor from decommissioned ships.
READ MORE: All About the Carnival Jubilee Bar
It will also feature a new-to-Carnival bar called Latitudes, designed to be reminiscent of bars found in airports and train stations around the world. Cocktails from around the world will be featured, such as a Singapore Sling. Each afternoon, the bar will host a special Celebration Happy Hour during which guests can mark their own special occasions such as birthdays, anniversaries, and more.
Meanwhile, Emeril Lagasse will return with his second restaurant for Carnival, Emeril's Bistro 1397. "For this one, we're going to be kicking it up a notch," says the celebrity chef. "We'll be featuring some of my favorite parts of the world with dishes from those locations." The menu will feature dishes familiar to those who've dined in his Mardi Gras venue as well as new selections.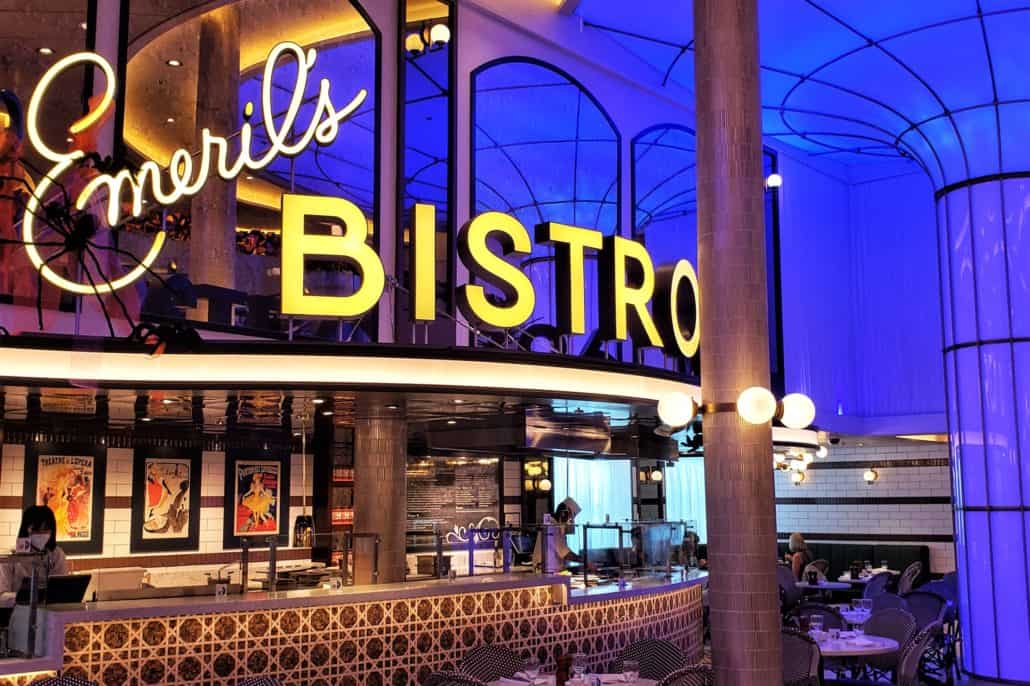 One final element in the zone will be 12-foot tall LED screens designed to look like real windows, as well as screens in the ceiling. The windows will allow them to create a multitude of scenes. The space will become immersive each night, using multimedia — in conjunction with drinks at Latitudes and food at Emeril's — to create a theme. Each night will be kicked off with a multimedia show using the windows, lighting, and sound to indicate that a new experience is about to begin.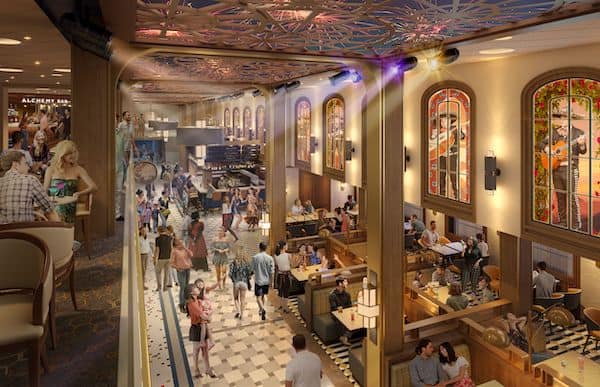 Other Carnival Celebration Zones
Given that Carnival Celebration will be homeported out of Miami, it makes sense that several areas aboard the ship are designed to honor that city's culture. Conveniently enough, Miami is also where Carnival has its corporate headquarters. The ship's name is also a tribute to the fact that Carnival is currently marking its 50th anniversary, certainly a cause for "Celebration" if ever there was one.
Previously, Carnival had announced five of the six zones and what could be found within them. They are:
• Celebration Central: The ship's gorgeous atrium is in most ways a replica of the one found on Mardi Gras. Like on that ship, it features stunning floor-to-ceiling windows offering incredible views and a stage area that serves multiple purposes during the course of any given sailing. Two bars are found here, including Aquaria Bar, which features a mural that was salvaged from the Carnival Victory.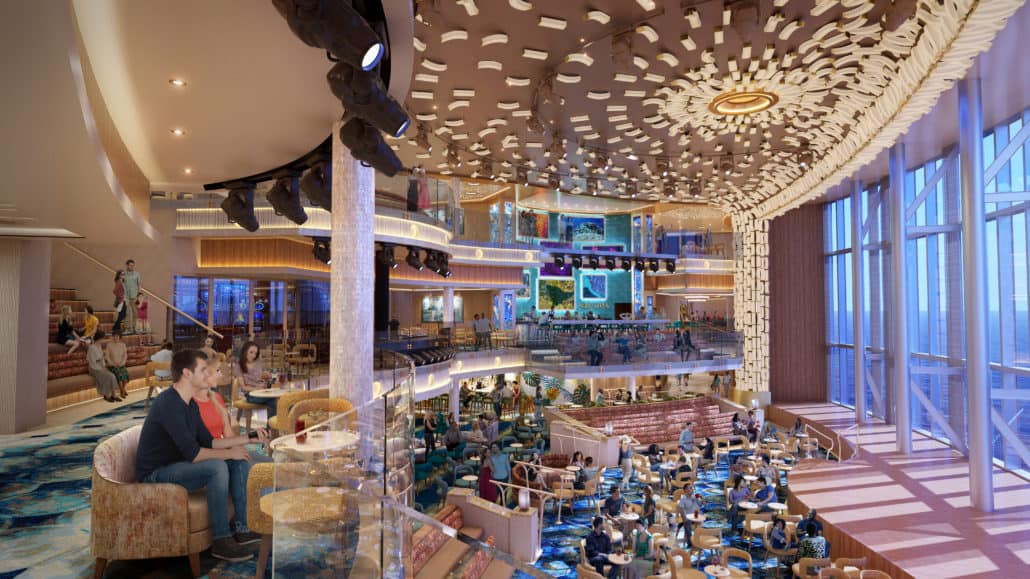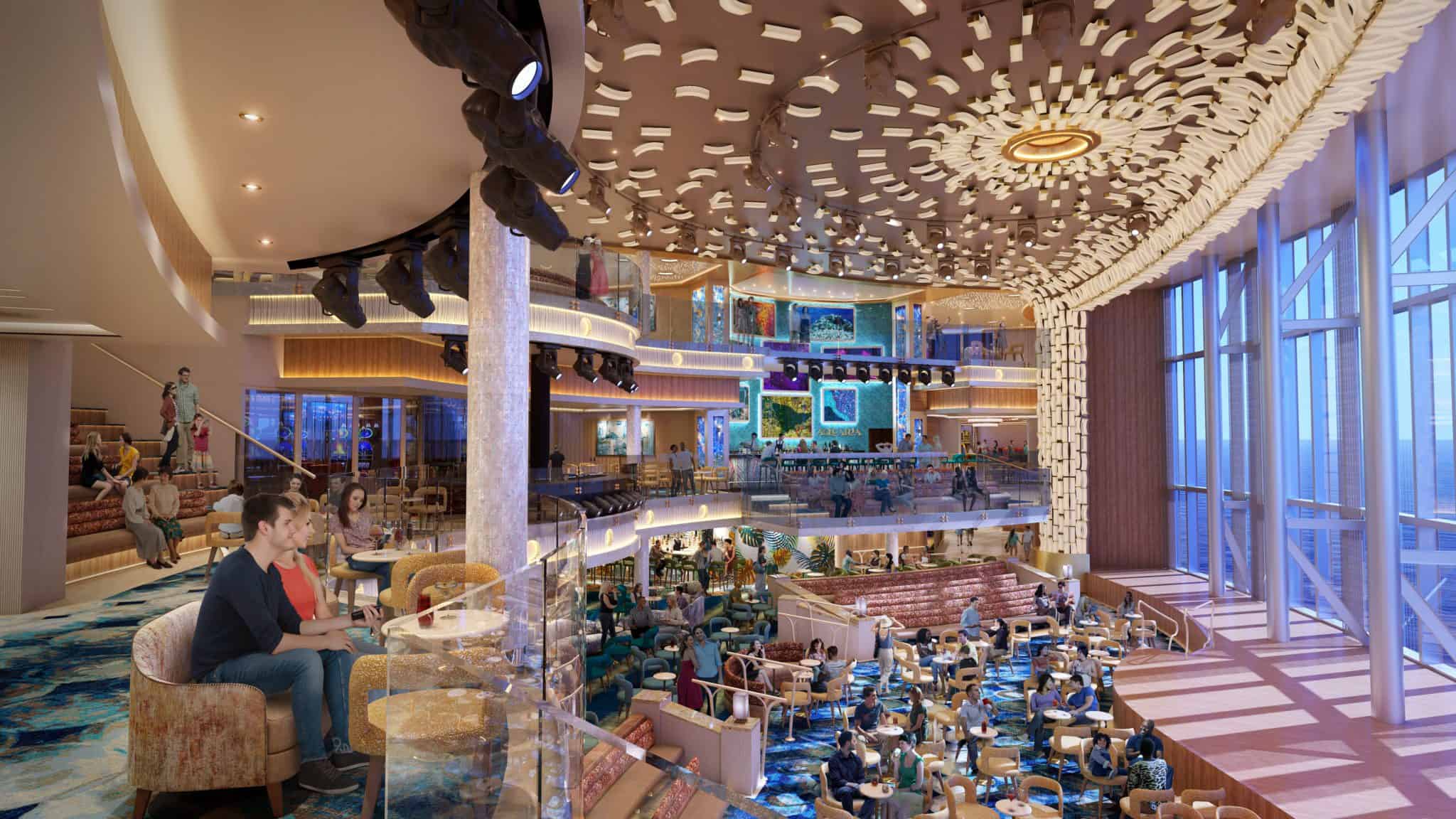 • Summer Landing: This spacious aft-facing outdoor space includes a pool, The Watering Hole bar, and a full-sized Guy's Pig & Anchor Smokehouse | Brewhouse. This is also where you'll find the Heroes Tribute Bar and, for lovers of soft-serve ice cream, a Swirls.
• 820 Biscayne: In much the same way that the French Quarter zone paid homage to all things New Orleans on Mardi Gras, this area will have the feel of Miami. Bar 820 will serve up tropical drinks, Miami Vice is the spot to head when pizza cravings hit, and both Cucina del Capitano and Rudi's Seagrill restaurants will call this space home on Celebration.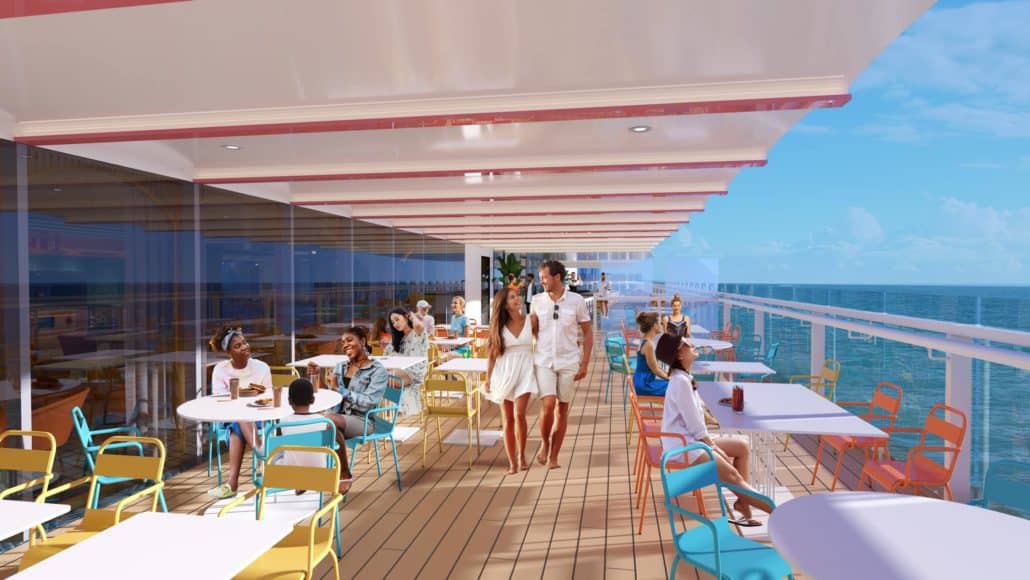 • Lido: You probably don't need anyone to tell you that this is where you'll find the pool, as well as the two-story RedFrog Tiki Bar that was introduced on Mardi Gras. Given that laying in the sun can work up an appetite, you'll find plenty of food options here, including Guy's Burger Joint, BlueIguana Cantina, and Big Chicken.
• The Ultimate Playground: While you'll find everything from waterslides to basketball courts here, the real selling point is BOLT. The above-the-top-deck coaster which proved so popular on Mardi Gras gets a twin here.
When Carnival Celebration Will Debut?
The ship is slated to make her maiden voyage — a two-week transatlantic sailing from Southampton, England, to her new home in Miami, on Sunday, November 6.
After that, Carnival Celebration will do a series of six, seven, and eight-night voyages to the eastern and western Caribbean.