Where the upcoming Carnival Celebration is concerned, everything old is new again… at least where one of the newly-announced hot spots is concerned.
As fits its name, The Golden Jubilee bar will celebrate Carnival Cruise Line's 50-year history and be part of the vessel's final, yet-to-be-announced zone. It will highlight Carnival's evolution of ships over the last 50 years, weaving its past with its present by using actual and recreated pieces of past-and-present ships.
Location-wise, The Golden Jubilee will be on deck 6, occupying the space where The Brass Magnolia lives on sister ship Mardi Gras. As previously revealed, Celebration will not feature the French Quarter zone, with The Golden Jubilee and the promenade it's located on being the only indication so far of what type of themed area we might expect to see take its place.
Details About The Golden Jubilee
The new venue will feature artwork, memorabilia, and original pieces from Carnival's earlier ships that will be incorporated throughout the space.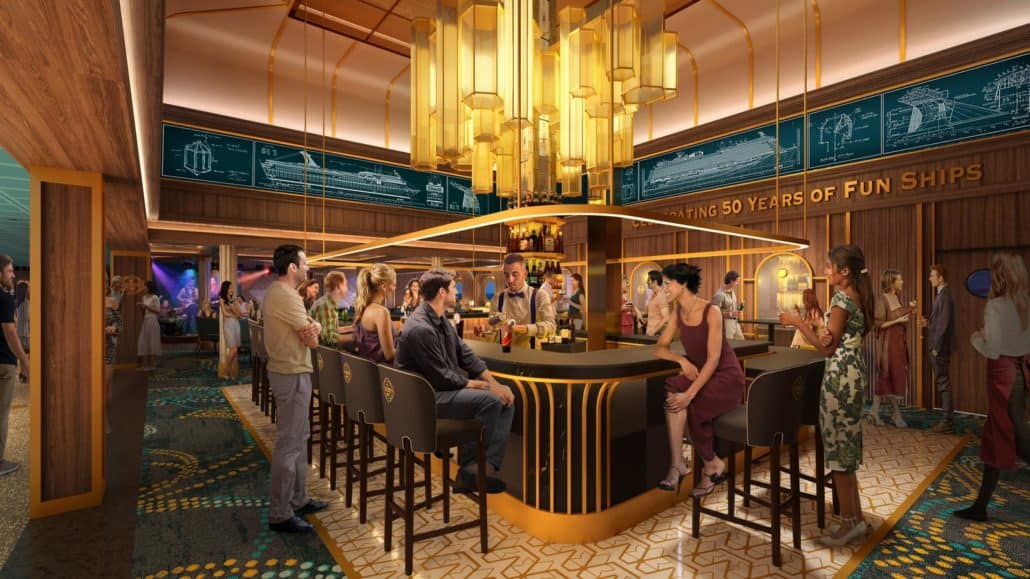 These include:
A bar beneath two-deck-high ceilings adorned with a multi-piece brass chandelier and surrounded by reproductions of blueprints depicting the evolution of Carnival's Fun Ships — including some hand-drawn designs by architect Joe Farcus
Chairs recreated from TSS Carnivale's Riverboat Lounge paired with cocktail tables from Carnival Fascination's Hollywood Boulevard — adorned with signed sketches representing movie classics by caricaturist Al Hirschfeld.
Original 17 foot by 7 foot full-height etched glass, nickel, and mahogany partition wall with 24 window panes from TSS Mardi Gras' casino, separating the bar from the promenade.
Original decorative etchings of musical instruments as well as polished brass and glass night club doors from TSS Carnivale that will frame one of the lounge's entrances, allowing guests to physically walk through Carnival's history.
Original bronze statue of Carnival founder Ted Arison and Finnish shipbuilder Martin Saarikangas, given as a gift from the Kvaerner Masa-Yards to the line upon delivery of Carnival Sensation in Finland in 1993.
Reproductions of hand-drawn sketches by Farcus blended into mirrors, offering passengers a glimpse into special Carnival moments like Fascination's naming ceremony and Inspiration's first transit of the Panama Canal.
Floor tiles surrounding the bar that feature a stylized maple leaf pattern reminiscent of the maple leaf design motif from the Grand Ballroom on TSS Mardi Gras that carried over from the ship's former life as Empress of Canada for Canadian Pacific Line.
Mirror inserts integrated into the bar front and bottle display inspired by the etched glass inserts of TSS Carnivale's main lobby doors.
The bar will also feature rounded windows instead of squared ones, reminiscent of the portholes on the line's original ships to create an ambiance similar to the classic cruise ship bar and lounge. A stage for live music and a dance floor will be included as well.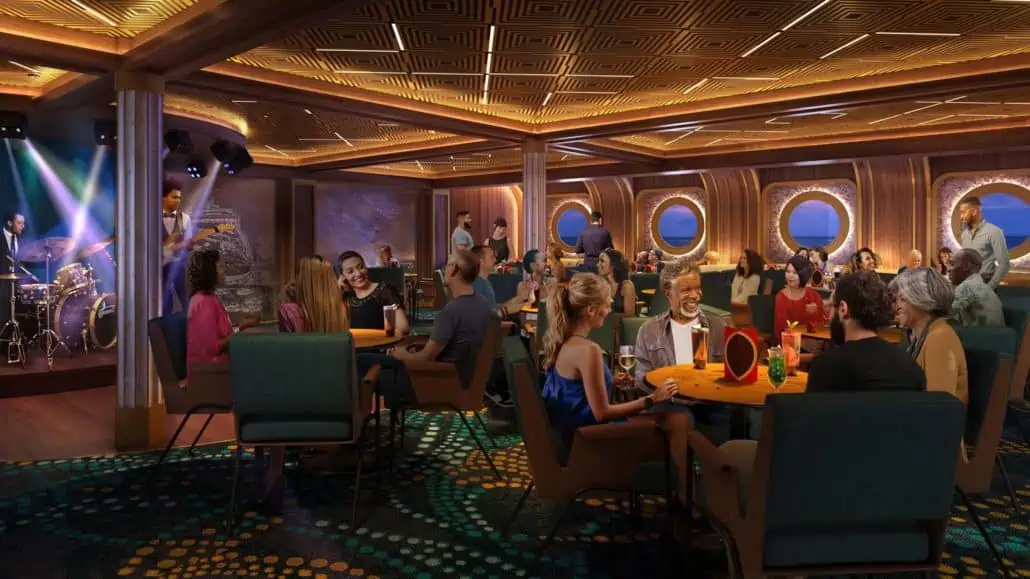 The specialized bar menu will take patrons on a journey through time, featuring an early version of Carnival's logo introduced in the '70s, and the most popular cocktails through the decades since 1972, the year Carnival was founded.
Offerings will include classic and vintage cocktails such as a Harvey Wallbanger and Tom Collins, reimagined in Carnival's unique style with premium ingredients.
MORE: Norwegian Prima To Feature First Charcoal Sauna At Sea, Two-Story Indoor Waterfall
The promenade adjacent to The Golden Jubilee will also serve as a unique look through Carnival's history, featuring:
A first-of-its-kind porthole gallery installation that tells the Fun Ships evolution story through six decorative porthole windows, featuring 3D dioramas for each of the five decades of Carnival's history, and one presenting the company today and a look to its future.
Original vintage engine telegraph from 1955 installed on TSS Carnivale and permanently set to "Full Ahead" sign as a symbol of Carnival's forward movement.
Coins for every ship in the fleet, both past and present, embedded into the promenade's floor design.
TSS Carnivale model, recovered from MS Inspiration, at the entrance to the Carnivale Restaurant.
1:100 scale, 12-foot-long ship model of Carnival Celebration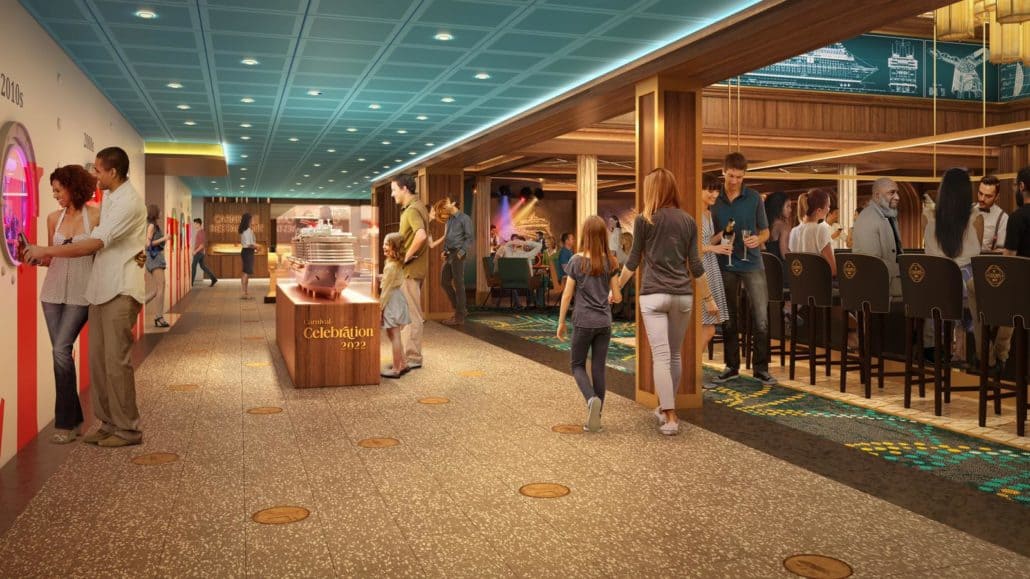 Carnival has already announced five zones on Celebration: 820 Biscayne, Celebration Central, The Ultimate Playground, Summer Landing, and Lido.
Additional details and the final zone will be revealed in the near future.
Carnival Celebration's inaugural sailing is scheduled for November 21, 2022 from Miami. From PortMiami's Terminal F, the ship will operate five to eight-night voyages to the eastern and western Caribbean.
RELATED: Carnival Celebration To Feature New Miami-Themed Area